MacBook Pro 14 Review: Testing Apple M1 Pro Performance Claims
2021 MacBook Pro 14: Benchmarks And Performance Testing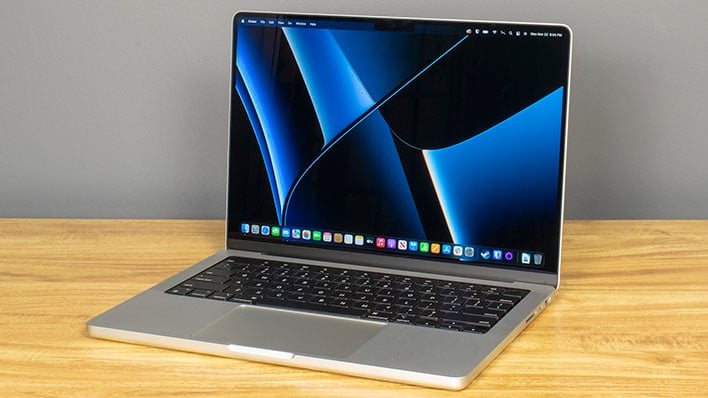 Before we go any further, we should note a couple of things. First off, a good number of our performance benchmarks are Windows-only utilities, so they won't appear here. That includes the heavier 3DMark tests and many Windows-only games. We're going to make do with the best we have, which is largely cross-platform applications. However, with one of the primary reasons to buy a Mac being the software, we'll be looking at a few Mac-specific tests a little later, as well. We did this with the 2020 Mac mini, and it only makes sense to do the same thing here.
Second, many of the tests we can run on macOS are built for x86 processors. That's certainly not a blocker since macOS 12 Monterey brings support for the Rosetta 2 compatibility layer, which we found last year to run x86 apps in a
fast and transparent manner
on the 2020 Mac mini. That means that the scores we see for the Mac aren't as high as they theoretically
could
be on those tests, but that doesn't matter; the numbers are the numbers, and they reflect the reality whether they're optimum or not. We'll be sure to note those things along the way.
Theorycrafting M1 Pro MacBook Pro Performance
We're pretty sure, with the MacBook Pro we are testing, there is performance left on the table. We're testing a binned part cut down to fit Apple's budget on the 14.2" MacBook Pro. This chip doesn't appear in the 16" lineup at all, which is part of why the company can charge $500 more for the larger, more powerful machine. Two extra performance cores on the CPU and a slightly bigger GPU likely bring a good amount of extra performance for a $300 upcharge on the 14" model, if you want to keep your Mac smaller. All the exciting benchmark leaks that compared the new MacBooks to
GeForce RTX 3060s
and 3080s were with the huge 32-core GPU, by the way, so we're not exactly expecting a close fight. This is more like GeForce GTX 1650 Ti (mobile) levels of performance than it is the latest from NVIDIA.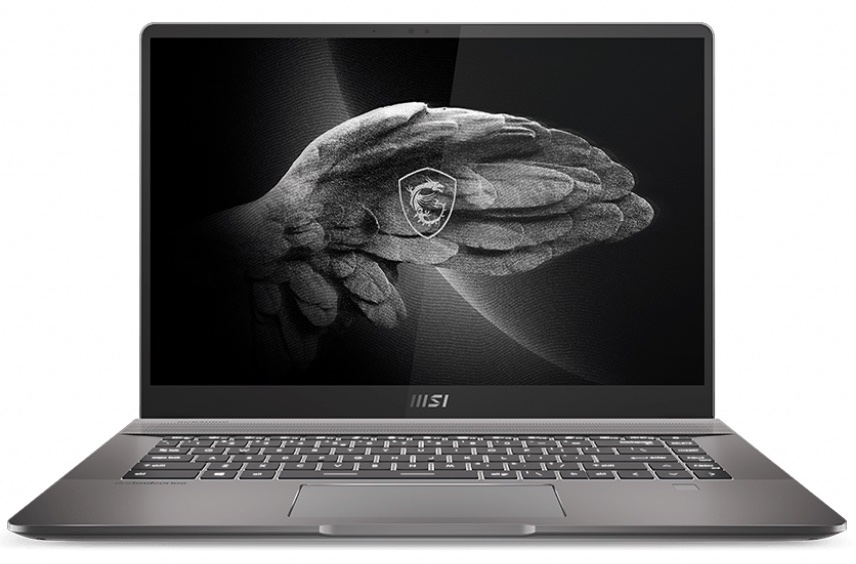 As it stands, we don't have any PCs with a GPU that "slow" (relatively speaking) laying around, but we do have a very nice MSI Creator Z16 handy. This system would be a perfect comparison for a beefed-up 16" MacBook Pro as the MSI notebook has very similar dimensions and only weighs a couple ounces more than the Mac. It's available for an even $3,000 at Amazon and has a 16:10 1600p display that runs at 120 Hz, a Core i7-11980HK, and a GeForce RTX 3060. Due to its price, the Creator Z16 is a better comparison to either a customized 14" or the 16" model, both of which have an M1 Max with a 24-core GPU and 10-core CPU, but the Pro is what we have on hand. That 14" MacBook config would be an even $3,000 as well, while a 16" version would run $3,200.
So there we have it: the MacBook Pro should have excellent CPU performance with midrange graphics (theoretically) to go with its killer screen. It'll be going up against one of the best creator-focused notebooks the PC ecosystem has to offer with a much stronger GPU. We're also including a couple of systems of old: the 2020 Mac mini and
MSI's Prestige 14 EVO
, a Tiger Lake notebook with a footprint much closer to that of the 14" MacBook Pro. The Mac mini isn't the same unit we reviewed a year ago, though. As a personal machine, I found that kind of limiting for everyday use including full-stack web and mobile development. After the review, I passed it on to a family member and got a 16 GB model, so some of the results for the first Apple Silicon Mac are drastically different.
14" M1 Pro MacBook Pro Performance Testing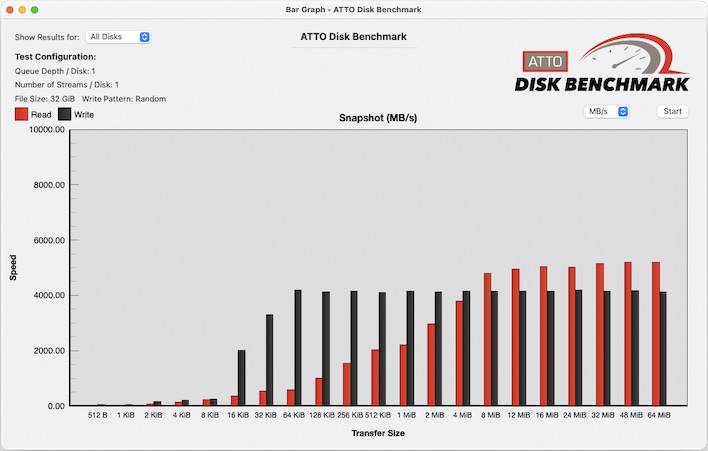 First up, let's take a look at the performance of the MacBook Pro's built-in SSD. It's attached via PCI Express 4.0, and read speeds creep up over 5 GB per second. We tested performance using the ATTO Storage Benchmark. Last year when we did this with the Mac mini we discovered that ATTO was really aggressive about caching, so we made sure the target file size was well above the memory the system is configured with, and we wrote a random pattern rather than something compressible and predictable. As a result, we should have broken the cache and this test should reflect the actual performance of the NAND, rather than memory caching speeds or the APFS file system's ability to link snapshots.
The first several performance tests here are all M1-native applications. GeekBench has been ready for Apple Silicon since the WWDC announcement 18 months ago. We're also using the OpenCL, Metal, and CUDA tests available on each platform to get a feel for compute performance. Google Chrome, which we're using for web testing, has been ready for Arm64 for close to a year (sorry Windows Snapdragon 8cx users, we know
you're still waiting
). For some inexplicable reason, the two versions are distributed separately on Google's website, even though Apple supports "fat" universal binaries with the appropriate code for each platform. Cinebench and GFXBench are also both Apple Silicon native. In fact, in this particular suite, it's just the games that lack Apple Silicon binaries. Rosetta 2 is fast, but the GPU isn't likely to keep up with the GeForce RTX 3060 anyway.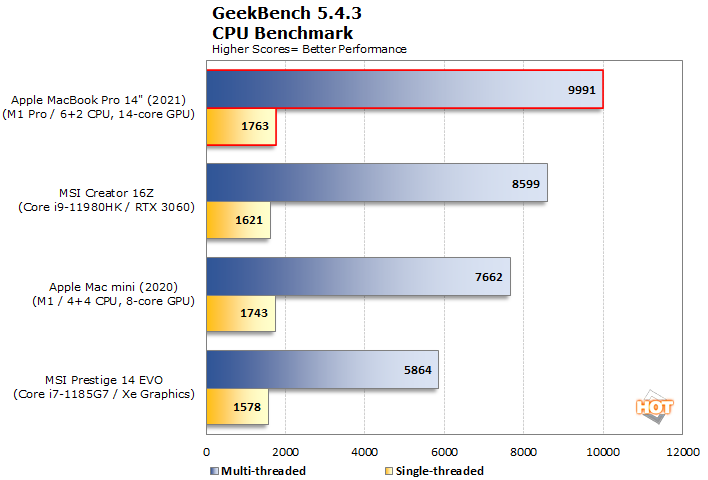 Geekbench comes out of the gate illustrating exactly what we described. Single-threaded performance on the
MacBook Pro
is unparalleled. What's interesting is that the MSI notebook couldn't muster a multi-threaded win even with eight high-performance cores and 16 threads via Hyper Threading. Apple gets a clean win despite only having eight threads in total, including two efficiency cores. Like a toddler running as hard as it can, the M1 Mac mini can't keep up with the big dogs and their longer legs in the multi-threaded tests.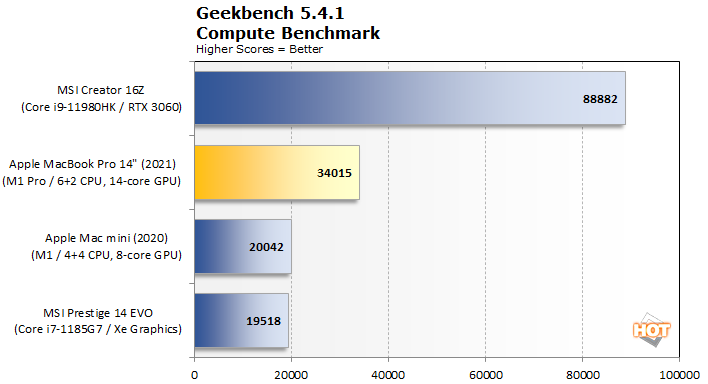 To keep everything on a level playing field, we stuck to OpenCL. The Macs can't run the CUDA or Vulkan version of this test, and the PCs can't run Metal. Every platform has OpenCL available, though. We call this chart Revenge of the Green Team. The NVIDIA RTX 3060 in our MSI testbed is much more powerful than the 14-core GPU in the slimmer M1 Pro. We should expect that from its 3,840 CUDA cores in comparison to just 1,792 in the Mac. In fact, the numbers scale pretty linearly on the OpenCL test; the M1 Pro is just under half as fast with just under half the resources. We'll have to see if it also has half the power draw (spoiler: it does). Also roughly linear is the progression from 8 cores in the M1's GPU to 14 cores in the M1 Pro's.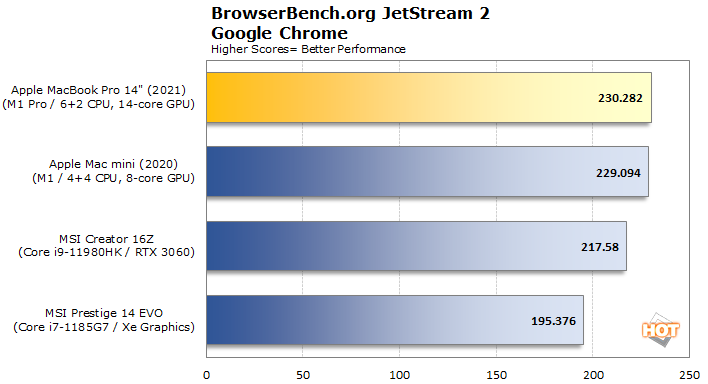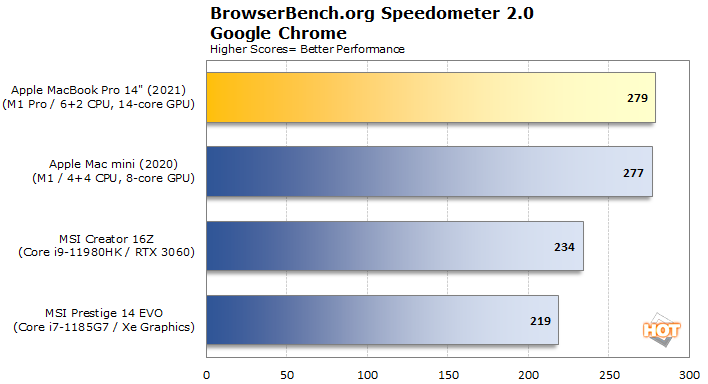 The web tests exploit the M1 Pro's single-threaded advantage taking a clean win over Tiger Lake, and in the case of Speedometer it's a pretty substantial win. Safari is surprisingly a bit slower than Chrome on the Mac, making unusual bedfellows of Apple and Google for the fastest web surfing mobile platform on the planet (to date; Alder Lake is coming). And because this test isn't hard on more than one core, the Mac mini finally doesn't have to settle for last place.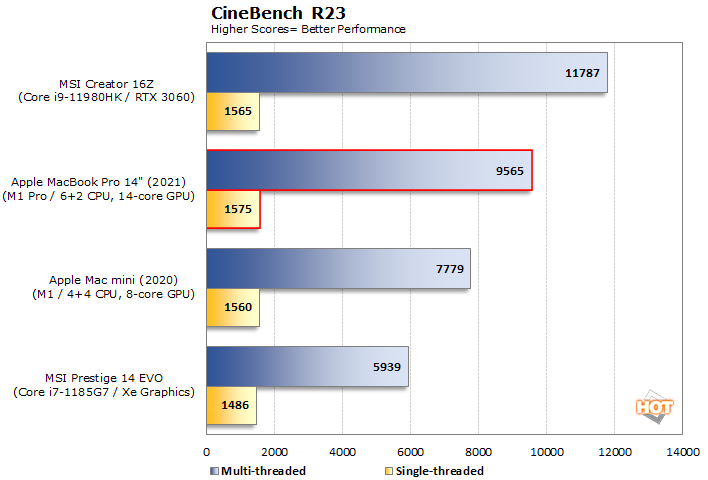 Cinebench once again neatly shows off Apple's single-threaded performance. Cupertino's single-threaded prowess has moved approximately nil since the M1's introduction, but that doesn't matter. Apple still ekes out a slight win. However, all the king's clock speed and all the king's threads successfully put Humpty Dumpty back up on the wall in the multi-threaded test, where Intel takes a sizable 18% victory.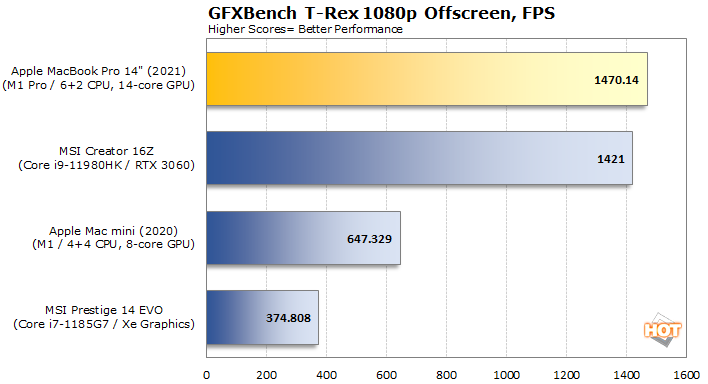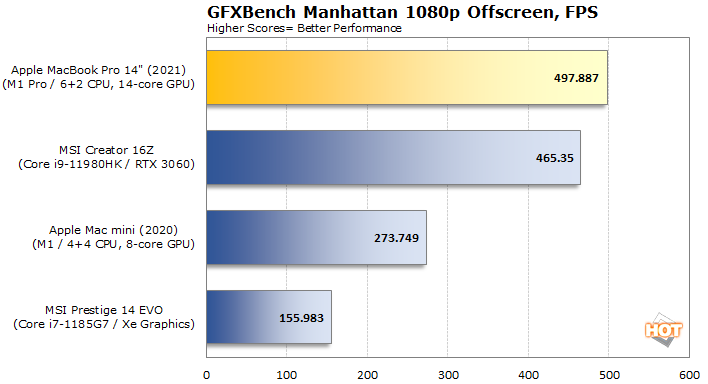 It's time to move into the 3D portion of our tests. As good as the M1 Pro looked in the first half of our tests, we expect NVIDIA to be less eager to relinquish its crown on the graphics side. We'll start with GFXBench, which is probably more applicable to mobile devices -- as in phones and tablets -- thane notebooks with bigger thermal budgets. Both of these tests have some incredibly high frames per second values because they're not particularly challenging scenes. It's likely that these tests are fill rate limited more than CPU or anything else. The
M1 Pro
has the same 64 ROPs as a GeForce RTX 3060, and the scores roughly line up. Nothing really to see here.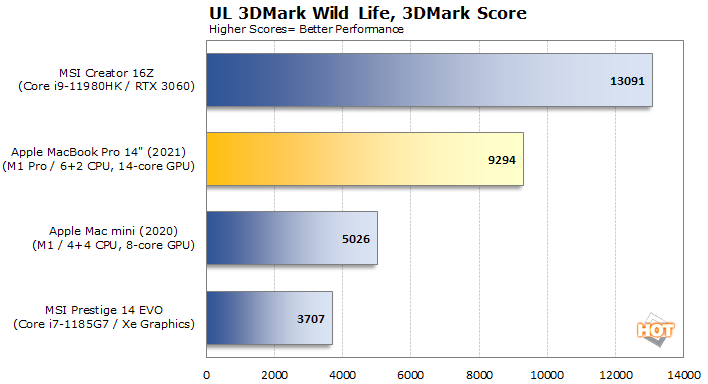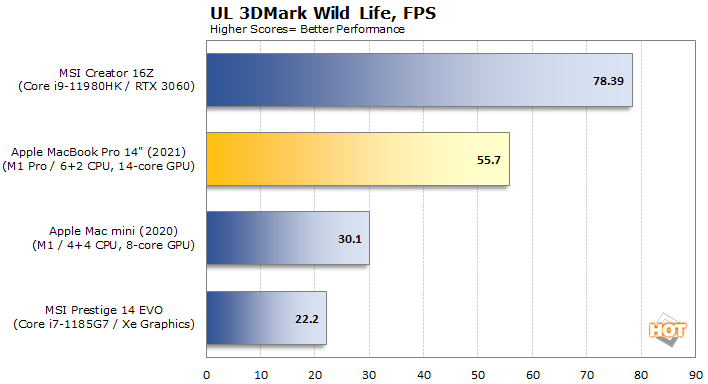 3DMark Wild Life on macOS is actually 3DMark Wild Life for iOS. The Wild Life Extreme benchmark always runs offscreen at a resolution of 3,840 x 2,160, however, so there's not really any downside to running it this way. Here we start to see something closer to what we expected. The cut-down M1 Pro puts up a fight, but ultimately is only about 65% as fast as the MSI notebook's beefy GeForce RTX 3060. We expect that the 24-core GPU of the binned
M1 Max
could make this a much more interesting fight, and those notebooks happen to be in the MSI's price range.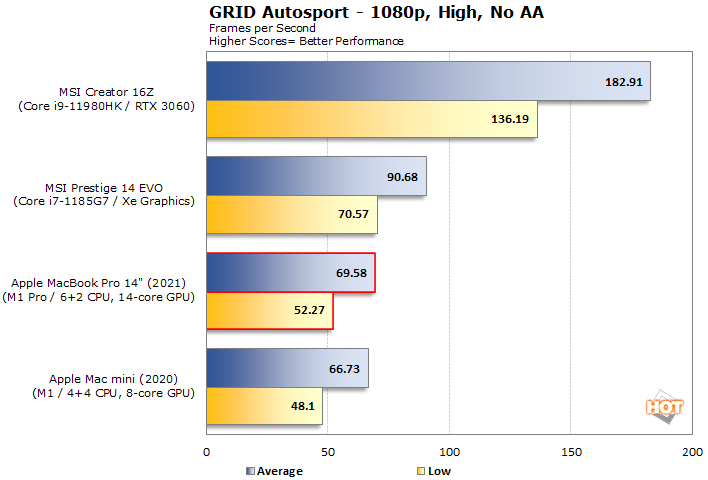 Into the actual games is where the MacBook truly disappoints. We expected this not only because of the GPU deficiency, but also the current state of Mac games being almost exclusively x86-only, either as native Mac binaries or wrapped in Crossover, the WINE-for-Mac solution from CodeWeavers. Feral Interactive did the port of both
GRID Autosport
and
Shadow of the Tomb Raider
, and while they're native Mac games, they're still x86-only. Rosetta 2 comes to the rescue, but it's not enough. As a result, the MacBook Pro is still nearly 40% behind the PC with Xe and it gets trounced by the GeForce.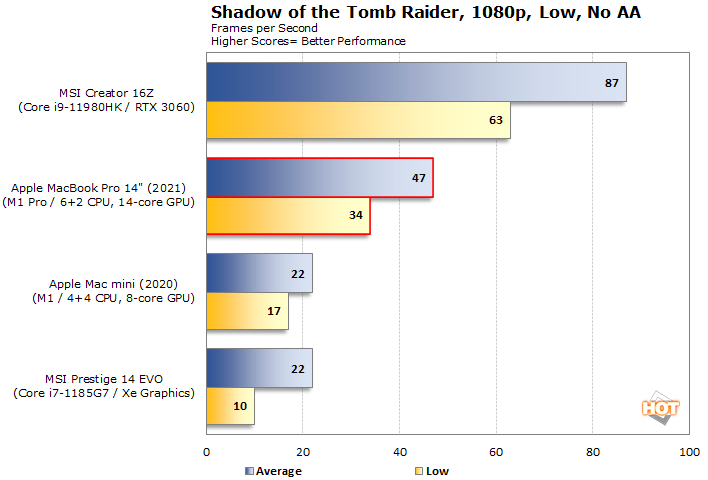 And lastly,
Shadow of the Tomb Raider
works the GPU pretty hard, somewhat numbing the effects of x86 emulation on the Mac. The scores here are roughly in line with what we expected from these GPUs based on resource counts and memory bandwidth.
Tomb Raider
is pretty playable at 1080p on the MacBook Pro at its Highest preset, but it's not nearly as smooth as it is on the PC with the NVIDIA graphics option.
Let's see how the battery life and power consumption work out.
2021 MacBook Pro Battery Life Testing
The HotHardware video playback battery life test uses a Windows batch file to play back a sample video a little more than seven minutes long on repeat, with a one-minute break between playthroughs. That test automatically records time elapsed to a text file, so when the system ultimately shuts down due to insufficient battery life, we know how long it was running. Batch files don't exist on the Mac, but shell scripts do, so I set about rewriting the HH battery playback test for the Mac. It will probably look familiar to Linux users and Mac-heads alike:

Meanwhile, the timer looks like this:

With our battery test as a guide and my rudimentary scripting skills, we've now perfectly replicated the Windows version of the test. I went to painstaking detail here because I was afraid nobody would believe me otherwise. Let's take a look at the results.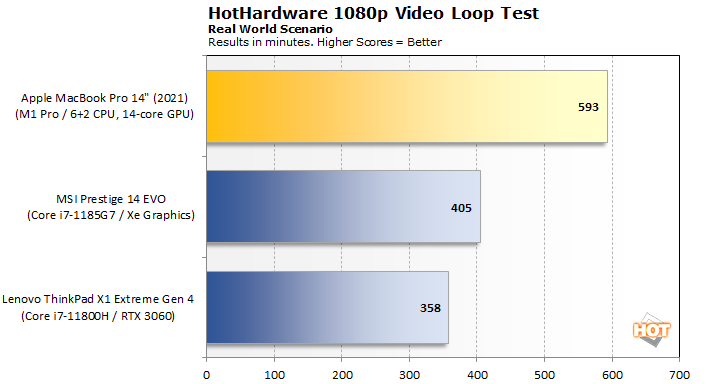 593 minutes is 9 hours and 53 minutes of video playback. System Profiler doesn't show the battery size and you're fooling yourself if you think I'm going to take this thing apart, so we'll rely on
coconutBattery from Coconut-Flavour
to tell us more about our Mac. It says the system has a 6,075 mAh battery, which likely works out to 70 Watt-hours or so assuming a typical voltage of around 11.5. According to iFixIt, the 16" model's battery is
an 11.45v model
, so that's close enough for us.
Apologies for the ol' switcheroo on the PC side of things. Battery life for the Creator Z16 isn't available because of a system failure that occurred during the battery test. While that's unfortunate, the ThinkPad X1 Extreme should be a suitable stand-in. That machine had the best life of any of the systems with a similar configuration that we've tested, and it just so happens that we recently reviewed it as well. It's going to appear later on when we talk about power consumption, too.
We re-ran the MSI Prestige 14 EVO's battery life in Windows 11, which is also what we used to do our testing. The result is close but a little shorter than the previous 423 minute runtime. That system only has a 52 Wh battery. If we do the rough estimate of 7.8 minutes per Wh, a 70 Wh battery in the smaller MSI works out to around 550 minutes, which isn't that far off of the Mac. The lower end of Tiger Lake's power consumption is pretty efficient, all things considered.
2021 MacBook Pro Power Consumption And Efficiency
Last year's Mac mini was a power efficiency champion, so we expect nothing less from the M1 Pro. Perhaps as foreshadowing to its capabilities, we'd like to point out that the charger Apple packed into the box is a mere 67 Watt brick with a USB-C to MagSafe cable that's roughly five feet long. Unlike most PC notebooks, the MacBook Pro's brick plugs straight into the wall or power strip, which is very inconvenient. Standard three-prong extension cables are $19, which is an unwelcome added cost because it really should be in the box.
Apple says that if users opt to buy a 97 Watt charger, or use a Thunderbolt dock or monitor with enough power delivery, those devices can charge the battery
to 50% in 30 minutes
, but it doesn't affect power consumption. On the other hand, 16" MacBook Pro users that opt for an M1 Max can
manually enable high-power mode
, which apparently unlocks higher speeds at the cost of power consumption and fan noise.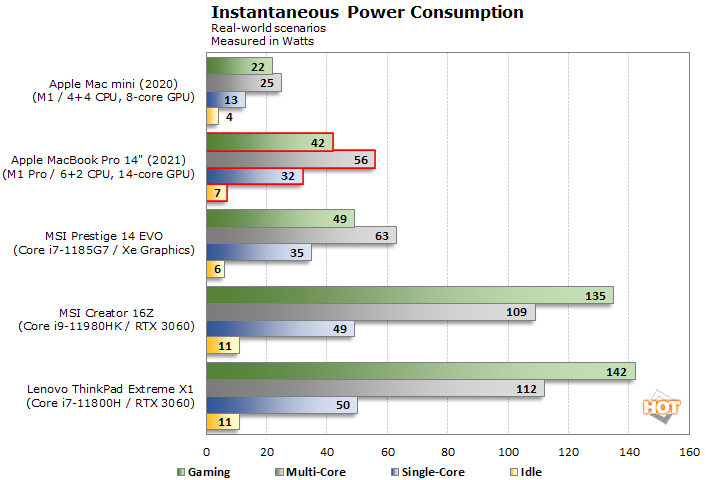 To test power consumption, we ensured that the notebooks were all charged to capacity and then measured power draw with our Kill-A-Watt in several scenarios: idle, under a single-threaded task, pulling a heavy multi-threaded load, and while running the
Shadow of the Tomb Raider
benchmark to get the CPU and the GPU together.
The MacBook Pro's power consumption is more in line with the
MSI Prestige 14 EVO
, which has a Tiger Lake Core I7-1185G7 than a 45 Watt Tiger Lake-H CPU and beefy GPU. Remember that while gaming, there's a huge performance gap, so that extra power does get put to good use in that scenario. On the other hand, the M1 Pro handily outruns the smaller notebook's lighter hardware configuration despite the similar power draw. That's why the Prestige 14 EVO appeared in our results.
Remember, instantaneous power draw isn't the whole story. We can estimate how much total energy a task takes by timing the task itself (a multi-threaded Cinebench R23 pass), then multiply the time in seconds by the Watts observed instantaneously.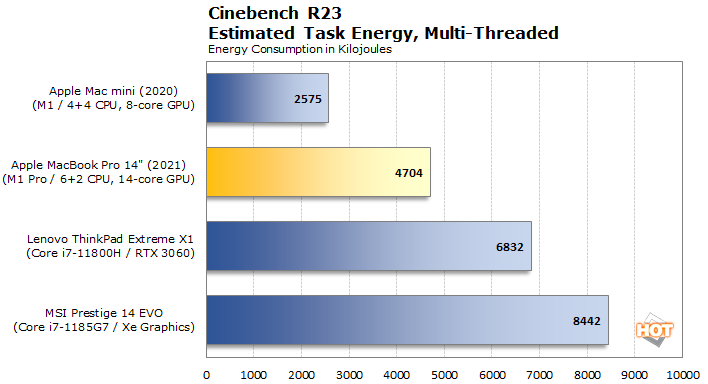 Apologies again for the bait-and-switch
ThinkPad X1 Extreme
here, because the MSI had given up the ghost before we had the idea. If you glance back at the Lenovo review, you'll note that it actually outscored the MSI on this test by around 10% and therefore is actually a bit more efficient, even though it drew slightly more power. Unfortunately, the Creator Z16 doesn't appear here because we didn't think to time the Cinebench run until it had already given up the ghost.
Even the trimmed-down M1 Pro can outrun the highest of high end Tiger Lake-H CPUs while simultaneously drawing roughly equivalent power to a system with integrated graphics and a 28 Watt processor. Maybe we should stop marveling at Apple's engineering and start asking where this kind of efficiency is hiding on the PC?. However, Apple did give up a fair amount of efficiency by trading in two high-performance cores compared to the M1's 4+4 setup. Task energy is almost doubled compared to the Mac mini, although at least some of this is due to needing to power the display.
The final thing we need to consider is that many notebooks will bleed off performance away from the wall socket. The MacBook Pro doesn't have that problem; performance is the same plugged in vs. unplugged, and this isn't just for short bursts, either. The multi-threaded test takes nearly 80 seconds, while the single-threaded test runs nearly 10 minutes. The system will give whatever power it's asked to give away from the wall. Obviously the Mac mini doesn't have a battery, so it doesn't fare as well unplugged.
Next up, let's see how cool this efficient little notebook can keep itself...
Related content
Comments