Apple Mac Studio Review: Evaluating Value And Performance Vs PC Alternatives
Apple Mac Studio Review: System Performance and Power Consumption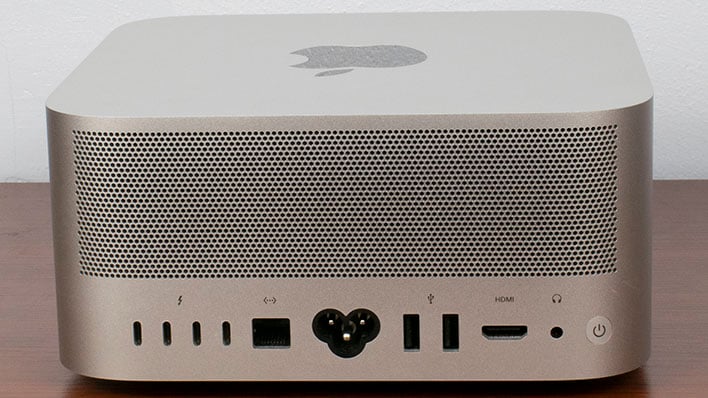 To test the Mac Studio, it seems only fair to compare it with Windows machines in the same price bracket. There are a couple of different ways to go about this. First, Intel's NUC 12 Extreme Dragon Canyon is an obvious choice due to its relatively small size. It's still much bigger than the Mac Studio, but quite a bit smaller than a traditional desktop. The configuration we tested has a mobile 12th-generation Core i9 processor, 32 GB of DDR5 memory, an SSD, and a desktop GeForce RTX 3060. For right around $2,000 the relatively small Dragon Canyon NUC seems like a pretty reasonable comparison.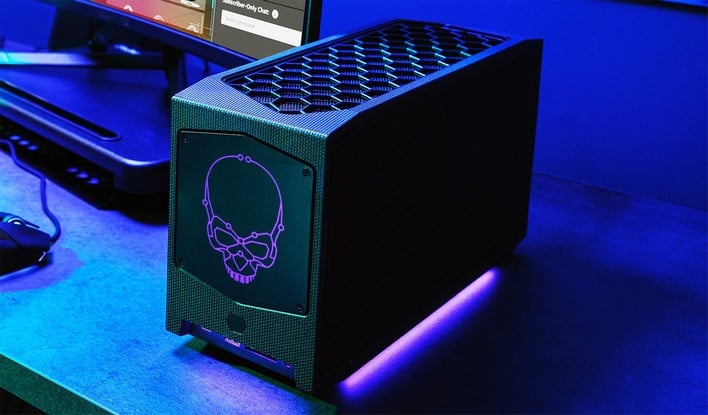 The other way to compare a Mac Studio is to a standard $2,000 PC. For that, we used my own gaming rig, which is highlighted by a Core i7-12700K, 32 GB of Corsair DDR4-3600, and a GeForce RTX 3070 with 8 GB of memory. Once we include all the other required parts, and of course a Windows 11 license, our build pushed just a tiny bit past that magical $2,000 price.
You can check out the
full list of parts
on PCPartPicker and flame me in the comments for my choices. Note that our RTX 3070 isn't the exact one (we have a Founder's Edition card) but we think most folks would take what they can get as far as specific models go, and that was the cheapest one we found as of this writing. While enthusiasts might quibble with the specific selections, there's not a ton of room for improvement from a performance standpoint without blowing the budget entirely, so it seems like a good point of comparison.
Our predictions are kind of dire for the Mac Studio, to be totally honest. Alder Lake just rips it up from a single-core perspective. The 20 threads afforded by eight performance cores and four efficiency core in the Core i7-12700K should be enough to claim the multi-threaded crown. As impressive as Apple Silicon was a year and a half ago, Apple has not moved clock speeds or updated the architecture even a little bit in this machine. Intel has absolutely not stood still, so while the Studio can be the fastest Mac around, we think it's likely to fall overall to a comparable PC. Of course, Apple isn't twiddling its thumbs, as evidenced by the recent M2 announcement in the latest MacBook Air.
And then of course we're building our own library of Mac benchmarks, so the 2020 Mac mini and the 14-inch MacBook Pro are here as well. The house is starting to look like a scene from
Ted Lasso
in a world where all the technology is made by Apple.
Apple Mac Studio Performance Benchmarks
Before we get to the fun bits, let's make sure the storage subsystem is up to snuff.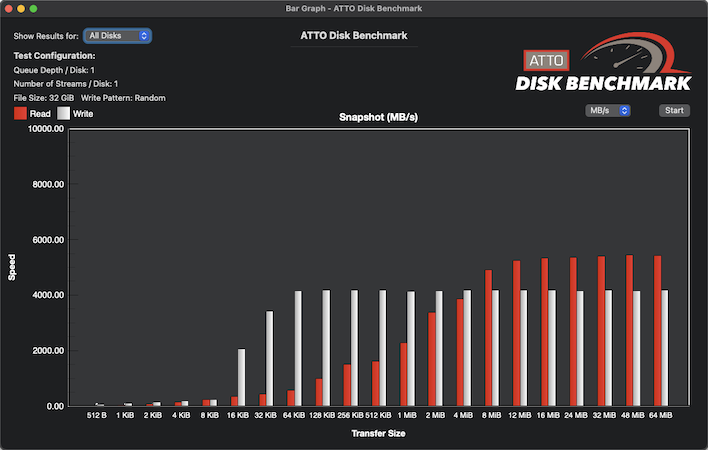 Much like the 14-inch MacBook Pro before it, the storage in the Mac Studio is pretty quick. Hitting a maximum speed of 5.45 GB per second on reads and plateauing at 4.2 GB per second on writes puts the Studio on par with older PCIe Gen 4 SSDs, but the likes of the
Samsung SSD 980
and
ADATA XPG Atom 50
will make it look pretty slow. In terms of everyday usage, we don't think users will really notice much of a difference.
The first several performance tests here are all M1-native applications. GeekBench has been ready for Apple Silicon since the WWDC announcement 18 months ago. We're also using the OpenCL, Metal, and CUDA tests available on each platform to get a feel for compute performance. Google Chrome, which we're using for web testing, has been ready for Arm64 for close to a year (sorry Windows Snapdragon 8cx users, we know you're
still waiting
). Cinebench and GFXBench are also both Apple Silicon native. In fact, in this particular suite, it's just the games that lack Apple Silicon binaries. Rosetta 2 is fast, but the M1 Max's 24-core GPU isn't likely to keep up with the GeForce RTX 3070 in our $2,000 PC anyway.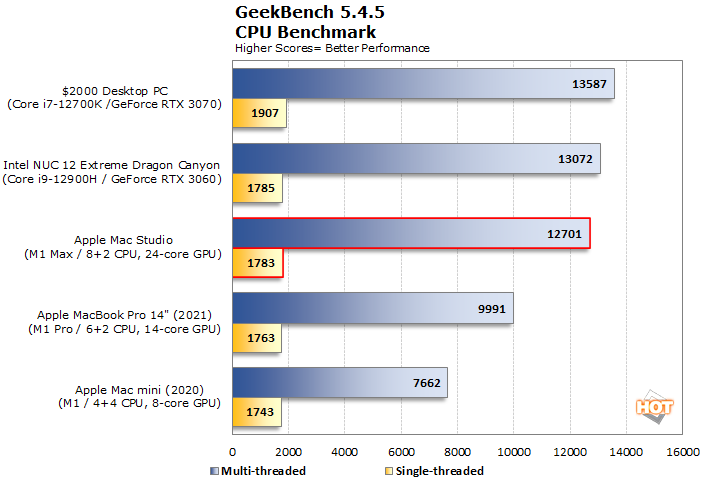 Give Intel some time, and it'll catch up when motivated. Alder Lake is pretty darn fast, whether we're talking about the 125-Watt Core i7-12700K on the desktop or the slimmer 45-Watt Core i9-12900H in the NUC Extreme. Apple essentially ties the notebook-focused Intel CPU, and given the M1 Max's mobile heritage, that's expected. Also expected is that the larger TDP in the 12700K takes the cake in single-threaded tasks. As we said earlier, we think Apple is missing the boat by not turning up the clock speed a bit, and as a result the Mac Studio stumbles out of the gate.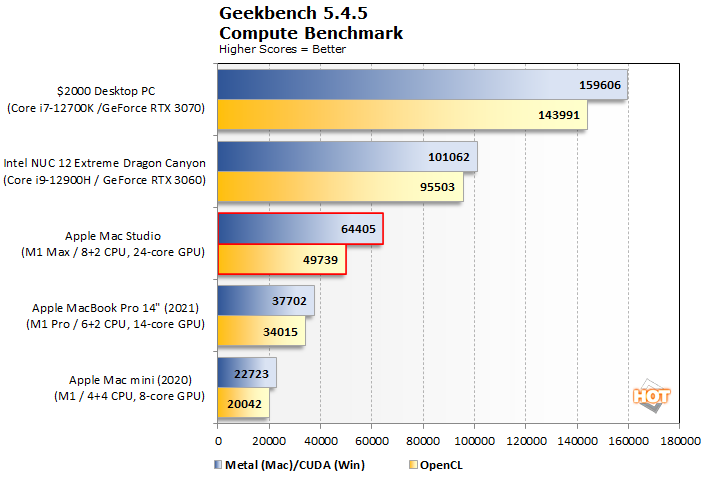 Geekbench's Compute benchmark doesn't really tell us anything we didn't already know. The Mac Studio's integrated GPU is about 60% faster than the 14-core
MacBook Pro 14-inch
, but the GeForce RTX 3070 reigns supreme, and it's not particularly close. The GeForce is pushing three times as fast whether it's CUDA vs. Metal or OpenCL on equal footing. Even the pint-sized NUC Extreme Dragon Canyon with its GeForce RTX 3060 was around 85% faster than the Mac Studio in the like-for-like OpenCL test.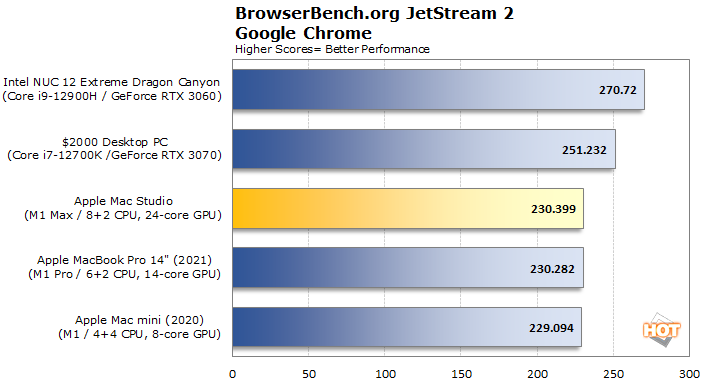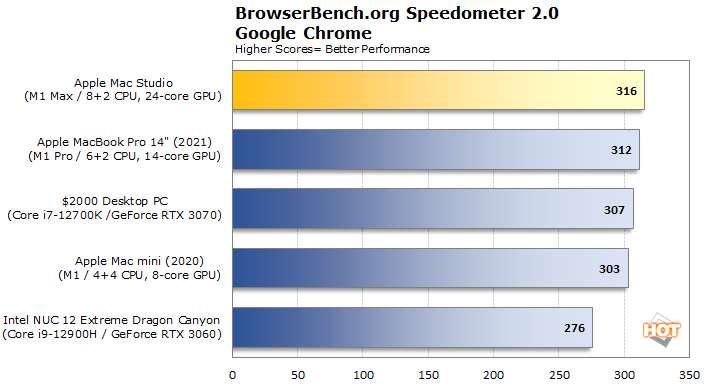 Jetstream performance somewhat mirrors what we saw in the Geekbench single-threaded test. The Mac Studio is right on par with the other Apple Silicon Macs while the Alder Lake systems race ahead of the pack. The Dragon Canyon NUC takes a surprising win in Jetstream. However, this burst-heavy test likely allows the Core i9-12900H to stretch its legs and more aggressively push its boost clocks.
Speedometer, on the other hand, is a win for the Mac Studio. There's no funny business going on here, either; Chrome on macOS has its own HTML and JavaScript engine just like it does on Windows (something that's not true on iOS, for instance). The Macs are just faster than the NUC by a significant margin, while the desktop PC has to settle for third place, just about two percentage points off the lead.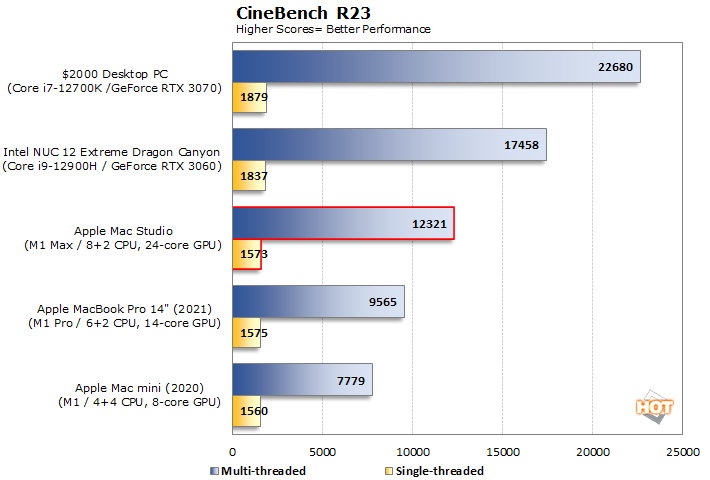 Cinebench sees Intel roar back in a big way. The NUC is about 40% faster than the Mac Studio, while our DIY PC puts its very large thermal budget to good use and extends the lead to 80%. Single-threaded performance is again a significant win for Intel, while all three Macs sit stagnant. What's worse is that the $4000 Mac Studio with its
M1 Ultra
would, in theory, only just barely beat out the half-price hero from Intel.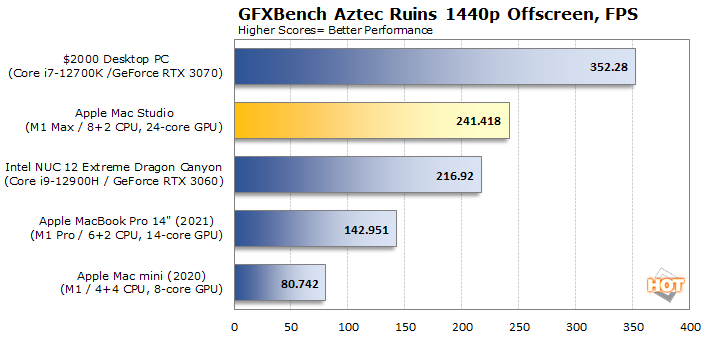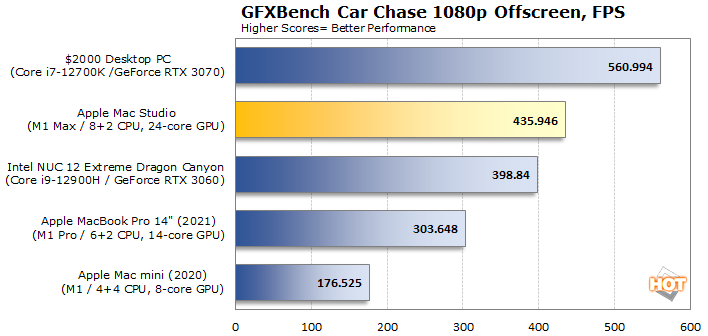 We suppose GFXBench doesn't have tons of real-world applicability, considering the relatively low detail of even its most rigorous Aztec Ruins test at 1440p, but it's another cross-platform graphics test. Without the more rigorous tests of 3DMark, this will have to do. It paints a relatively rosy picture for the Mac Studio, as its performance is more than twice as fast as the Mac mini, and pushes nearly 50% faster than the MacBook Pro 14" and it can comfortably put the NUC in the rear view mirror. However, in lieu of games that actually run on this engine, we'll move on.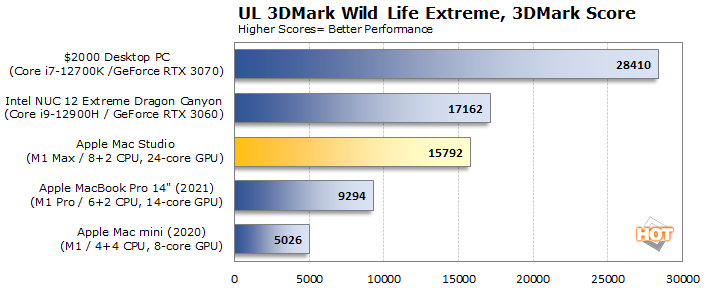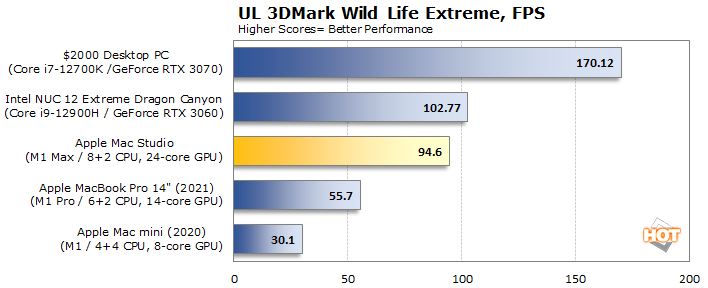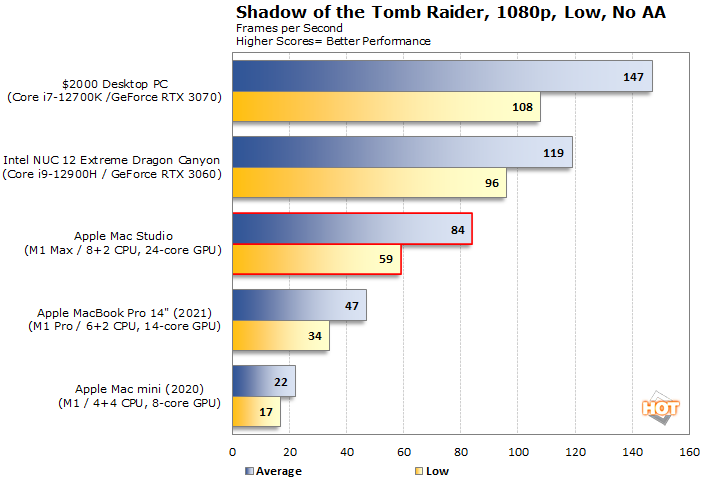 OK, so we see a couple of things here. Tomb Raider on the Mac is GPU-bound, even at 1080p, at the highest settings. Adding all the resources of the M1 Pro doubled performance in the MacBook Pro compared to the Mac mini, and throwing more silicon at the game seems to have paid off in the Mac Studio. An average of 84 fps is quite playable, especially with a low of 59. On the other hand, both PCs eclipse that mark by quite a bit. Even the NUC 12
Extreme Dragon Canyon
's GeForce RTX 3060's low score is higher than the Mac Studio's average. Again, the DIY PC enjoys an 80% lead, which is quite insane.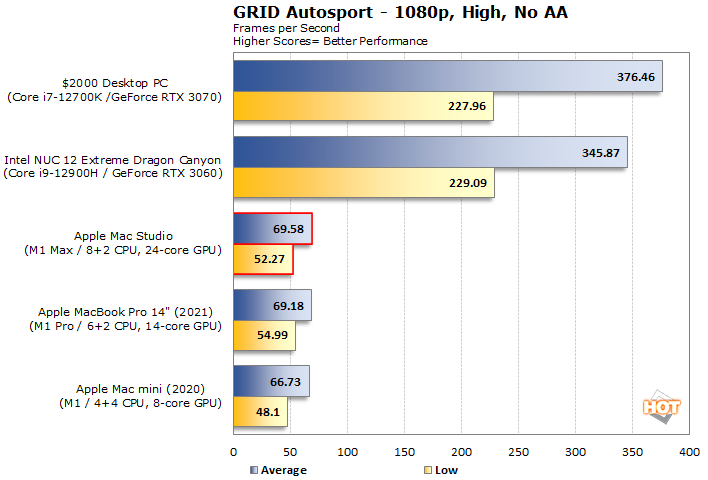 This is just...yikes. The lack of native gaming titles on the Mac is doing the platform zero favors. Whatever wall the Mac Studio runs into by running GRID Autosport in Rosetta allows the PCs to be five times as fast. That's 500% of the performance. Incidentally, it seems we're rather CPU-limited in this benchmark as the GeForce RTX 3070 failed to distance itself from the 3060, so we're laying this embarrassing performance right at the feet of Rosetta 2.
The Mac Gaming Ecosystem Lacks Punch
The thing we see here is that Rosetta 2 is just not good enough for gaming. Honestly, we shouldn't have to talk about gaming, but it is a big driver of PC sales. If the graphics card shortage over the last two years has told us anything, it's that folks want to play games on PCs. But because of the state of Mac gaming, Mac buyers shouldn't expect the same experience, or even something close.
In GRID Autosport, we're very obviously bound by single-threaded performance. All of these systems have pushed close to 70 fps, which again is extremely playable, but the PC options are both so much faster. The fact that the M1 Pro and M1 Max can barely improve on the lowly Mac mini in this game points to a weakness, and that's the fact that games are just not M1 native at this time. If the CPU was running its native architecture, we have to think the GPU would have made a significant difference. This is an old game, to be sure, but it's frustrating.
Both of the games we've tested are Intel-only on the Mac platform. Honestly, unless it's on Apple Arcade (which is home to iOS and iPadOS games ported to the Mac, mostly), there are no Apple Silicon-native games. We had high hopes for Total War: Warhammer III since its published system requirements indicate that an M1-based Mac is required, but it still ships as an Intel binary. Feral Interactive says in its FAQ that some of the libraries used for multi-player have no Apple Silicon versions, so they were stuck releasing an x86 app running on Rosetta. Which means we're still a long way off from having M1-native cross-platform games.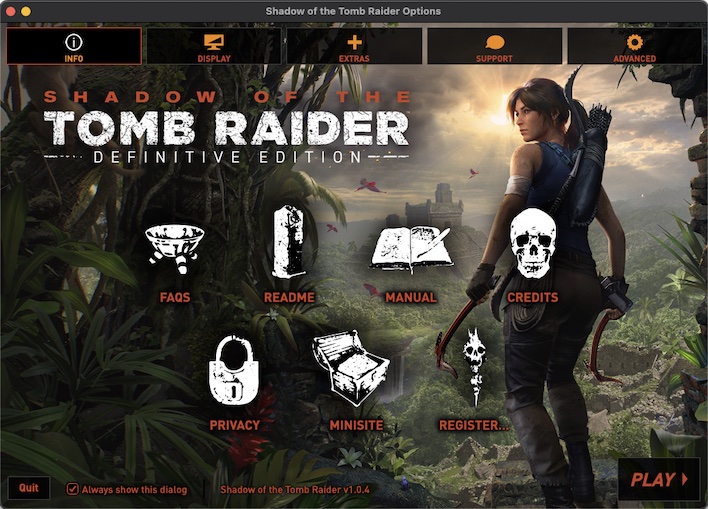 In our view, Mac games just aren't worth benchmarking across a bunch of systems until something M1-native actually ships. At this point, it looks like that game will be Baldur's Gate 3, which is in early access and by most accounts something of a mess in its public preview form. Any game with "
Hotfix #23
" as a patch version probably shouldn't have gone public when it did. We'll consider adding this title to our Mac performance figures when it releases sometime next year if we can find a way to benchmark it.
In short, the Mac is not a gaming platform, and a PC will give you a much better experience. It can even be on the Mac via Steam in-home streaming, if you want, but this isn't the hardware for you. If you need Mac apps and don't want to build a PC for gaming, either get a console or subscribe to a cloud service like GeForce NOW.
Power Consumption Comparisons
Let's talk about power consumption and efficiency, a metric by which the Mac Studio cleans up. To start with, we started a task and checked the power consumption right as it began. This is a simple observation with an inexpensive Kill-A-Watt set to Watts. We do concede that this represents a worst-case scenario for the x86 systems, since the higher PL states draw the most power in the Single and Multi-Threaded tests, which were performed using Cinebench R23. The gaming test doesn't begin until the start of the benchmark run, which requires getting through menus and the like, and as a result the power load should be more affected by the graphics card than the processor.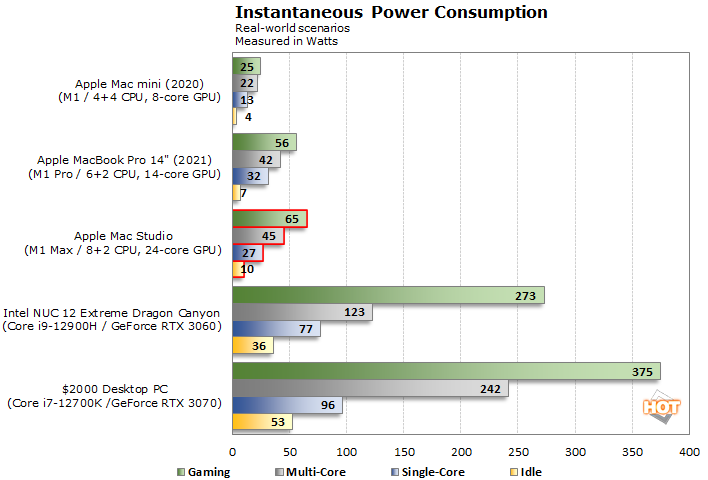 If there's one place Mac Studio owners can take solace, it's in the power draw, in that the Mac Studio pulls down less power at idle and in CPU-only workloads than even the MacBook Pro, because the laptop has to power its built-in display. Remember that our 14-inch review unit only has eight cores, so that explains why the multi-core measurement is actually higher on the Studio and its 10-core CPU.
Focusing on the desktop competition, the
Mac Studio
only draws between 16% and 25% of the power required by our desktop PC, and between 25% and 33% of the power needed by the NUC. This is what frustrates us so much about the Studio's CPU performance. As you'll see on the next page, this system is whisper quiet meaning the cooler is capable of doing more than it is, so we have no idea (or want to guess) why Apple didn't give it a kick.
However, because the PCs can consistently (at least in Cinebench) put the Mac Studio in the rear-view mirror, the task energy chart isn't going to look so lopsided. To test total power consumption, we used a Watts Up Pro (discontinued by its manufacturer) for its simple power consumption logging. We can show total task energy, expressed in Kilojoules.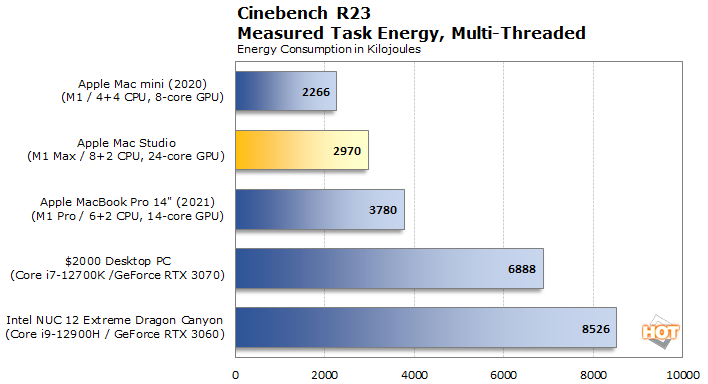 The DIY PC used around six times as much energy instantaneously when compared to the Mac Studio, but because of thermal and power limits in Intel's processors, it doesn't stay there very long. The good news is the extra cores in the Mac Studio push its performance way up past that of the MacBook Pro, and as a result its task energy is far lower despite drawing slightly more power.
The other interesting thing here is how the Dragon Canyon NUC landed at the bottom of the charts. The two PCs used about the same amount of energy per second, but because the Core i7-12700K had more thermal headroom it was able to complete its run much more quickly and return to a state of rest. And of course, the Mac mini leads the charge while simultaneously pulling up the rear from an absolute performance standpoint. This illustrates how important it is to not just look at these power efficiency numbers in a vacuum if performance is even remotely important.
Don't forget that the DIY PC is twice as fast as the Mac Studio in Cinebench's multi-threaded test, and as a result the Mac only consumes about half as much power as the PC. That's great, but it takes twice as long to complete, too. Real rendering tasks are rarely as small as a single frame, so we start to talk about real performance differences as the power consumption is less important overall in the grand scheme of things. Despite sipping power, the Mac Studio just kind of fell on its face here. Unless you're paying a whole lot for electricity and don't care how long this task takes, it's almost moot.
Next up we're going to take a look at some apps that live firmly in the
Apple
ecosystem where the Mac Studio will likely shine.
Related content
Comments