Ryzen 6000 And ASUS ROG Zephyrus G14 Laptop Review: Revisiting Performance
ASUS ROG Zephyrus G14: System Benchmarks, Game Performance And Battery Life
Before running any of our benchmarks, we apply all of the latest Windows and driver updates to the system we are testing. Our particular ASUS ROG Zephyrus G14 sample shipped with
Windows 11
Pro 21H2 and needed very little updating. Other than applying any available updates (like most consumers would), we run all of our tests with out-of-the-box settings. Our goal is to test the system as it ships, but after auto-updating, to accurately reflect what buyers can expect from a retail experience.
The ASUS ROG Zephyrus G14 has an additional wrinkle in that it gives users the ability to switch between multiple power modes through the Armory Crate app, and it will auto-switch to different profiles when running on AC or battery power. We decided to keep things simple and ran out entire suite of tests in both Performance mode (which was the out the box default) and Turbo mode, which cranks up the fan speeds and power targets for the CPU and GPU.
ATTO Disk Benchmark
The
ATTO disk benchmark
is a fairly quick and simple test which measures read/write bandwidth and IOPS across a range of different data sizes. While we don't typically compare these results across multiple machines, it's useful to gauge whether a particular notebook's storage subsystem is up to snuff.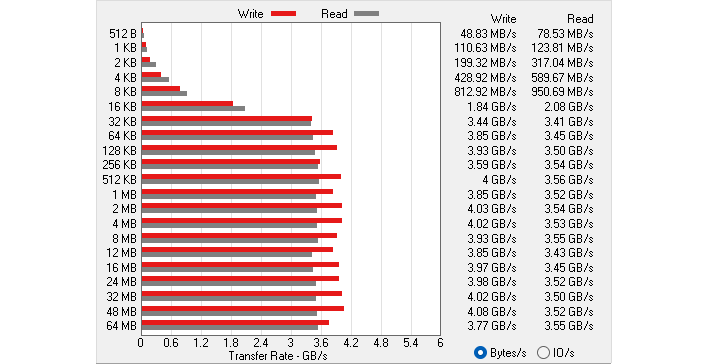 Although the Ryzen 6000 series features integrated PCIe Gen 4, the Micron NVMe SSD included in the ASUS ROG Zephyrus G14 doesn't fully exploit it. As you can see, reads and writes peak in the 3.55GB/s - 4GB/s range, which is nothing to sneeze at, but doesn't come close to today's top-end
PCIe Gen 4 drives
that approach the 7GB/s mark.
Speedometer 2.0 Browser Benchmark
We use BrowserBench.org's Speedometer test to gauge our web experiences, which takes a holistic look at web application performance. This test automatically loads and runs several sample web apps from ToDoMVC.com using the most popular web development frameworks around, including React, Angular, Ember.js, and even vanilla JavaScript. This test is a better example of how systems cope with real web applications, as opposed to a pure JavaScript compute test like JetStream. All tests were performed using the latest version of Chrome.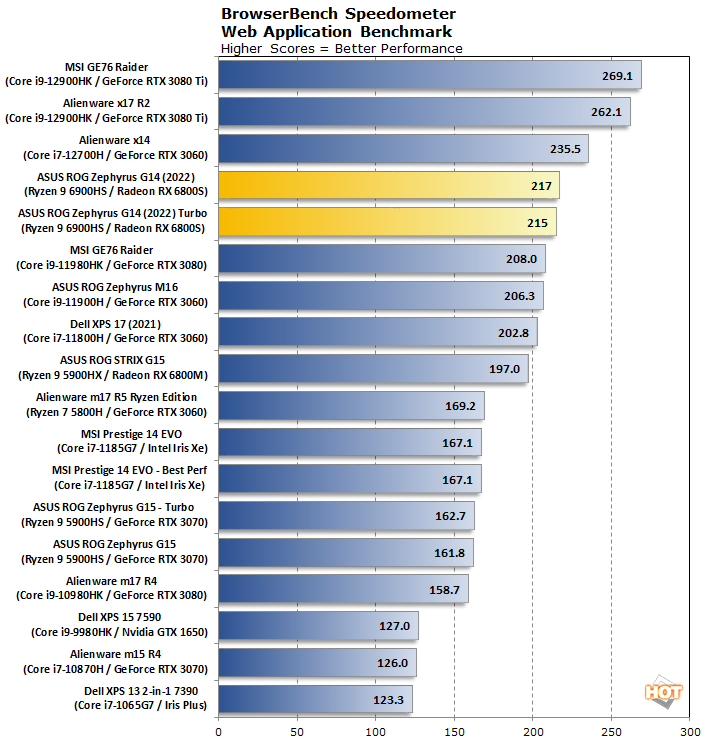 The Ryzen 9 6800HS is a significant step up from the previous-gen Ryzen 5000 series chip (as seen in the ROG Zephyrus G15), which pushes the ASUS ROG Zephyrus G14's score into the upper echelon of systems, but Intel's 12th Gen processors based on
Alder Lake
score a clear win in here.
Cinebench R23 Rendering Benchmark
This is the latest 3D rendering benchmark from Maxon, based on the Cinema 4D R23 rendering engine. We tested both single-threaded and multi-threaded tests on all of the notebooks represented here...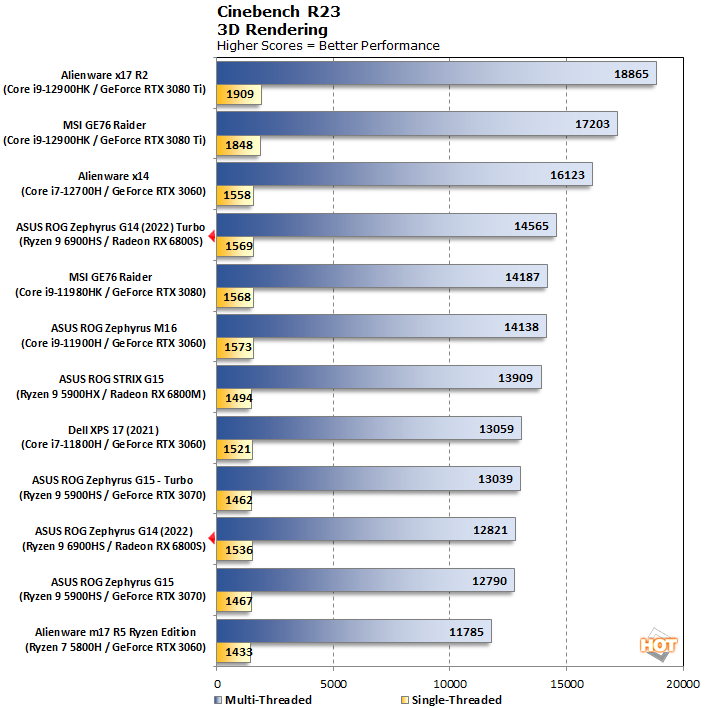 Kicking the ASUS ROG Zephyrus G14 into Turbo mode offered a big boost in performance. In the default Performance mode, the Ryzen 9 6900HS was marginally faster than it's previous-gen counterpart in the multi-threaded test, but the comparison favors the 6900HS by a much larger percentage in the single-thread test. Enable Turbo mode, however, and the ASUS ROG Zephyrus G14 with its 8-core / 16-threads jumps up the charts and lands just behind the 14-core / 20-thread Core i7-12700H.
Geekbench 5 Benchmarks
Geekbench is a cross-platform benchmark that simulates real world processing workloads in image processing and particle physics scenarios. We tested the notebooks featured here in Geekbench's single and multi-core workloads. It measures single-threaded performance allowing a single core to stretch its legs, and multi-threaded throughput to put all cores under a heavy load.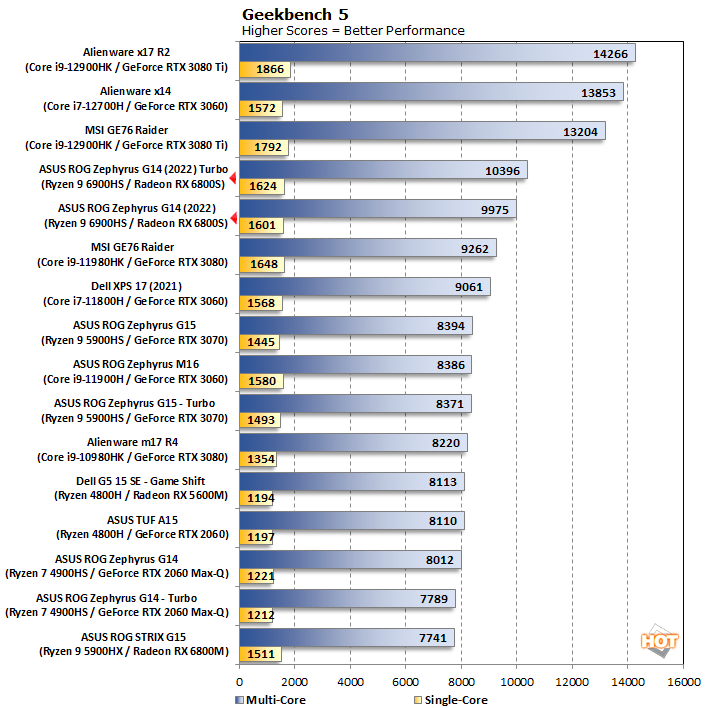 Geekbench has the Ryzen 9 6900HS-based ASUS ROG Zephyrus G14 besting all of the previous-gen systems, including the much higher-power Core i9-11980HK. The latest Intel 12th Gen processors, however, finish well out in front, especially in the multi-threaded test.
PCMark 10 Whole System Benchmarks
PCMark 10
uses a mix of real-world applications and simulated workloads to establish how well a given system performs productivity tasks, including image and video editing, web browsing, and OpenOffice document editing. While these scores appear to be all over the place, the systems are sorted by their overall PCMark score, which is the third (gray) bar in each cluster.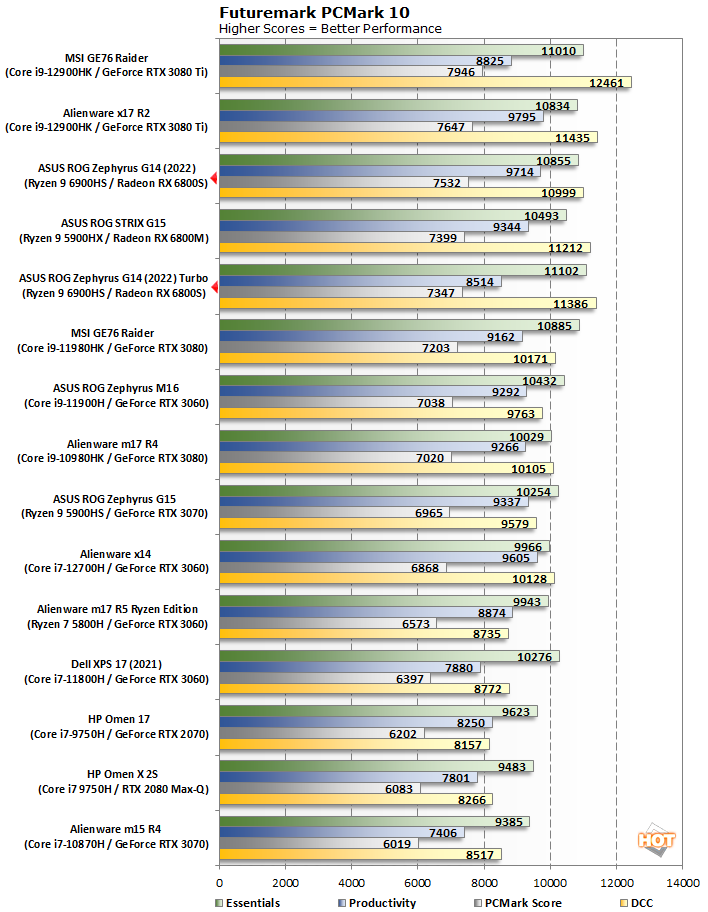 Enabling Turbo mode somehow hurt the ASUS ROG Zephyrus G14's productivity score, which dragged down the overall score -- its DCC and Essentials scores were better, though. Still, the machine is among the fastest we've tested, whether Turbo is enabled or not. We suspect things would have looked even better here with a top-end SSD on-board.
3DMark Graphics And GPU Tests
3DMark has several different graphics tests which focus on different types of systems. We start with Time Spy, which is 3DMark's headline benchmark. This test presents a pretty significant challenge for the system's CPU and GPU using DirectX 12's API...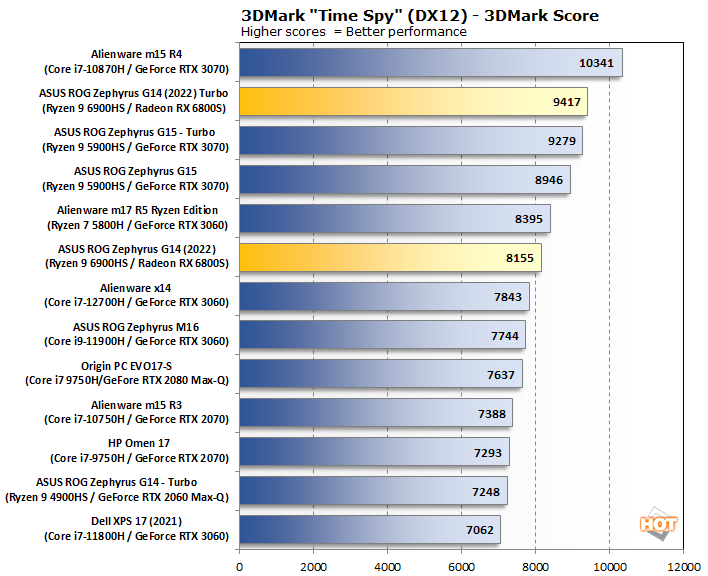 The Radeon RX 6800S in the ASUS ROG Zephyrus G14 performed well in Time Spy, trading blows with the GeForce RTX 3060 or RTX 3070-powered machines, depending on which power mode was used. As we've seen in a number of tests so far, enabling Turbo mode results in a significant jump in performance.
Next up, let's take a look at the Extreme preset for the punishing 3DMark Fire Strike test. This DirectX 11 test has been around for a while, but it's still pretty challenging.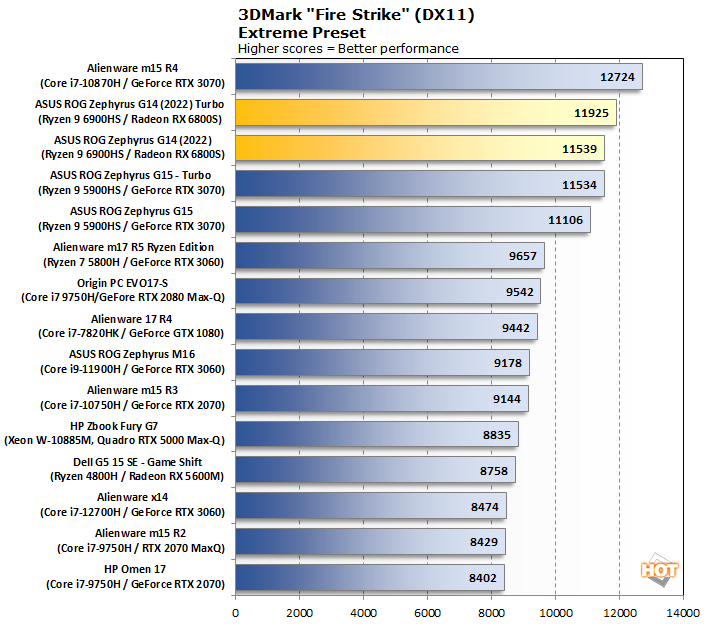 We saw more of the same in 3DMark Fire Strike. Enabling Turbo mode pushed the ASUS ROG Zephyrus G14 up the charts, but it couldn't quite catch the RTX 3070-powered Alienware m15 R4.
Lastly, the Port Royal test uses DirectX
Ray Tracing
(DXR) to illuminate a scene...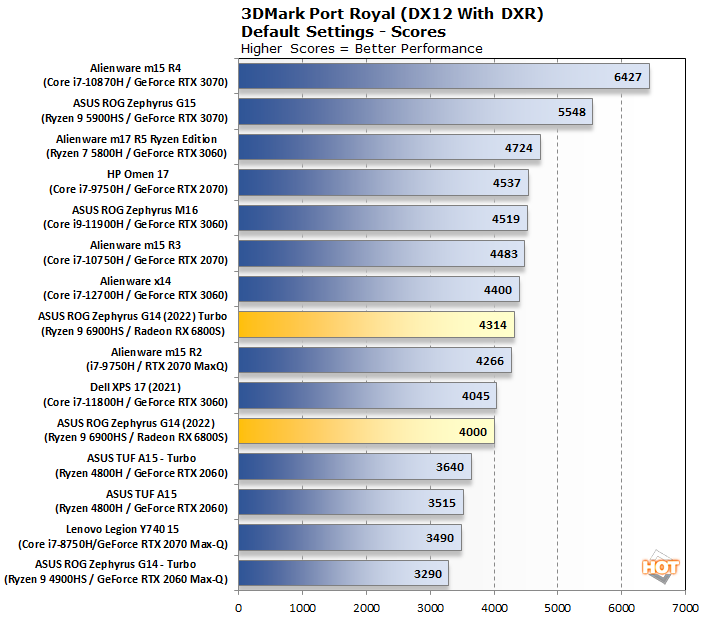 AMD is still in its first-generation of Ray Tracing-enabled GPUs and NVIDIA's
GeForce RTX 30
series GPUs have a clear advantage. Still, the ASUS ROG Zephyrus G14 performs well, especially in Turbo mode, and lands somewhere in between the RTX 3060 and RTX 3070.
Gears 5 Game Benchmarks
Gears 5
is a popular title on the Xbox and PC alike, and on top of looking great, it's a blast to play. We used the High image-quality preset at 1920x1080, same as the other games, to test Gears 5.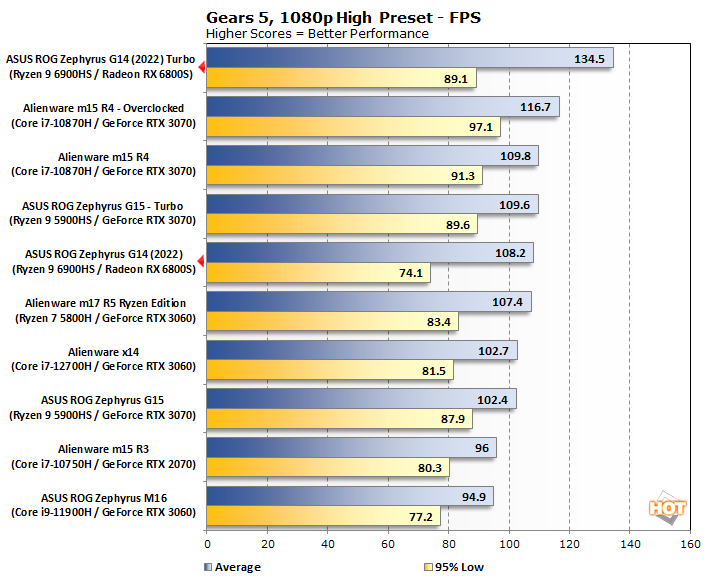 The performance delta between Performance and Turbo modes on the ASUS ROG Zephyrus G14 was quite stark. In Performance mode, the system competed well against the GeForce RTX 3070 in the larger ASUS ROG Zephyrus G15. Enable Turbo mode, however, and the ASUS ROG Zephyrus G14 and its Radeon RX 6800S jump to the top of the chart.
Middle Earth: Shadow Of War Tests
Middle Earth: Shadow of War is a fun and and beautiful title set in Tolkien's Lord of the Rings universe. To test the game's performance relative to other systems, we set the resolution to 1920x1080 and turned the visuals up to the High preset. The frame rates here are the average reported by the built-in benchmark.
At this point we're probably starting to sound like a broken record, but the numbers are what they are. In this game, the Radeon RX 6800S-powered ASUS ROG Zephyrus G14 once again trades blows with the GeForce RTX 3060 and RTX 3070-powered laptops, like
the Alienware x14
, and enabling Turbo mode results in a significant increase in performance.
Shadow Of The Tomb Raider Benchmarks
The finale in the rebooted Tomb Raider trilogy, Shadow of the Tomb Raider is easily the best-looking of the bunch. It's also brimming with Tobii eye-tracking hardware support, and leading edge graphics technologies. To test this game out, we again turned the visuals up to High and tested at the Full-HD resolution of 1920x1080.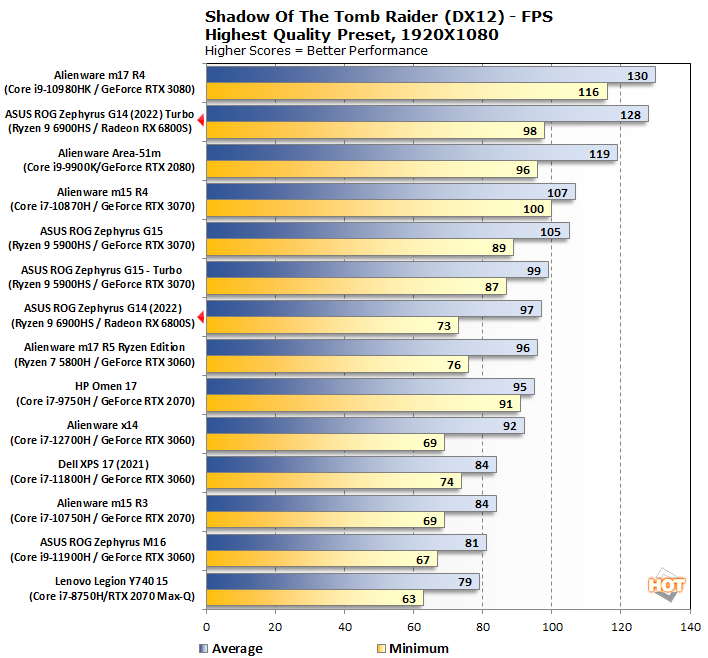 The Tomb Raider benchmark is affected by both CPU and GPU performance. Once again, we see Turbo mode offering a big step up in performance, and the ASUS ROG Zephyrus G14 with its Radeon RX 6800S lands in similar territory to the RTX 3070, nearly catching the RTX 3080 in the big burly
Alienware
machine.
F1 2021 Benchmarks
F1 2021 is Codemaster's latest Formula One racing simulation, and like previous version of the game, it sports impressive visuals. This latest addition to the franchise supports DirectX 11 or DirectX 12, and it incorporates support for a number of AMD's FidelityFX and NVIDIA technologies (like DLSS), though we didn't enable any of them to keep the playing field level. We tested the game with its Ultra High graphics preset, but with Ray Tracing and TAA enabled to see what the GPUs could do.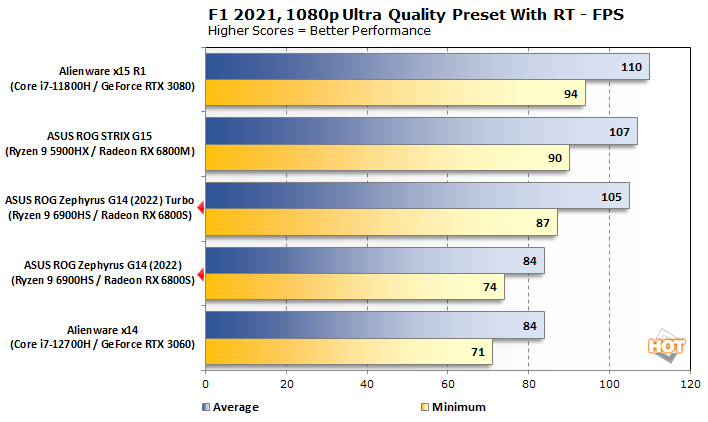 With Ray Tracing enabled in F1 2021, the ASUS ROG Zephyrus G14 with its Radeon RX 6800S is able to outrun the GeForce RTX 3060 in both power modes, and once again we see Turbo mode offering a big boost to performance.
Guardians Of The Galaxy Benchmarks
Marvel's Guardians of the Galaxy is an action-adventure game, where you play as Star-Lord and lead the rest of the Guardians from mission to mission. The game's minimum requirements call for a Radeon RX 570 or GeForce GTX 1060-class GPU and the game also supports some of the latest graphics technologies, including DXR and
DLSS
, though we didn't enable that in our testing, to keep the playing field level.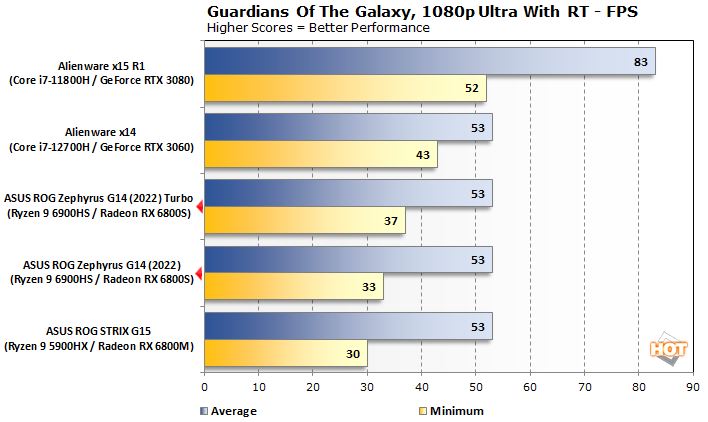 The tables turn in the Guardians Of The Galaxy benchmark, Here, the ASUS ROG Zephyrus G14 with its Radeon RX 6800S offers the same average framerate as the RTX 3060, but with lower minimums. Turbo mode also had little impact on performance, save for a bump in the minimum framerate.
Integrated Radeon 680M iGPU Tests
Although virtually all taxing 3D workloads will be handled by this system's discrete Radeon RX 6800S GPU, the fact is the Ryzen 6000 series' integrated Radeon 6x0 series RDNA2-based GPU is being touted as a significant step up over other integrated solutions. To put that to the test, we ran a couple of tests on the Radeon 680X incorporated into the Ryzen 9 6900HS as well...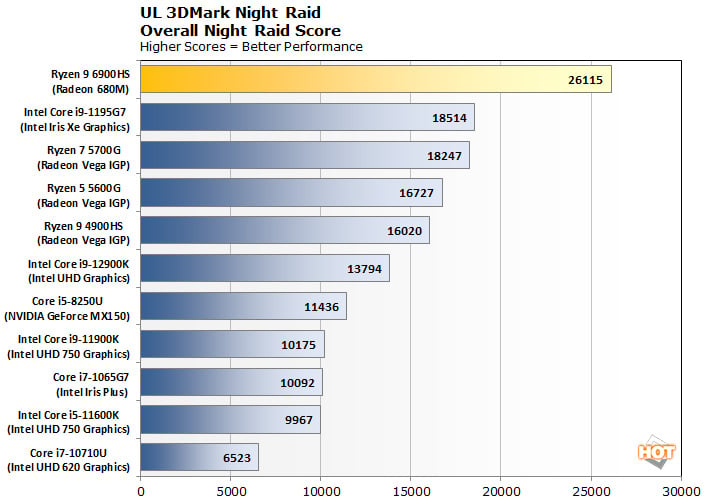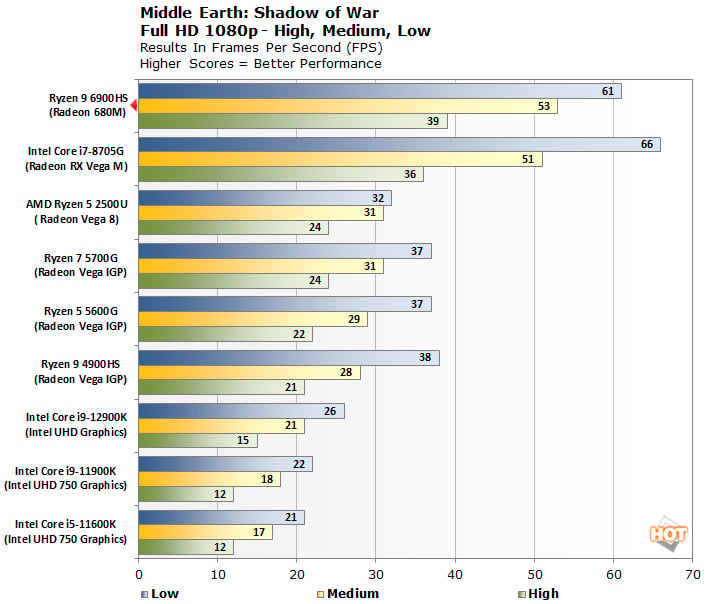 As you can see, the Radeon 680M absolutely crushes all of the other integrated solutions we have data for (which is just about everything on the market). In fact, the Radeon 680M actually outruns the discrete
Vega
-based GPU that was incorporated into Intel's Kaby Lake-G design.
Battery Life And Power Tests
We run a custom 1080p HD video loop test developed in-house, to prove out battery life with our test group of machines. In all tests, Windows Quiet Hours / Focus Assist has been enabled and the displays are calibrated with lux meters on pure white screens to as close to 115 lux as possible. For the average laptop this is somewhere between a 40-60 percent brightness setting.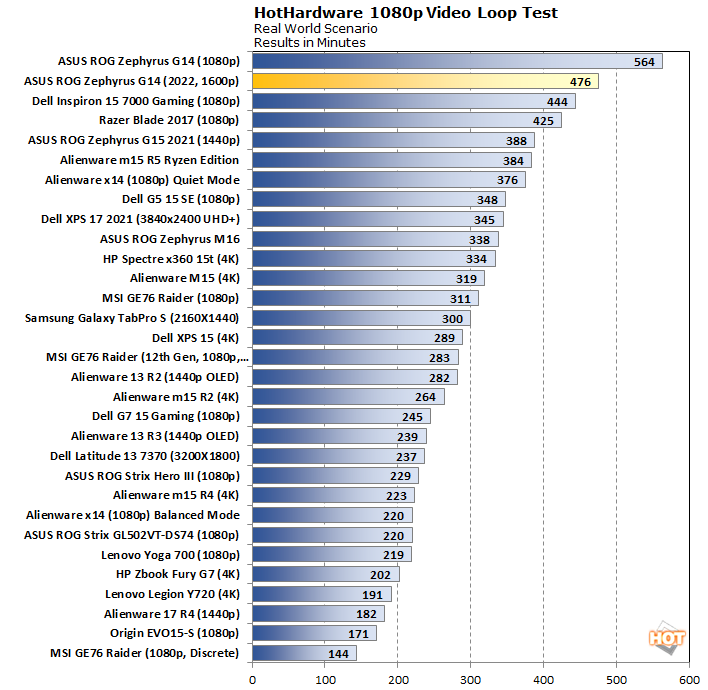 In our custom video loop test, the ASUS ROG Zephyrus G14 offers exceptional battery life. When operating on battery, the system automatically shifts into a Quiet mode, which ramps down clocks and we see the ASUS ROG Zephyrus G14 offering some of the best battery life we've seen from a notebook this powerful. It doesn't quite catch the previous gen machine, but this newer model for 2022 features a much higher resolution, high-refresh rate screen, which likely consumes considerably more power.
Let's see how it handles gaming battery life via PCMark's Gaming test, though...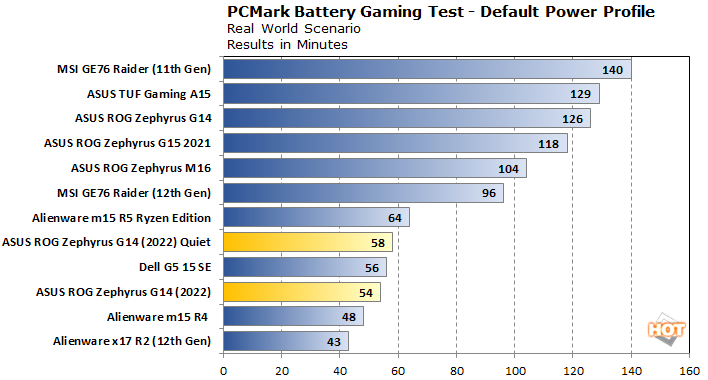 This is a far more strenuous battery life test that hammers on the entire system, to simulate an actual gaming workload. Here, the ASUS ROG Zephyrus G14 with its Ryzen 9 6900HS and Radeon RX 6800S trails most of the pack, offering a bit less than an hour of untethered mobile gaming. With such powerful hardware on-board what is a relatively small and thin system, ASUS could only shoehorn a 76Whr battery in the machine.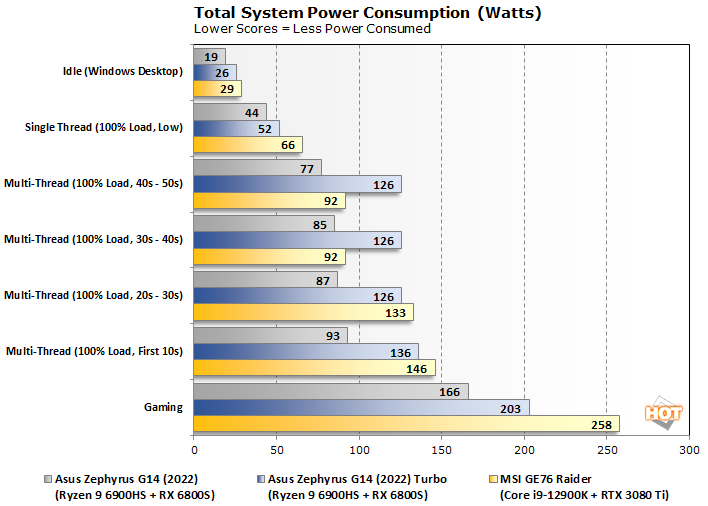 We also did some power testing to see how the ASUS ROG Zephyrus G14 behaved under various conditions. Please note as you look at these numbers that the
new MSI GE76 Raider
is a much larger machine, with a bigger display, and multiple drives, that's in a completely different category of devices. We're using it here for reference only to show how the 12th Gen
Alder Lake
based processor behaves in terms of power consumption versus the Ryzen 6000 series.
What you'll notice is that enabling Turbo mode results in significantly higher power consumption (as you would expect). The system behaves quite differently to the Adler Lake, however. When running Cinebench (as we did here), the Intel 12th Gen CPU will run flat-out for the first few seconds and pull a lot of power, initially peaking at around 146 watts. Then, as the chip heats up, clocks and voltages ramp down, and peak power drops commensurately. The Ryzen 9 6900HS ramps down very little, however, and maintains near peak performance throughout the entire run. In terms of total power in a gaming workload, there's a nearly 100W difference between the ASUS ROG Zephyrus G14 and GE76 Raider, but again, we want to point out that these are
two different classes of machine
. We're just providing the data because its interesting and we have it on hand.
Related content