ASUS Zenbook S 13 OLED Laptop Review: Ryzen 6000U Rocks
ASUS Zenbook S 13 OLED - A Near-Perfect Thin And Light Laptop Powered By AMD's Ryzen 6000U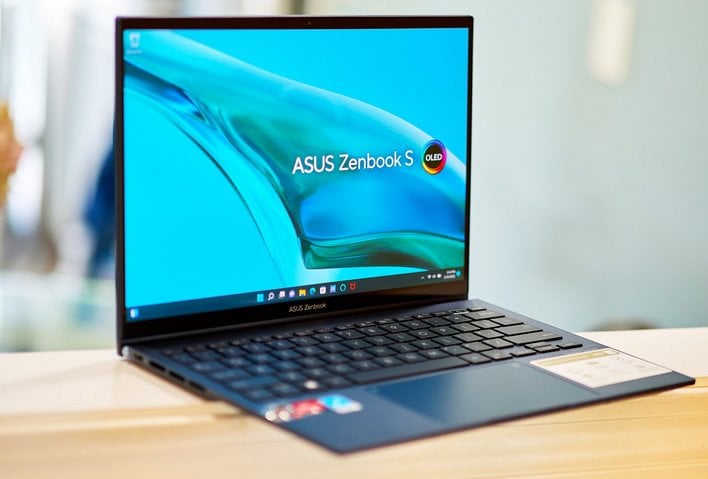 AMD officially lifted the veil on its latest
Ryzen 6000
series mobile processors back at CES early this year. In case you missed it, we detailed that initial announcement, talked about the high level features, and broke down the H and U-series SKU stack
in our coverage
at the time. More recently, we had the chance to evaluate the excellent ASUS ROG Zephyrus G14, which was freshly updated for 2022 with AMD's finest. That little beastie of machine packs all of the punch of larger gaming notebook into a more portable 14" form factor, and has some additional eye-catching features to say the least. We also dove a little deeper on the Zen 3+ architecture that's at the foundation of the Ryzen 6000 series in our
Zephyrus G14 review
. So if you're not well-versed on what the Ryzen 6000 series is all about, we strongly suggest pausing here and checking out those previous articles. You'll be glad you did.
Today we get to show you an AMD Ryzen 6000U-Series based notebook, the new ASUS Zenbook S 13 OLED. We hate to post spoilers so soon, but this may just be one of the most appealing, all-around thin-and-light 13-inchers we have evaluated to date. The particular Zenbook S 13 OLED we've got on hand is packing a Ryzen 7 6800U processor with integrated RDNA 2-based Radeon 680M graphics and a drool-worthy OLED display. Take a look at the system's main features and specifications below and then we'll dig in to see what this Ryzen 6000 U-powered ultralight is all about...
ASUS Zenbook S 13 OLED Specification And Features
ASUS
has a myriad of somewhat similar looking Zenbook 13 and Zenbook 14 notebooks in its portfolio, featuring both AMD and Intel processing platforms. The particular machine we'll be showing you here – the new
Zenbook S 13 OLED
-- is powered by an AMD Ryzen 7 6800U 8-core / 16-thread processor that can turbo up to frequencies as high as 4.7GHz and features 20MB of total L2 + L3 cache. As we've already mentioned, the processor features an integrated Radeon RDNA 2-based graphics engine to push the pixels, branded the Radeon 680M, which packs 12 CUs and can boost up to 2.2GHz. The Radeon 680M was somewhat of an unsung hero in our Zephyrus G14 review, so seeing what it can do in this ultralight, lower-power design is going to be quite revealing.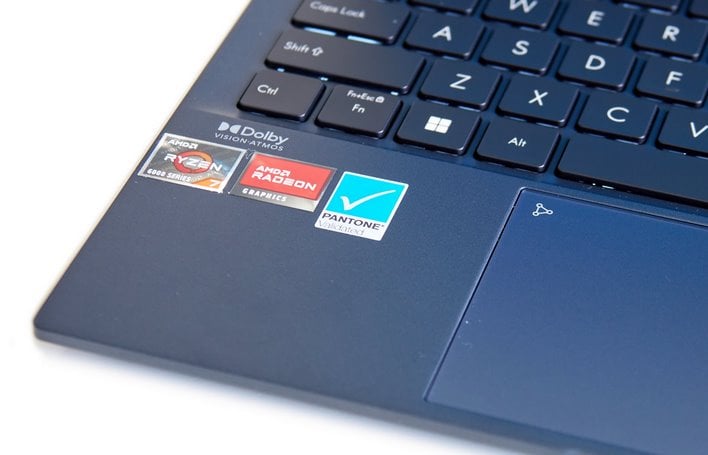 The processor is paired to 16GB of speedy LPDDR5-6400 memory, which is soldered down on the board. Keep that in mind if you dig this machine, because it means configuring it with as much RAM as you'll require at the time of purchase.
Other specifications of our particular Zenbook S 13 OLED sample include a 1TB
NVMe
PCIe Gen 4 SSD (Samsung), 802.11ax Wi-Fi (MediaTek), Bluetooth 5.2, and a Full HD webcam, with IR depth sensor to fully support Windows Hello. The speakers on the machine are tuned by Harmon Hardon and are Dolby Atmos certified and the keyboard and touchpad are both backlit. The touchpad has some cool tricks up its sleeve too. In what we believe is a first for an AMD-based notebook, the Zenbook S 13 OLED also packs USB 4 and Thunderbolt interoperability -- more about that on the next page.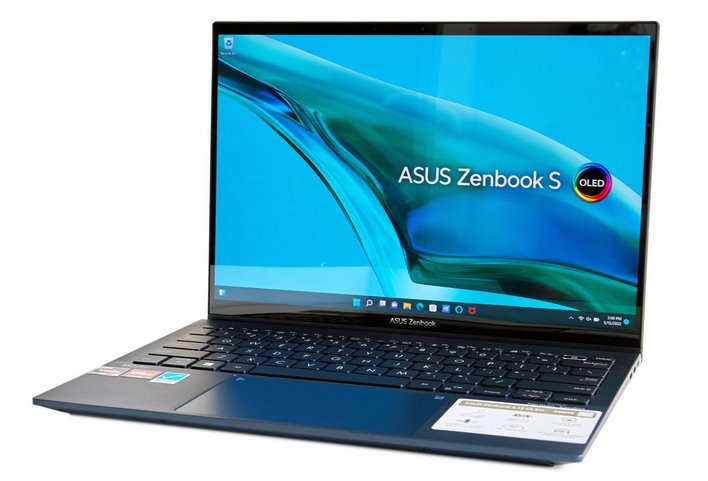 Lifting the lid on the ASUS Zenbook S 13 OLED reveals the keyboard and touchpad, and its gorgeous 13.3" 2.8K OLED display, which is touch-enabled and Pantone validated. The display hinge is firm and feels sturdy, but tension is low enough that the lid can be lifted with one hand, without lifting the base of the machine from whatever surface it is resting on. As the lid is opened past about 90°, the rear of the keyboard deck is automatically propped up, to help air better flow into the bottom of the system. The hinge also allows the screen to open a full 180°, so the Zenbook S 13 OLED can lay perfectly flat if the need arises.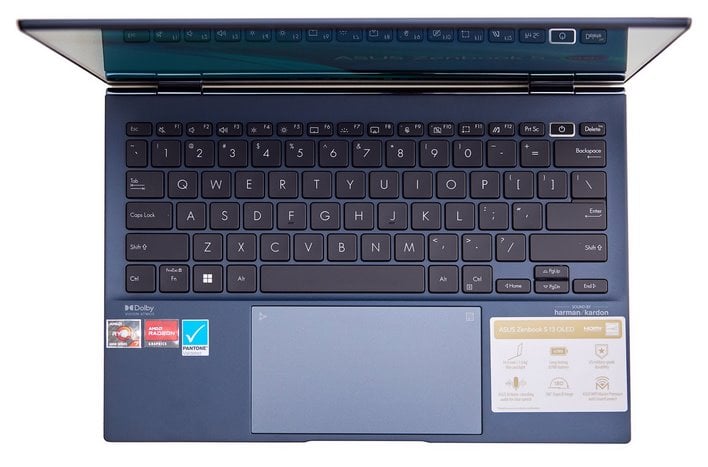 The keyboard deck has a small amount of flex, but the keys themselves feel good and offer a decent amount of travel (1.4mm) and tactile feedback. Unless you've been spoiled by Lenovo ThinkPads, we think most users will like the Zenbook S 13 OLED's keyboard, though some of the key placements will take some getting used to. For example, the odd array of arrow keys at the lower right are a little funky (though, the arrangement is more like a full-sized keyboard) and the power button is situated between the Print Screen and Delete key.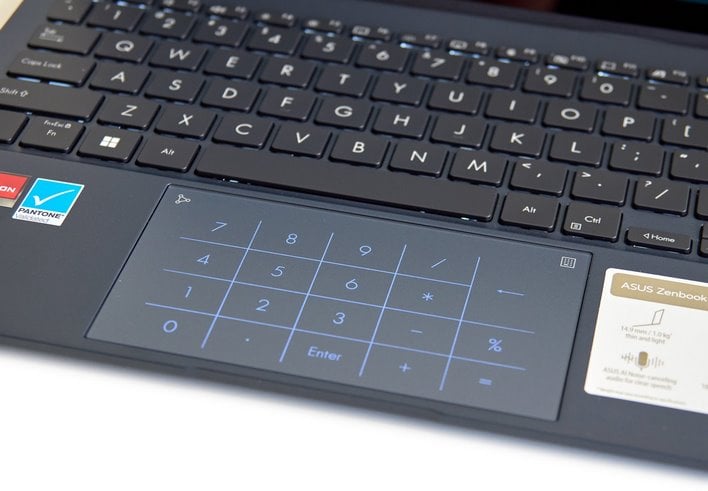 That said, we really dig the Zenbook S 13's large, specialized touchpad. The touchpad is smooth and responsive, multi-finger gestures worked reliably, palm rejection is dialed, and it's just about the perfect size for this class of machine. In addition, the touchpad can double as a numeric keypad; simply long-press the keypad icon at the upper right and the numbers / buttons light right up. If you prefer smaller notebooks, but are crunching numbers in Excel all day, you'll probably like this feature.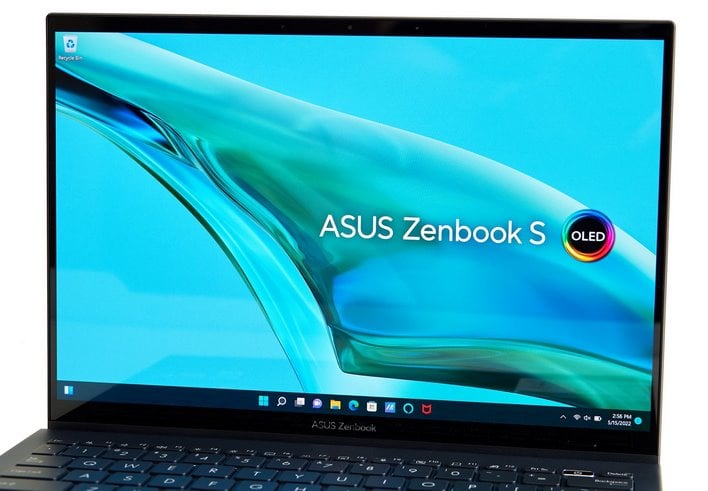 Another aspect of this system most users are sure to love is the gorgeous 2.8K (2880x1800), 16:10 touch-enabled
OLED
HDR display. To get straight to the point, the display on the ASUS Zenbook S 13 OLED is awesome. It covers 100% of the DCI-P3 color gamut, is PANTONE validated for color accuracy, offers a flicker-free hardware-based TÜV Rheinland-certified Low Blue Light option, and is HDR certified – though, brightness is
only
rated for up to 550-nits.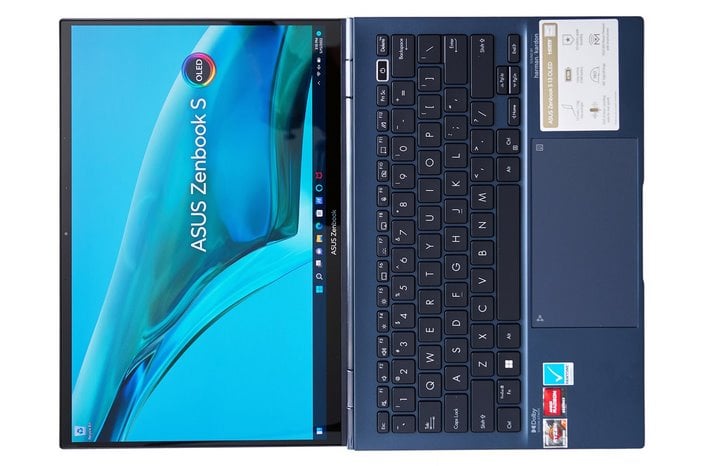 The display features thin bezels all-around (ASUS brands it a NanoEdge display) and a glossy finish that helps the OLED panel achieve those inky, deep blacks, but is also prone to reflections. Touch is super responsive and it supports ASUS' Pen 2.0 tech with 4,096 levels of pressure sensitivity. The extra height afforded by the 16:10 aspect ratio is a welcome treat as well. Just above the display is an HD webcam with IR sensors and a pair of microphones with noise cancelling, that's perfect for video conferences, and a clear step up over more common 720p webcams.
All told, the display on this system is a sight to behold. The 2.8K native resolution is very tight for a 13.3" display in terms of pixel density, but with a little scaling everything from browsing, to Word to movies simply looks phenomenal.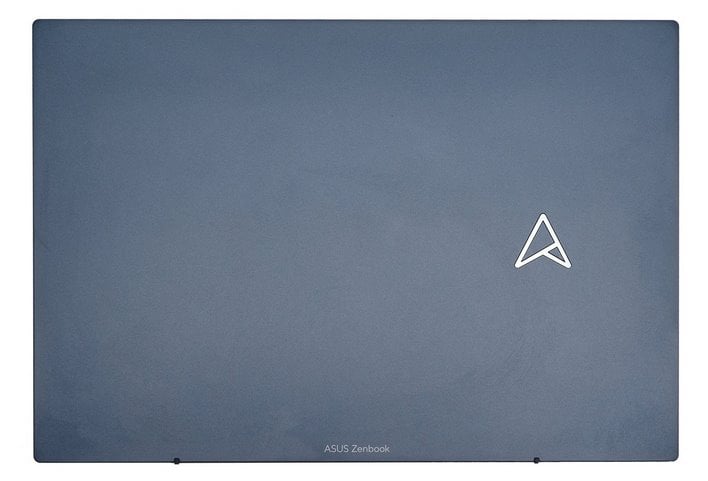 Despite its powerful hardware configuration and stand-out display, the overall design language of the ASUS Zenbook S 13 OLED is somewhat conservative. A gunmetal-blue finish adorns the entire machine (other colors are available as well), and a glossy triangular Zenbook logo is embedded in the lid. Rounded edges add a bit of personality, but overall there's not much to see. The bottom of the system features some relatively large, padded feet to help keep the machine in place, along with perforations for its bottom-firing speakers and a large vent that's used for intake. The vent on the bottom of the machine draws air into the system that is exhausted through trio of vents along the left-edge and an additional down-firing vent just below it. The chassis is built from an aluminum-magnesium alloy, which is rigid, but lightweight. And the entire thing is covered with anti-bacterial, ISO-22196-certified coating that is reportedly 99% effective at inhibiting bacteria for up to 3 years.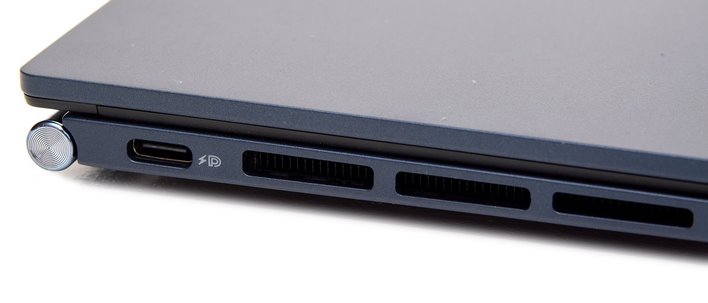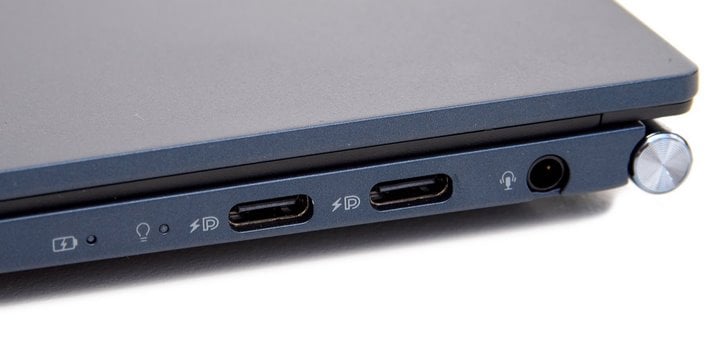 Because it is a thin-and-light system, measuring only 11.7" x 8.2" x 0.59" and a svelte 2.5lbs, the ASUS Zenbook S 13 OLED has a somewhat spartan complement of IO ports. The right side of the system is home to a pair of USB-C ports and a 3.5mm audio jack, while the left side features a lone USB-C port. No card reader, full-sized USB, or HDMI port – which were available on
last year's model
– are to be found, unfortunately.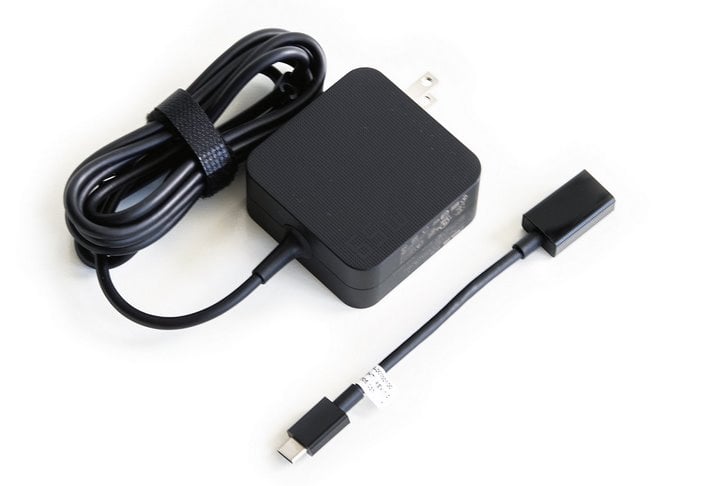 ASUS also includes a USB-A to USB-C dongle with the system, along with a USB-C charger (65W), which is nice and small, and easy to carry.
ASUS Zenbook S 13 OLED Software Experience
In terms of the included software, there's not much speak of. All of the apps and goodies associated with
Windows 11
Home are pre-installed, along with a McAfee AV trial, and ASUS' own MyASUS app.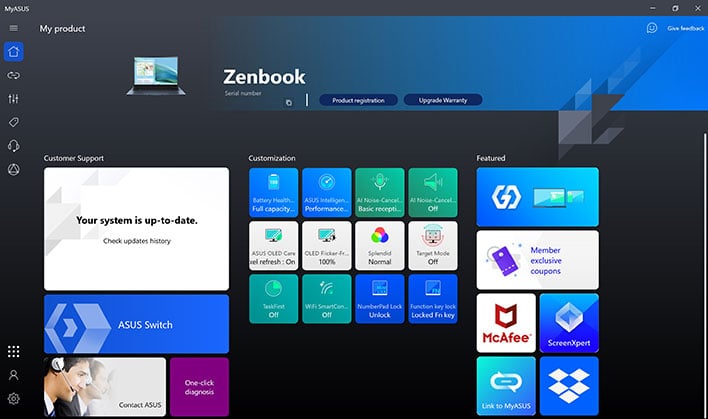 McAfee was promptly uninstalled to eliminate the annoying pop-ups and prompts. The MyASUS app, however, is a handy, easy to use tool to help keep the machine updated and to tune performance and fan profiles. There's a one-click diagnosis button that will check all of the system's hardware and drivers, which makes it simple for any user to keep the Zenbook S 13 OLED updated and running well. By default, the Balanced performance profile is selected, but we found the Performance profile to be quite tame in terms of acoustics, so there's little reason not to use it (we tested both modes in our benchmarks on the next page).
With all of that covered, what do you say we how this little powerhouse performs?
Related content