AMD Ryzen 5/7/9 7000 65W Tested: Low Power, High Performance
Ryzen 9 7900, Ryzen 7 7700 And Ryzen 5 7600 Processors: AMD's Mainstream 65 Watt Zen 4 Desktop Chips Are Tested In Our Extensive Benchmark Gauntlet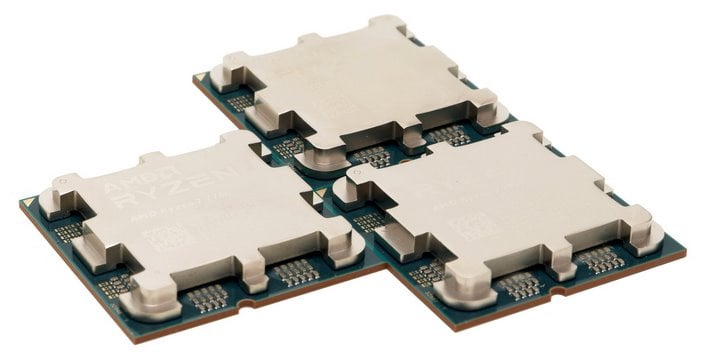 AMD Ryzen 7000 Series (65W) - $229 (7600), $329 (7700), $429 (7900)


AMD's latest Zen 4-based Ryzen 7000 series processors have reduced 65w power envelopes, but performance remains excellent across single and multi-threaded workloads.




Excellent ST Performance
Rich Feature Set
Big Gains Gen Over Gen
Long Term Upgrade Path

DDR5 Still Pricey
High Idle Power (With X670E)






---
AMD CEO Dr. Lisa Su took the wraps off a number of new products during her
CES 2023 keynote last week
, including lower-power 65W and 3D V-Cache-equipped Ryzen 7000 series desktop processors, to name but a few. The latter Ryzen 7000 series chips with 3D V-Cache are due to arrive sometime next month, but the lower-TDP 65W parts actually go on sale tomorrow and we were lucky enough to take them all for a spin.
The Ryzen 5 7600, Ryzen 7 7700, and Ryzen 9 7900 share the same architecture, feature set, and core counts as their higher-powered,
X-branded counterparts
. The only difference is that these new chips have been selectively binned to operate at lower voltages, and their voltage and frequency curves have been tuned and optimized to hit a 65W TDP. That may sound like a huge compromise in light of the 105W – 170W TDPs of their counterparts, but as you'll see a little later, performance with these processors remains strong.
Before we get to the numbers, let's get some particulars out of the way...
The Ryzen 5 7600, Ryzen 7 7700, and Ryzen 9 7900 use the same socket AM5 and companion chipsets as all of the previously-launched
Ryzen 7000 series
processors, and save for their model number branding they look identical as well. The integrated heat spreaders, surface mount components, and packaging are all identical to existing parts.
| | | | | | |
| --- | --- | --- | --- | --- | --- |
| Model | Cores/Threads | Boost /Base Frequency (GHz) | Cache (MB) | TDP (W) | Cooler |
| AMD Ryzen 9 7900 | 12 / 24 | Up to 5.4 / 3.7 | 76 | 65 | Wraith Prism |
| AMD Ryzen 7 7700 | 8 / 16 | Up to 5.3 / 3.8 | 40 | 65 | Wraith Prism |
| AMD Ryzen 5 7600 | 6 / 12 | Up to 5.1 / 3.8 | 38 | 65 | Wraith Prism |
The Ryzen 9 7900 is the top-end 65W part. It packs 12 cores (24 threads), with 76MB of cache, with a peak boost frequency of 5.4GHz. Dropping down the stack, the Ryzen 7 7700 has 8 cores (16 threads), with 40MB of cache and a 5.3GHz boost clock. And the Ryzen 5 7600 is a 6 core (12 thread) part, with 38MB of cache and a 5.1GHz boost clock. Base clocks range from 3.7GHz (7900) to 3.8GHz (7700, 7600).
Unlike their higher-end counterparts, these lower-powered processors will include a cooler at retail. The Wraith Prism air cooler, which includes RGB lighting and a basic speed control switch, will be bundled with all three of the processors.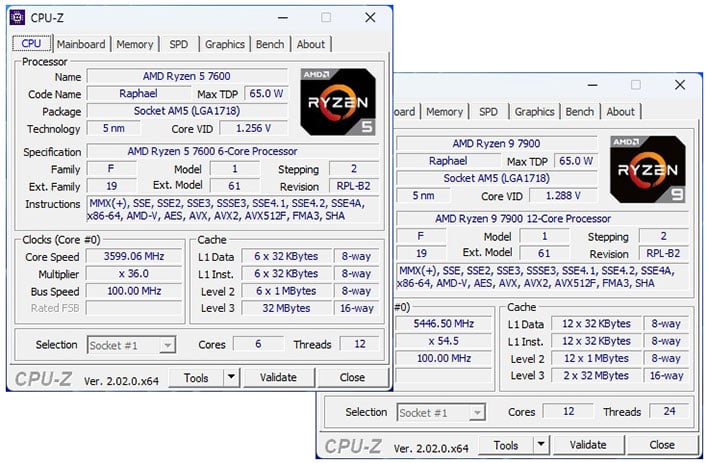 The family, stepping, revision, etc. of the compute dies used on these newest 65W Ryzen processors is identical to the previously launched chips (at least according to CPU-Z). If you inspect the CPU-Z details here, you'll see the only way they differ is with respect to their TDP. Core voltages will typically trend lower as well (obviously), but core counts and cache are the same between these processors and their higher-power, X-branded cousins.
AMD 65W Ryzen 5/7/9 Processors: CPU And System Benchmarks
When configuring our test systems for this article, we first made sure all firmwares were up to date, then we entered each system's respective BIOS /
UEFI
and set the board to its "Optimized" or "High performance" defaults. We then saved the settings, re-entered the BIOS and set the memory frequency to the maximum officially supported speed for the given platform (without overclocking). The
SSDs
were then formatted, and Windows 11 Pro was installed and fully updated.

When the
Windows installation
was complete, we installed all of the drivers necessary for our components, disabled Auto-Updating and Windows Defender, and installed all of our benchmarking software. When that process was done, we performed a disk clean-up, cleared any temp and prefetch data, processed idle tasks, and optimized all of the SSDs using Windows' built-in utility. Finally, we enabled Windows Focus Assist to minimize any potential interruptions and let the systems reach an idle state before invoking any tests.
HotHardware's Test Systems: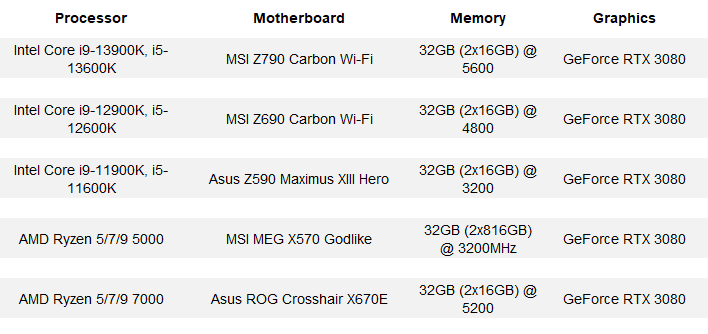 We tested each system in its standard, manufacturer-recommended configuration. That means using DDR4 memory clocked at 3200 MT/s on the older CPUs, and DDR5 memory clocked at 4800 MT/s, 5200 MT/s, and 5600 MT/s on the Intel 12th-gen, AMD 7000, and Intel 13th-gen CPUs, respectively. We also didn't use "Multi-Core Enhancement," nor AMD's Precision Boost Overdrive feature for the standard benchmarks.
Some users may balk at this decision, but using these features is technically overclocking, so we're testing the systems as spec'd by Intel and AMD themselves. If you buy a PC off the shelf, this is what you'll get without tweaking.
Geekbench v5.4.1 CPU Benchmark With Raptor Lake
In the GeekBench tests, we're stressing only the CPU cores in a system (not the graphics card/GPU), with both single and multi-threaded workloads. The tests are comprised of encryption processing, image compression, HTML5 parsing, physics calculations and other general purpose compute processing workloads.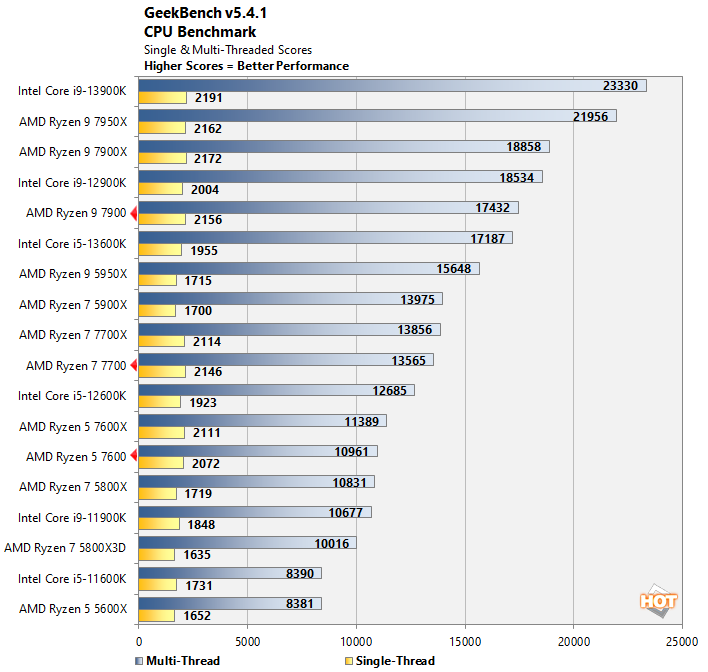 The new 65W
Ryzen
processors dropped in right where you'd expect based on their model numbers. Each of the processors slotted in just behind their higher-TDP X-branded counterparts, which is excellent considering their much lower power envelopes.
UL PCMark 10 Benchmarks
Next, up we have some full-system testing with
PCMark
. We're reporting all test results from the PCMark 10 benchmark suite, including the Essentials, Productivity, Digital Content Creation and and total PCMark score. The Essentials test covers workloads like web browsing, video conferencing and app start-up times, while Productivity tests everyday office apps from spreadsheets to word processing. Finally, the Digital Content Creation test evaluates performance of a machine with respect to photo and video editing, as well as rendering and visualization.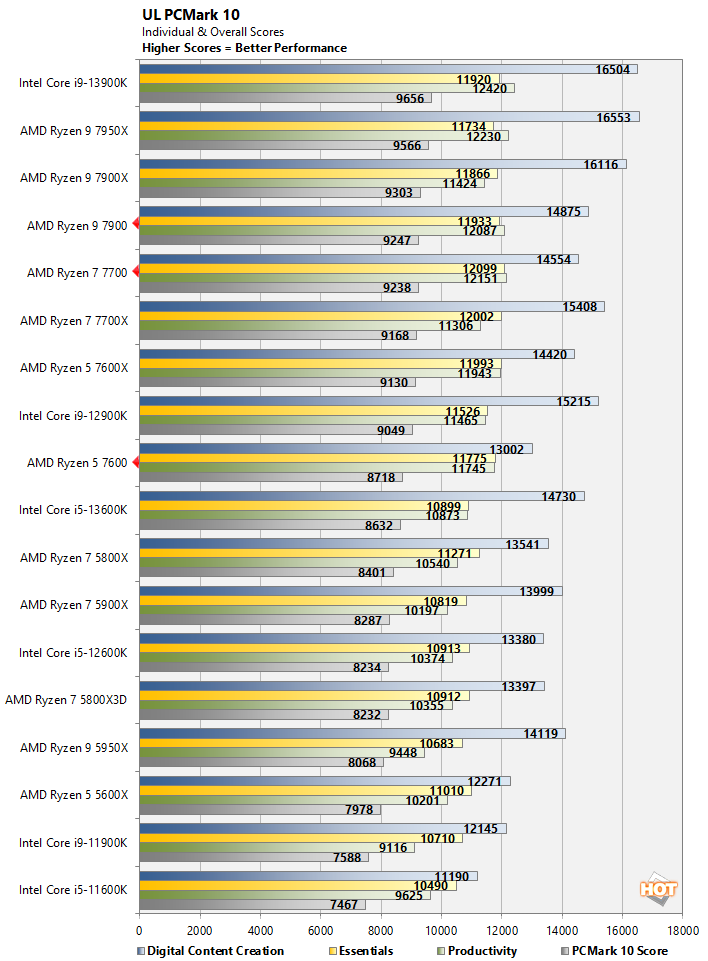 Save for the DCC test, most of PCMark 10's suite won't take full advantage of a many-core processor, so chips that can maintain the highest clocks over the duration of the tests, or offer lower memory latency, may pull ahead of processors that have more cores. Here we see the new 65W Ryzen processors performing well, in the upper half of the stack. For office and productivity tasks, these processors are more than capable. Just pay attention to the spread in the DCC test if your use case includes any heavily threaded workloads, like 3D rendering or video production, etc.
Browser & Web App Benchmarks: Jetstream 2 And Speedometer 2
Next up, we have some numbers from the Speedometer 2.0 and Jetstream 2 tests available at browserbench.org. The Speedometer Benchmark Suite uses a wide array of latency and throughput benchmarks to evaluate web application performance and Jetstream evaluates Javascript and WebAssembly performance; both tests take all of their individual results and tabulate them into a final score.
These benchmarks measure performance of an array of browser-based technologies used on modern, rich web applications. Scores in these benchmark are an indicator of the performance users would see when browsing the web and running advanced web apps. All of the systems were tested using the latest version of
Microsoft's Edge browser
, with default browser settings, on a clean, fully-updated install of Windows 11.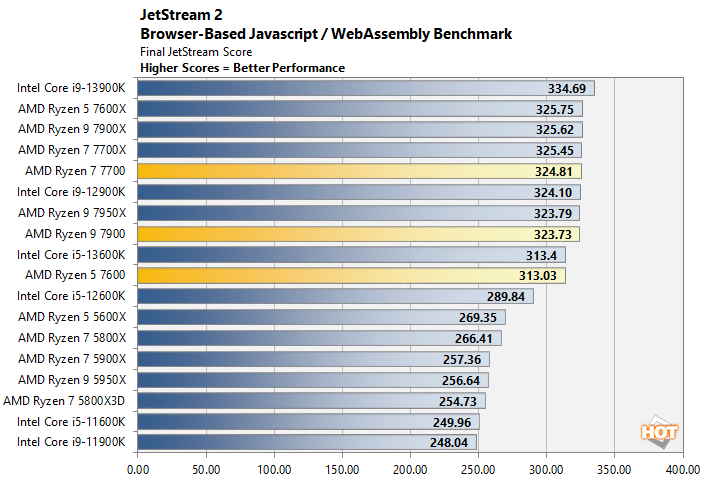 All of the latest-generation, high performing processors are tightly grouped in the Jetstream benchmark. This test is influenced mostly by latency and single-thread performance, so the highest clocked chips (and those with a single CCD) typically perform best.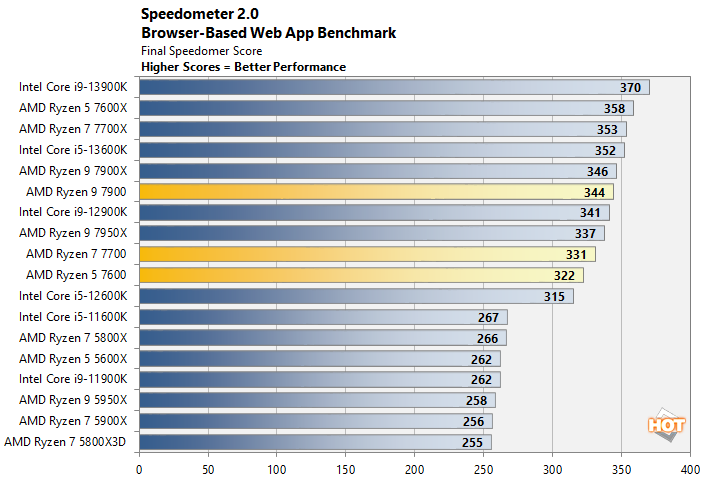 The spread changes somewhat in the Speedometer test, but all three of the latest 65W Ryzen processors still performed well and landed in the upper echelon alongside their higher-powered X-branded counterparts.
7-Zip Data Decompression Tests
The 7-Zip benchmark measures archive decompression performance using the LZMA method, which leverages the Lempel–Ziv–Markov chain algorithm to perform lossless data compression. The benchmark produces a final rating in GIPS (giga instructions per second).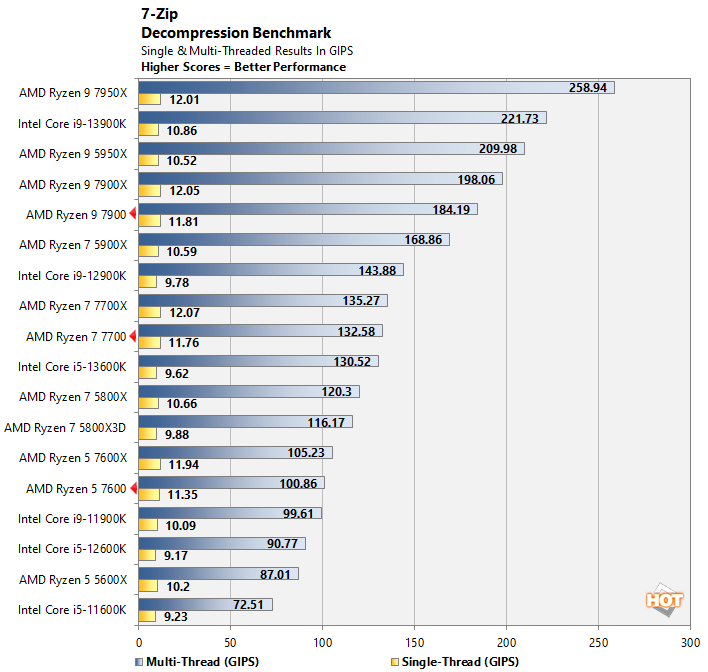 We saw more of the same with the 7-Zip decompression benchmark. All three of the new 65W Ryzen processors slotted in just behind the X-branded chips, with only a marginal delta separating the chips.
Related content