AMD Unveils 3D V-Cache Zen 4 CPUs At CES With A Killer 16-Core Ryzen 9 7950X3D
When AMD released the Socket AM5 platform and its first Zen 4 Ryzen 7000 desktop processors, amidst their impressive performance profile was a singular sticking point known as the Ryzen 7 5800X3D. This previous-gen CPU with the company's innovative 3D V-Cache CPU frequently popped up in gaming performance benchmarks right alongside the fastest new
Ryzen 7000 series chips
. This left some folks who were otherwise eager for a step up wondering when the upgraded Ryzen 7000X3D CPUs would launch. Well, that time is now.
A Trio Of Ryzen 7000X3D Processors Arrives For Enthusiasts And Gamers
As part of its pre-CES 2023 show, AMD went over the capabilities of
Socket AM5
and briefly touted its benefits over competitive platforms before dropping the bombshell: its Ryzen 7000X3D CPUs are here. That's "CPUs" indeed, as in plural, because there are three of them: the new Ryzen 7 7800X3D, the Ryzen 9 7900X3D, and the burly 16-core Ryzen 9 7950X3D.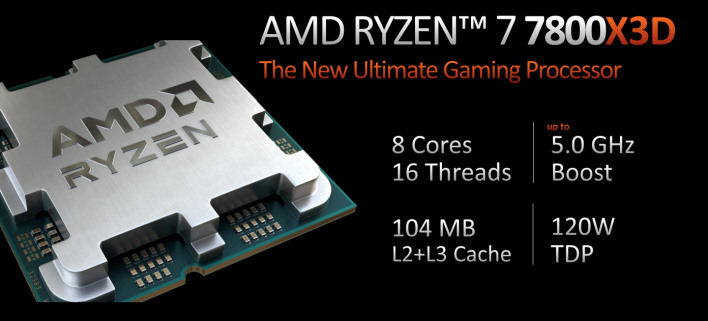 Just like with the Ryzen 7 5800X3D, the single-CCD Ryzen 7 7700X gets a 64MB 3D V-Cache die stapled to its top, giving the newly-minted Ryzen 7 7800X3D a total of 96MB of L3 cache, or "104MB L2+L3" as AMD counts it.

Notably, where the last-gen part took a 200 MHz cut to its boost clock when taking on the 3D V-cache mantle, the 7800X3D actually loses 400 MHz off of the max boost speed of the Ryzen 7 7700X. (Note also that the model number has increased by 100, from 7700 to 7800). Regardless, this chip still boosts to 5 GHz. Surprisingly, the TDP also goes up this time, from 105W to 120W.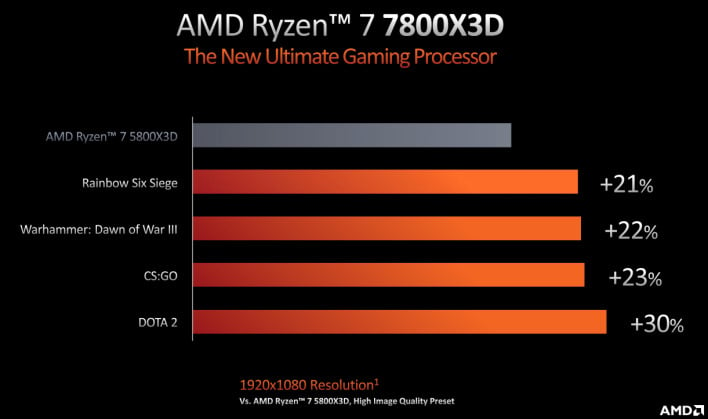 AMD says that the Ryzen 7 7800X3D is "The New Ultimate Gaming Processor." These are comparisons not against the 7700X but against the 5800X3D, and while the baseline here looks like 20% or thereabouts, AMD says the actual generational uplift is closer to 15% on average.

Of course, we're itching to get our hands on one and put its through its paces to see the impact for ourselves. The 5800X3D typically gains more in minimum framerates than average over the standard model, and that's likely to be the case here as well.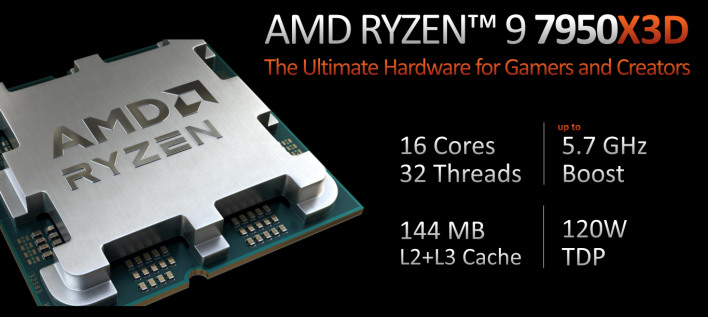 In addition to the 7800X3D, though, AMD's also bringing the heat with the Ryzen 9 7950X3D. This is exactly what it sounds like: a 16-core, 32-thread beast, now equipped with 3D V-Cache. Unlike the eight-core chip above, the Ryzen 9 7950X3D retains its full 5.7 GHz boost clock. However, you may note that the L3 cache allotment is less than you might expect. That's because it only gets a single die of
3D V-Cache
on top of one of the CCXes; the other is left untouched.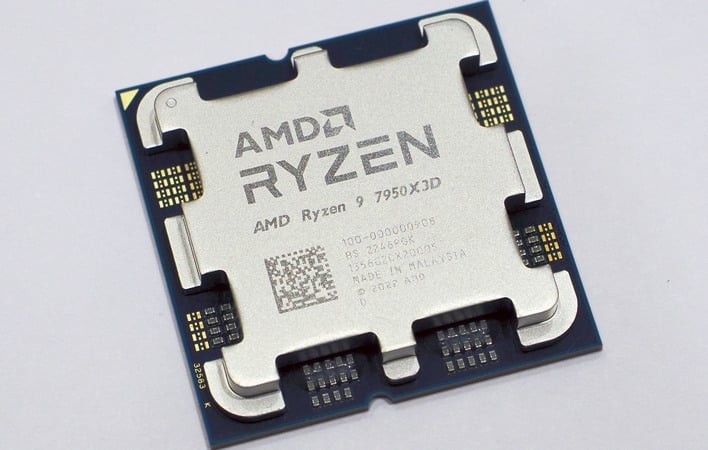 AMD didn't specifically talk about the twelve-core Ryzen 9 7900X3D, but it's listed on the page below that summarizes the new chips. Like the 7950X3D, it retains its 5.6 GHz maximum boost clock but also only gets 3D V-Cache on a single CCD. We asked AMD about this, and we were told that it was a design choice to allow apps which benefit from big caches to get the maximum utility of the 3D V-Cache die, while apps that don't benefit can run on the other die, which will clock higher.

That means that the CCD with V-Cache won't clock quite as high as the one without, but the extra cache should more than make up the difference. It seems like it could be the case that hardcore gamers end up manually tweaking CPU affinity for best performance, but AMD says that it has already worked with Microsoft on scheduler optimizations for the design, and that it doesn't expect any performance quirks. Those optimizations aren't out yet, but should be incoming very soon.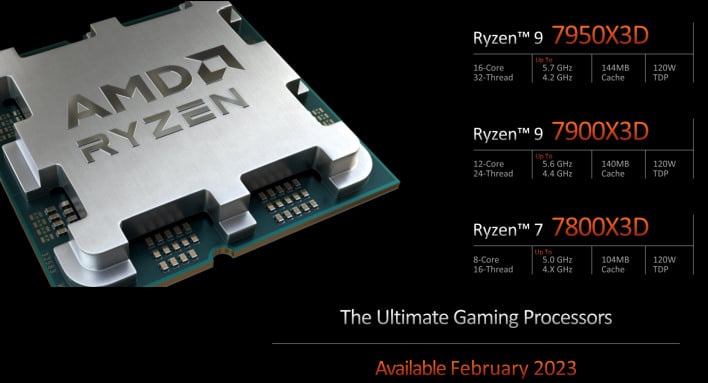 Unfortunately, AMD didn't reveal any pricing for the plus-cache processors, but we don't expect them to be cheap when they arrive next month. The Ryzen 7 5800X3D showed up for the same price as the original 5800X's MSRP, but that CPU was selling for a solid $150 under that price by that time. We wouldn't be surprised if these parts end up +$100 or more over the original chips.
Mainstream Ryzen 7000 Non-X Chips Take Flight

While not as exciting for enthusiasts as the Ryzen 7000 X3D chips, the other announcement that AMD made is arguably more important for the mainstream. It's another set of three Socket AM5 CPUs, but these are the non-X Ryzen chips with 65W power limits. The Ryzen 9 7900, Ryzen 7 7700, and Ryzen 5 7600 offer clock rates surprisingly close to their "X"-branded brethren despite power limits slashed by as much as 105 watts in the case of the 7900.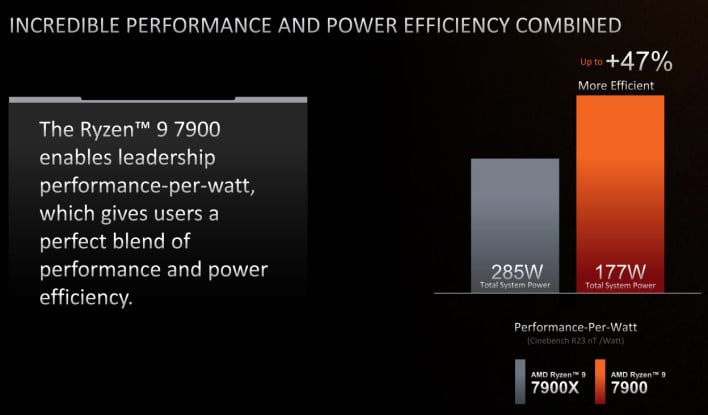 It's actually
been known
since even before the Socket AM5 platform made its debut that AMD's extant Ryzen 7000 Zen 4 processors can be undervolted to save quite a lot of power without sacrificing much at all in the way of performance. With that in mind, AMD's claims that these new 65W Ryzen processors are "up to 47% more efficient" than the original "X" recipe sound reasonable.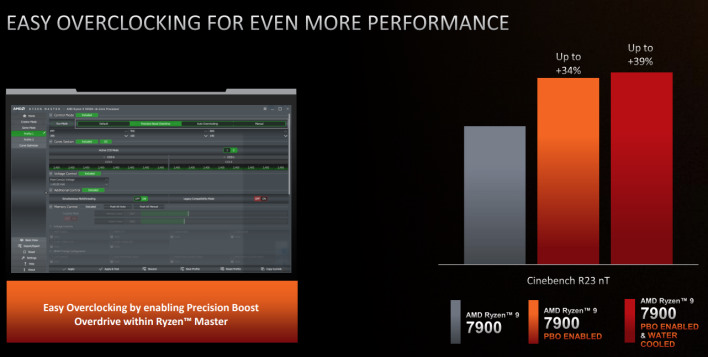 AMD also points out that the new CPUs are still totally unlocked for overclocking, so you can crank them past the point of peak efficiency yourself, if you'd like. Notably, though, the X3D processors above will have limited overclockability in the same fashion as the extant Ryzen 7 5800X3D.
Pricing And Availability: What We Know So Far Looks Good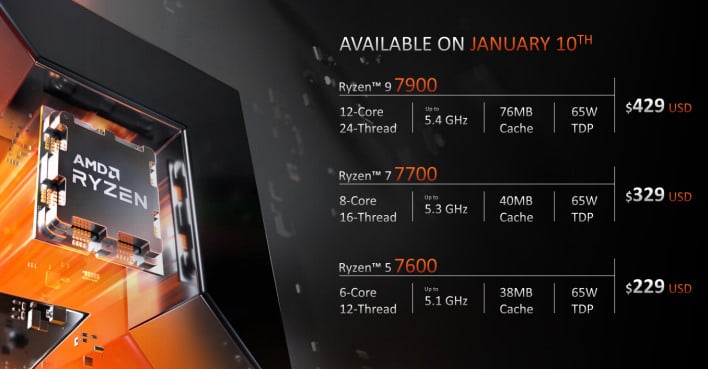 Perhaps the most impressive characteristics of the new 65W Ryzen processors are their prices. The Ryzen 5 7600 and Ryzen 7 7700 drop $60 off the prices of the original chips' MSRPs, while the Ryzen 9 7900 is a full $120 cheaper than its "X" sibling. Twelve cores of Zen 4 for $429 is an excellent price-to-performance ratio.
If you're aching for an upgrade but hurting in the pocketbook—and who isn't, these days—then you won't have long to wait. These new AMD chips will be available promptly, on January 10th. Even still, you may want to wait a bit longer, because AMD says new budget-priced motherboards are on the way too, coming in February. Together with the lower-cost 65W CPUs and their included coolers, we might finally see adoption of Zen 4 CPUs pick up some serious steam.