ASUS TUF GeForce RTX 4070 Ti OC Review: NVIDIA's Ada Lights Up CES
GeForce RTX 4070 Ti: NVIDIA's AD104 GPU Brings More Affordable Ada Lovelace-Powered Gaming To The Masses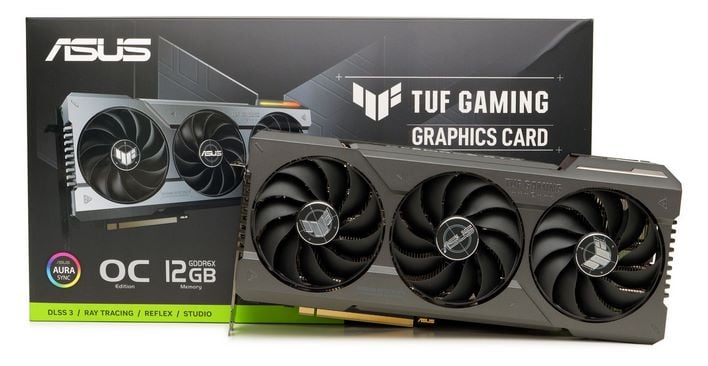 NVIDIA GeForce RTX 4070 Ti: Starting At $799


The new GeForce RTX 4070 Ti features the same Ada Lovelace architecture as NVIDIA's flagship, but with a scaled down GPU to target lower price points as low as $799. Here's how it fairs in the benchmarks versus current competition.







Excellent Performance
Relatively Cool & Quiet
Modest Power Consumption
Class Leading Features

Oversized Form Factor
Only DP 1.4
High Introductory Price



---
A new member of the initial GeForce RTX 40 family officially launches today, known as NVIDIA's GeForce RTX 4070 Ti. If you've been on top of all of NVIDIA's announcements, you'll probably be aware that this card was originally announced as the GeForce RTX 4080 12GB, but the company quickly
"unlaunched" it
due in large part to community feedback, only to re-tool the branding.
We're not going to rehash the unlaunch saga again here, because today is all about performance. NVIDIA already revealed pricing during its special CES address, with pics and specs for a
myriad of partner boards
have already hit the web. It's important to note that there will be no GeForce RTX 4070 Ti Founders Edition, as NVIDIA is leaving the designs up to their board partners this time around, and some of them have opted for maximum bling.
We have the ASUS TUF GeForce RTX 4070 Ti OC Edition on hand for testing and evaluation. ASUS actually has four RTX 4070 Ti card coming down the pipe; the model we'll be showing you here is second up the ladder in ASUS' lineup. The company has a lower-clocked model arriving at NVIDIA's suggested MSRP and two pricier models in the ROG STRIX line-up with higher-clocks and a few additional features.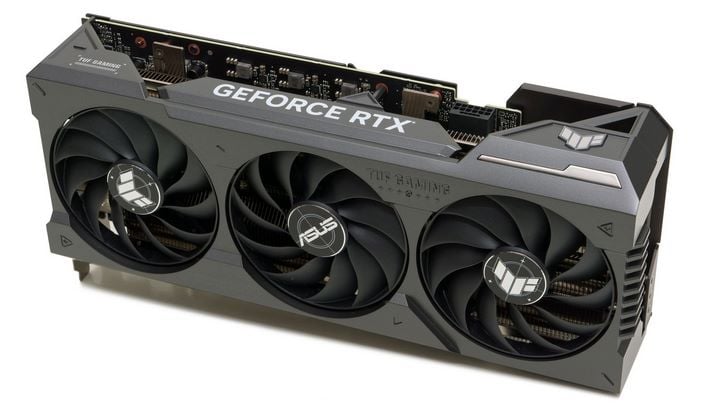 GeForce RTX 4070 Ti Features & Specifications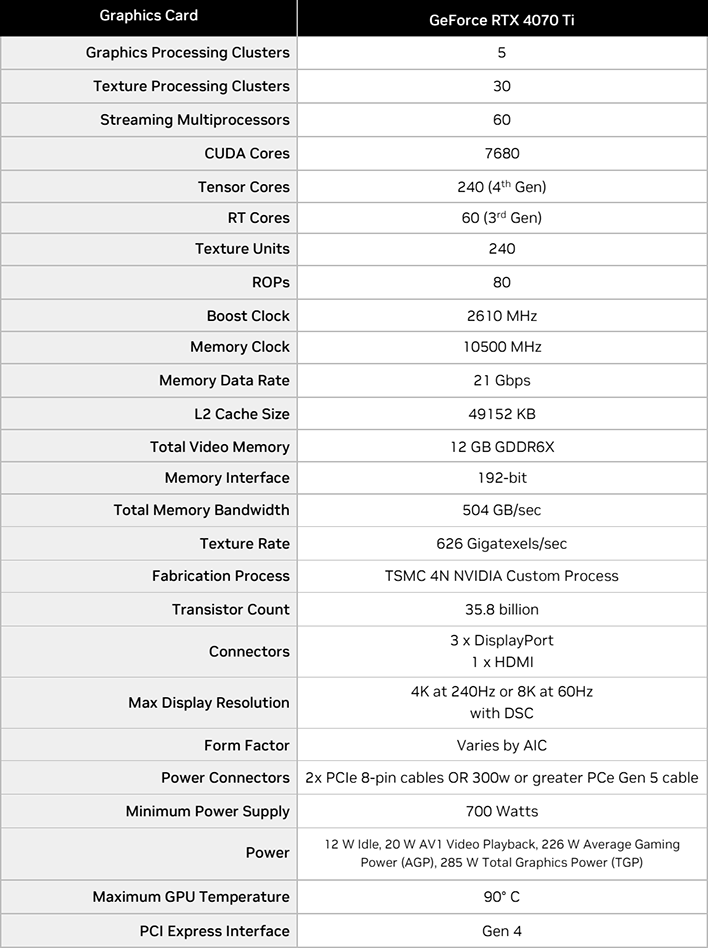 Find ASUS TUF GeForce RTX 4070 Ti Cards @ Amazon
---
Although they leverage the same Ada Lovelace GPU architecture, all of the initial cards in the GeForce RTX 40 series are build around different chips. The current flagship RTX 4090 is built around the big-daddy AD102 GPU, the GeForce RTX 4080 uses the smaller (but still large) AD103, and the GeForce RTX 4070 Ti uses the smaller still AD104. So, unlike some previous-gen cards, where the enthusiast model used a cut-down version of NVIDIA's flagship GPU, this time around,
the entire 40-series t
o this point use different chips altogether.
In terms of feature support, the AD104 is identical to the larger AD102 and AD103. All of the GPUs offer the entirety of features inherent to the Ada Lovelace architecture, like DLSS 3, in addition to other NVIDIA technologies like NVIDIA Reflex latency reduction, NVIDIA Broadcast, Ansel, G-SYNC, Omniverse, optional Studio drivers, and GeForce Experience, to name just a few. For a more detailed
explanation of Ada Lovelace
, we suggest reading the linked article and checking out our launch
coverage of the GeForce RTX 4090
while you're here.
Versus its bigger brothers, the AD104 on the RTX 4070 Ti is scaled down in a few key ways.
The AD102 on the RTX 4090 has 11 GPCs, 64 TPCs, 16,384 CUDA cores, 512 Tensor cores, and 128 RT cores, with a 384-bit memory interface. The smaller AD103 has 7 GPCs, 38 TPCs, 9,728 CUDA cores, 304 Tensor cores, and 76 RT cores, with a 256-bit memory interface. The AD104 has 5 GPCs, 30 TPCs, 7,680 CUDA cores, 240 Tensor cores, and 60 RT cores, with a 192-bit memory interface -- its effectively scaled down in every way that affects compute and rasterization performance. As such, the AD104's transistor count is also much lower—35.8B vs 45.6B on the AD103 or 76.3B on the AD102. And we should note, that both the AD102 on the RTX 4090 and the AD103 on the RTX 4080 are not the full implementation of the chips; they're both cut down somewhat in comparison to the full GPU designs, likely to give NVIDIA some wiggle room to introduce newer variants at some point in the future, and to maximize yield.
The AD104 on the GeForce RTX 4070 Ti is also scaled down slightly from the full configuration of the chip, but not in terms of cores. Half of the AD104's NVENC / NVDEC blocks are disabled (visible at the top edge of the block diagram above).
Versus the previous-gen GA104-based GeForce RTX 3070 Ti, the AD104 powering the GeForce RTX 4070 Ti also appears to be slightly scaled back in a couple of ways. The newer AD104 has more cores and operates and higher-clocks, but it has fewer ROPs and a narrower memory interface (192-bit vs. 256-bit). These apparently deficiencies will be mitigated, however, due to architectural enhancements in the more advanced Ada Lovelace architecture, much larger caches, and its higher-clocks.
Meet The ASUS TUF GeForce RTX 4070 Ti OC Edition
Like all of the air-cooled GeForce RTX 40 series cards we've seen up to this point, the ASUS TUF GeForce RTX 4070 Ti OC Edition is a rather beefy graphics card.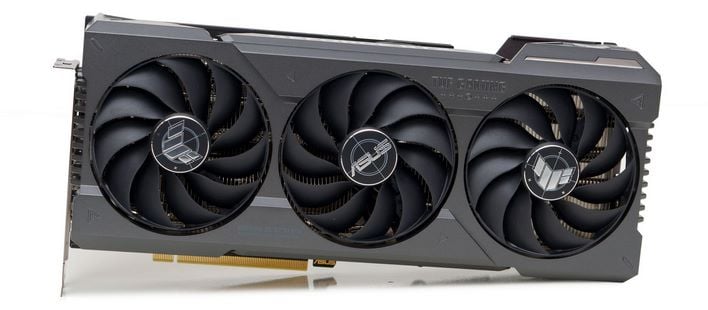 The ASUS TUF GeForce RTX 4070 Ti OC Edition is over a foot long, over 5 inches higher, and 2.7 slots wide. The cooler features triple axial fan, situated atop an array of heatsinks, linked together via heat-pipes. As you'll see in some of the images below, though the heatsinks are ultimately wider than the entire PCB, there are some gaps in the assembly and they don't completely cover the front side of the board.
In terms of specifications, ASUS sticks to the 12GB complement of GDDR6X RAM clocked at an effective data rate of 10.5Gbps set forth by NVIDIA's reference specs. As the "OC Edition" in the card's branding reveals, however, this ASUS TUF card has goosed up boost clocks. NVIDIA's specs call for a 2,610MHz GPU boost clock, but we routinely saw this card boosting over 2,800MHz in its stock configuration. And, of course, higher-clocks are possible with overclocking.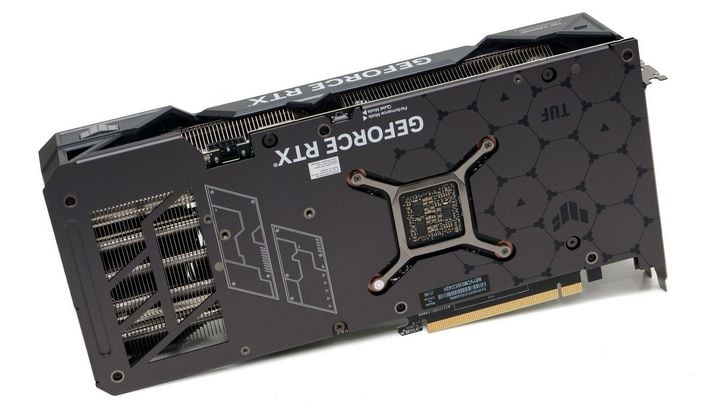 There is a dual-BIOS switch on the ASUS TUF GeForce RTX 4070 Ti OC Edition, which gives users the ability to switch between normal / performance mode and a quiet fan mode. This card is effectively silent at idle, however, because its fans spin down completely when the GPU isn't being stressed. And under full load, even when overclocked, GPU temps only fell in the 70°C range, and fans speeds only ramped up to about 40 – 43%, which didn't produce much noise at all.


There is a metal heat-plate on the backside of the card, with cut-outs to allow for pass-through cooling, along with an array of graphics and branding. The front fan shroud has numerous angles and cut-outs as well. The card also features RGB lighting, which can be managed with ASUS GPU Tweak III utility.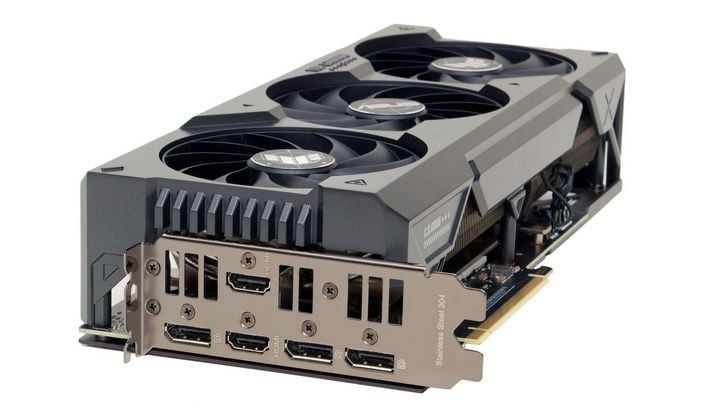 In terms of connectors, the ASUS TUF GeForce RTX 4070 Ti OC Edition feature a single
12VHPWR
power connectors (adapter dongle included) and five display outputs – 3 full-sized DisplayPorts (DP 1.4) and dual full-sized HDMI ports (2.1a).
There's no mistaking the ASUS TUF GeForce RTX 4070 Ti OC Edition for anything but a gaming GPU. And now it's time to find out how it performs...
Related content