Falcon Northwest Talon Review: Killer Bird Of Prey Gaming PC
Falcon Northwest Talon (2021): Graphics And Gaming Benchmarks
3DMark is a synthetic GPU benchmark for assessing graphics (GPU) and physics (CPU) performance. 3DMark supports both DX11 and
DX12
, depending on the particular test being run, which makes it handy for testing GPUs of various performance levels. We used the Time Spy benchmark, 3DMark's DirectX 12 test, to push the Falcon Northwest Talon. This test has multiple presets, but the standard Time Spy test is fairly taxing and we have a plethora of reference data, so that's what we stuck with.
3DMark TimeSpy

DX12 Graphics Performance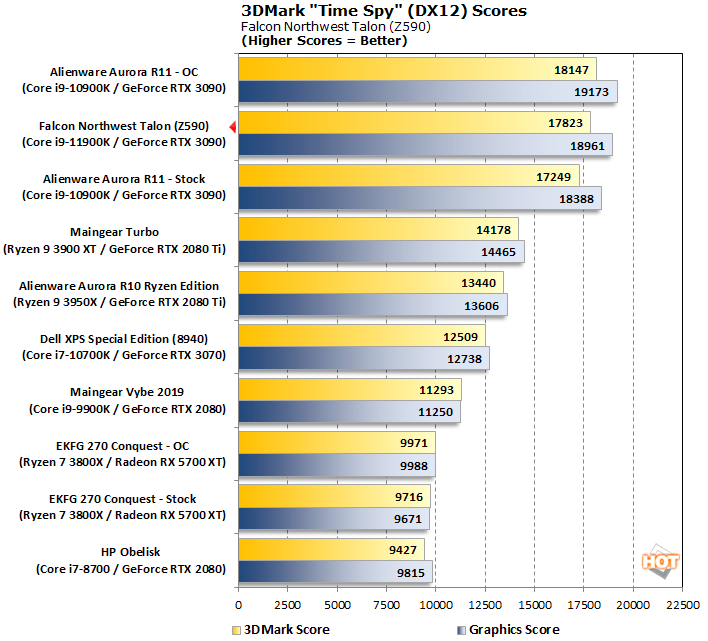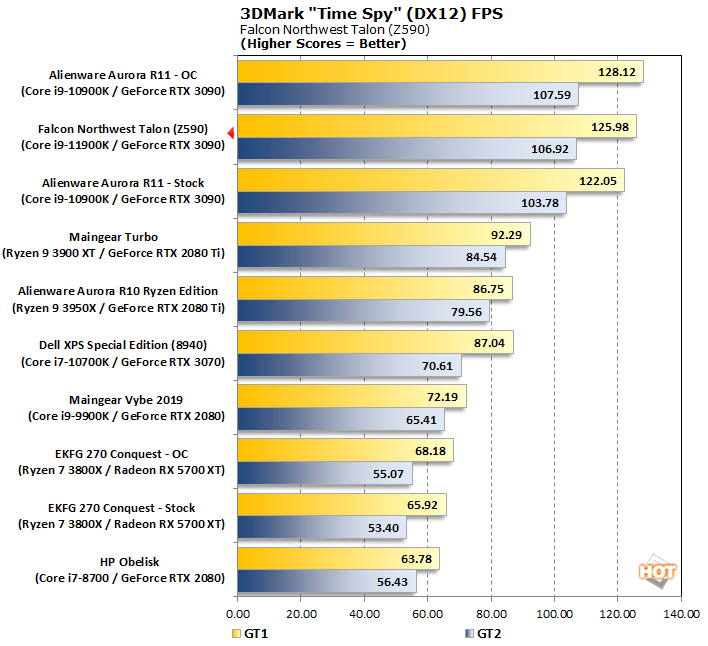 We had high expectations for this system's graphics and gaming prowess, given what we already learned from our standalone
review of the GeForce RTX 3090
. And it delivered, posting 3DMark Time Spy scores comparable with Dell's
Alienware Aurora R11
. The Talon beat the stock-clocked Alienware, as it arrived to us, and nipped at the heels at the overclocked configuration (just a 1-2 frames per second difference), which we applied ourselves from within the Alienware Control Center's utility.
Now it's time to move on to our gaming tests. Playing the latest AAA games at high resolutions and detail settings is one of the reasons you might want consider this desktop (as configured) in the first place...
Middle Earth: Shadow of War

Orc-smashing Gaming Performance
Middle Earth: Shadow of War is a fun and beautiful title set in Tolkien's Lord of the Rings universe. To test the game's performance relative to other systems, we set the resolution to 2560x1440 and turned the visuals up to the Ultra preset.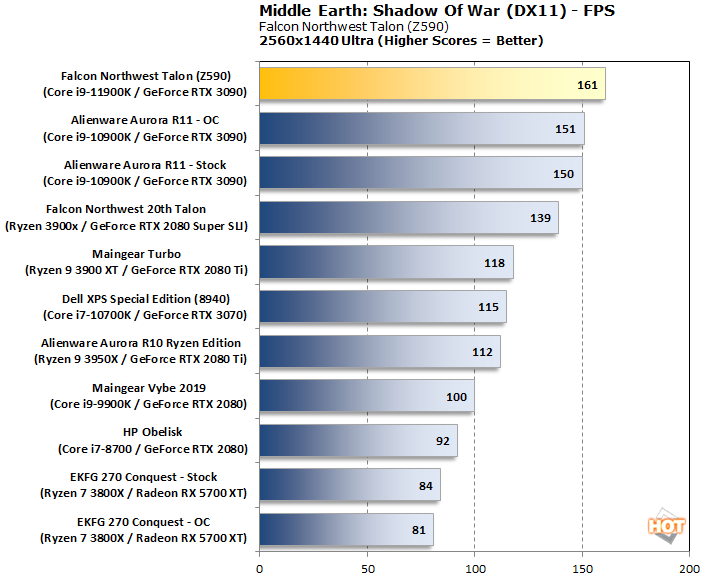 In Middle Earth: Shadow of War, there would be no sharing victories with the Alienware system. The Talon averaged 161 frame per second at 1440p with the settings cranked to Ultra, which is incredibly fast. Unfortunately we do not have any GeForce RTX 3080 scores to compare against, but in looking at the
Dell XPS Special Edition
, with its GeForce RTX 3070 graphics card, the Talon with its EVGA GeForce RTX 3090 is significantly faster.
We were not content to only run at 1440p, however, so here's a small (but growing) sample of 4K resolution performance metrics...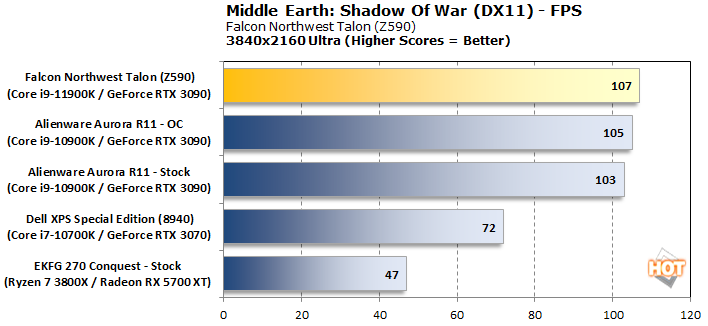 Different resolution, same story—the Talon came out on top, though this time by a smaller margin, averaging 2-4 frames per second faster than the Alienware. Comparison aide, hitting triple-digit framerates in this benchmark at 4K Ultra settings underscores the decadent combination of a flagship
Rocket Lake CPU
and flagship Ampere GPU.
Shadow of the Tomb Raider

Mayan Apocalypse Gaming Performance
The finale in the rebooted Tomb Raider trilogy, Shadow of the Tomb Raider is easily the best-looking of the bunch. It's the latest installment in the series for heroin Lara Croft, driven with a revamped DX12 game engine. SotTR also supports visual effects like Ambient Occlusion, Depth of Field, Dynamic Foliage, Bloom shaders, Tessellation and more.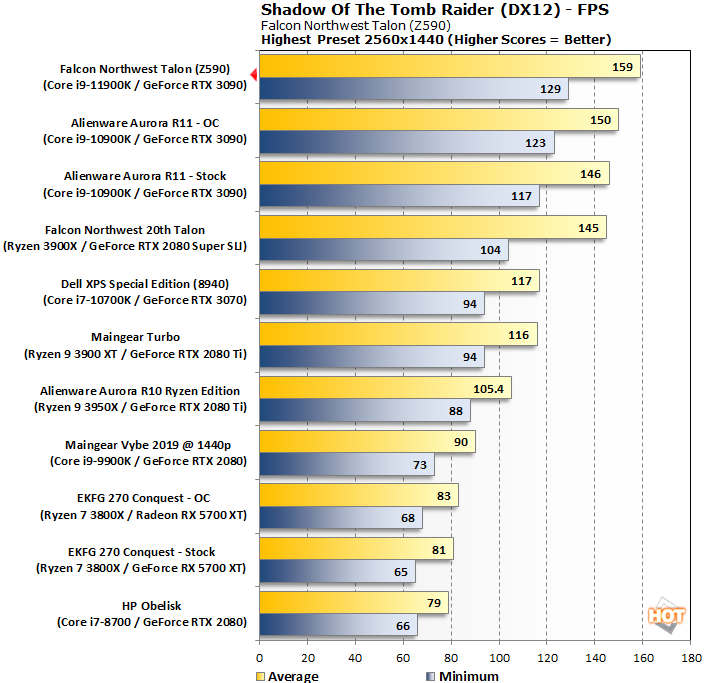 The Talon also jumped in front of the pack in Shadow of the Tomb Raider, where it averaged 159 frames per second at 1440p. It recorded the highest minimum frame rate too, at 129 frames per second, which means dips in performance when the action is heavy are
not
going to be observed by the naked eye.
Since this is another title we only have expanded comparison 1440p numbers for, we also took a sampling at 4K...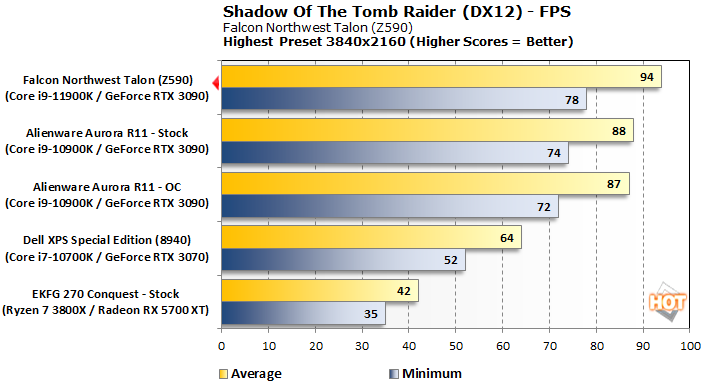 If you are going all-out on a boutique system configuration, you might as well shoot for
4K
gaming, and the Talon again shows it is up to the challenge. It didn't quite breach the 100 frames per second mark, but it did come very close. It also took first place yet again.
Gears 5

Swarm-fighting Gaming Performance
Gears 5 is the other fall blockbuster we had a chance to dig deeply into, and this game proves you don't need ray tracing effects to make a gorgeous game. We went all out here testing at 1440p and 2160p with the Ultra and High presets.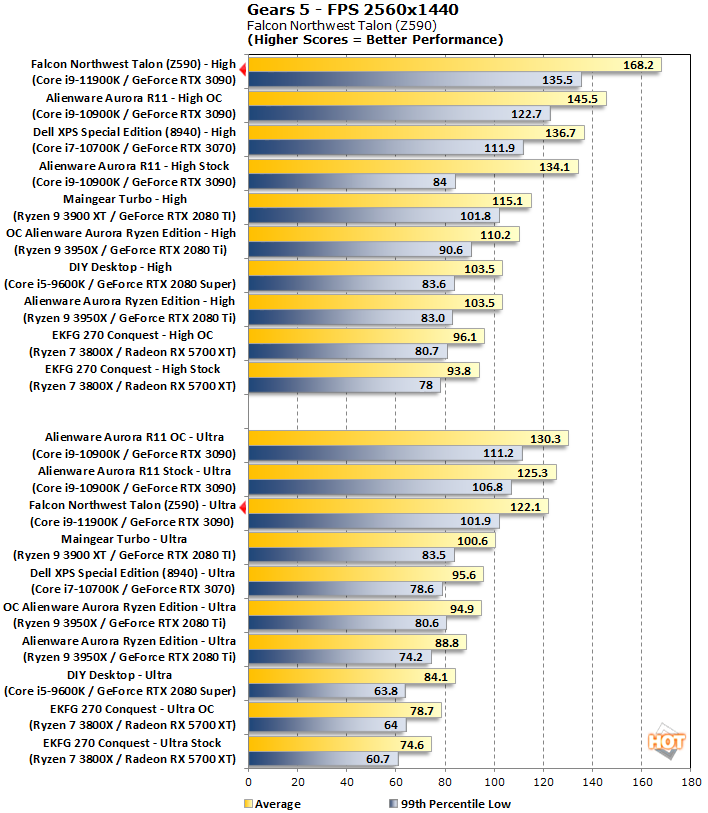 Gears 5 can be a little finicky when it comes to benchmarking, as we have seen results jump around for no obvious reason. Nevertheless, we have a robust selection of comparison data. The Talon adds to it with another first-place finish at 1440p with the settings dialed up to High.
When we ran the benchmark at the Ultra setting, it fell just a few frames per second below
the Alienware system
. Perhaps the additional cores of the Core 19-10900K give it a slight edge here. Either way, this is top shelf performance on display yet again.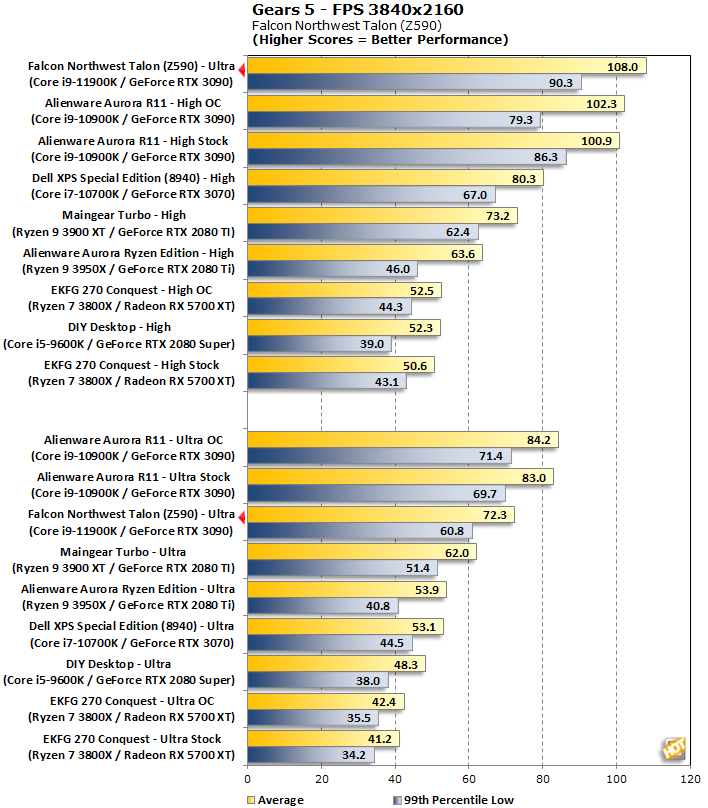 The same situation played out at 4K—the Talon was the fastest of the bunch at the High preset, and dropped below the Alienware at the Ultra preset. The 10+ frames per second gap at the latter is a little surprising, though not concerning in the least.
Metro Exodus

RTX On with DLSS Gaming Performance Comparison
Metro Exodus is based on author Dmitry Glukhovsky's series of Metro novels that started with Metro 2033 back in 2005. That first installment in the series was followed by Metro Last Light and later, Last Light Redux. Like other games in the series, Metro Exodus follows a post-apocalyptic story line that takes place in the former Russian Federation. The game features advanced graphics and visuals and also supports NVIDIA's RTX and
DLSS
technologies.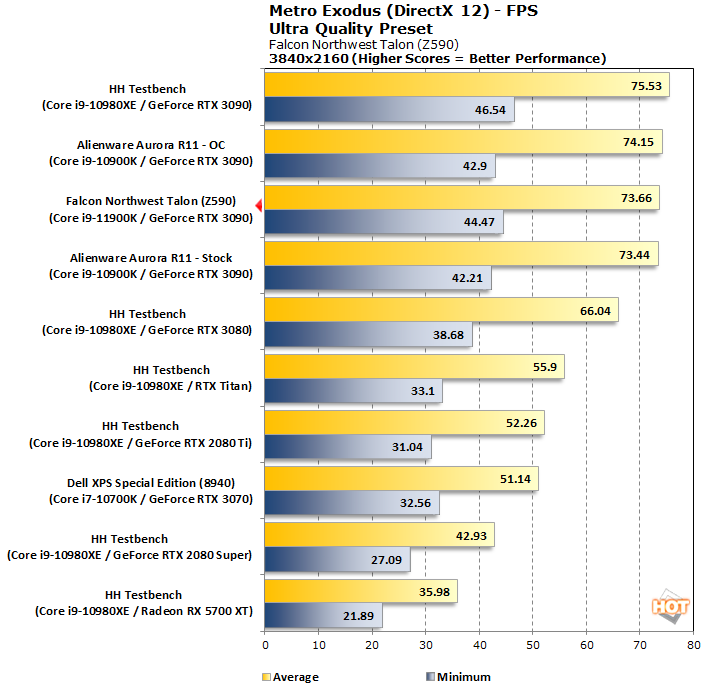 In this benchmark, less than a single frame separates the Talon from the stock-clocked and overclocked Alienware numbers, all three of which barely trailed our testbench data point. As far as we are concerned, it's a virtual tie at the top, between the systems running a
GeForce RTX 3090 graphics card
.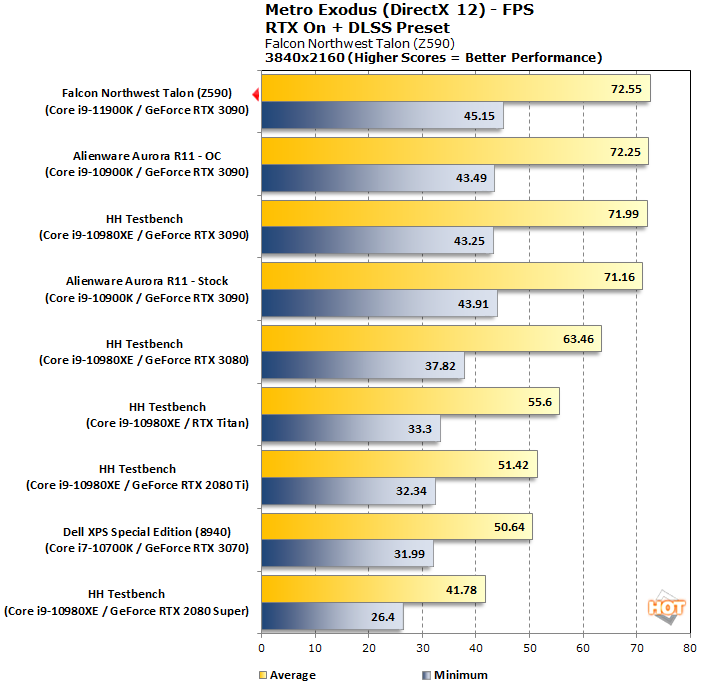 When we turned on RTX
ray tracing
and enabled DLSS, the Talon squeaked ahead by a fraction of a frame per second, for what amounts to another virtual tie. The other takeaway is that DLSS is awesome—there is basically no performance hit when enabling RTX visuals, because of NVIDIA's DLSS magic. Good stuff.
Related content
Comments