WD Blue SN550 SSD Review: Superb, Budget NVMe Storage
WD Blue SN550 SSD: More Benchmarks And Our Verdict
The testing of the WD Blue SN550 M.2 NVMe SSD continues with HDTune Pro, CrystalDiskMark, and PCMark 10's System Disk benchmark...
EFD Software's
HD Tune
is described on the company's website as such:
"HD Tune is a hard disk utility with many functions. It can be used to measure the drive's performance, scan for errors, check the health status (S.M.A.R.T.), securely erase all data and much more."
The latest version of the benchmark added temperature statistics and improved support for SSDs, among a few other updates and fixes.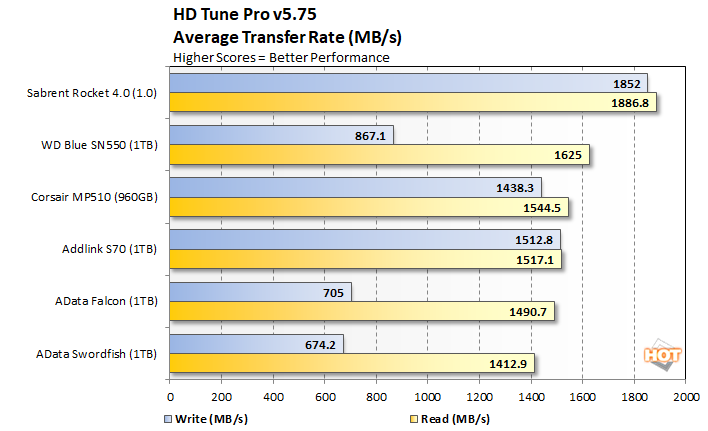 The WD drive's average transfer rates are a mix of good and not so good. In terms of read speeds, the
WD Blue SN550
scores the second best throughput of all our test drives. The SLC cache kind of gives out when it comes to writes, however, and the overall write speed is quite a bit slower than the top half of the drives. Only the AData twins scored worse. When we look at the graphs showing read and write speeds, we can see why: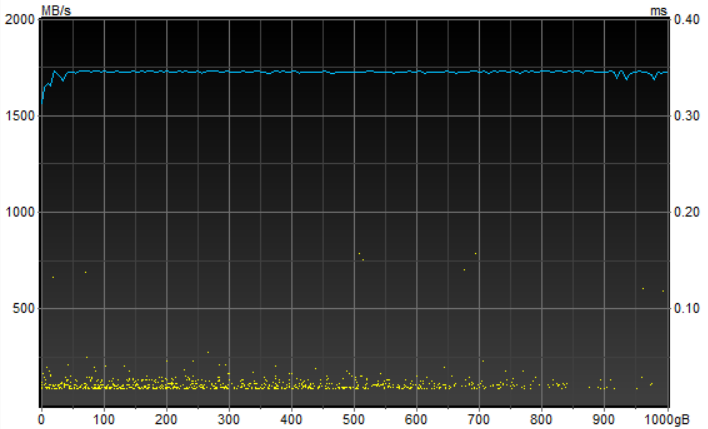 WD SN550 Reads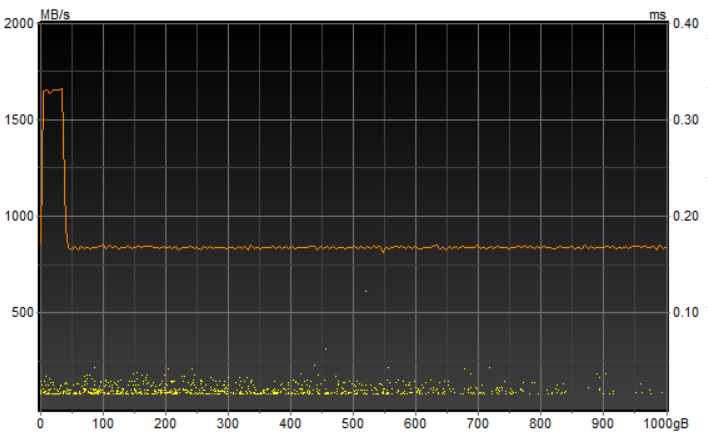 WD SN550 Writes
The read test had no surprises. It started out north of 1.5 GB per second and stayed there, hovering just under 1.7 GB most of the time. The write test, however, has two distinct segments. Early on when the drive had not filled its SLC cache, it hits close to 1.7 GB per second, as it did in reads. However, that falls off after around 5% of the drive has been consumed, and it only manages a bit over 800 MB/sec for the rest of the run.
Things to keep in mind here include SATA peak performance. SATA III SSDs max out at around 550 MB per second, and typically share price parity with these kinds of budget NVMe drives like the WD Blue SN550. However, the SN550 enjoys a much higher throughput for the entirety of its drive, which kind of buries SATA SSDs from a price/performance standpoint. From that perspective, the democratization of NVMe is complete. We can get drives much faster than SATA for the same money. And as long as you're not constantly writing large files, that performance drop off when the SLC cache is exhausted is mostly a non-issue.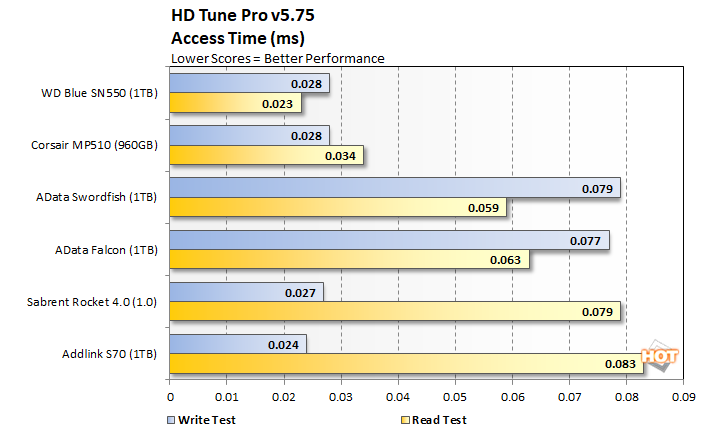 The drives are sorted by read access times here, of which the WD Blue SN550 posted the absolute lowest access times across the board. That's a huge win. WD's drive is the most responsive in this test, bar none. When it comes to writes, the Blue actually falls to the middle of the pack, beat out by the Sabrent Rocket 4.0 and
Addlink S70
, tied with Corsair's MP510, but
miles
better than the two AData drives.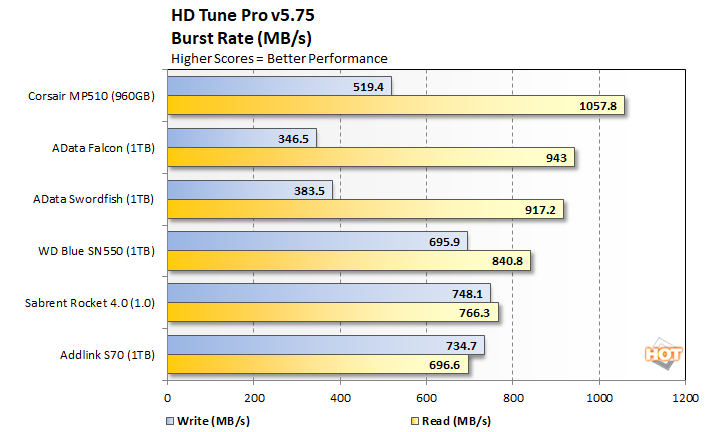 HD Tune Pro's burst test again puts the budget-priced WD Blue drive in the middle of our pack. Overall, and considering the price of the drive, it performed very well in this test.
CrystalDiskMark x64 Benchmark

Synthetic File Transfer Test
CrystalDiskMark
is a synthetic benchmark that tests both sequential and random small and mid-sized file transfers using incompressible data. It provides a quick look at best and worst case scenarios with regard to SSD performance, best case being larger sequential transfers and worse case being small, random transfers.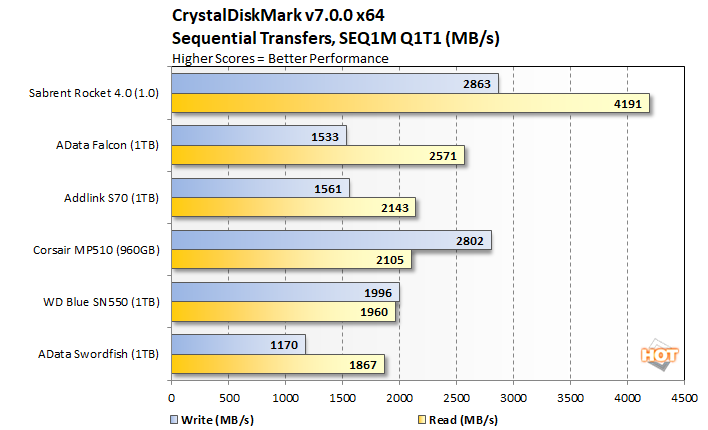 The sequential tests put the WD Blue SN550 towards the bottom of the pack. It still beat out the similarly-priced Swordfish by a wide margin on both the read and write tests, though. It also scored better than the more expensive
AData Falcon
in the write test. These figures are more or less in line with what we saw in ATTO's sequential bandwidth tests, so there's some consistency here. We think the SN550 would do nicely as a games library drive or other secondary volume for quick-access tasks, even if it's not the fastest drive on the block. Loading game levels tends to get blocked at the processor, as NVMe drives don't often outperform SATA drives in those kinds of loads by as large a margin as their peak sequential transfers may suggest.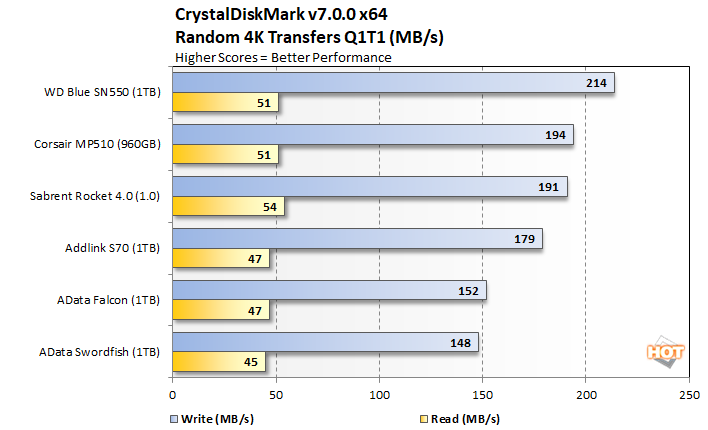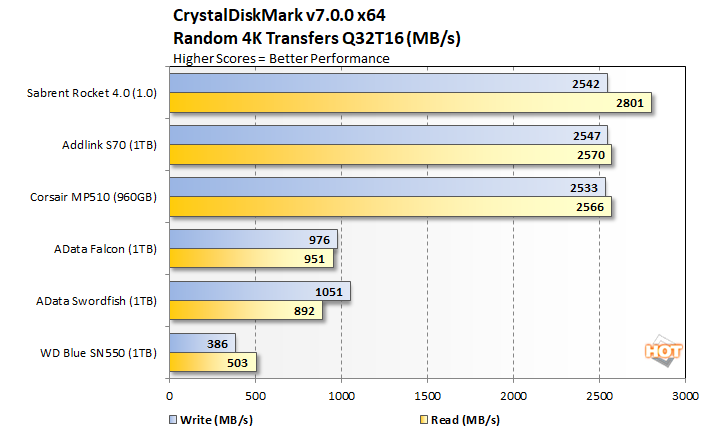 In the random tests, the Blue SN550 fared well in what we'd consider a typical desktop load. Most single-user scenarios have a tough time doing more than the 4K Q1T1 test, and WD's drive came out smelling like roses here. Things weren't quite so rosy in the heavy Q32T16 test. This drive may not be the best choice for a busy database server or the like, but it's not really targeted at that audience, either.
UL PCMark 10 Storage Test

https://benchmarks.ul.com/pcmark10
We like
PCMark 10
's new quick storage benchmark module for its real-world application measurement approach to testing.
PCMark
offers a trace-based measurement of system response times under various scripted workloads of traditional client / desktop system operation. Here, we used the Quick System Drive storage benchmark, which puts the drive through its paces in a scripted 20-minute run of several different disk-oriented tasks.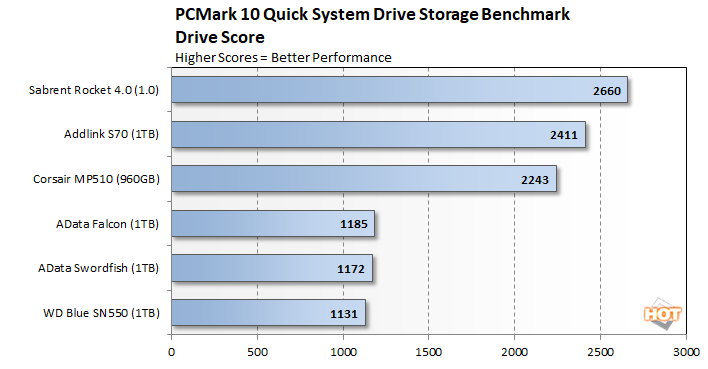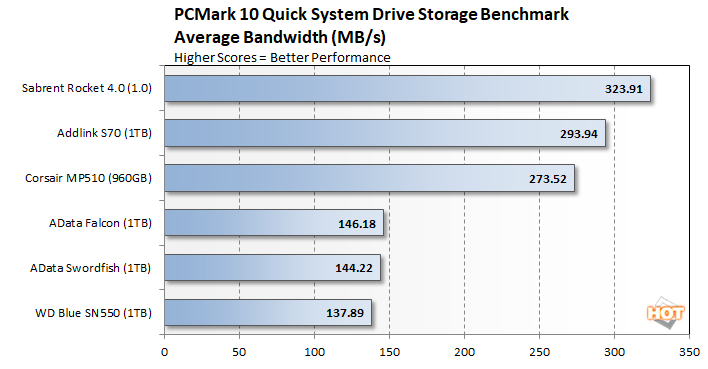 The Blue SN550 finishes off on a bit of a sour note, pulling in dead last in PCMark's Quick System Drive Storage Benchmark. This test simulates the kinds of tasks a boot drive in a typical desktop PC would have to endure. It finished within a couple percentage points of AData's pairs, but scored about half as fast (or lower) when compared to the rest our suite, which does include more pricey drives.
WD Blue SN550 Review Summary and Verdict
All things considered, we were pretty impressed with the performance delivered by
WD's
Blue SN550 NVMe SSD. Even though it was the lowest-price drive in our review, it had no trouble outperforming the AData Swordfish by a significant margin on almost every test. PCMark's Quick System Drive test and CrystalDiskMark's random 4K Q32T16 test were the only two instances where the AData budget drive squeaked out wins, and even then it was by a very slim margin.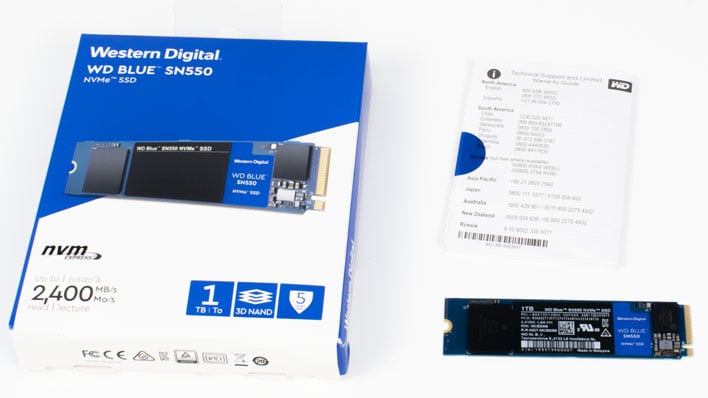 When it came to sequential performance, WD's budget SSD shined brightly across the board. In ATTO's read and write throughput tests, the SN550 finished in about the middle of the pack, which is great for a budget drive. Western Digital scored better than expected on SANDRA and HDTune Pro's read and write bandwidth tests. It even scored the best overall access latency for reads, which bodes very well for those buyers who are looking for an affordable, but responsive system drive. It can also use its 96-layer Sandisk TLC NAND as an SLC write cache, which can make short bursts of write operations very fast.
It is not all good news, though. The WD Blue SN550 came in dead last in PCMark's Quick Benchmark, and some of the smaller IO sizes ran more slowly than expected. Up until around the 4K mark, ATTO showed some strange behavior in both reads and writes, which persisted across multiple runs. Meanwhile, the SN550 actually won CrystalDiskMark's random 4K Q1T1 test, which shows that once you hit that magical 4K mark, the drive does really well. Since most file systems are tuned for 4K clusters, we don't think that these behavior oddities actually pose any sort of performance risk, but they are worth mentioning nonetheless.
Find The WD Blue SN550 NVMe SSD @ Amazon
There are some things that we wished we would have seen, however, even at this price range. For example, the SN550 does not support hardware accelerated AES-256 encryption, which its primary competition from AData supports. The similarly-priced AData Swordfish also has a much larger endurance rating of 960 TBW compared to the SN550's 600 TBW. As is often the case with budget-priced components, there's a series of trade-offs. The WD Blue SN550 had overall much higher performance than the Swordfish, which makes it a better candidate for a system drive. However, without AES-256, it's not a great choice for enterprise users, and its endurance rating suggests it might not last as long. Still, by the time most users write 600 TB to a 1 TB drive, it could still be well past its five-year warranty.
We've alluded to pricing, but let's talk about it in more detail for a moment. The 1 TB WD Blue SN550 can be found for
$109 on Amazon
. In this review, its primary competition was the pair of drives from AData. The 1 TB Swordfish can be found for about $94 on Amazon, while the faster Falcon is just $5 more, at $99.99. Everything else we've tested is a premium drive with a more premium price, right up to the
$200 Sabrent Rocket 4.0
. The SN550 flat-out beat the Swordfish, which definitely makes it a better buy from a performance standpoint. It also scored a fair share of wins against the Falcon, though that drive supports AES-256. If giving up hardware-accelerated encryption is not a big deal, the WD Blue SN550 is a solid buy, but it's too bad there's that caveat. For that reason, we've proclaimed the WD Blue SN550
HotHardware
Approved.
WD Blue SN550







Great performance at its price point
Quality budget-priced drive
High sequential throughput
SLC cache for write operations
Five year warranty

Higher latencies measured in some loads
Low performance on sub-4k transactions
No AES-256 encryption
Related content
Comments