Solidigm P44 Pro SSD Review: Ultra-Fast PCIe Gen 4 PC Storage
Solidigm P44 Pro: High-Performance NVMe Storage For Gamers And Creators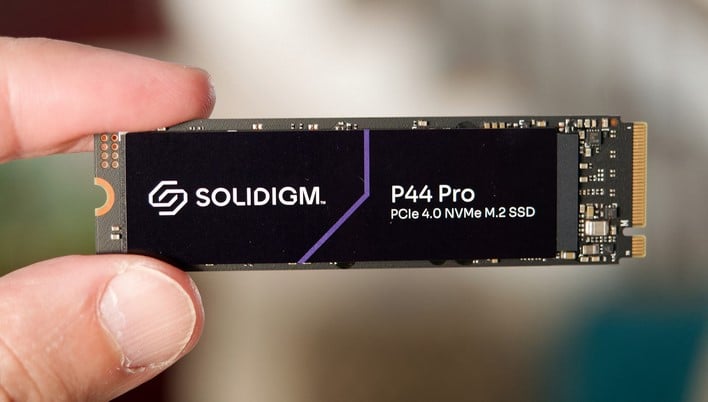 Solidigm P44 Pro: Starting At $55, $179 For 2TB Model


The Solidigm P44 Pro is an enthusiast-class PCIe Gen 4 solid state drive that offers excellent all-around performance at competitive prices.






Strong All-Around Performance
Low Latencies
Aggressive Pricing
Good Endurance Ratings



---
Since Solidigm was formed after SK Hynix completed the acquisition of Intel's SSD business, the company has released a number of excellent drives, which targeted multiple markets and price points. We've already taken a look at the affordable
Solidigm P41 Plus
, a DRAM-less QLC drive designed for mainstream consumer applications, and the cloud and data center-focused
Solidigm SSD D7-P5520
. Both drives offered solid performance and value for their intended audiences, but the drive we'll be looking at today – the Solidigm P44 Pro – is a different sort of animal. It is somewhat of an evolution of the SK hynix Platinum P41, but with updated firmware and tuning. Perhaps bests of all, in addition to offering top-tier performance for a PCIe Gen 4 drive, the Solidigm P44 Pro is also priced aggressively.
Let's get some specifications out of the way first, then we'll take a look at the drive itself and see how it performs. Spoiler alert: this drive is fast...
Solidigm P44 Pro Specifications And Features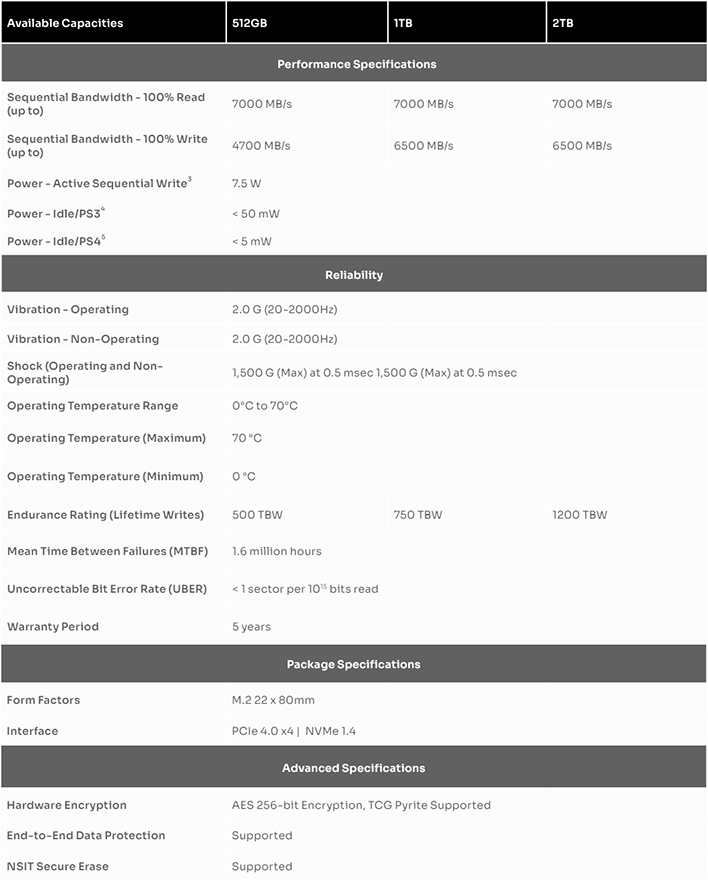 Find The Solidigm P44 Pro SSD @ Amazon
---
Solidigm P44 Pro
, which is available in three capacities, offers enthusiast-class transfer speeds, especially in its higher capacities. The 1TB and 2TB drives are rated for sequential read speeds of 7,000MB/s with write speeds of 6,500MB/s, when connected over a PCIe 4.0 interface. The 512GB version retains the high read speeds, but with lower, but still good, 4,700 MB/s writes (slower writes are typical for lower capacity drives in a product stack).
In terms of random reads and writes, Solidigm doesn't list them in the P44 Pro's product brief, but considering the drive uses a similar controller and NAND to the Platinum P41, it should be in the same ballpark. The 512GB model should top out around 960K IOPS (reads) and 1M IOPS (writes), with the 1TB and 2TB models approaching up to 1.4M IOPS (reads) and 1.3M IOPS (writes).
The Solidigm P44 Pro achieves this level of performance by way of its SK Hynix Aries controller, 176-layer TLC NAND, and companion LPDDR4 DRAM Cache (2GB on the 2TB model). Both the controller and NAND are designed for high-performance applications and should be well equipped to handle the impending arrival of more DirectStorage-enabled games on the PC. Of course, the drives are also well suited for
use in PS5
and more than exceed Sony's speed recommendations. The drives don't include (or technically require) any sort of additional cooling, but they are single-layer, which is to say all of the active components reside on the top side of the PCB. Most enthusiast motherboards include M.2 heatsinks today, but when not available, the drive's components will still be exposed to -- and cooled by -- the typical airflow with a chassis.
The Solidgim P44 Pro drives also offer respectable reliability metrics. The drives all come with a 5-year warranty, with mean time between failures (MTBF) clocking 1.6 million hours of operation. With endurance ratings of 500, 750, and 1200 TBW for 512GB, 1TB, and 2TB capacities, respectively, their endurance ratings are also better than most consumer drives. Those ratings correspond to about 600 - 1000 total drive writes of each given capacity, which should be more than plenty for any consumer applications.
And with all that covered, what do you say we see how these drives perform in practice against some stiff competition? Let's get to it...
Solidigm P44 Pro SSD Benchmarks
Under each test condition, the SSDs showcased here were installed as secondary volumes in our testbed, with a separate drive used for the OS and benchmark installations. Our testbed's motherboard was updated with the latest BIOS available at the time of publication and Windows 11 was fully updated. Windows firewall, automatic updates, and screen savers were all disabled before testing and Focus Assist was enabled to prevent any interruptions.
HotHardware's Test System:
---
Processor:
AMD Ryzen 9 7950X

Motherboard:
Asus ROG CrossHair X670E Hero

Video Card:
GeForce RTX 3080

Memory:
32GB G.SKILL DDR5-5200

Storage:
ADATA XPG GAMMIX S70 Blade (OS Drive)


ADATA XPG GAMMIX S70 (2TB)




Phison E18 B47R (2TB)


Samsung SSD 980 Pro (2TB)
Samsung SSD 990 Pro (2TB)
ADATA XPG Atom 50 (1TB)
Kioxia XG8 (2TB)
OS:
Windows 11 Pro x64

Chipset Drivers:
AMD v3.10.22.706

Benchmarks:
IOMeter 1.1
HD Tune v5.75
ATTO v4.01.01f
AS SSD
SiSoftware SANDRA
CrystalDiskMark v8.0.4 x64
Final Fantasy XIV: Endwalker
PCMark 10 Quick Storage Bench
3DMark Storage Tests

---
IOMeter Benchmarks
IOMeter is a well-respected industry standard benchmark. However, despite our results with IOMeter scaling as expected, it is debatable as to whether or not certain access patterns actually provide a valid example of real-world performance. The access patterns we tested may not reflect your particular workloads, for example. That said, we do think IOMeter is a reliable gauge for relative throughput, latency, and bandwidth with a given storage solution. In addition, there are certain highly-strenuous workloads you can place on a drive with IOMeter, that you can't with most other storage benchmark tools.
In the following tables, we're showing two sets of access patterns; a custom Workstation pattern, with an 8K transfer size, consisting of 80% reads (20% writes) and 80% random (20% sequential) access and a 4K access pattern with a 4K transfer size, comprised of 67% reads (33% writes) and 100% random access. Queue depths from 1 to 16 were tested...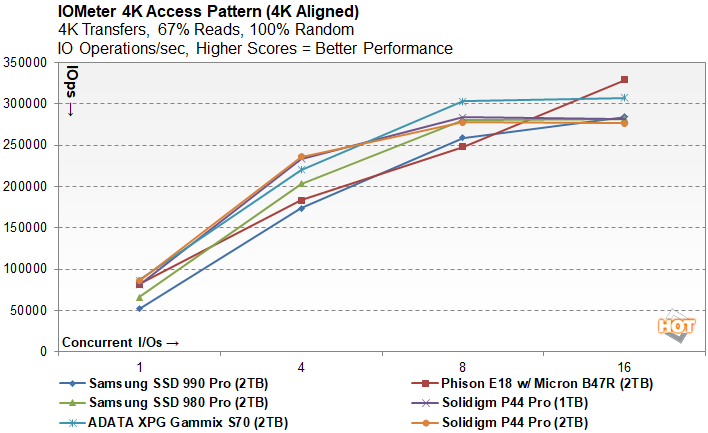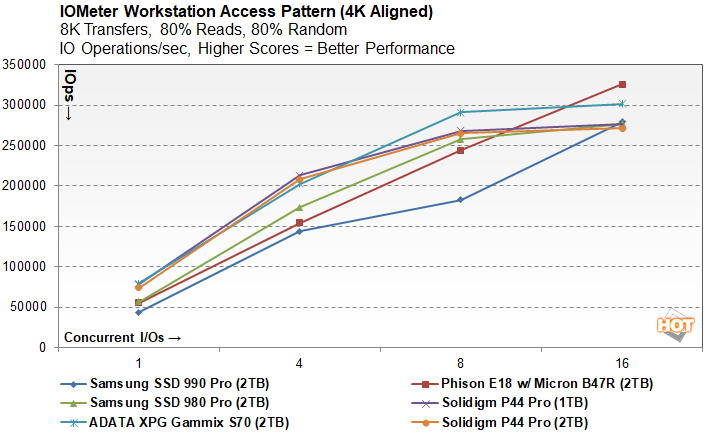 Note as you're perusing the graphs that we tested both the 1TB and 2TB versions of the Solidigm P44 Pro. As you can see here, both drives offered strong competitive performance, across the board, with only the Phison and
Innogrit-based drives
pulling ahead slightly at the highest queue depths.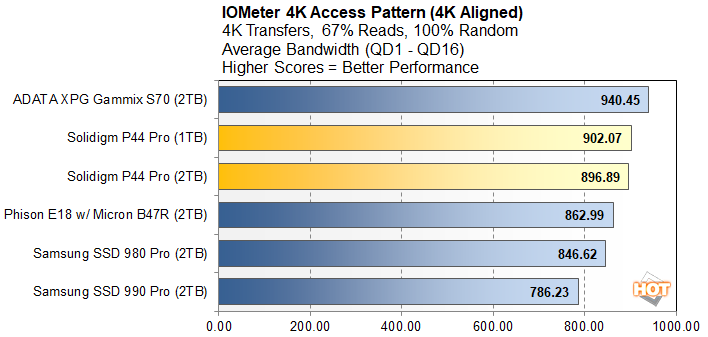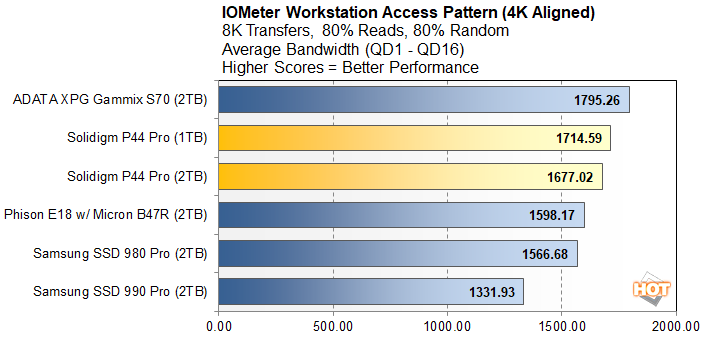 These numbers represent the average bandwidth for the drives we tested with both access patterns, across every queue depth. Here, only the Innogrit-based ADATA XPG drive offers higher bandwidth, but all of the top-end drives are tightly grouped.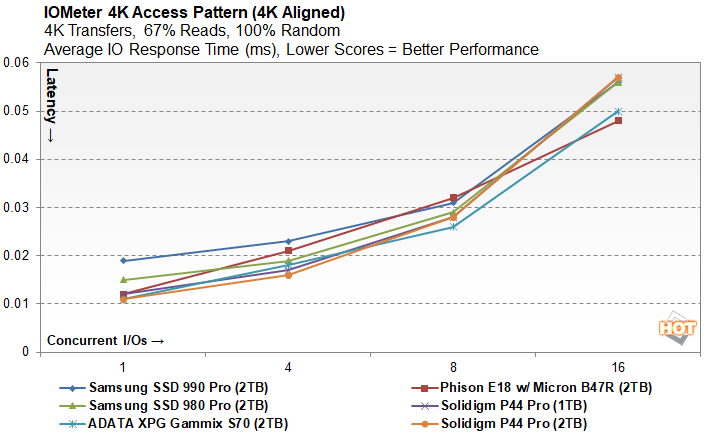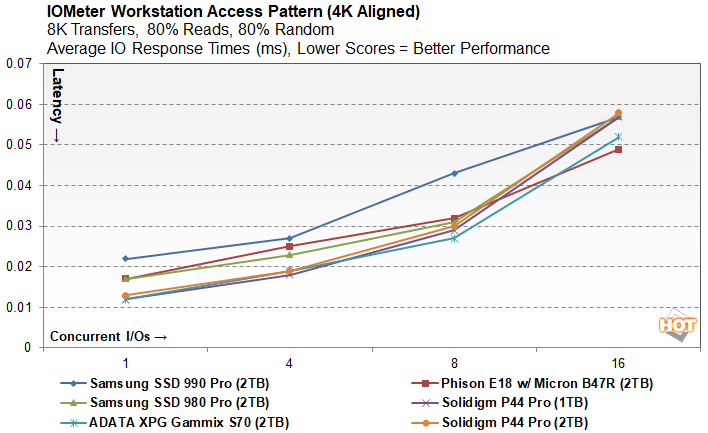 Our latency results also paint the Solidigm P44 Pro in a positive light. The drives offered some of the best latency characteristics of the group.
SiSoft SANDRA 2022
Next, we used SiSoft SANDRA, the System ANalyzer, Diagnostic and Reporting Assistant for some quick tests. Here, we used the File System Test and provide the results from our comparison SSDs. Read and write performance metrics, along with the overall drive score, are detailed below.
The Solidigm P44 Pro drives landed squarely in the middle of the pack according to SiSoft SANDRA, but were nipping at the leaders' heels.
ATTO Disk Benchmark
ATTO is another "quick and dirty" type of disk benchmark that measures transfer speeds across a specific volume length. It measures raw transfer rates for both reads and writes and graphs them out in an easily interpreted chart. We chose .5KB through 64MB transfer sizes and a queue depth of 6 over a total max volume length of 256MB. ATTO's workloads are sequential in nature and measure raw bandwidth, rather than I/O response time, access latency, etc.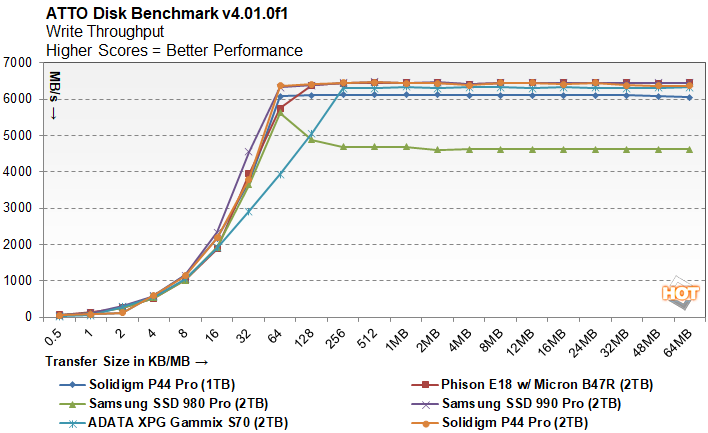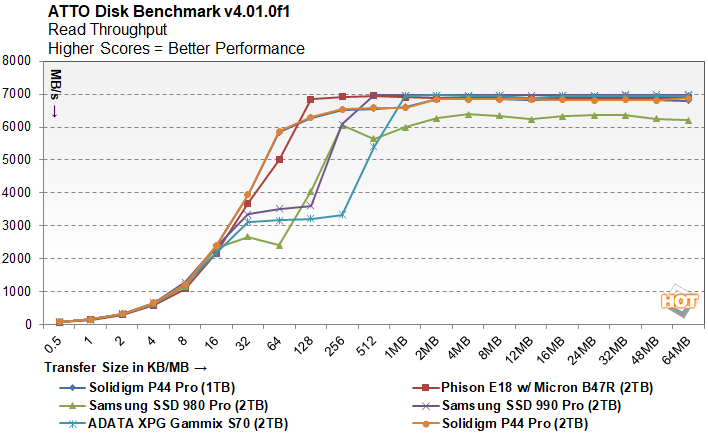 Both of the Solidigm P44 Pro drives offered strong, competitive transfer rates throughout the ATTO Disk Benchmark. Both reads and writes are in-line with some of the fastest PCIe Gen 4 SSDs currently available.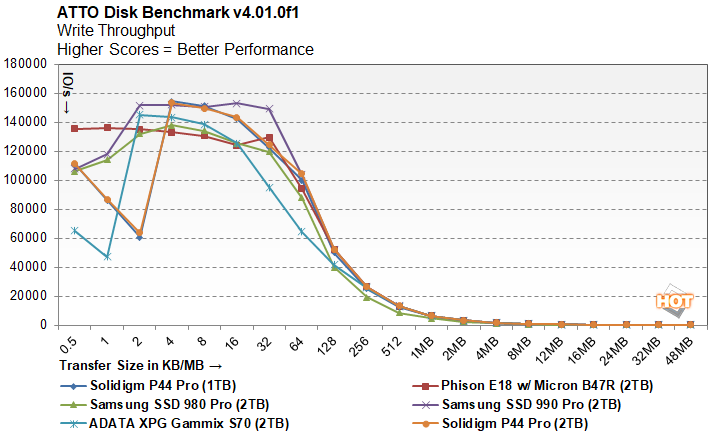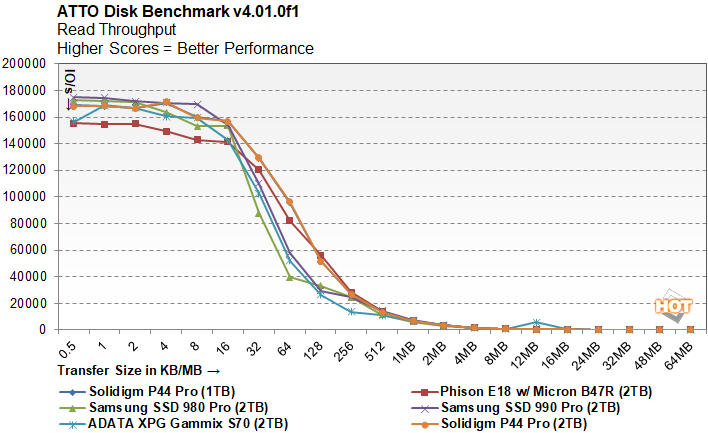 IO performance with the Solidigm P44 Pro drives is also competitive across the board according to ATTO, save for a quick valley in the write test with the smallest transfer sizes.
AS SSD Compression Benchmark
Next up we ran the Compression Benchmark built-into AS SSD, an SSD specific benchmark being developed by Alex Intelligent Software. This test is interesting because it uses a mix of compressible and non-compressible data and outputs both Read and Write throughput of the drive. We only graphed a small fraction of the data (1% compressible, 50% compressible, and 100% compressible), but the trend is representative of the benchmark's complete results.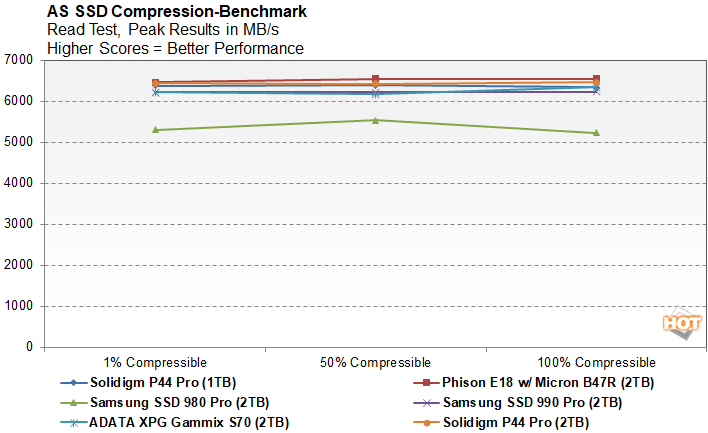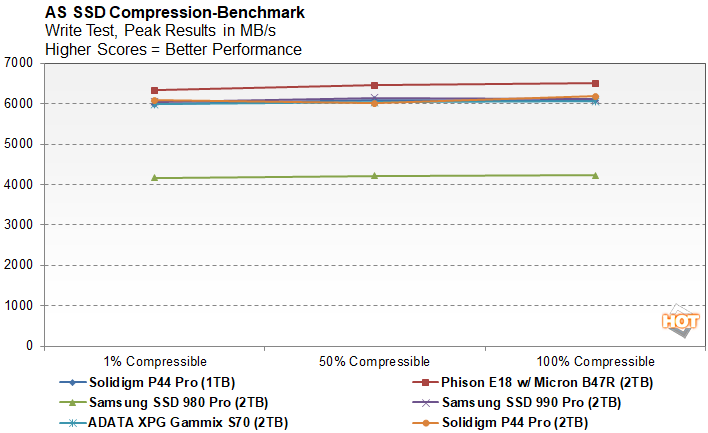 The compressibility of the data being transferred across the drives we tested has virtually no impact on performance, and once again we see the Solidigm P44 Pro offering top-notch performance, that's right up there with the best.
Related content