Cooler Master CK720 Review: Compact Hot-Swap Mechanical Keyboard
The Cooler Master CK720: A Handsome, Compact And Sturdy New Input Device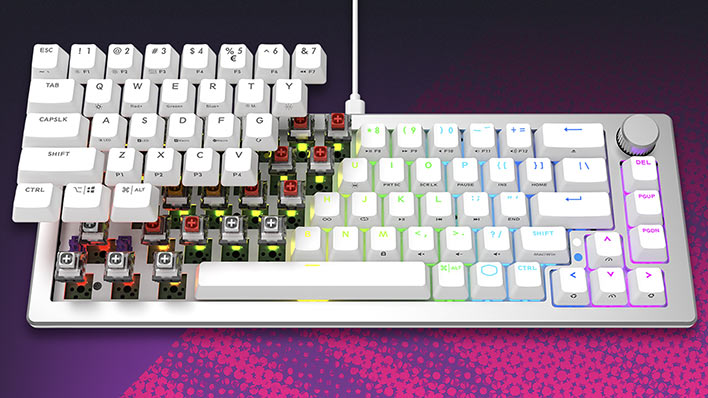 Cooler Master CK720 keyboard - Starting MSRP $99


Cooler Master released a new 65% mechanical keyboard that looks almost identical to a model it released this summer. However, this new deck is built for enthusiasts and it opens up the world of hot-swap keyswitches to Cooler Master keyboard users for the first time.





Great build quality

Quality material composition
Compact and portable
Detachable USB-C connection for PC / Mac
Endlessly customizable keyswitches and keycaps
Attractive pricing

Software lighting control bugs
Occasional control dial glitches (software again)
Supplied keycap second functions are hard to read
Make sure a 65% keyboard fits your workflow
No cable routing options
Wired mode only



Cooler Master describes its
new CK720 mechanical keyboard
as its first ever input device with hot swappable switches. The company says it was inspired to build this keyboard due to the requests and needs of its fans. In essence, what we have here is a 65% design, which is a keyboard that has been reduced in size via the removal of the numpad and function row, and with a single vertical line of navigation keys to the right. Cooler Master has also managed to find room for a handy rotary dial controller at the top right of the keyboard deck.
Before we go on, for regular
Hot Hardware
readers, the
Cooler Master CK720
may be precipitating feelings of déjà vu. However this, and the
Cooler Master CK721
which was reviewed in the summer, are quite different propositions. The new CK720 is more squarely targeted at enthusiasts who like to customize their keyboards, and the CK721 was made for PC users and gamers who want a 65% keyboard ready to roll with flexible connectivity options.
Later on, after a closer look at the Cooler Master CK720 and its features, we will provide a comparison table so you will be able to see what the precise differences are between these similar-looking keyboard offerings.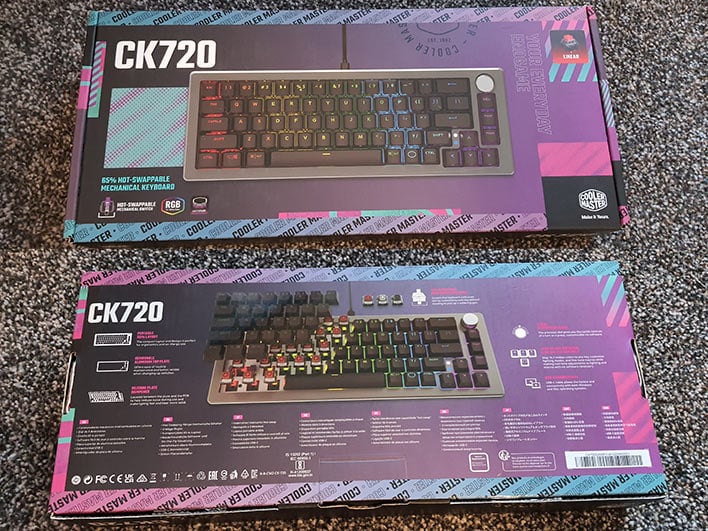 Cooler Master CK721 Design And Features
Let us start by talking about this keyboard's size. A 65% keyboard layout is rather appealing to someone looking for a compact space-saving keyboard that covers most of the essentials. Gamers often favor compact keyboards to leave more mousing real estate on their desk, but there are plenty of other valid use cases which would make a 65% keyboard like the CK720 (or CK721) a good choice. Having said that, sacrificing function row keys, compared to a 75% keyboard, only effectively reduces the depth of the keyboard. Also we must comment that the removal of the function row keys and the more spacious page navigation layout provided by a TKL or 80% keyboard, makes this CK720 (at 13-inches) just an inch less wide than the TKL model that I personally use.

Choosing a reduced keyboard size is therefore all about weighing up what has been cut to make the keyboard more compact - against the benefits of reduced desk footprint. It is quite a personal and use-profile specific choice. Sadly, the best way to know what works best for you is through the bitter experience of owning keyboards that are either too big or too small.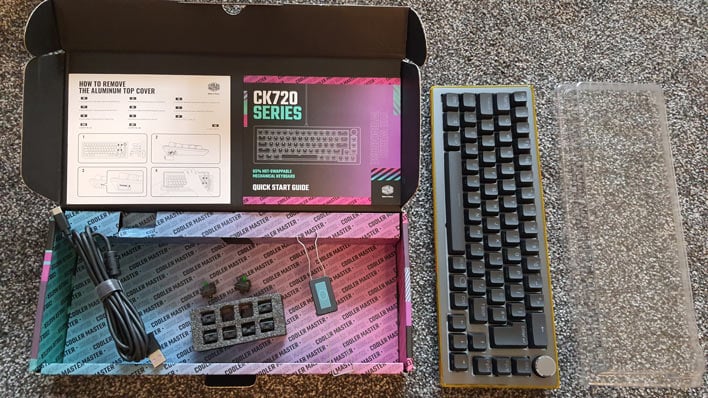 Cooler Master CK720 Build Quality
If a 65% keyboard is right for you, then we have good news regarding the build quality of the Cooler Master CK720. As the company's first enthusiast hot-swap design, it seems some care has been taken in the build components and material choices. This is a good move, as it means that enthusiasts will be happy to experiment, tweak and tune upon this relatively affordable platform.

In a communication we received from Cooler Master, the company explained that there were a number of quality-of-life improvements for functional smoothness. The firm says that the keyboard features "new Cooler Master stabilizers, pre-lubed for minimal rattle and smooth travel." Also important to keyboard fans are specific build choices like "silicone padding on the PCB and filling the bottom plate, which absorbs hollow ping and enables a fuller, more satisfying thock or clack."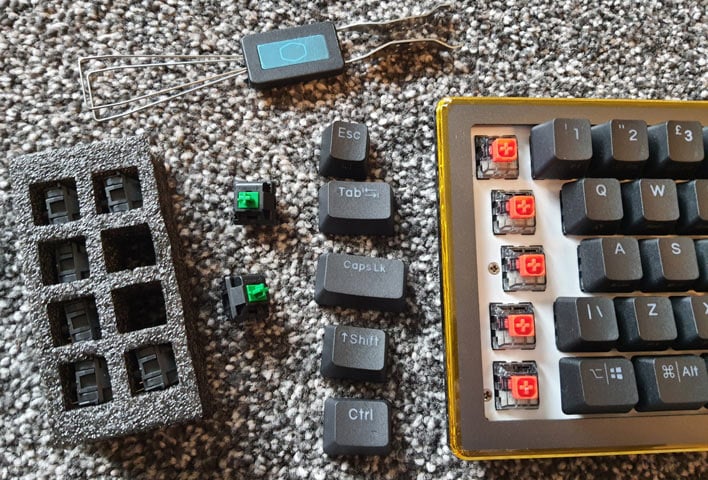 Switching Keyswitches With This New Deck
Cooler Master
sells the CK720 with a choice
of three keyswitches. You can opt to buy the keyboard with
Kailh Box V2
mechanical switches pre-fitted, with a choice of Red, White, or Brown types. Our sample was pre-populated with the Red switches. However, whichever model you choose, Cooler Master provides 10
Cherry MX Green
switches in the box so you can start hot-swapping from day one.
Many readers will know this but; the Kailh Box V2 Red switches are linear which actuate with 45g of force, the Brown switches are tactile which actuate with 75g of force, and the White switches are tactile and clicky switches which actuate with 55g of force. The 10 Cherry MX Greens are tactile and clicky which actuate with 80g of force. Cooler Master adds them to the box as it suggests they are an interesting choice for installing under your modifier keys. They certainly provide a contrast to the Kailh Box V2 Reds. For further experimenting with switches, you will have to head to your local emporium, or the likes of eBay or
Amazon, to pick up some
of the mind-boggling array of choices.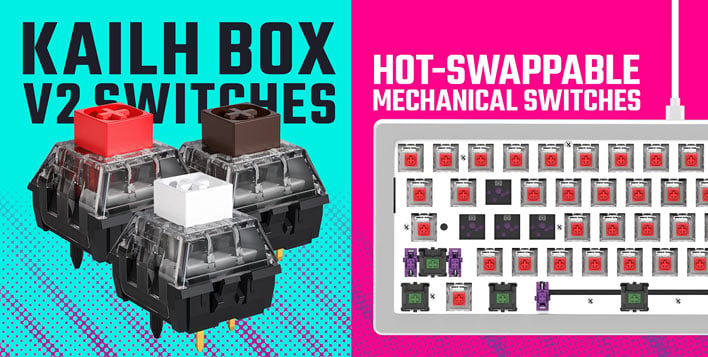 Cooler Master provides a combination tool in the box which can pull off the supplied PBT keycaps, then be turned around to pluck out the underlying keyswitch. Remember, you pull off a keycap from the left/right edges, but grasp the keyswitch with the tool squeezing its top/bottom. Our tool got a bit bent in use, but is still serviceable.
When choosing keyswitches, please be advised that if you want to enjoy the RGB LED backlighting of this keyboard to its best and fullest effect to make sure you buy switches with clear bases. The provided
Kailh switches
are clear enough to let most of the underlying LED lighting through, however, Cooler Master supplied Cherry MX Green switches used mainly black plastic construction, so any switches we substituted had a strong dimming effect on those particular keys / modifiers.
Having just mentioned the RGB LED backlighting, it seems apt to consider this aspect of the keyboard now. Obviously, for optimal keyswitch swapping fun you should stick to switches that are built with backlighting in mind. When you are shopping, some switches will be clearly labeled as RGB friendly (or similar wording), or you can lookout for the switch being built with appropriate clear plastic sections. Also watch out for pack size when comparing, some are sold in 10s, others in pack sizes up to 120 or so (a full sized keyboard usually packs in 104 or 105 switches, as well as media keys and dials).
Cooler Master's RGB LED Backlighting Explored
Cooler Master traditionally allows users to eschew software and adjust all the keyboard RGB lighting, and record / playback macros, on-the-fly via hotkeys. This is a great feature, and the onboard keyboard memory (512KB) can handle your presets without loading software. However, in the case of the CK720 we found the secondary functions of the keys to be difficult to read, as the backlighting doesn't shine through the shortcut inscriptions. Even at the brightest setting this made non-software tweaking a bit frustrating, though you could probably learn and get used to this system in time.
Firing up the latest MasterPlus software made adjustments to lighting effects and colors much more intuitive. However, at the time of writing there seems to be a few bugs. In our tests the Windows software allowed us to get much brighter backlighting via the global lighting controls, but switching back to the CK720 in the software device picker dimmed the lighting by about 50%. Cooler Master's convenient rotary dial - which can be programmed for things like volume, lighting, and multimedia control - also suffered from software inflicted bugs. After adjustments in the software, the dial sometimes didn't do anything. Obviously this software or the keyboard firmware should be updated as these are annoying wrinkles.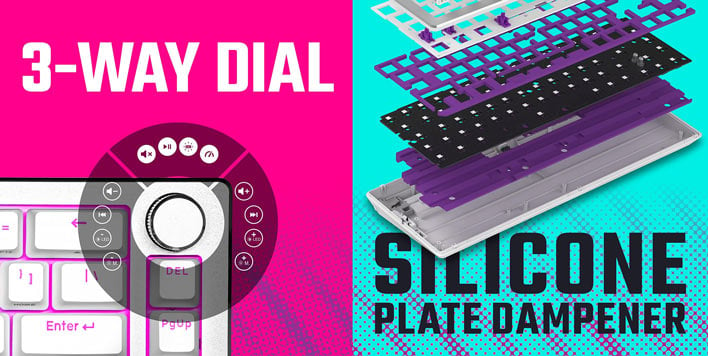 Construction And Tech Specs
As mentioned previously, it looks like Cooler Master has chosen the construction materials with some care. The CK720 is reassuringly weighty for its size at 950g / 2.094 lbs (without cable). The overall build and deck is rigid, and even heavy handed typing or key pressing doesn't induce any flex. Cooler Master has mentioned PCB and bottom plate padding, and atop of it all is a removable aluminum top plate.

The Kailh Box switches appear to be well made, with no obvious issues such as inconsistency, scratchiness, or wobble. Cooler Master has used wear-resistant PBT keycaps on the CK720 too, another upgrade vs the CK721. Lastly the fit and finish all round from diamond cut aluminum edging, to seams, and joints are all excellent.
Despite the enthusiast label, and hot-swappable switches offering loads of customization options, in some other ways this is a no-fuss keyboard. For example, it has a pleasing minimal design, and there are no connectivity options other than the detachable USB Type-C cable (supplied).

In The Box:
Keyboard
Keyswitch Puller
10x Cherry MX Green Switches For Hot-Swapping
Manual
Cooler Master CK720 vs CK721
To put the new Cooler Master CK720 into better perspective, it is interesting to compare it with its outwardly similar looking stable mate. The CK720 wins on a lot of fronts like keyswitch quality, keyswitch swapping, keycap material quality, and a weighty feeling of quality overall. On the other hand
the CK721 offers triple mode
, multi-device connectivity (wired, 2.4 GHz and Bluetooth - adding Android and iOS compatibility), comes with a braided cable and perfectly matched wrist rest, and some may prefer the lighter weight. Last but not least, consider that the wired-only enthusiast targeting
CK720 is $20 cheaper
than its brother, at just $99.
Cooler Master CK720: Our conclusion
All told, the platform of the Cooler Master CK720 seems very nicely built and solid, and it's great that the company gives users the option to choose Kailh Box V2 Red, Brown, or White switches to get started - then gives away an extra 10 Cherry MX Greens in the box for testing the feel of various keyswitch types across different segments of the deck.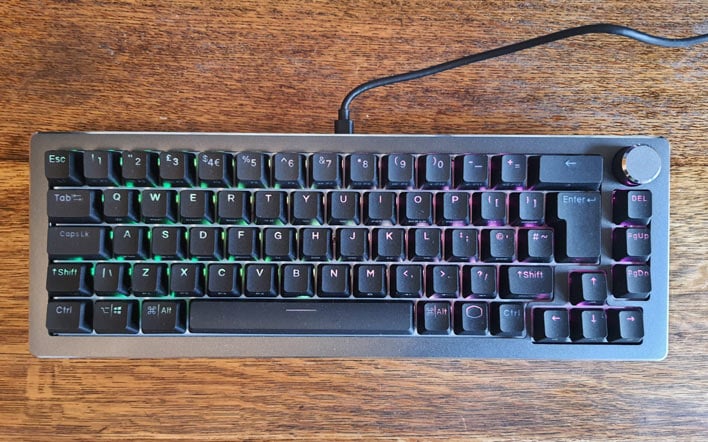 Can we forgive Cooler Master's stumbles on
this $99 product
? Mostly, yes. The buggy software slightly spoiled our fun with RGB LED backlighting, but the hardly legible second functions made the software somewhat necessary. We have talked with Cooler Master and these software issues should be addressed shortly. In our previous
review of the CK721
, the software let us down with intermittent issues. It is a shame the great feeling hardware is being held back by the MasterPlus+ app. On the positive side, once you get some presets to your liking, you can dump the Windows software and learn / rely on keyboard profile switching / control. Also some people might not care for or use the RGB LED backlighting, and many enthusiast keyboards don't feature such frills.
Regardless, Cooler Master's newest compact mechanical keyboard is a commendable PC peripheral at a very attractive price. Like the company intended, it appears to be a great entry into the expansive and wonderfully quirky universe of customizable mechanical keyboards, but in an efficient, compact 65% form factor minimalists will love.
Related content