Samsung T7 Shield 4TB Review: Fast, Rugged Portable SSD Storage
Samsung T7 Shield 4TB: High-Capacity, Fast, And Rugged External Storage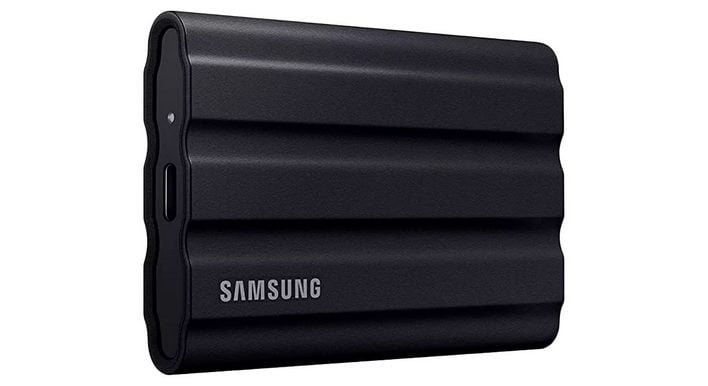 Samsung T7 Shield External SSD - Starting At $99 (1TB), $409 (4TB)


The Samsung T7 Shield is a compact, rugged, and reliable external USB-C SSD, with decent performance and competitive pricing.







Small Form Factor
Rugged, IP68 Rated
Strong Compatibility
Reliable And Consistent
High Capacity

Sequentials Trail Competition
Included Cables Are Short






---
Samsung recently updated its line-up of portable, external solid state storage solutions with the capacious 4TB T7 Shield external SSD. If you recall, the T7 series consists of an array of portable SSDs, some with basic storage functionality (
the T7
), some with built-in fingerprint security (
the T7 Touch
), and yet others with more ruggedized enclosures (the T7 Shield). The drive we'll be showing you here today, the 4TB Samsung T7 Shield, falls into the latter category and is the latest offering in the family, which is designed to maximize capacity and sustained write performance. Peak sequential transfer speeds, however, are similar to existing models of the drive.
Here's a quick breakdown of the Samsung T7 Shield's main features and specifications -- take a gander and then we'll dig in a little deeper, take a closer look at the drive, and see how it performs...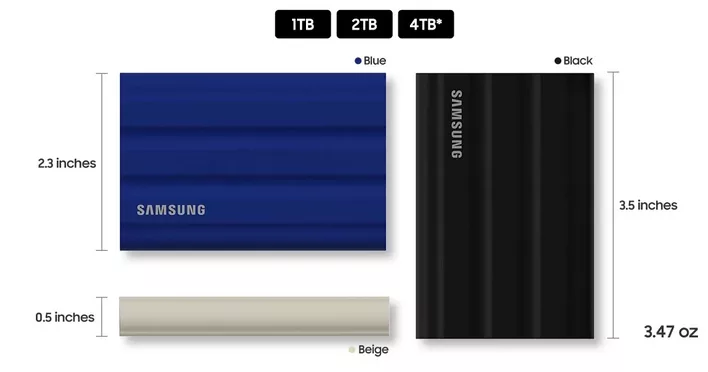 Samsung T7 Shield External SSD Specs & Features
Samsung
controller and the company's latest 1xx-layer 3D V-NAND. That's an update from the previous-gen T7 drives which features 92-layer 3D V-NAND.
Samsung rates the drives for transfer speeds up to 1,050MB/s (reads) and 1,000Mb/s (writes), which puts performance well ahead of any SATA-based solid-state drive, but not on the level of most Thunderbolt-based external storage solutions or many USB 3 / 4 NVMe enclosures, when paired with a good-performing NVMe SSD, of course.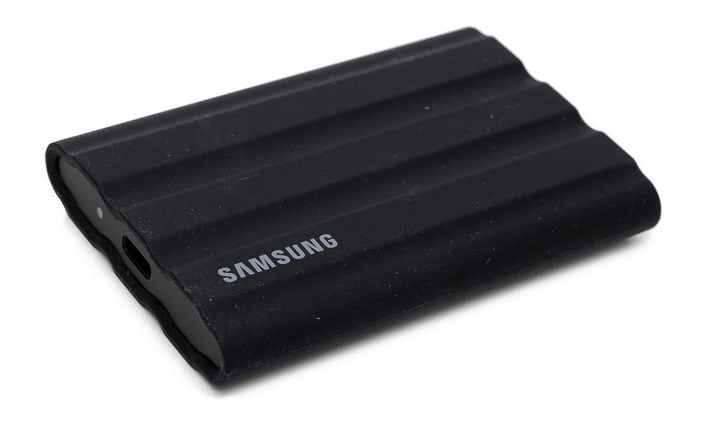 Like other models in the T7 series, the new 4TB T7 Shield has built in support for AES 256-bit encryption, which is enabled through a simple piece of software called "Samsung Portable SSD". Three versions of the tool are available for the drive – one for
Windows
, one for
Android
, and another for Mac
OSX
. Enabling security features on the T7 Shield requires a password ne entered to access the main volume. The level of security offered by the T7 Shield doesn't meet Federal Information Processing Standards, so the drive isn't FIPS-certified, but for securing personal files so someone can't nab your drive and easily access its contents, this built-in security feature should be fine.
The T7 Shield's enclosure measures 88 x 59 x 13 mm, with rounded edges and deep grooves top and bottom. The T7 Shield's dimensions are slightly bigger than the standard
T7 or T7 touch
, but the T7 Shield is rubberized and soft-touch, and carries am IP65 dust and water resistance rating, which makes it more robust then its counterparts.
At one end of the drive, there is a single USB Type-C port and an activity LED. At the other end of the drive is model and serial number information. And the top and bottom of the drive are mostly devoid of features other than "Samsung" and "T7 Shield" branding.
Overall, the T7 Shield is compact, has a clean look and feels durable in the hand, though it is very lightweight at only 98g.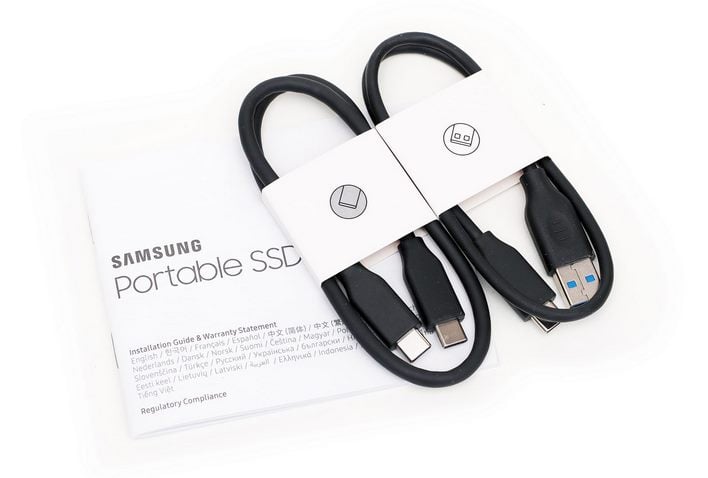 Included with the Samsung Portable SSD T7 Shield is some basic documentation and a couple of cables – a 12" USB Type-C to Type-A cable and a 12" USB Type-C to Type-C cable, which makes the drives compatible with virtually any system or modern mobile Android device, without having to use any adapters or dongles. Samsung's security software is included on the drive itself or it can be downloaded from the company website, where Samsung Magician is also available. Samsung Magician can be used to check the health status of the drive and install firmware updates, etc. We should also mention that Samsung warranties these drives for 3-years as well.
Setting up the T7 Shield to enable its
security
features is quick in easy. Simply install the Samsung Portable SSD app, and upon launching the tool, you're greeted by a simple Welcome screen. Click the Settings button and you'll be able to name the drive and decide whether or not you want to enable its security features.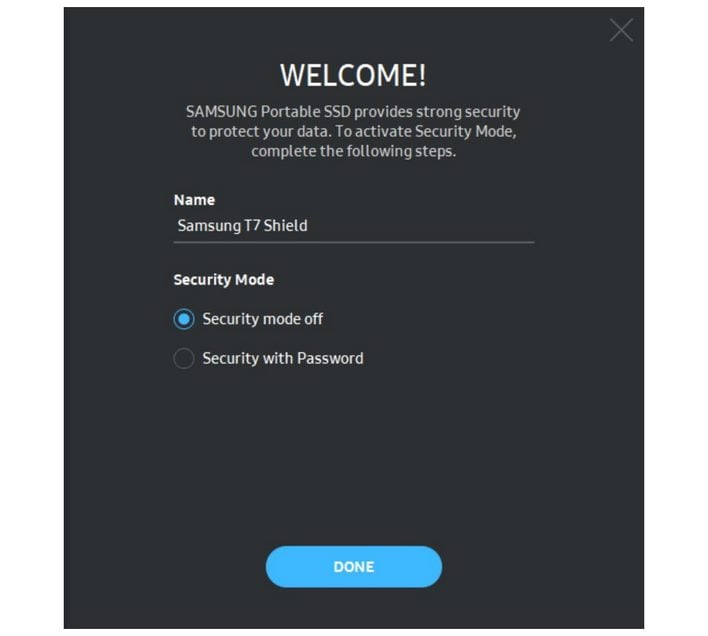 When security is enabled, you'll be prompted with an unlock screen when the drive is plugged in. Without entering the correct password, the main storage volume on the drive is inaccessible. Nothing too fancy, but it's effective if you want to keep prying eyes off your personal data.
Samsung T7 Shield 4TB Benchmarks
In order to test the performance of the Samsung T7 Shiel external SSD, we enlisted the help of some benchmarks and real world tests. First up is ATTO, a disk benchmark that measures sequential transfer speeds across a specific volume length with various block sizes. It measures transfer rates for both reads and writes and graphs them out in an easily interpreted chart. ATTO's workloads are sequential in nature and measure bandwidth, rather than I/O response time, access latency, etc.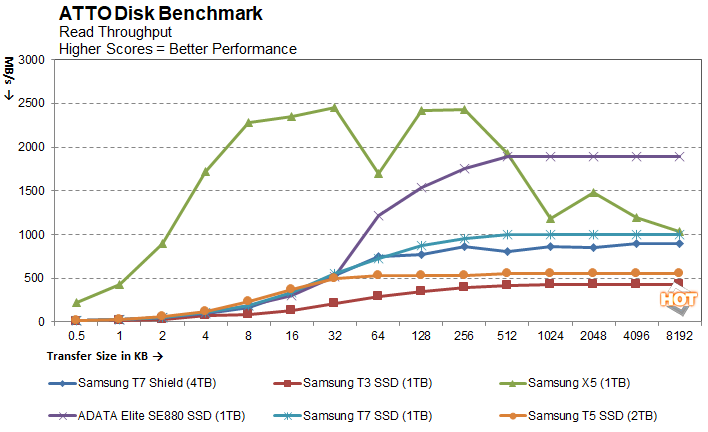 The new 4TB Samsung T7 Shield hangs right alongside the original T7, and essentially hits its roughly 1GB/s read and write ratings. As you can see, the Thunderbolt-based Samsung X5 and faster
Adata Elite SE880
offer much higher peak transfer speeds, especially as larger transfer sizes (>32GB) are used.
Next up are some numbers with SiSoft SANDRA, the the
S
ystem
AN
alyzer,
D
iagnostic and
R
eporting
A
ssistant. Here, we used the Physical Disk test suite and provide the results from our comparison SSDs. The benchmarks were run on unformatted drives and read and write performance metrics are detailed below.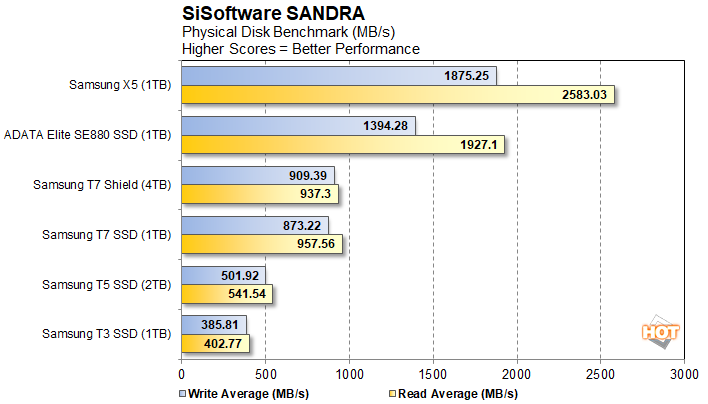 According to SANDRA, the 4TB Samsung T7 Shield performs similarly to the existing T7 as well. The two drives trade blows in regard to reads and writes, but they're both roughly in the same ballpark.


CrystalDiskMark is a synthetic benchmark that tests both sequential and random small and mid-sized file transfers using incompressible data. It provides a quick look at best and worst case scenarios with regard to SSD performance, best case being larger sequential transfers and worse case being small, random transfers.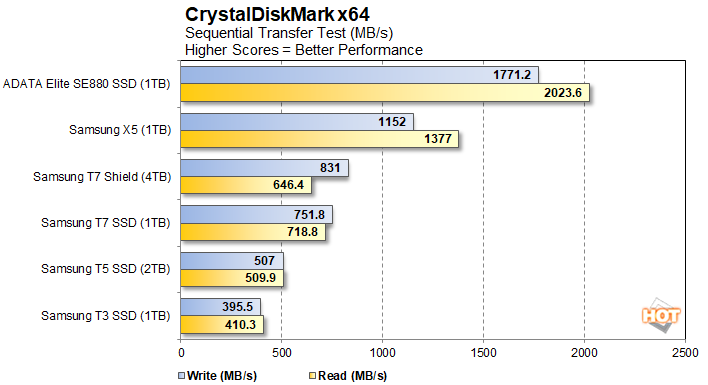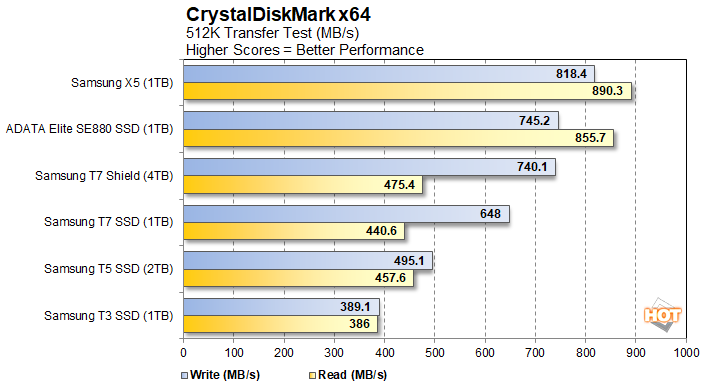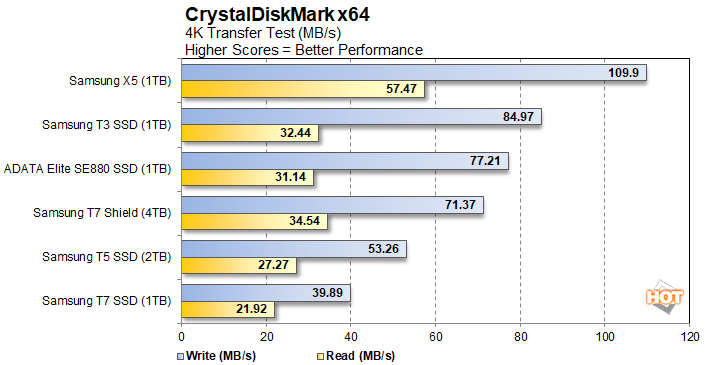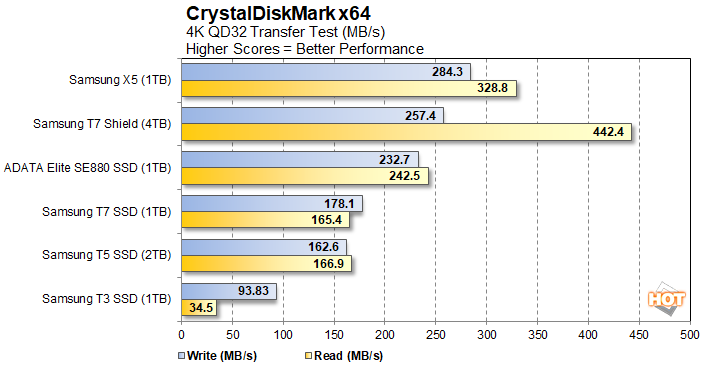 The 4TB Samsung T7 Shield performs as expected according to CrystalDiskMark, which is to say it performs similarly to the standard T7 drives, though the newer, high-capacity 4TB Shield offers better write speeds overall, especially in regard to random 4K transfers.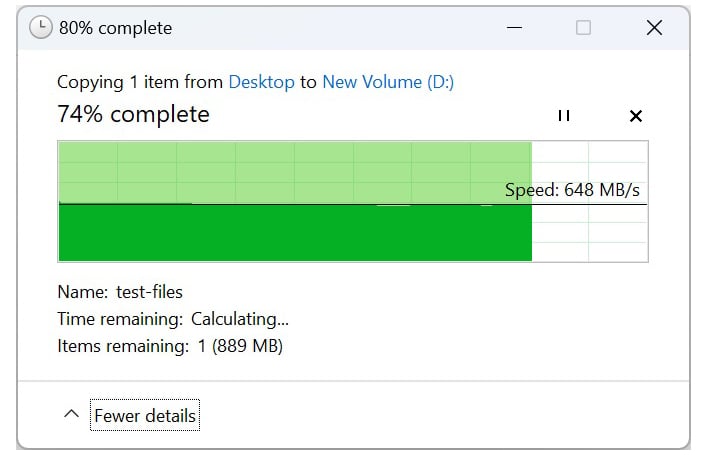 A 2.4GB Of Files Copied From An Internal M.2 SSD Took Roughly 3.5 Seconds...

In terms of real world transfer speeds, when moving compressed files from an internal M.2 SSD over to the Samsung T7 Shield, we saw consistent numbers in the 650MB/s range. At speeds like this, moving about 2.4GBs of data (consisting of 3 x 889MB *.ZIP files), took about 3.5 seconds. Not the fastest external SSD out there, but plenty fast for most personal applications.
We should also note, that the Samsung T7 Shield is designed to be used as external storage for photography and videography applications. The T7 Shield can be plugged right into compatible camera systems and used for direct recording, where applicable.
Samsung T7 Shield External SSD: Review Summary And Key Take-Aways
We have used or evaluated a wide array of
external storage
solutions around here, and consider the Samsung T7 series among the best, overall. The drives aren't the fastest or most compact, but we've found them to be highly reliable, consistent, and widely compatible. We have tested a number of M.2 SSD enclosures as well, and find that compatibility is hit or miss with some motherboards and / or USB controllers. An external enclosure with fast NVMe M.2 SSD may offer good reads on one system, and poor writes on the next -- or vice versa -- and that's if its detected at all. The Samsung T7 series, however,
just works
everywhere we've tried it. We've tested the T7 Shield (and the existing, standard T7) on a multitude of AMD and Intel based notebooks and desktops with nary a hitch.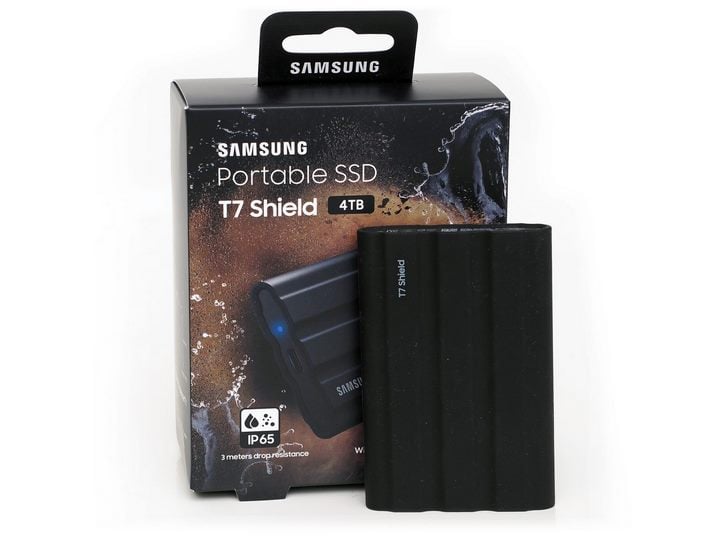 Find The Samsung T7 Shield @ Amazon
The Samsung T7 Shield is also priced fairly. The beefy 4TB model we looked at here is currently
available for $409
(the 1TB model is available for $99). That works out to about $0.10 per gigabyte and is actually more affordable than many 4TB SSD / external enclosure combos. Considering the tiny form factor, rugged enclosure, IP65 rating, and good performance, the Samsung T7 Shield makes sense for most applications, where the absolute fastest sequentials possible are not a strict requirement. If you're shopping for a quality, portable solid state storage solution, the Samsung T7 Shield should be on your short list.
Related content