AMD Ryzen 9 7950X3D Review: No Compromise Gaming And Creator Performance
AMD Ryzen 9 7950X3D: Zen 4 & 3D V-Cache Bring The Best Of Both Worlds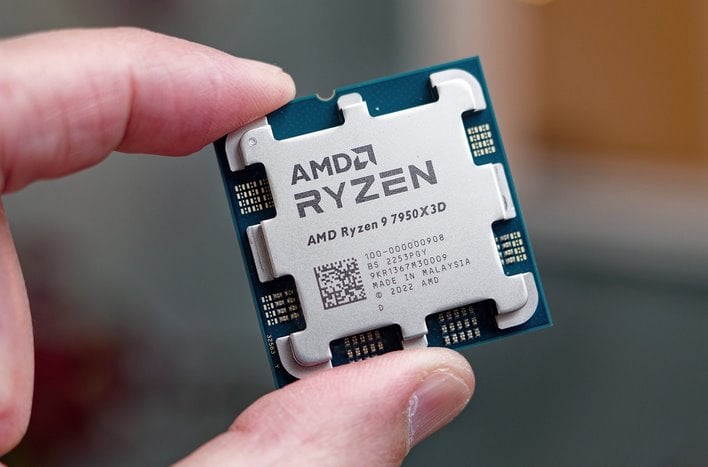 AMD Ryzen 9 7950X3D - $699 MSRP


The new Ryzen 9 7950X3D is a 16-core / 32-thread processor that offers the multi-threaded performance benefits of the 7950X, with optimized gaming performance, thanks to an additional 64MB of 3D-Vcache.




Great All-Around Performance
AMD's Fastest Gaming CPU
Relatively Low Power
Some Overclocking Support

Price Premium
Sometimes Trails 7950X






---
During CES 2023, AMD unveiled an array of new Ryzen 7000 series processors, including more affordable mainstream "non-X" models and new gaming-targeted X3D models, that featured integrated 3D V-Cache, similar to the Ryzen 7 5800X3D. We've already reviewed the
mainstream Ryzen 7000
chips if you'd like to check those out, but today we get to check out AMD's latest socket AM5 flagship, the Ryzen 9 7950X3D. As its name implies, this bad boy has a similar core configuration to the existing Ryzen 9 7950X, but this specialized CPU is packing an additional 64MB of 3D V-Cache, fused to one of its 8-core CCDs.
AMD's goal with the Ryzen 7000X3D series of processors is to offer "the best of both worlds". When the company launched the Ryzen 7 5800X3D, it was the only processor in the Ryzen 5000 series to featured 3D V-Cache. Although the large allotment of last level cache is best suited to increasing game performance on mainstream platforms, and the 8 cores on
the Ryzen 7 5800X3D
was plenty for gaming workloads, the company received lots of feedback from users wanting higher-core count chips featuring 3D V-Cache. So, this time around there are three X3D variants coming, spanning 8 to 16 cores. There's a lot more to the story though...
We'll do our best to paint a complete picture here, but if you have burning questions after reading through our review, we're going to have AMD's David McAfee on a special 2.5 Geeks Livestream tomorrow (5:30PM EST), so be sure to pop in and participate in the live chat.
The AMD Ryzen 7000X3D Processor Line-Up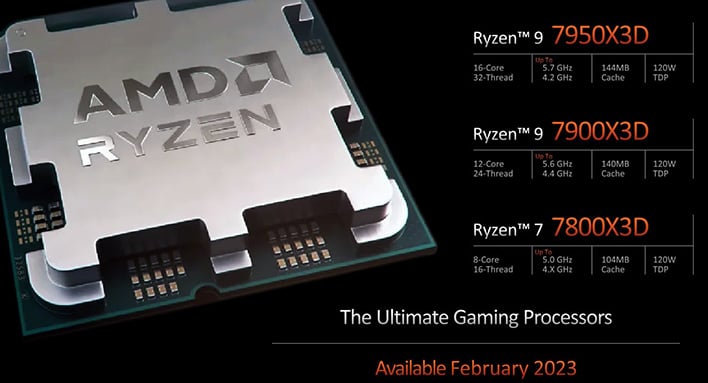 Just like with the Ryzen 7 5800X3D, the single-CCD Ryzen 7 7800X3D gets 64MB 3D V-Cache boosting it to a total of 96MB of L3 cache, or "104MB L2+L3" as AMD often explains it. Where the Ryzen 7 5800X3D took a 200MHz cut to its boost clock due to the addition of 3D V-Cache, however, the new Ryzen 7 7800X3D actually loses 400MHz of its max boost speed versus the standard Ryzen 7 7700X, which is its closest sibling in the current line-up, despite the model numbering difference. Regardless, this chip still boosts to 5GHz, and its TDP also goes up this time, from 105W to 120W. In fact, all of the Ryzen 7000X3D processors have 120W TDPs.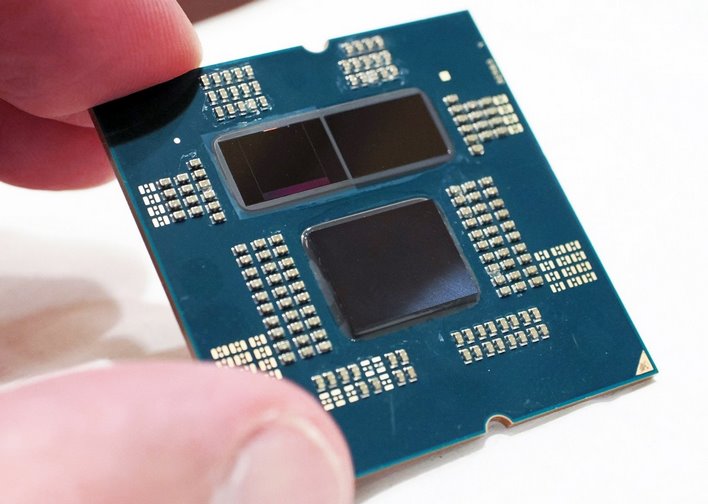 In addition to the 7800X3D, AMD will also be offering the 12-core Ryzen 9 7900X3D (140MB L2+L3) and 16-core Ryzen 9 7950X3D (144MB L2+L3). Unlike the single CCD 7800X3D chip though, the
Ryzen 9 7950X3D
retains its full 5.7 GHz boost clock. However, that's only because one of its CCDs is essentially left untouched -- only one of the processor's 8-core CCDs gets the 3D V-Cache treatment. The CCD without 3D V-Cache operates like the standard 7950X, while the 3D V-Cache enabled CCD will have a more conservative voltage and frequency curve.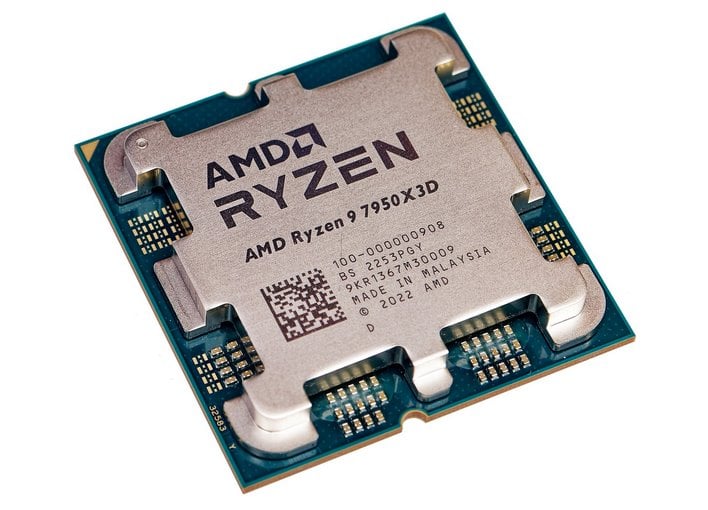 As you're probably thinking at this point, the non-symmetrical nature of the cache and clocks configuration on the CCDs has some repercussions on the processor's behavior and ultimately its performance. On the plus side, having a standard CCD on board means frequencies can boost as high as the standard chip with many workloads, effectively maintaining flagship-level performance for both single and multi-threaded workloads. However, to ensure games and other workloads that benefit from the 3D-Vache actually run on the correct CCD, some driver wizardry is required.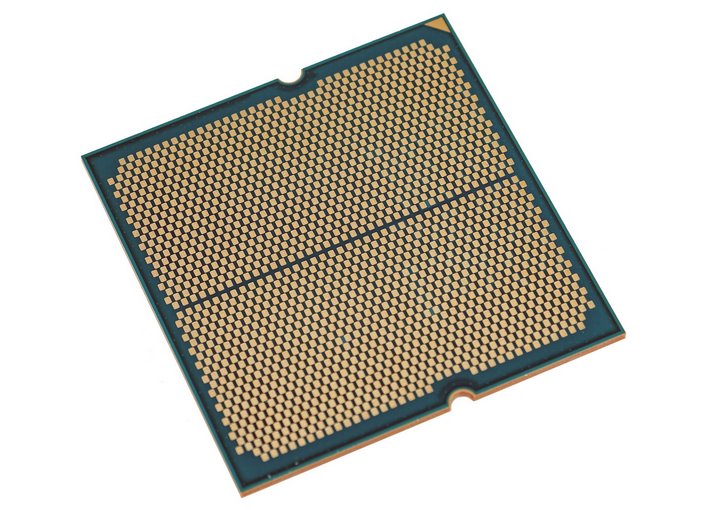 Introducing The Ryzen 9 7950X3D, Strapped With 3D V-Cache For Gamers
To achieve the best performance with the Ryzen 9 7900X3D and Ryzen 9 7950X3D, the motherboard being used will need an updated BIOS and AMD's latest chipset drivers are required. When you install a Ryzen 7000X3D chip along with the latest chipset drivers an 'AMD 3D V-Cache Performance Optimizer' entry will be visible in Device Manager and Task Manger. This driver and service monitors workloads on the system and ensures games are run on the CCD with 3D V-Cache, while the other CCD is dynamically parked, and workloads that benefit most from higher frequencies prioritize the "standard" CCD, but have access to all CPU resources.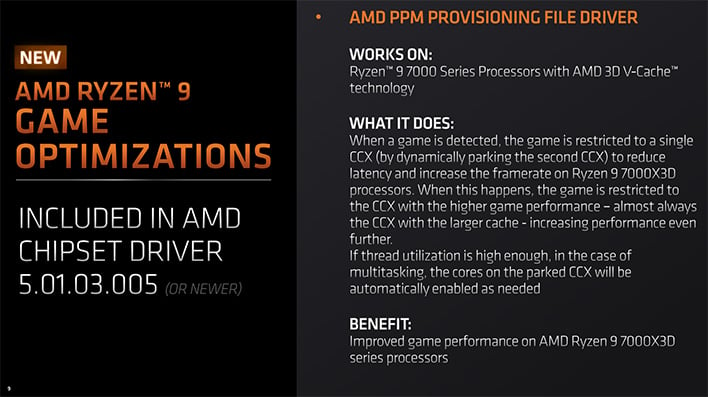 In the short time we've been playing with the Ryzen 9 7950X3D, this setup seems to work well. As you'll see in our benchmarks, the Ryzen 9 7950X3D is a gaming beast, and in other workloads it effectively matches or sometimes outpaces the existing Ryzen 9 7950X. For non-Windows operating systems, however, some software and scheduling work will be required to achieve consistently similar results. That's probably not a big deal since these chips target gamers and the majority of PC gaming takes place on Windows, but it's a consideration nonetheless. It also means that potential drive bugs or other software issues could have a larger performance impact on the Ryzen 7000X3D series down the road, but we'll have to cross that bridge if/when we get to it. In addition, some motherboard manufacturers appear to be readying
various performance and conrtol tweaks
for these new Ryzen 7000 chips as well.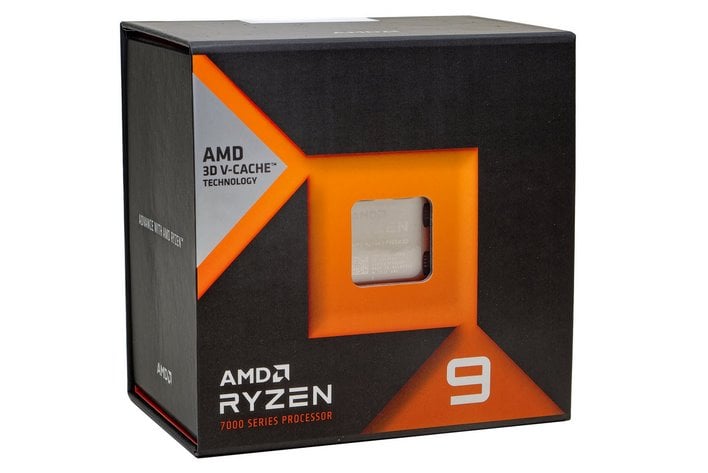 AMD Ryzen 9 7950X3D CPU-Z Details
As you'd expect, the actual processor package here resembles every other socket AM5 chip. Save for the branding etched on top, the heat spreader and packaging remain unchanged from the other members of the Ryzen 7000 series. A quick glance at CPU-Z, however, will reveal the main differences...
The screenshots above were captured with the Ryzen 9 7950X3D at idle and under load, with both single and multi-threaded workloads. As you can see, there's 144MB of L2 + L3 cache on board and the remaining features of the chip look identical to a 7950X. When idle the core voltage drops way down and with single-threaded workloads, core clocks on a couple of the cores remain high. With a multi-threaded workload whacking every core, however, 8-cores are pegged at 4,675MHz and another 8-cores are able to boost a bit higher still.
Related content