Sapphire Nitro+ Radeon RX 6800 XT Review: Beastly Big Navi
Sapphire Nitro+ Radeon RX 6800 XT: DirectX And Vulkan Game Benchmarks
Crytek's Neon Noir demo was created with an advanced version of CRYENGINE's Total Illumination technology, which is used in
Crysis Remastered
to enhance the game's visuals. Neon Noir was developed on a customized version of CRYENGINE 5.5., and is both API and hardware agnostic. It enables ray tracing to run on virtually any modern GPU, however, future integration of the technology will be optimized for the latest GPUs and APIs like Vulkan and DX12...
Crytek Neon Noir

API Agnostic Ray Tracing Test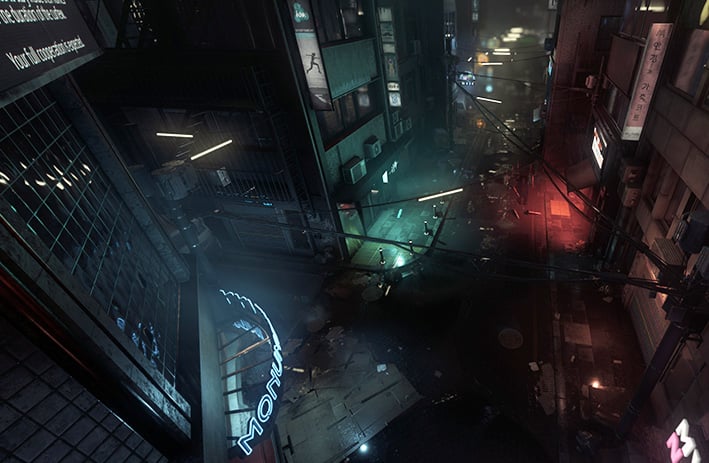 Crytek Neon Noir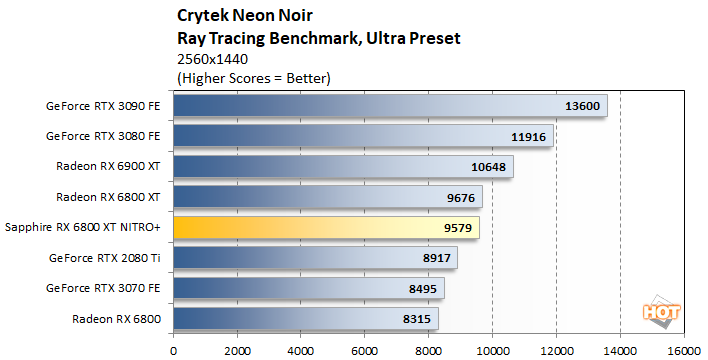 Somewhat surprisingly, the Sapphire Nitro+ Radeon RX 6800 XT lands ever so slightly behind the reference Radeon RX 6800 XT in the Neon Noir benchmark at both resolutions. This test doesn't leverage Big Navi's ray accelerators though, and is heavily influenced by available memory bandwidth, so the Sapphire card's higher GPU game/boost clocks didn't help here.
Metro Exodus

With And Without RTX / DLSS
Metro Exodus is based on author Dmitry Glukhovsky's series of Metro novels that started with Metro 2033 back in 2005. The first installment in the series was Metro 2033, which was then followed by Metro Last Light (and later, Last Light Redux). Like other games in the series, Metro Exodus follows a post-apocalyptic story line that takes place in the former Russian Federation. The game features advanced graphics and visuals and also supports NVIDIA's RTX and
DLSS
technologies.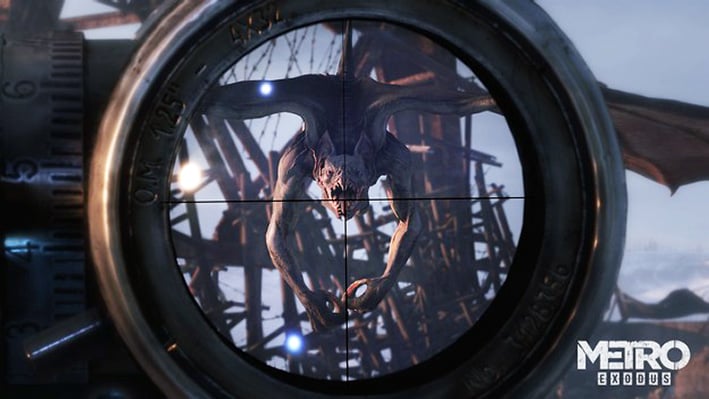 Metro Exodus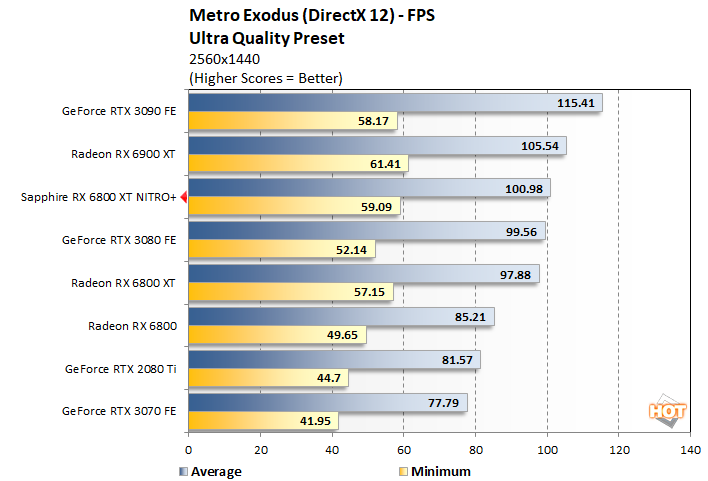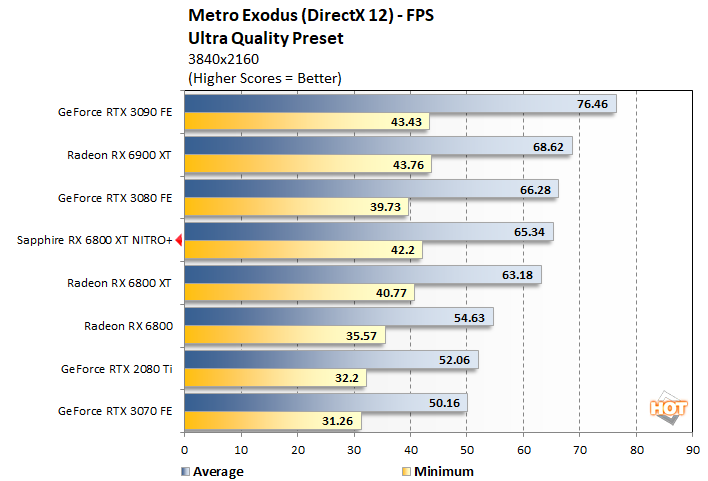 Using the Ultra quality preset in Metro Exodus, the Sapphire Nitro+ Radeon RX 6800 XT jumps back into its familiar position just slightly ahead of the AMD-built 6800 XT at both resolutions.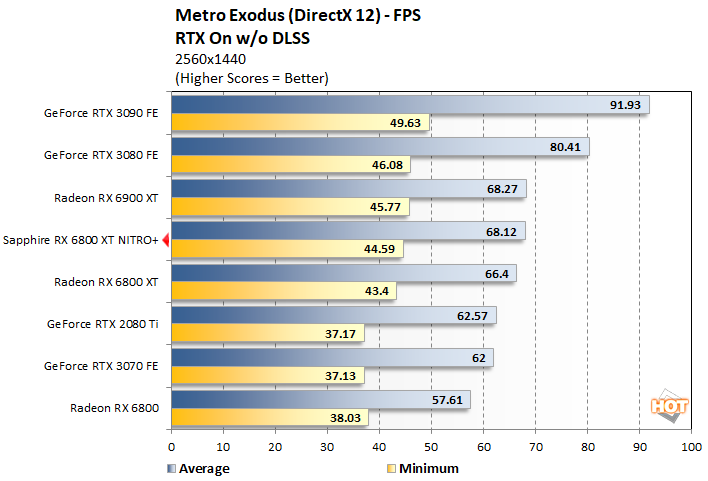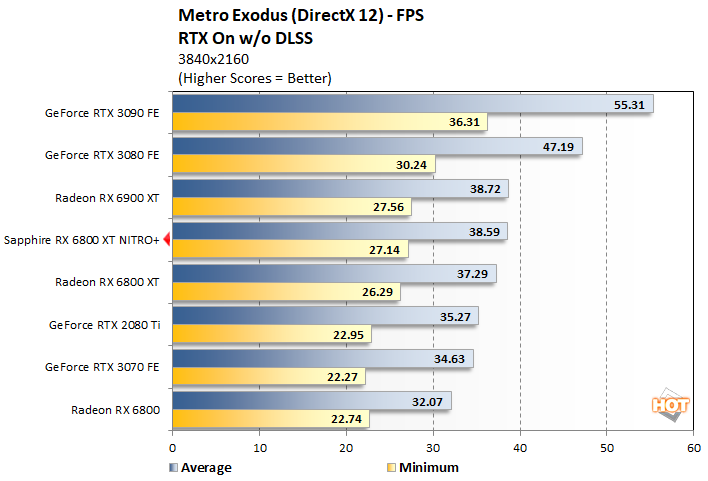 When using the RTX preset (which enables
DXR
ray tracing effects) in this game, however, the Sapphire Nitro+ Radeon RX 6800 XT still manages to outgun the AMD's reference design, but its standing (along with all of the other Radeons) drops down a few rungs. The Radeons take a much bigger hit in performance when ray tracing is enabled in this title, which propels the GeForce RTX 30-series cards into a clear lead. And this doesn't even account for the additional performance gains available to GeForce RTX owners in this title when using DLSS. DLSS will boost the GeForce cards' performance in this game significantly.
Red Dead Redemption 2

DirectX Gaming Blockbuster
Rockstar's Red Dead Redemption 2 is the third entry in the Red Dead series. The game's storyline is set in 1899 and follows outlaw Arthur Morgan of the Van der Linde gang in a fictional wild-west type setting. The game features rich, detailed graphics, which can be taxing on high-performance GPUs, when cranked up to maximum image quality.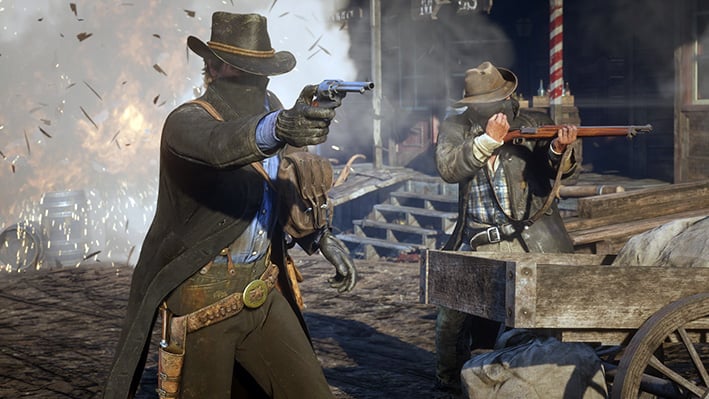 Red Dead Redemption 2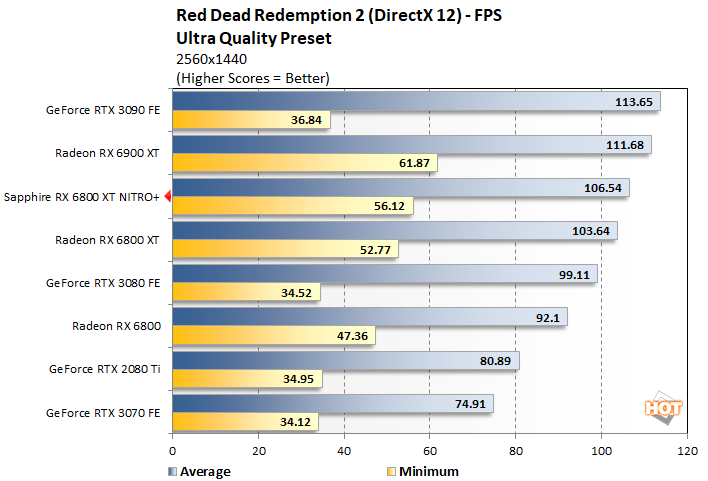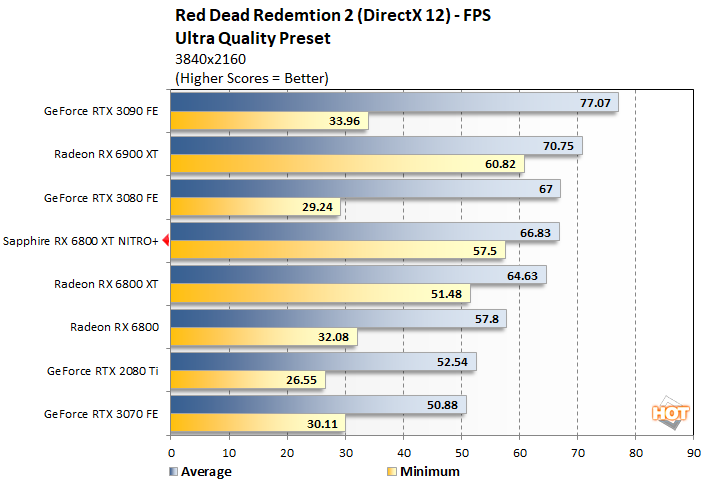 The Sapphire Nitro+ Radeon RX 6800 XT trades blows with the GeForce RTX 3080 in this game, with the settings we used. The Sapphire card outguns the 3080 at 1440p, but when the resolution is cranked up to 4K, the GeForce once again comes out on top.
Gears Tactics

DirectX Tactical Shooter
Gears Tactics is a turn-based tactical game spun-off of the popular Gears of War franchise. Technically, Gears Tactics is a prequel to the first game, but it was just recently released. Like
Gears 5
, Gears Tactics features a wide array of graphics options that can be tweaked and tuned to optimize performance on a given system.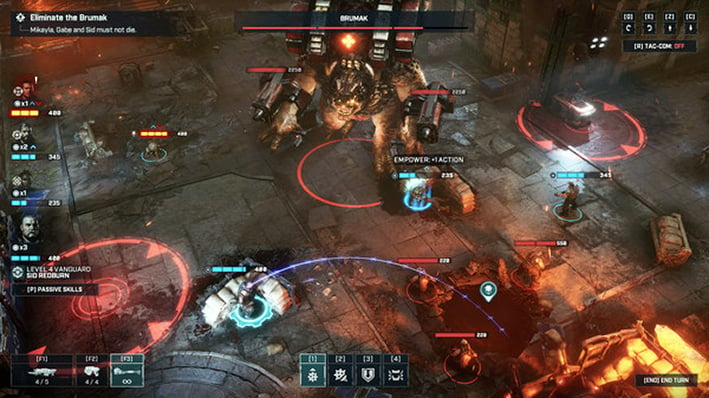 Gears Tactics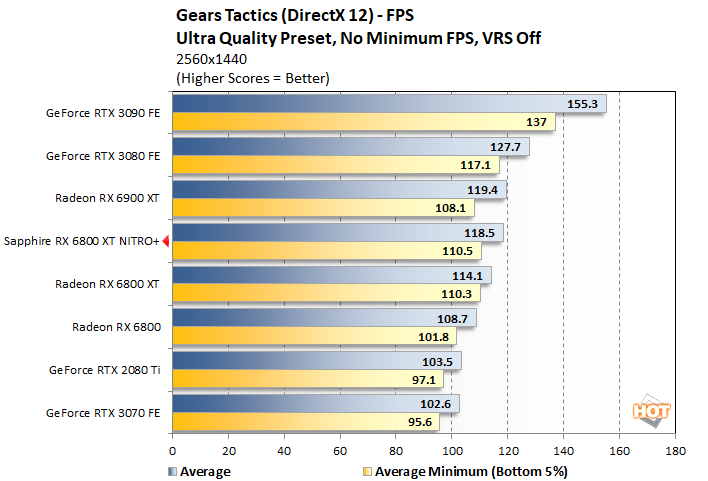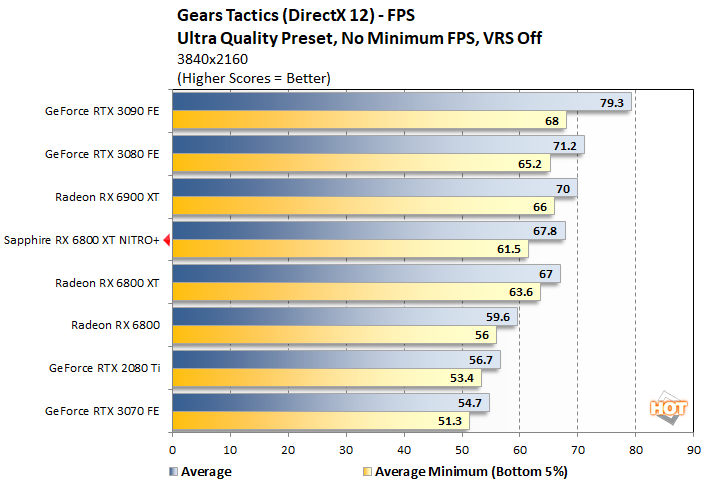 The Sapphire Nitro+ Radeon RX 6800 XT nudged past the AMD Radeon RX 6800 XT in this game at both resolutions, at least in terms of its average framerate. The GeForce RTX 3080 was a couple of percentage points faster overall, though.
Far Cry New Dawn

The Dunia Engine Lives On

Next up, we've got some benchmark scores from Far Cry New Dawn, the latest installment in the storied franchise. Like its predecessors, Far Cry New Dawn is a fast-action shooter set in an open world environment with lush visuals and high graphics fidelity. The game takes place in a fictional county in Montana, where a cult has taken over control of the area. We tested all of the graphics cards here at multiple resolutions using Ultra Quality settings to see how they handled this recently-released AAA title.


FarCry New Dawn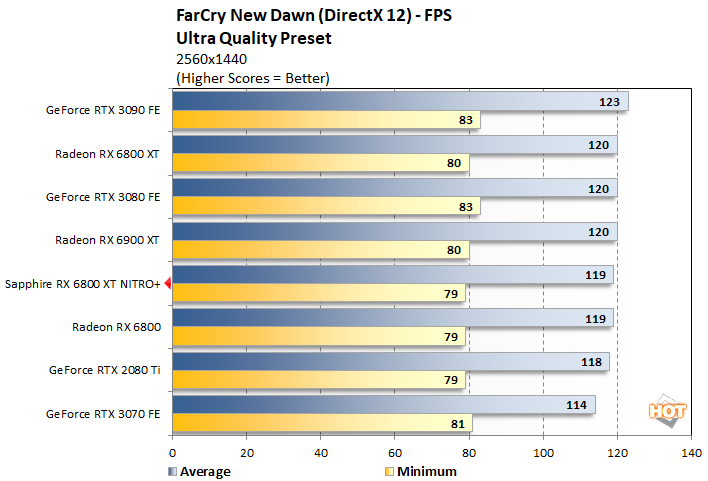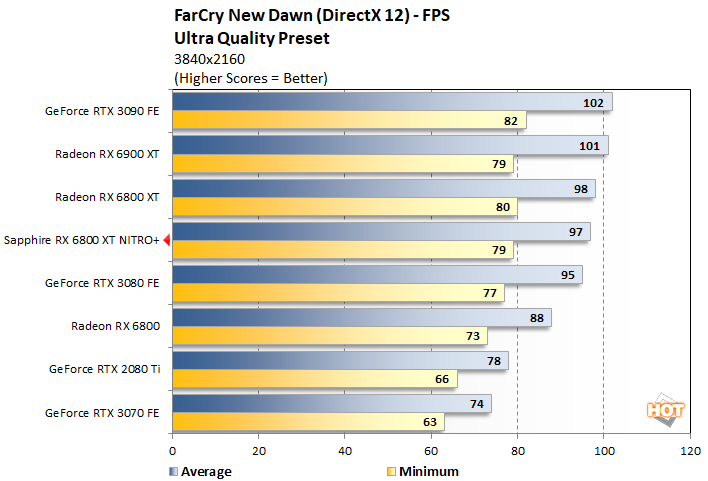 FarCry New Dawn was mostly CPU limited at 1440p, and we end up with a tie between the Sapphire Nitro+ Radeon RX 6800 XT and AMD's card. With the resolution cranked up to 4K, the the Sapphire card ends up just a notch behind the reference card, but technically within the margin of error for this test.
F1 2020

DirectX 12 Gaming Performance
F1 2020 is Codemaster's latest Formula One racing simulation, and like previous version of the game, it sports impressive visuals. This latest addition to the franchise supports DirectX11 or DirectX 12, and it incorporated support for a number of AMD's
FidelityFX
technologies -- though we didn't enable any of them to keep the playing field level. We tested the game with its Ultra High graphics preset with TAA enabled at a couple of resolutions to see what the graphics cards could do.

F1 2020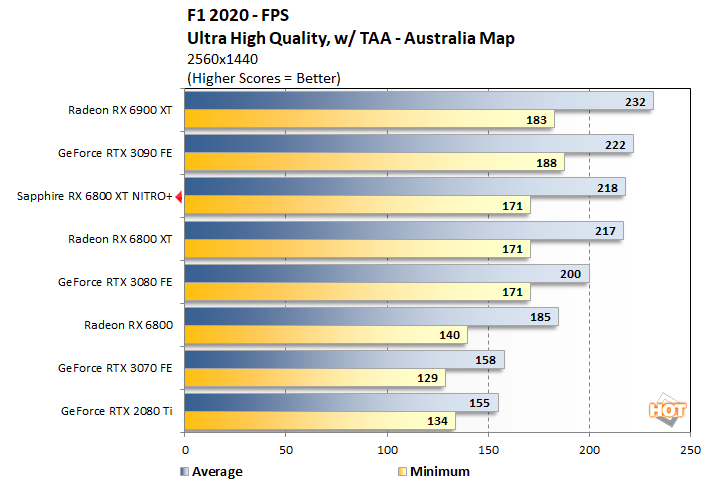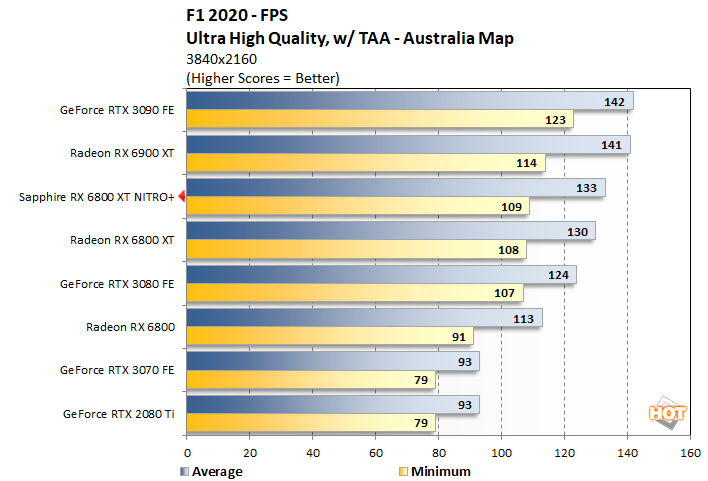 The overall performance trend in F1 2020 looks like many of the other games we tested, with the Sapphire Nitro+ Radeon RX 6800 XT offering somewhat better performance than AMD's reference card at both resolutions.
Related content
Comments