Sapphire Nitro+ Radeon RX 6800 XT Review: Beastly Big Navi
Sapphire Nitro+ Radeon RX 6800 XT: All-Custom RDNA2 "Big Navi"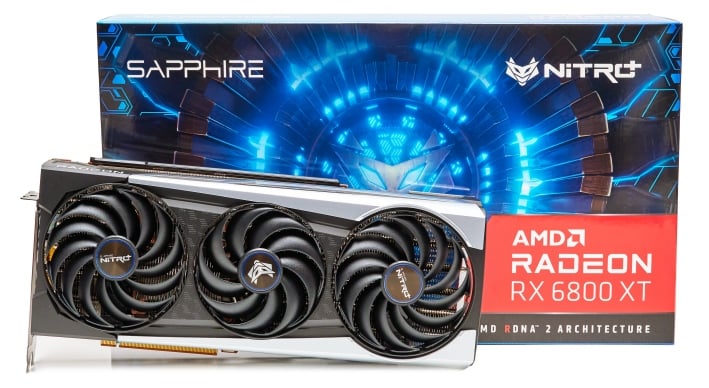 Although the situation is improving, it is still extremely difficult to score some of the latest graphics cards at prices even approaching their MSRPs. With that in mind, we've held off on covering
some of the hottest GPUs
to come through the lab for a while, because the coverage was inevitably (and understandably) met with groans and frustration by some of you. We get it, but the beat goes on, and GPUs are some of our favorite things to cover around here, especially models like the Sapphire Nitro+ Radeon RX 6800 XT we'll be showing you today.
We're going to go ahead and spoil this review right out of the gate and say the Sapphire Nitro+ Radeon RX 6800 XT is one of the best "Big Navi" cards out there. This custom Radeon RX 6800 XT takes all of the good things about AMD's latest high-end GPUs and builds upon them with beefier cooling, distinctive aesthetics, additional features, and ultimately higher performance.
Take a look at the
Sapphire
Nitro+ Radeon RX 6800 XT's main features and specifications below and then we'll dig in a little deeper, and see how she performs and overlocks on the pages ahead...
Sapphire Nitro+ Radeon RX 6800 XT

Specifications & Features
| | |
| --- | --- |
| GPU | AMD Radeon RX 6800 XT (7nm( |
| Engine Clock | Boost Clock: Up to 2360 MHz, Game Clock: Up to 2110 MHz |
| Cores | 4608 |
| Infinity Cache | 128M |
| Ray Accelerators | 72 |
| Memory Size/Bus | |
| Memory Clock | |
| Displays | |
| Resolution | HDMI: 7680×4320, DisplayPort1.4: 7680×4320 |
| Interface | |
| Output | 1x HDMI, 3x DisplayPort |
| BIOS Support | Dual UEFI |
| Cooling | |
| Form Factor | 2.7 slot, ATX, Dimension: 310(L)X 134.3(W)X 55.3 (H)mm |
| Board Power | |
| System Requirement | Minimum 850 Watt Power Supply, 2 x 8-pin Power Connector. |
---
Right out the gate, it's obvious that Sapphire's done a bit of work to
AMD's Radeon RX 6800 XT
reference design. The Nitro+ Radeon RX 6800 XT has a more aggressive look in our opinion, and features a larger, more elaborate cooler, more lighting, and a much more stylized shroud and backplate.
AMD
Radeon RX 6800 XT has GPU base boost clocks of 2,015MHz and 2,250MHz, respectively, the Sapphire Nitro+ Radeon RX 6800 XT comes in at 2,110MHz (base) and 2,360MHz (boost) and its beefier cooler should allow it to maintain higher clocks, over longer durations as well.
Vega-based
cards in terms of thermal dissipation, with the GPUs running at similar power levels, but this new model does so at roughly half the weight. Sapphire achieves this in a number of ways. First, the cooler is outfitted with three hybrid fans, which mostly looks like traditional axial-type fans, bit with some aspects similar to blower-style fans – if you look close, you'll notice the notched ring around the fan blades. These hybrid fans can move much more air than Sapphire's older axial fan designs.
Sapphire also incorporates a discrete set of heatsinks and heat-pipes dedicated to the memory, VRM and chokes on the card. And on that heatsink assembly, Sapphire employs thermal pads on the memory / VRM that reportedly have a higher thermal conductivity than previous-gen offerings. All of that culminates in a higher performing, quieter, lighter-weight cooler.
Now that we've got all of those particulars out of the way, it's time to fire the Sapphire Nitro+ Radeon RX 6800 XT and see how she performs...
Related content