Radeon RX 6800 & RX 6800 XT Review: AMD's Back With Big Navi
AMD Radeon RX 6800 & 6800 XT Review: Big Navi Rocks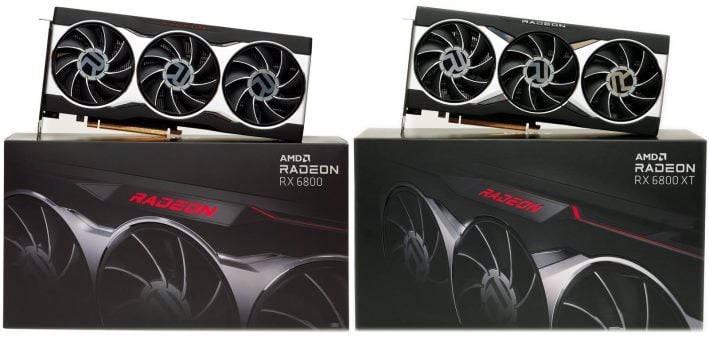 For the past few weeks, PC gamers have been eagerly anticipating the launch of AMD's Radeon RX 6000 series, a.k.a. "Big Navi". NVIDIA shook up the GPU market over the last few months with its Ampere-based
GeForce RTX 30-series
cards, which offer significantly more performance and value than their predecessors. But, limited availability of GeForce 30-series cards has left a large contingent of enthusiasts in the lurch, with a pile of cash burning a hole in their pockets, itching to upgrade. So, when AMD's Radeon RX 6000 series was officially unveiled in late October and it is was revealed that the Radeon RX 6800, RX 6800 XT, and flagship Radeon RX 6900 XT would complete directly with the best NVIDIA had to offer, lots of those enthusiasts realized a viable alternative at the high-end of the gaming GPU market on which to spend those dollars might be arriving soon.
The performance numbers
AMD showed at its event
certainly painted an interesting picture. AMD claimed the Radeon RX 6800 would beat the GeForce RTX 2080 Ti (and by extension the GeForce RTX 3070). The Radeon RX 6800 XT would do battle with the GeForce RTX 3080. And the mighty Radeon RX 6900 XT would go head to head with the powerful GeForce RTX 3090. Considering how dominant the GeForce RTX 30 series cards were when they hit the scene, AMD's claims were intriguing to say the least.
Today, we get to find out how the Radeon RX 6800 series' performance shakes out on our own. We've got the Radeon RX 6800 and Radeon RX 6800 XT in-hand and have a host of data to share with you on the pages ahead (the Radeon RX 6900 XT will be arriving in a few more weeks). Before we get down to brass tacks though, let's take a quick tour of the cards and find out what makes them tick...
AMD Radeon RX 6800 & Radeon RX 6800 XT

Specifications & Features
---
The Radeon RX 6800 and RX 6800 XT are built around the same Navi 21 RDNA 2-based GPU, which is manufactured on TSMC's 7nm process node. The GPU is comprised of roughly 26.8 billion transistors and has a die size of 519mm
2
. That's a much bigger chip than what powers the current
Radeon RX 5700 XT
(which is 10.3 billion transistors with a 251 square millimeter die), but there's a lot more too it than just additional transistors.
According to AMD, the overarching goal of its RDNA 2 architecture was to help drive performance leadership and propel AMD back into a competitive position at the high-end of the GPU market. That's a lofty goal considering AMD hasn't been able to truly compete in this space with a single-GPU for multiple generations. Though Polaris, Vega, and first-gen Navi had their merits, AMD hasn't had a single GPU that could hang with NVIDIA's best at the top of the stack for a number of years.
To pull off this feat, RDNA 2's compute units offer double the performance (or more) of the CUs in the Radeon RX 5700 XT, with an approximate 50% performance-per-watt uplift as well. In addition,
RDNA 2
offers a leading-edge feature set that includes support for DirectX 12 Ultimate and all that comes with it, including Variable Rate Shading, Mesh Shaders, Sampler Feedback, and ray tracing. Microsoft's DirectStorage API for faster game loading direct from SSD to GPU memory will be supported as well, though it will take a while before support for DirectStorage arrives in PC games.
Every RDNA 2 CU has integrated ray tracing accelerators capable of 4 Box or 1 Triangle intersection per cycle, which offer 10X better intersection performance than software-only, non-accelerated implementations. Though, AMD never enabled DXR support in its drivers for current Radeons, so we can't easily make a direct comparison there. Traversal of the Bounding Volume Hierarchy (BVH) and shading of the ray results is handled by shader code running on the CUs, and the new "Infinity Cache" (more on that in a moment), is large enough to hold a significant amount of the BVH close to the CUs, to keep latency down. We should also mention that AMD is working on a new super-sampling and scaling mode to enhance performance when ray tracing is enabled in future titles, somewhat akin to NVIDIA's
DLSS
, but it is still in the early stages of development at this point and it's not ready for prime time.
AMD also outfitted RDNA 2 with higher-bandwidth, more energy efficient data paths, and incorporates fine-grain clock gating throughout the GPU. RDNA 2 has a new cache hierarchy as well, which features a large, 128MB pool of fast cache memory, dubbed "Infinity Cache". According to
AMD
, when leveraging Infinity Cache alongside a 256-bit GDDR6 memory interface, bandwidth delivered to the GPU is more than doubled. The Infinity Cache ultimately improves absolute performance and bandwidth per watt, because it can feed data to the graphics pipeline at lower latency and with a much higher cache hit rate, which further enhances overall efficiency. Although the 256-bit memory interface on Navi 21, coupled to 16Gbps of GDDR6 memory offers up 512GB/s of native bandwidth, when the Infinity Cache is being fully leveraged, effective bandwidth jumps to 1,664GB/s.
Combine the benefits of the new architecture, Infinity Cache, along with AMD's use of optimized libraries for the 7nm process node used to build Big Navi, and the Compute Units in this first wave of RDNA 2-based GPUs end up being approximately 30% more energy efficient than previous-gen offerings. The new architecture and tuned process, however, have also allowed AMD to boost frequencies by about 30% as well. The net effect is a 54% - 65% uplift in performance-per-watt, depending on the particular model GPU tested and about ~2X greater performance (give or take) versus the previous-gen.
AMD Smart Access Memory And Rage Mode
The Radeon RX 6000 series include support for a number of new features as well, namely "AMD Smart Access Memory" and "Rage Mode". AMD Smart Access Memory, or ASAM, is what AMD is calling its implementation of a feature that is part of the PCIe spec called Resizable BAR. SAM allows AMD Ryzen 5000 series processors to access the entire pool of memory attached to a Radeon RX 6000 series GPU over its PCIe 4 interface, when used on a compatible motherboard and chipset. Processors have always had the ability to peek into some portion of GPU memory (a legacy limitation of only 256MB), but Smart Access Memory grants
Ryzen 5000 processors
full access, which can improve performance with some workloads. For now support is enabled on a handful of 500-series chipset-based motherboards, but it will be coming to more in the future.
Rage Mode is branding that AMD is giving to a new one-click power-boosting mode that'll be available in its Radeon graphics drivers, that harkens back to ATI's Rage graphics chips from years past. Rage mode essentially increases a card's power limit, which results in a somewhat more aggressive frequency and voltage curve, to effectively increase performance. It is not unlike the High Performance profile available with previous-gen Radeons.
AMD showed the combined benefits of Smart Access Memory and Rage mode boosting the performance of a Radeon RX 6800 XT across and array of games by 2% - 13% -- we'll test that shortly.
The Radeon RX 6800 And Radeon RX 6800 XT
GPU
at their core, but scaled down to address different price points.
AMD positions the $579 Radeon RX 6800 against the GeForce RTX 2080 Ti and by extension the GeForce RTX 3070, which just recently launched.
At its $649 entry price, the Radeon RX 6800 XT arrives with an MSRP about $50 lower than the
NVIDIA GeForce RTX 3080
.
Radeon
RX 6000 series cards are built on a 14-layer PCB, with four 2oz copper layers, and 15 power stage phases – two of which are dedicated to the memory. The cards feature dual, standard 8-pin PCI Express power connectors and built-in RGB lighting controls. Although perhaps not quite as elegant as the cooling solution on GeForce RTX 30-series Founders Edition cards, the Radeon RX 6000 series is easily the most premium AMD has produced to date.
That's enough nerding-out – let's get to some numbers...
Related content