Samsung Galaxy Z Fold3 Review: Third Time's The Charm?
Samsung Galaxy Z Fold3: Performance and Battery Life
The Samsung
Galaxy Z Fold3
presented some unique challenges to our benchmark suite: namely, two different displays with two different resolutions. We wanted to see if there were any performance differences between the two, especially in the graphics arena, so we ran our benchmark suite twice. We discarded many of the results, however, because there wasn't a difference in performance between the two displays except for the graphics tests. That means in the results below, we'll see the Galaxy Z Fold3 twice in some charts but only once in others. When the results were identical, it didn't make much sense to show them twice.
As always, we run all of our benchmarks a minimum of three and reported the median result. All other background apps were closed so that no other tasks could steal precious cycles from the processor, and each benchmark was run off the charger since that's how we use our phones. The three-times rule doesn't apply for the PC Mark Work 3 battery test, however, which we did run on both screen configurations one time each. Let's get onto the benchmarks.
Samsung Galaxy Z Fold3 Performance
Geekbench is a staple of all of our reviews. This cross-platform synthetic test puts the phone through a series of CPU-intensive tasks that mirror real-world workloads like photo editing and AI acceleration.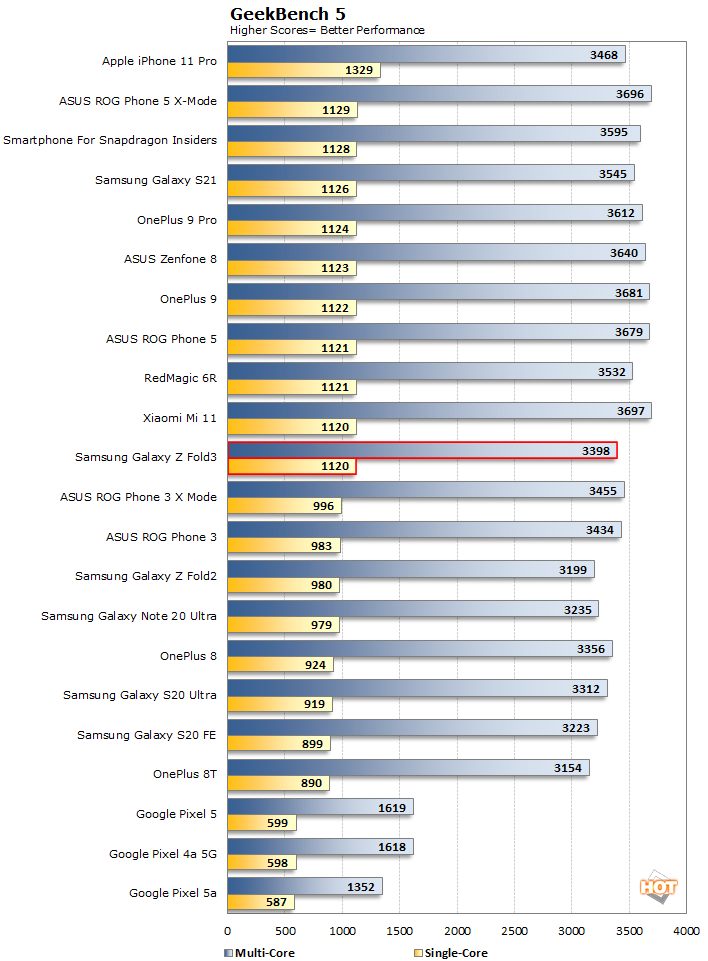 Geekbench is a good start for the Galaxy Z Fold3. It's right in the thick of it with the other Snapdragon 888 devices on our charts, including the
Galaxy S21
and premium-priced Qualcomm Smartphone for Snapdragon Insiders. It's a good step up over last year's Galaxy Z Fold2 and light years ahead of budget-friendly options like Google's Pixel 5a. That's what we expect from such a pricey and premium-focused device.
PCMark for Android's Work 3.0 test is a new version of the previous productivity benchmark. Like before, Work 3.0 walks through a whole host of useful scenarios from word processing (or reading word processor documents), spread sheets, photo editing, and video production. At the end it produces and overall mark as well as individual subtest scores.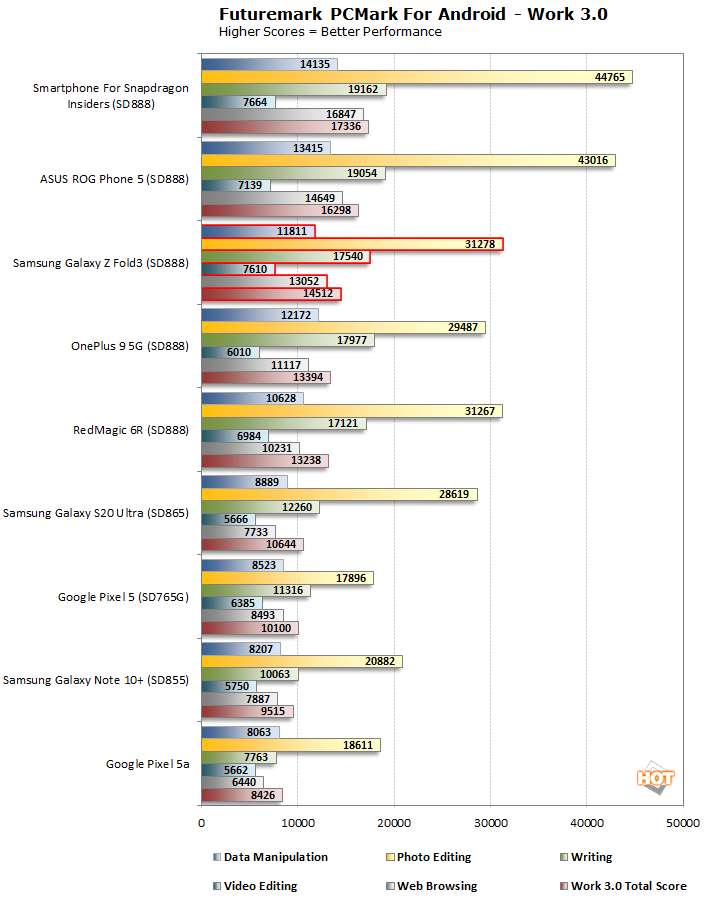 PCMark Work shows a bit of a delta between some of the Galaxy Z Fold3's contemporaries. The ASUS ROG Phone 5 and the Qualcomm phone both jump ahead in overall score by nearly 15%, mainly thanks to much higher Photo Editing scores. Video Editing was a particularly bright spot, as the Galaxy Z Fold3 kept up with the fastest devices, and it actually left the
OnePlus 9 5G
in its dust across the board.
AnTuTu is a synthetic benchmark that looks at individual subsystem tests. Interestingly, the benchmark got unceremoniously kicked off of the Google Play store, and Google Play Protect says that it can collect and report personal data. We didn't leave it on the device for long, but its days should probably be numbered. However, there's a ton of data, so it's worth using on a review unit.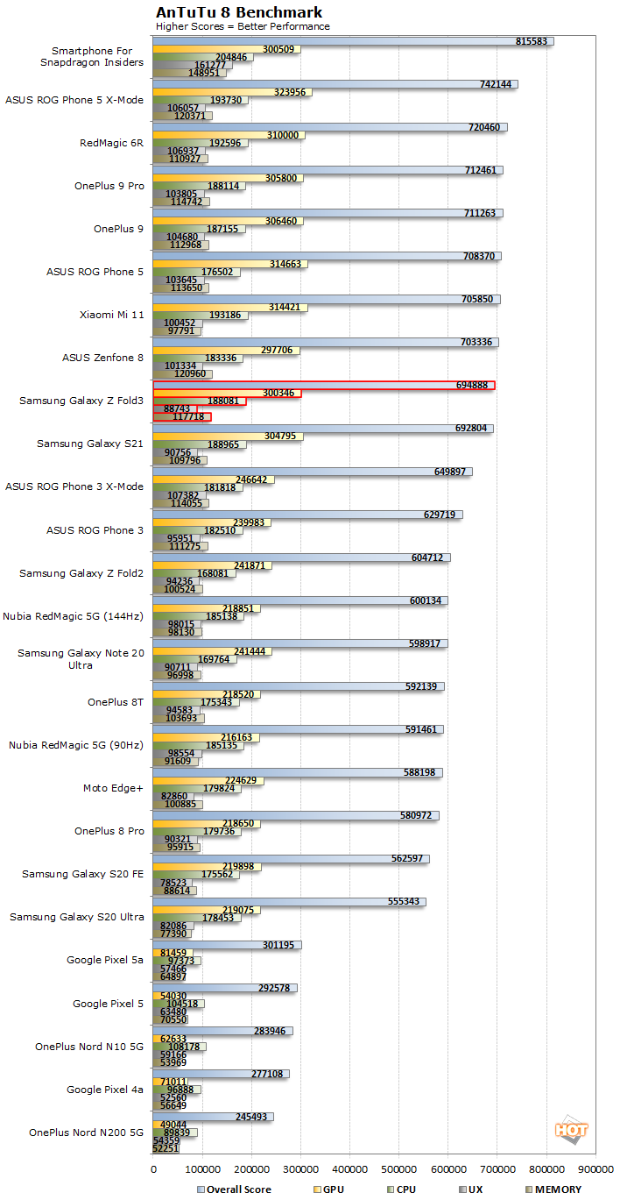 Once again with AnTuTu 8, the Galaxy Z Fold3 keeps the pace with other Snapdragon 888 devices. The only one that really separates itself from the pack is the
ASUS ROG Phone 5
in the high-performance X Mode. Everything else seems to be right where it belongs, and the budget-focused options lag far behind. The only area where the Fold3 trailed was in the UX test, which is interesting because there are two screens. Could this be a hint that all these pixels might drag performance down? The only way to be sure is to keep testing, so let's move on to 3D tests.
When we get into our graphics-focused tasks, we'll run the benchmark on both the main display and the smaller cover screen. The tests all run off-screen so there probably shouldn't be much of a difference, but that may change in actual games that need to draw pixels to the display. GFXBench is a well-known and popular benchmark with a variety of scenes that can run with a whole host of graphics APIs. We used the T-Rex and Manhattan tests with OpenGL ES.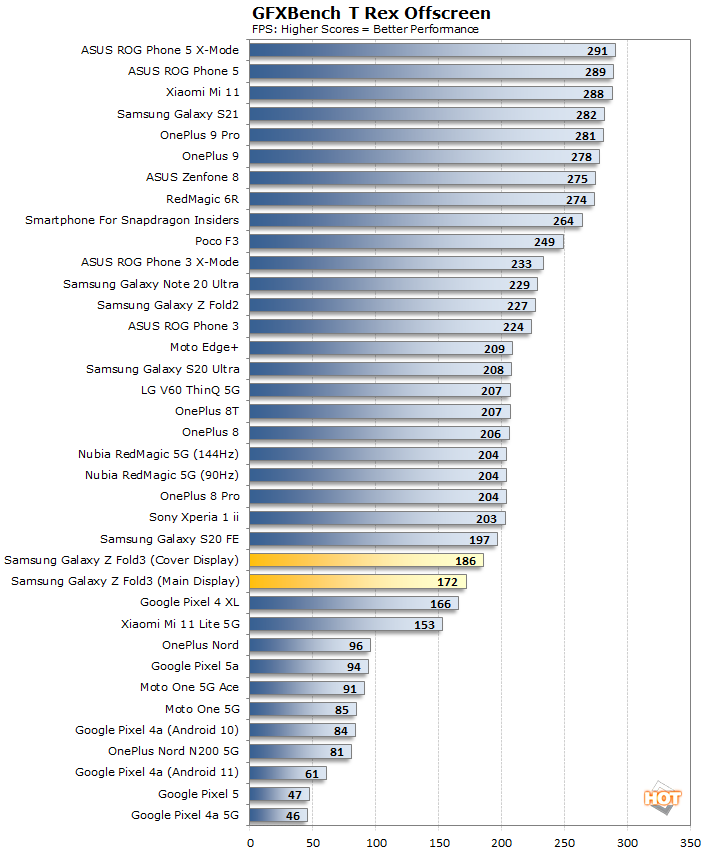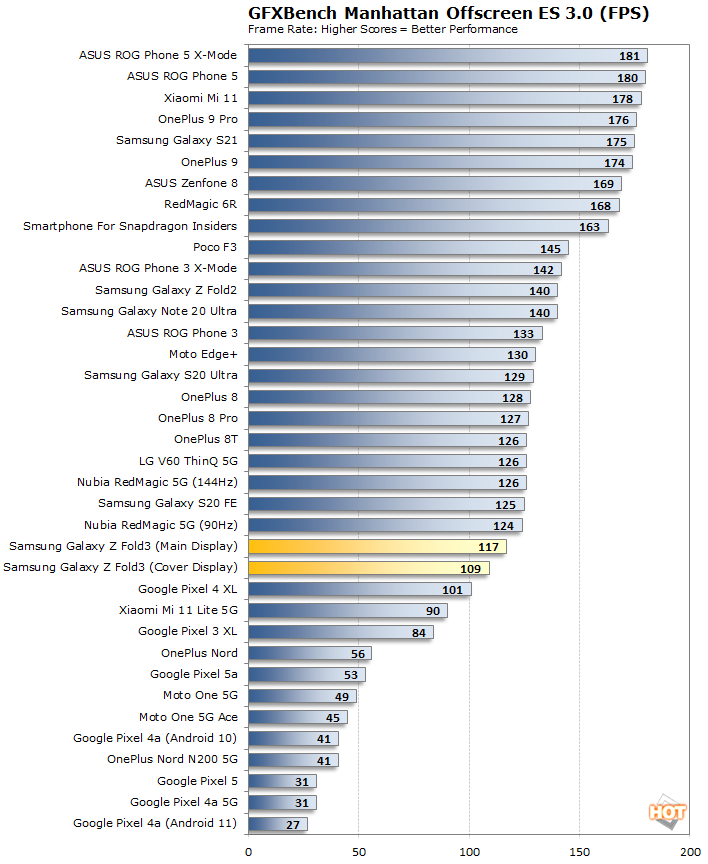 GFXBench tests show some rather surprising results. The Galaxy Z Fold3 trails its contemporaries by quite a lot. Although all of the pixels aren't lit up simultaneously, there is something about having two displays that affects graphics-related tasks, since the phone even trails last year's budget flagship darling, the Snapdragon 865-powered
Galaxy S20 FE
. We made sure to let the device cool down between runs and double and triple checked it, but the numbers don't lie.
Lastly, 3DMark is a name that's known for some punishing graphics tests. The Unlimited versions of the benchmarks run off-screen, which allows the device to render as many frames as possible without being beholden to the display's refresh rate.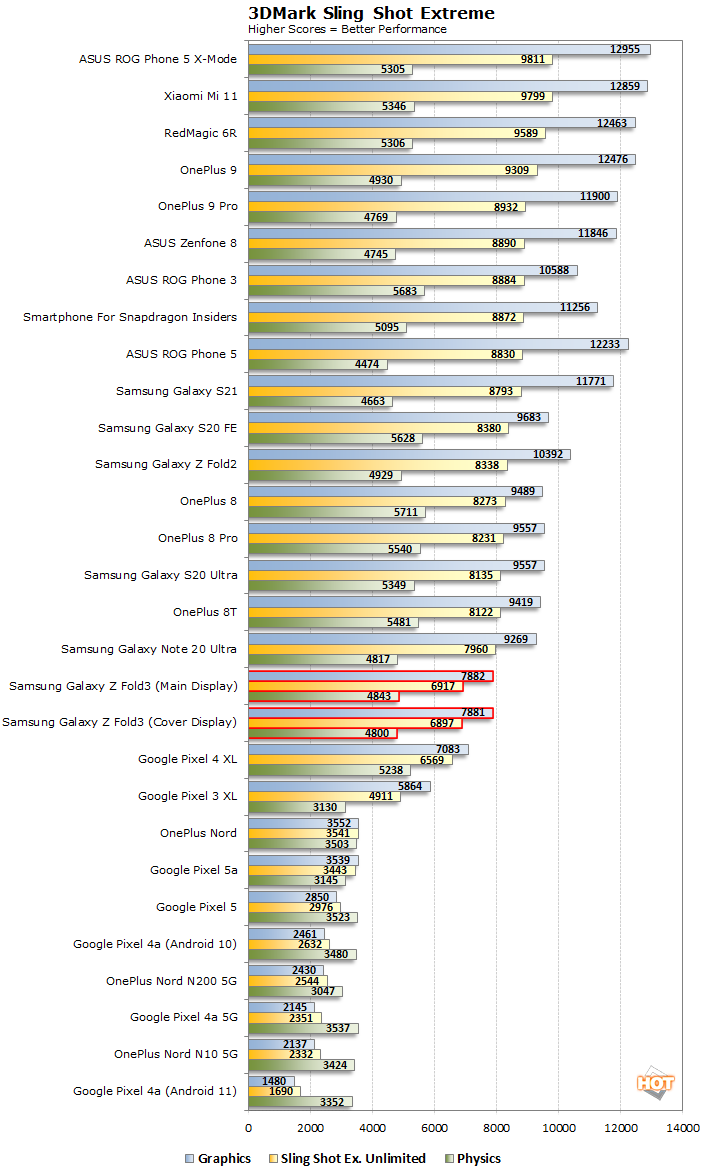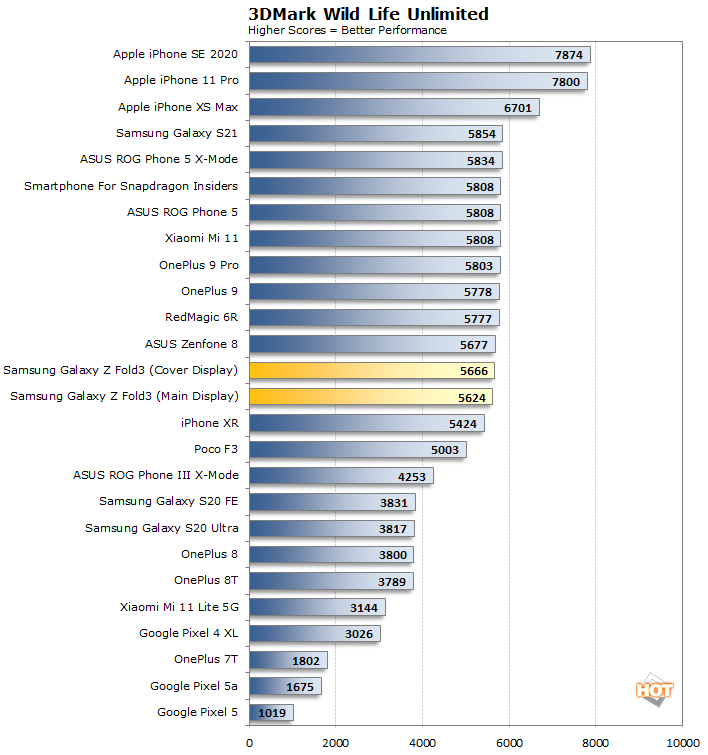 The same trailing performance persists through 3DMark Slingshot Extreme Unlimited, which is another off-screen test where the Galaxy Z Fold3 just can't keep up with other SD888 devices like the
Smartphone for Snapdragon Insiders
. The newer Wild Life Unlimited test is a different story, however, as the dual-screen foldable has no problem keeping up with its single-screen, non-foldable Android-based competition.
Battery life is another test where the screen a device uses has a great impact on longevity, so we ran the PCMark Work 3.0 battery test both ways, as well. This test asks us to calibrate our displays to 200 nits, turn off adaptive brightness, and then loop through the Work 3.0 test until the battery hits 20%. This is important because the phone doesn't completely die at the end of the test like it does in our laptop battery tests, so the device should still be usable for a while once this test hits its completion point.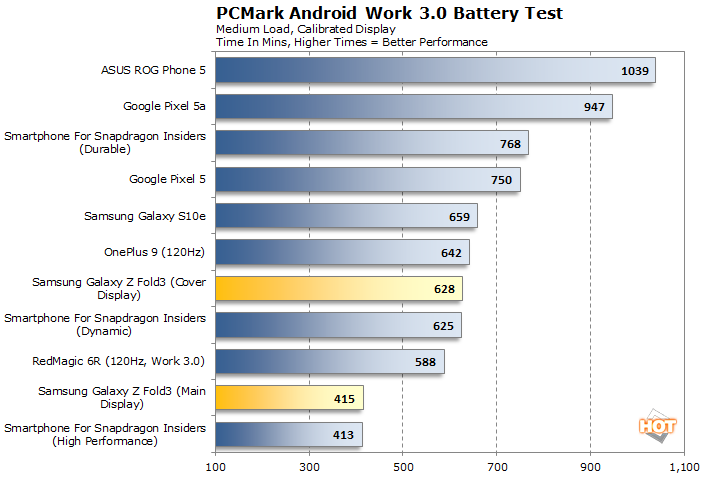 As we expected, the larger main display drains the battery quicker than the outer cover display. Using the cover display, the Z Fold3 lasts for well over 10 hours on a single charge, which isn't too shabby at all. Between relative frugality with the display on and very lightweight idle power, we had no problem getting through the day, using the phone like we would any smartphone. However, what this test does prove is that the main display is clearly a bigger drag on battery power than the smaller panel. With the large display enabled, we couldn't eke seven hours out of this test, which is far behind just about everything but the turbo-charged High Performance setting on the Smartphone for Snapdragon Insiders.

Performance overall is best described as solid. There are a couple of interesting exceptions related to graphics, but at no point would we ever consider this phone to be slow whatsoever. Next up, let's examine the camera, and go on to our conclusions...
Related content