Lenovo Yoga Book 9i Review: A Dual Display Laptop Done Right
Lenovo Yoga Book 9i: Could Dual Displays Be The Way Forward For Laptops?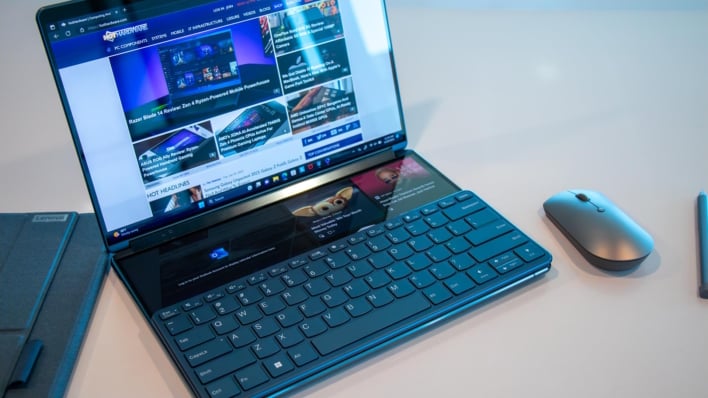 Lenovo Yoga Book 9i - $1,999.99
The Lenovo Yoga Book 9i is an innovative, relatively powerful 2-in-1 laptop with a highly versatile, and high quality, dual OLED display configuration.

Gorgeous Displays
Impressive Screen Real Estate
Easy And Fun To Use
Includes Keyboard, Mouse, And Pen
High Quality Audio

Price Premium
Not The Most Performant


Dual-display devices have begun to permeate the mobile market, arriving on phones and laptops alike. However, some of these devices have not been particularly well-executed or were so absurdly priced that the average mainstream consumer would be hard-pressed to justify the premium. Despite these past shortcomings and concerns, we're here today to give you our impressions of the
Lenovo Yoga Book 9i
, a hybrid 2-in-1 folding laptop that does dual displays extremely well, within a premium, compact package.
As we alluded to, many contenders in the growing dual-display laptop market have slightly different spins on the high-level concept. Whether a device comes with one big foldable display or a smaller secondary display just above the keyboard, there are still usually some kinks to work out or a clumsy user interface to worth through. Perhaps learning from these mistakes, Lenovo designed its Yoga Book 9i with two distinct 2.8K OLED displays, one of which can also completely replace the keyboard in its 13" laptop form factor.
However, these displays are not the only selling point for this machine, as Lenovo has built the Yoga Book 9i with quality platform components under its hood as well.
Check out our hands-on video tour from CES 2023 for yourself below, then we'll dive into how this laptop actually handles in real world day-to-day workloads and user experience...
Lenovo Yoga Book 9i: Specs
Within the CNC aluminum chassis, Lenovo has implemented Intel's 13th Gen Intel Core i7-1355U, a lower power 15 Watt TDP
Raptor Lake
CPU. It features ten total cores, two of which are performance cores, and the remaining eight are efficiency cores that turbo to 5.00GHz and 3.7GHz, respectively. Of course, this processor also comes with Intel Iris Xe graphics on board as part of the low-power package, which should make it adept for productivity or content creation tasks, though only light-duty gaming is on tap here.
Beyond the processor, Lenovo also packed in 16GB of LPDDR5x-6400 RAM and a 512GB M.2 NVMe 2242 SSD. Sadly, the latter is the only thing you can upgrade in this laptop down the road, which might be well worth it, depending on your storage needs. Soldered RAM is commonplace now though in this class of machine. Finally, Lenovo also packed an 80Wh battery on board, which rather stout actually and should keep this laptop up and running for a decent amount of time. More on battery life shortly.
Lenovo Yoga Book 9i: Build Quality & Design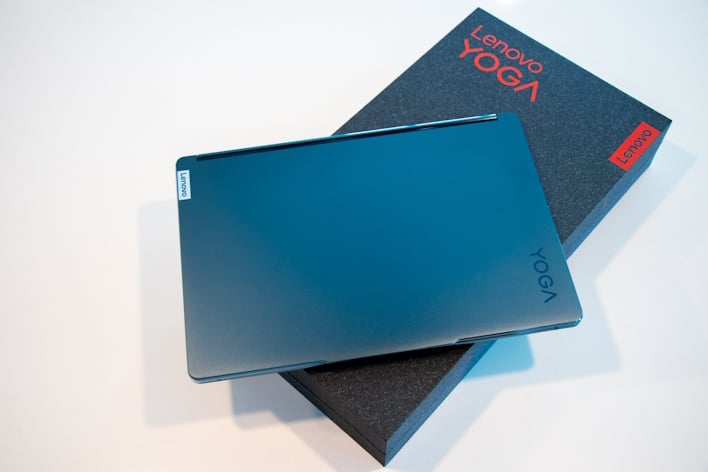 Walking around the outside of the device, we find a solidly built aluminum chassis with a clean, understated yet premium feel. Coated in a matte "Tidal Teal" color, with slightly rounded edges and that Lenovo minimalistic look, the Yoga Book 9i just exudes top-notch quality. You can also feel this quality as the aluminum body and dual displays do not yield or flex much, if at all.
Moving on, with keeping to the Yoga brand, you can also fold, tent, or prop this laptop, making it versatile in a myriad of use cases. However, the optimal way to use this might be in what we are calling tall or wide mode, with the displays either stacked or side-by-side and propped up by the folio stand. The tall mode might be the best for watching content while working, whereas the wide mode is good for writing or scrolling content side-by-side.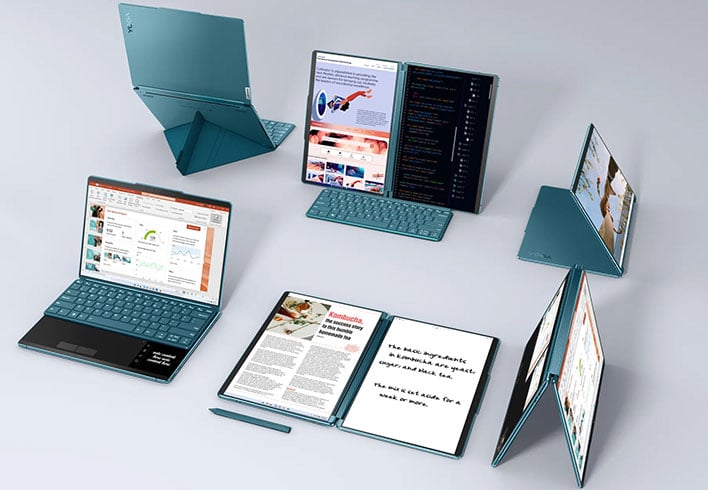 Exploring the Yoga Book 9i further, one will find a solid but potentially limited selection of ports and connectivity features. The Yoga Book 9i supports Wi-Fi 6E as well as Bluetooth 5.1, the latter of which is engaged by the included keyboard, mouse, and Lenovo Digital Pen 3, which we will touch on later. Around the device's edges, one will find three USB-C
Thunderbolt
4 ports, a 5.0MP + IR 1440p camera bump, and four total speakers.
Two of these speakers are woofers located along the sides, while two are front-facing tweeters located on the hinge bar, all of which are co-engineered with Bowers & Wilkins and optimized with Dolby Atmos for an impressive listening experience that actually has decent low-end bass response and output volume, for a laptop. However, in terms of connectivity shortcomings, it would have been a nice touch if Lenovo included an SD or MicroSD slot for the creators and photographers, but we digress.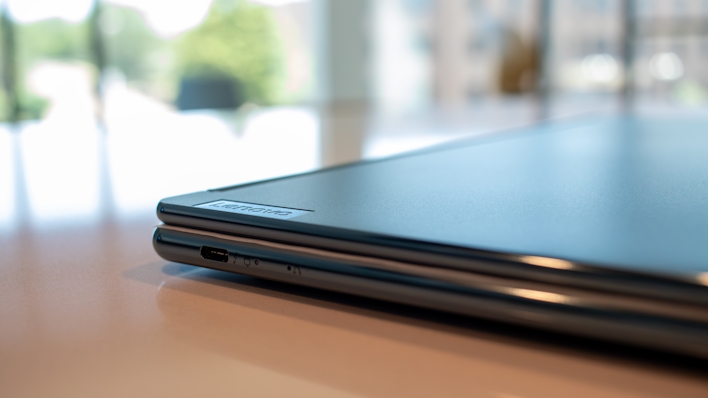 Yoga Book 9i Display And Input Options
Finally, we reach the displays, which are a pair of gorgeous 13.3" 2.8K (2880x1800) 16:10 OLED panels that comprise the entire user interface of this laptop. They feature 100% coverage of the DCI-P3 color gamut and are both touch-enabled, which is great for notetaking or simply interacting with anything on the laptop. Of course, these displays are fingerprint magnets if you use them without the pen, so keep that in mind.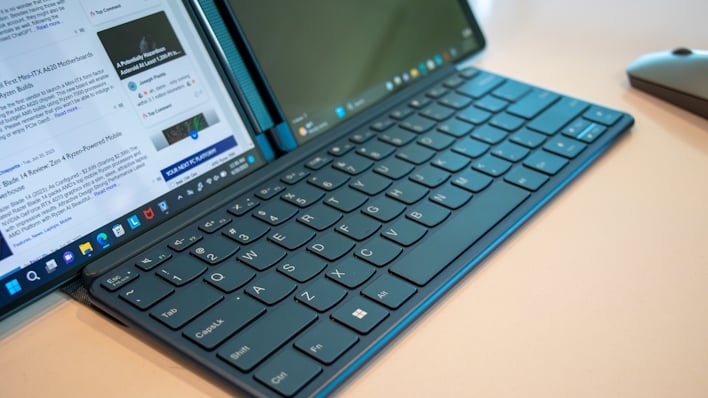 Snapping back to reality, the Bluetooth keyboard is a normal chiclet keyboard that feels nice but doesn't quite have the traditional great Lenovo keyboard feel that we're used to with the company's traditional laptop line. As we mentioned, the virtual trackpad does take some getting used to at first, but once you are there, it makes for a good experience.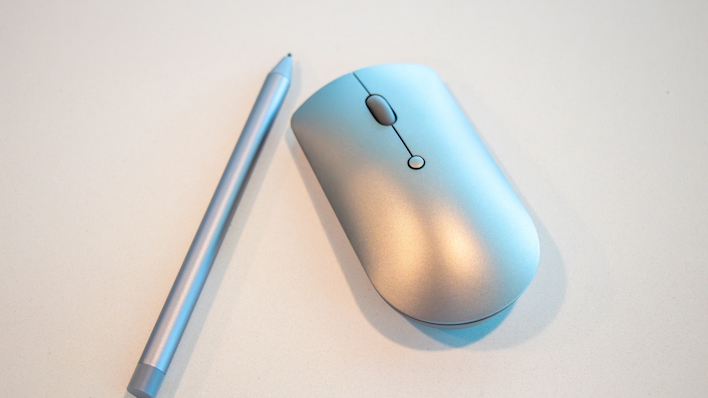 Finally, in addition to these standard physical and virtual interfaces, the laptop also comes with the Lenovo Digital Pen 3, which works well. In testing, we found that it writes rather accurately and tracks movement well, save for the occasional hiccup, given the speed at which we were writing and doodling. Overall, this addition, as is the case with this laptop in general, could be great for the creator or student who can draw, edit, or jot notes with the stylus on either display of the Yogi Book 9i with ease.
Lenovo Yoga Book 9i: Software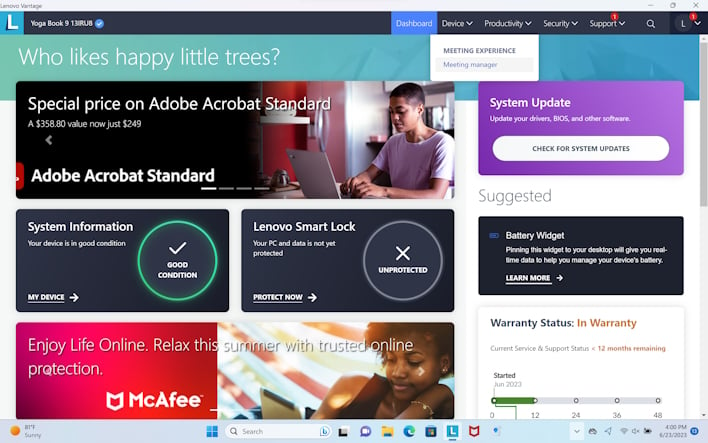 Out of the box, we are presented with Windows 11 22H2 with minimal tweaking or bloat. Though, as is the standard with Lenovo, we have both McAfee and Lenovo Vantage installed by default. While Lenovo Vantage is a great tool for managing device updates and drivers, the McAfee is something we always uninstall, in favor of Microsoft Windows Defender built-in protection.
Regardless, it was relatively painless to get in and get going with the Yoga Book 9i, which leads us nicely to our benchmark testing…
Related content