Samsung Galaxy Tab S7+ Review: Dex Empowers Productivity
Samsung Galaxy Tab S7+: Camera, Performance, and Battery Life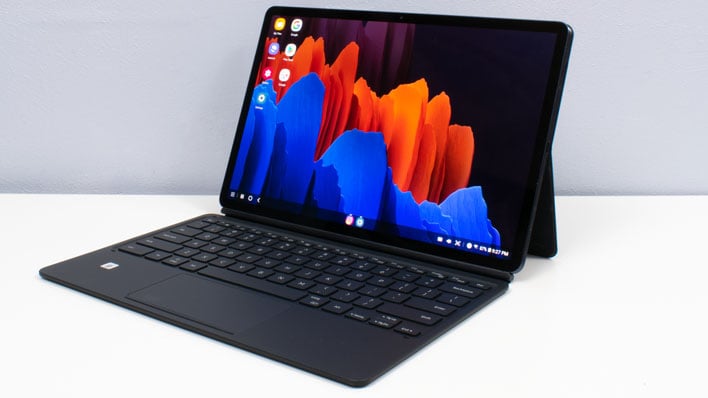 Taking photos with a tablet this big is kind of difficult, since the shutter button is positioned at the bottom center of the screen. Since the camera's orientation matches the tablet's, holding it in portrait mode gets portrait photos. If you want anything landscape though, reaching the shutter button is not possible with one hand, but wasn't terrible with two hands, as long as one is on the bottom of the device.
In terms of its camera setup,
Samsung
equipped the Galaxy Tab S7+ with dual cameras on the rear: a 13 megapixel main camera with an f/2.0 lens and a 5 megapixel depth-sensing camera for 3D effects, like adding faux bokeh to portraits. Around the front, a single 8 megapixel shooter captures selfies and works as a ridiculously nice webcam, putting the meager 720p webcams on most Windows notebooks to shame.
We see the rear-facing camera in tablets as a bonus, but not an absolute necessity. Very often, the best camera for a photo is the one you have with you, and for us, that duty falls to a smartphone, not a tablet. Still, we wanted to take a quick look at how the cameras in the Galaxy Tab S7+ performs in different conditions. We'll start with outdoor lighting.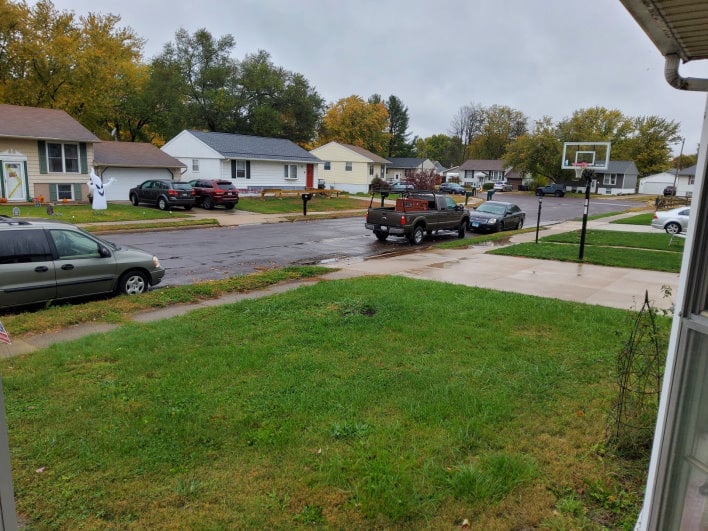 Outdoors, the rear 13 megapixel camera captures some pretty nice images, even though we tested the camera on a rather overcast day after it had stopped raining. The colors are bold without being overly saturated, and there's very little noise present throughout.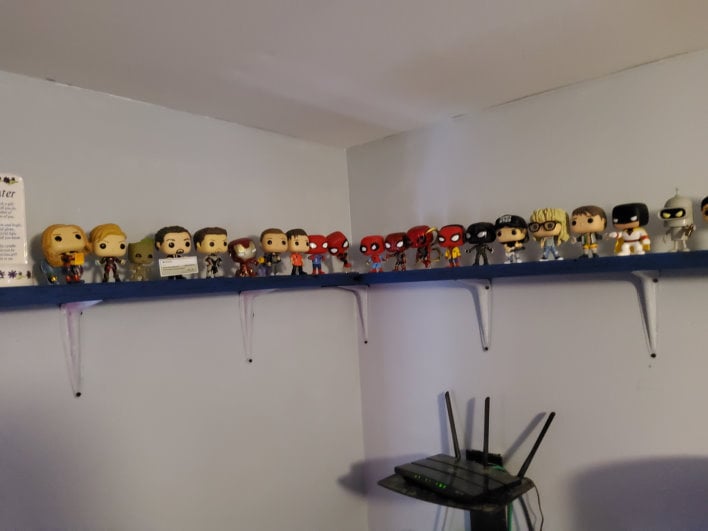 In our office with adequate (but not bright) indoor lighting, the Galaxy Tab's photos are kind of soft. It didn't do a great job focusing for this shot, nor for any of the others that we tried. It's passable, and you could post it to social media without worry, but it could definitely be sharper.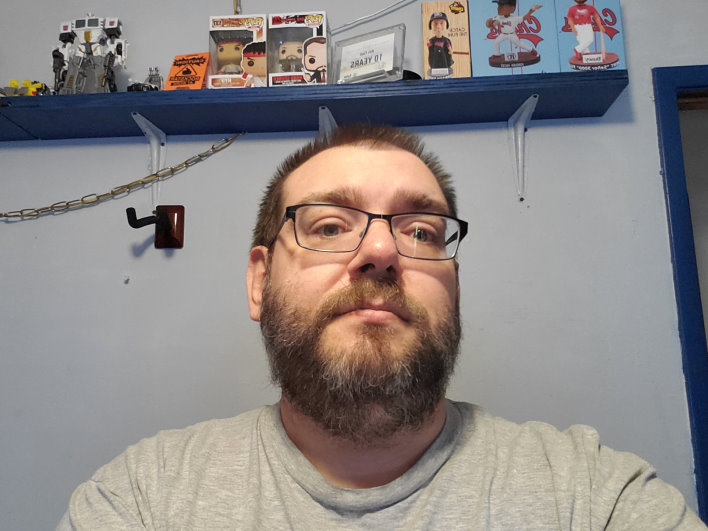 The front-facing camera did a very nice job capturing my ugly mug. Despite its lower megapixel count, there's more detail in this photo than there was in the previous picture. That's a little unusual considering the two pictures were taken around 90 seconds apart in the same room with the same lighting. Overall, the cameras in the Galaxy Tab S7+ probably won't win any awards, but they do an adequate job capturing the environment around us.
Geekbench 5

Synthetic Performance
Geekbench
has been a go-to benchmark for us for a long time, since it puts a CPU through the ringer on a host of intensive routines. The latest version of Geekbench has aligned its scores with Geekbench 5 on the desktop side, though comparing a low-power SoC like this to an x86 monster seems kind of unfair. We've still got a pretty big cross-section of devices represented, though, so let's see how the Galaxy Tab Active Pro fares.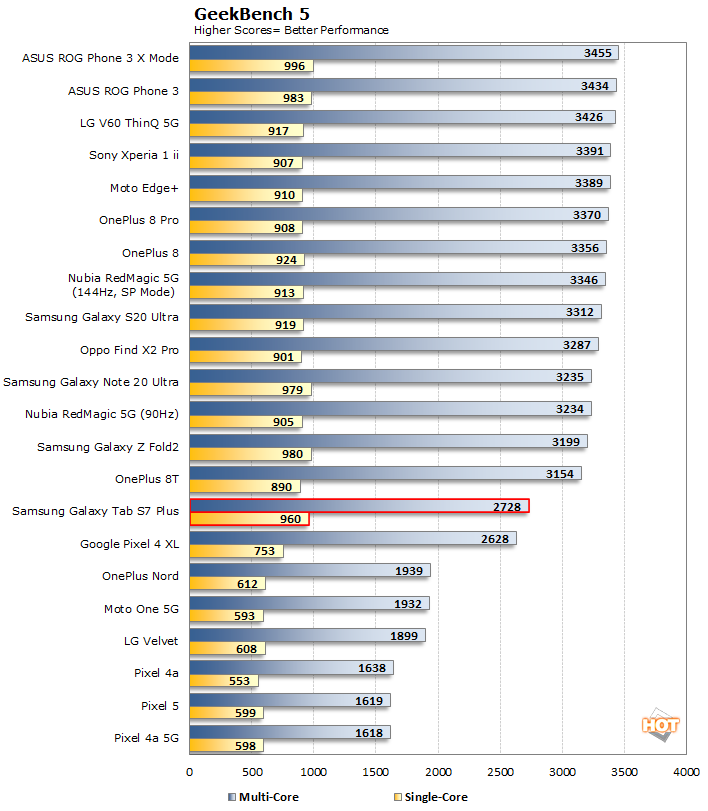 Overall, the Galaxy Tab S7+ performs pretty well, especially in the single-threaded test. It's still a far cry from the iPhone 11 Pro's scores (let alone 1,500 as scored by the Tiger Lake-equipped
Asus Zenbook Flip S
), but 960 puts it in the upper echelon of Android devices. On the multi-threading side, it's a little puzzling since the Galaxy Tab S7+ has the same Snapdragon 865+ platform, but trails all the similarly-equipped phones. We expected a bit more here.
PCMark Work 2.0 for Android

Productivity and Web Performance
Futuremark's PCMark Work 2.0 for Android is an excellent suite of tests if you want to benchmark a wide range of tasks on any handset—things like image and video editing, as well as lighter-duty, everyday workloads such as email and web browsing. When you see the test running live, it's clear the scripted application tests are carefully selected and tuned to make use of the each mobile platform in a very controlled way.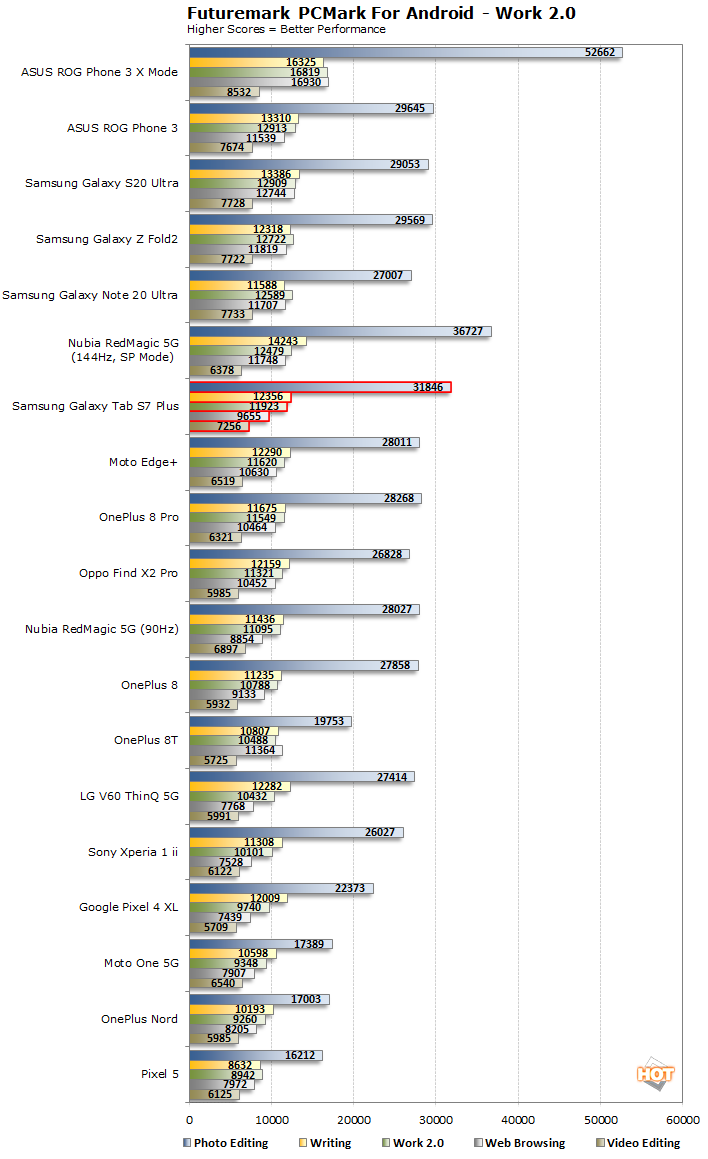 The Galaxy Tab S7+ lands right in the middle of the pack overall. For photo editing, its performance stands above most of the rest, only behind the factory overclocked ASUS ROG Phone 3 and the
Nubia RedMagic 5G
. None of its scores were really a drag on overall performance either. Overall, the Galaxy Tab S7+ seems to be a relatively well-rounded performer on this test.
AnTuTu and AITuTu

System and AI performance
AnTuTu and AITuTu have been around for a very long time, and test a variety of loads and work patterns from CPU and GPU performance to UI smoothness. This benchmark got kicked off the Google Play store in March over concerns about background data collection, so they may not be something you want to leave running at all times. Still, the test results are valuable, so we still run these tests.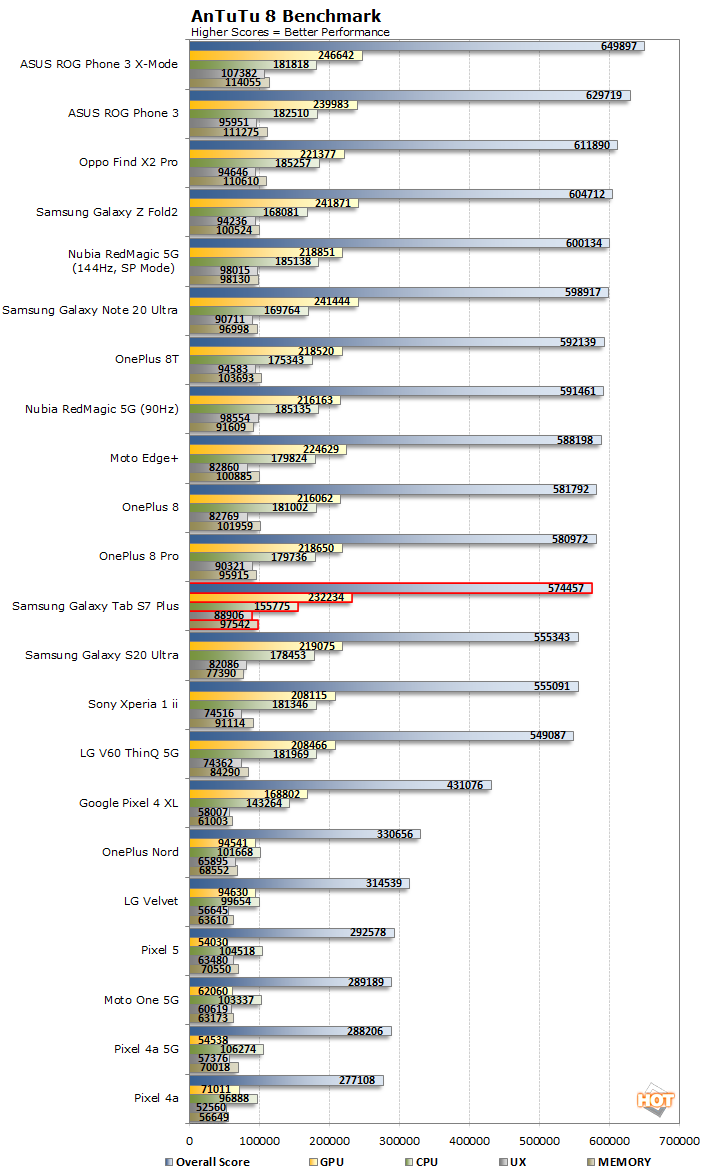 Once again, we see the same pattern we've seen all along. Snapdragon 865 devices with their Kryo 585 CPU cores are just faster than the same chip in the Galaxy Tab S7+. Based on the size of the tablet, we expect the passive cooling to be more robust than a phone, so this is puzzling. On the other hand, GPU performance is pretty strong, and the Tab's score here is better than most of the devices that rated higher overall.
AITuTu performance includes machine learning tasks, such as image classification and object detection. The scores that this test reports are related to how quickly the device can perform these tasks.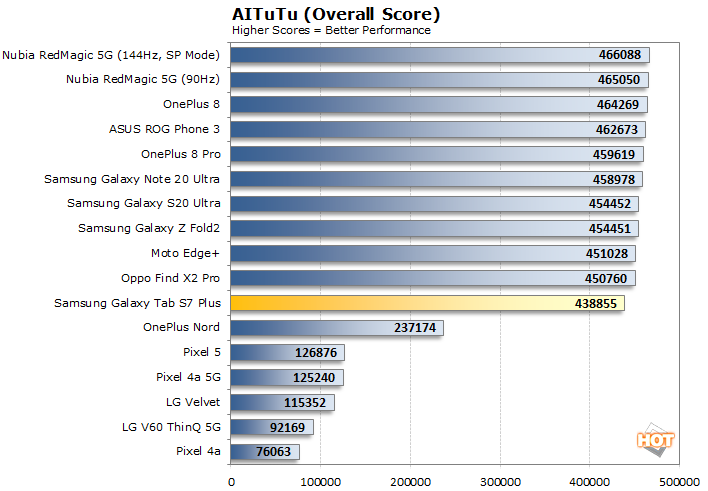 The Galaxy Tab S7+ ranked right near the Snapdragon 865 phones, but not quite fast enough to get into the middle of the pack. On the other hand, it's a far superior solution than anything with an older or mid-range chipset. Overall this is a very strong showing, and trailing by 3-5% is not something most users will feel.
GFX Bench

OpenGL and Vulkan performance
GFX Bench has been a staple in Android benchmark testing since its inception, and it seems only fitting that we include it here. We only report the Offscreen tests, since those results filter out any variables caused by the display, like its resolution and refresh rate. The T-Rex test is the lighter of the two loads, so we started with it first.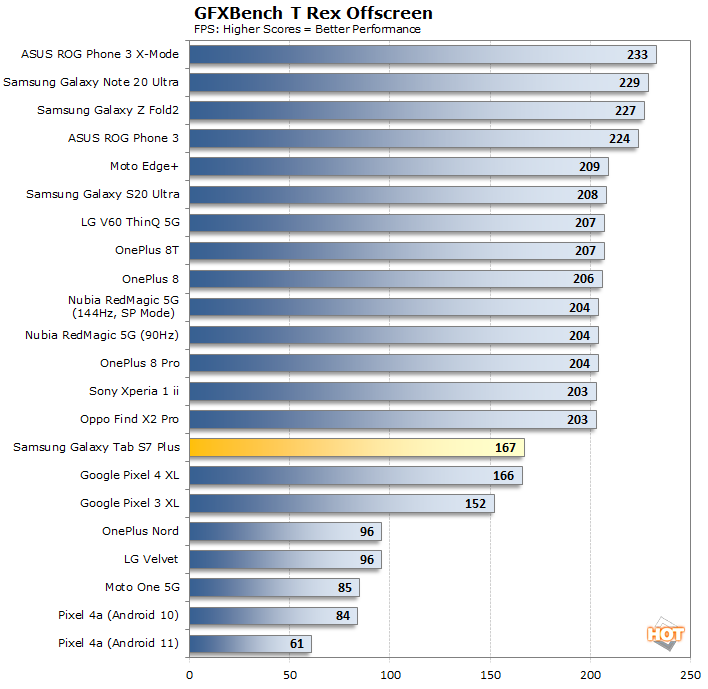 Once again, the Galaxy Tab S7+ trails current flagship phones, but it's still relatively close. Only 15% or so separates it from the middle of the Snapdragon 865 pack. Regardless, the frame rate here is faster than the 120 Hz display could show images, so we think this is pretty solid.
The Manhattan scene has more dynamic lighting and has more complex geometry and pixel shading. As a result, the scores are lower, but we still expect a decent showing.
Anybody who has been reading along is not at all surprised with this result. As before, the Snapdragon 865 phones are faster, but the Galaxy Tab S7+ acquits itself nicely. 115 fps is only around 15% behind first place here, which is the gaming-focused
ASUS ROG Phone 3
in its X-Mode auto-overclocking.
UL's 3DMark has always been a benchmark with an eye towards future performance, pushing systems as hard as it can. That's true for the Sling Shot Extreme test, which we ran in the Unlimited mode to keep device resolutions and refresh rates from having an impact on scores.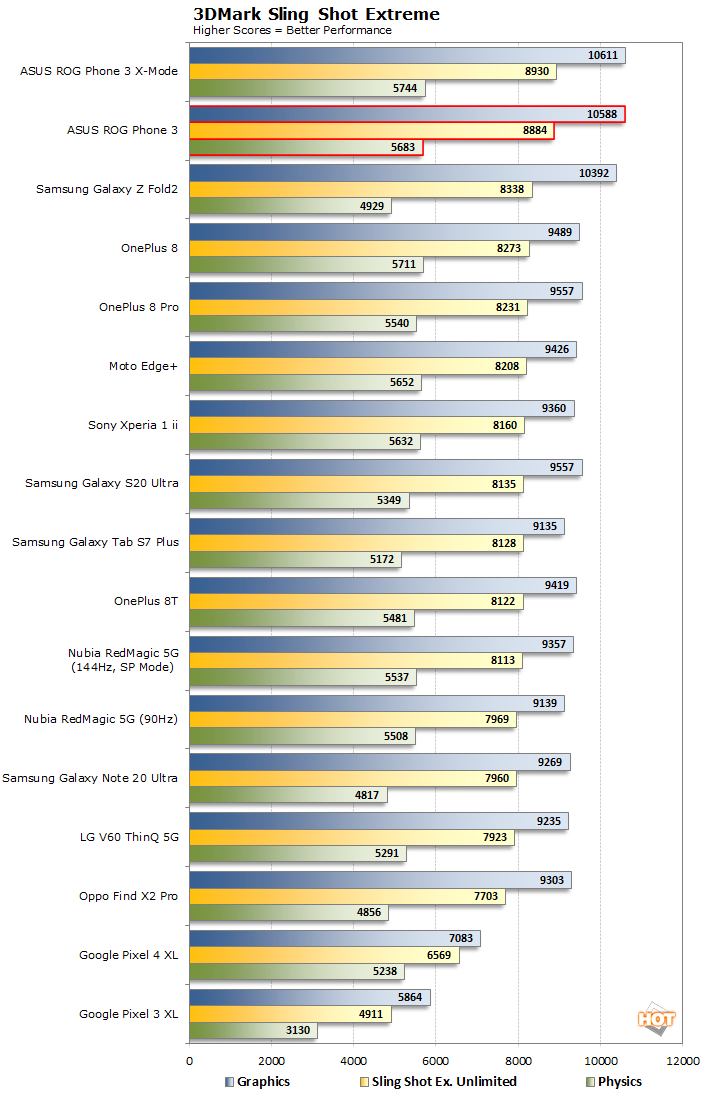 Here we see something totally different: the Snapdragon 865 devices are felled by the Galaxy Tab S7+. For the first time, it seems that the Snapdragon 865+ on display here is finally pulling its own weight and just about takes the overall lead. The gap between the Galaxy Tab S7+ and the ROG Phone 3 is close enough we'd call it a tie.
3DMark Wild Life is the newest benchmark from UL, and it's
caused something of a stir
since Snapdragon 865 devices don't seem to lose performance over time in its stress test. That's unusual, since just about every high-performance silicon manufacturer from Intel and AMD to Apple loses performance over time due to high turbo clocks that can't be sustained due to either energy draw or thermal loads. We saw that when we ran this stress test on iPhones, and we see it in just about every laptop we've ever reviewed.
What's so special about the Snapdragon 865 that it doesn't throttle? Maybe the chip isn't running at its fullest potential with current drivers or the current version of 3DMark (which might explain how the Galaxy Tab S7+ caught it in Sling Shot), or there could be other factors. At any rate, how did the enhanced 865+ in the Galaxy Tab S7+ fare?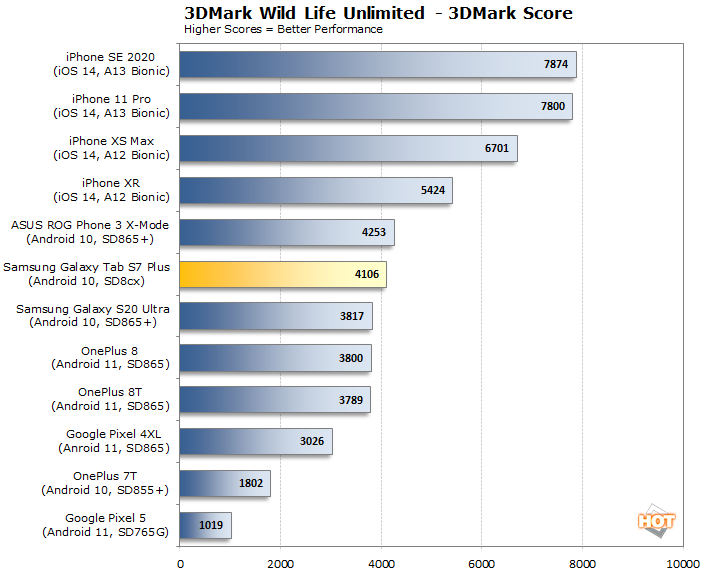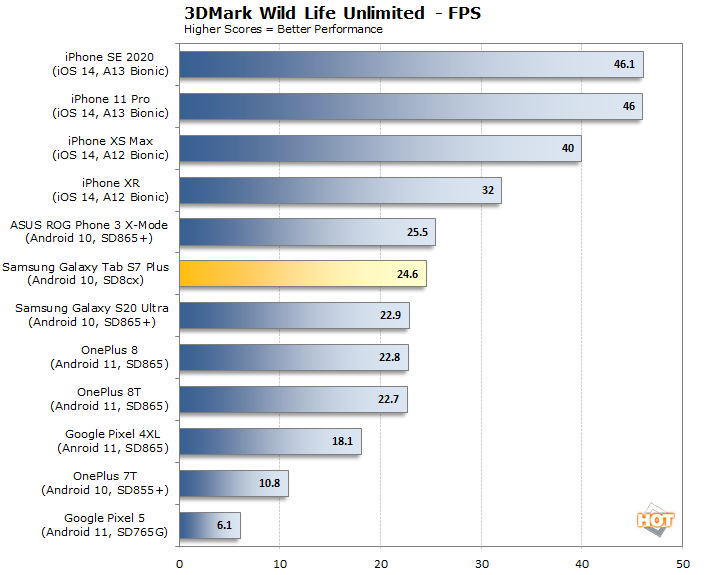 Once again in a 3DMark test, the Snapdragon 865+ in the Galaxy Tab S7+ caught the faster Android phones. It's only about half as fast as the
$400 iPhone SE
, but it's just about king among Android devices. Samsung's tablet is also four times as fast as the Google Pixel 5, which is not a very good look for Google's supposed flagship.
As we mentioned, the stress test favored Android devices, particularly the Snapdragon 865, for one reason or another. The Galaxy Tab S7+ is a much bigger device and should, in theory, be able to keep the Snapdragon 865+ SoC relatively cool. Let's see how it did.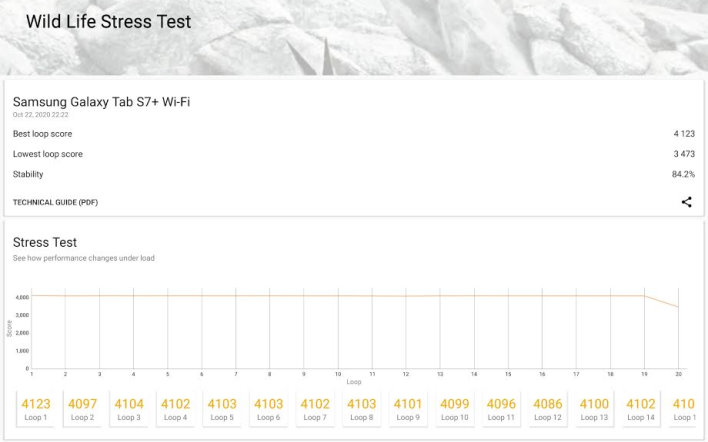 There's a bit of a dip in 3DMark score at the end of the 20 minute run. It consistently scored around 4,100 points through 19 runs, but that 20th run saw the score fall by 15% down to 3,473. Each loop takes around a minute to complete, so it's not until minute 20 that we see thermals start to impact performance on the Galaxy Tab S7+.
We're not done testing yet—turn the page for battery life results, and also stay tuned for a surprise challenger. Windows 10 on Arm lies in wait around the corner...
Related content
Comments