Samsung Galaxy Tab S7+ Review: Dex Empowers Productivity
Samsung Galaxy Tab S7+: Battery Life, Windows Competition And Conclusions
For Android devices, we rely on PCMark Work 2.0's built-in battery test. We calibrate the screens of the various devices based on UL's specifications, charge the battery to full, and then turn it loose. The Work test enforces what Android calls a Wake Lock, keeping the display running for the duration of the test. Unlike our custom VLC video playback loop in laptop reviews, PCMark stops when the battery hits 20% and reports how long the test ran.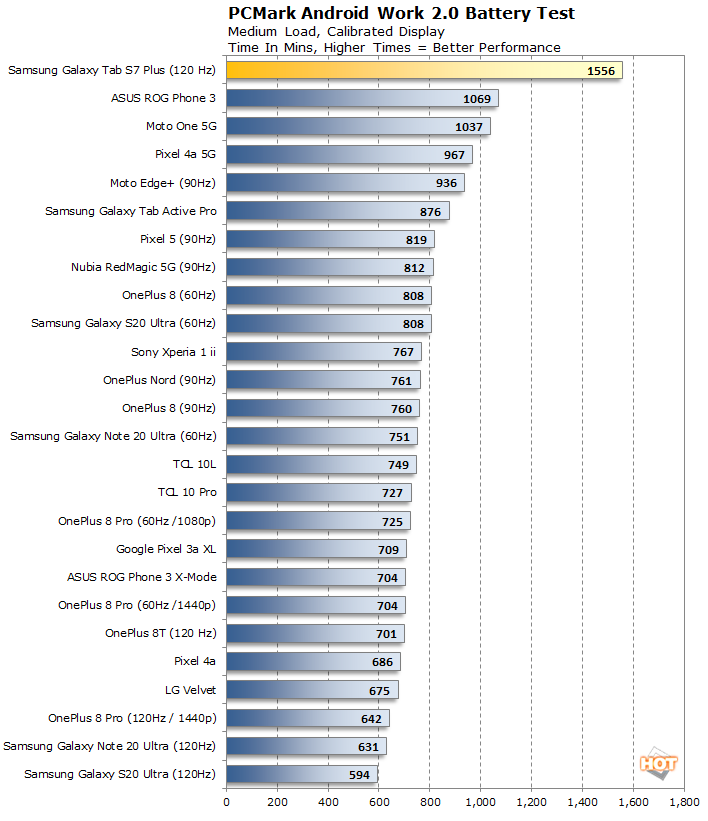 The Galaxy Tab S7+ has a large 10,090 mAh battery, and as a result, the runtime is impressive. It took more than a full day for this test to complete—nearly 26 hours, in fact. The
ASUS ROG Phone 3
has a very large (for a phone) 6,000 mAh battery, but it still trails the Galaxy Tab S7+ by a significant margin. At any rate, we don't think the Galaxy Tab S7+ will have a problem getting through a full work day or two on a single charge, regardless of the work loads you run, except for gaming.
A Challenger Approaches: Windows On Arm
Since Samsung really played up the thin client productivity angle in our pre-review meetings, and because DeX shows so much promise as a reasonable desktop shell, it only made sense to look at the other Snapdragon devices we've gotten our hands on: the Samsung Galaxy Book S and the Lenovo Flex 5G. Those systems have the slightly older Snapdragon 8cx, but they should still be pretty fast. Since we had these systems on hand, it only makes sense to shoot it out and see which platform has the performance advantage.
One of the challenges is that there's not a lot of overlap between Windows and Android benchmarks. We were limited to just Geekbench and our web browser tests, since 3DMark Wild Life for Windows requires an x86-64 processor. That means Arm emulation is off the table for now, at least until 64-bit emulation
comes to a Windows Insider build
sometime next month. We tried to get around the "unsupported" message in 3DMark with the command line utility, but it threw exceptions for unsupported processors.
C'est la vie
, and we'll get by with what we have available. '
Windows on Arm shootout

Web and Geekbench performance vs. Windows on Arm
We'll start with the web browser tests. Speedometer is a real-world web application test which runs and performs various actions on sample to-do applications built on tons of JavaScript frameworks from Angular to React and all points in between. This flexes DOM manipulation as well as basic calculations that create to-do items and marks them complete.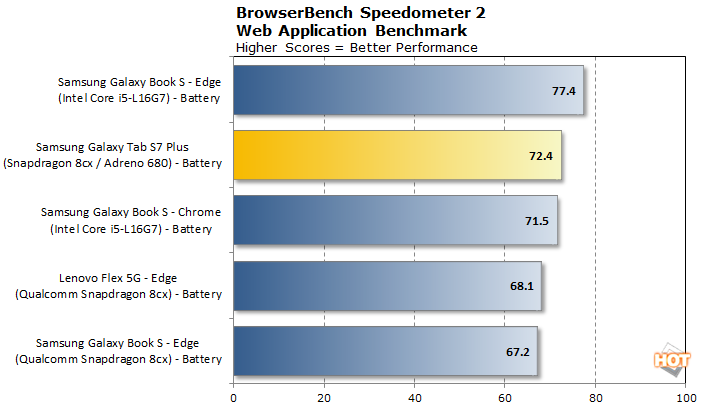 In Speedometer, the Galaxy Tab S7+ reigns supreme among our Arm competitors. It's beaten out only by the Core i5-L16G7 in the
Wi-Fi version of the Galaxy Book S
. Even then, only when the Intel notebook was was running Edge instead of Chrome, which we tested because Chrome isn't available for Arm systems yet on Windows, was it faster than the Galaxy tablet.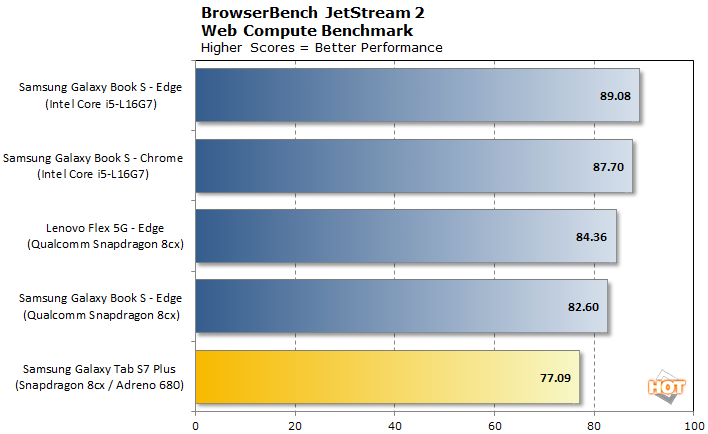 A little less impressive is how the Galaxy Tab S7+ handled JetStream, which is a pure comptute benchmark that uses a mix of Web Assembly and JavaScript. The
Galaxy Tab S7+
trails the Galaxy Book S by less than 10%, however, so we don't think many users would feel much of a difference between the two.
Lastly is Geekbench, which we all know for its single and multi-threaded synthetic loads across a wide variety of computation types.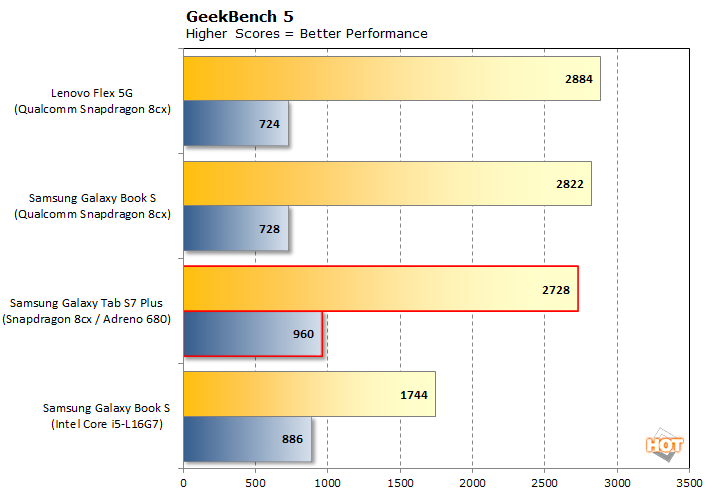 The Galaxy Tab S7+ does a much better job on Android in the single-threaded tests than the other Arm-powered devices under Windows. It's nearly 25% faster than the Galaxy Book S when just flexing its fastest core. On the other hand, the Galaxy Tab trails the Arm Windows devices by a couple of percentage points in the multi-threaded tests. That single-threaded test is important, however, since that's usually the test that acts as a predictor of system responsiveness.
Galaxy Tab S7+ Review Conclusions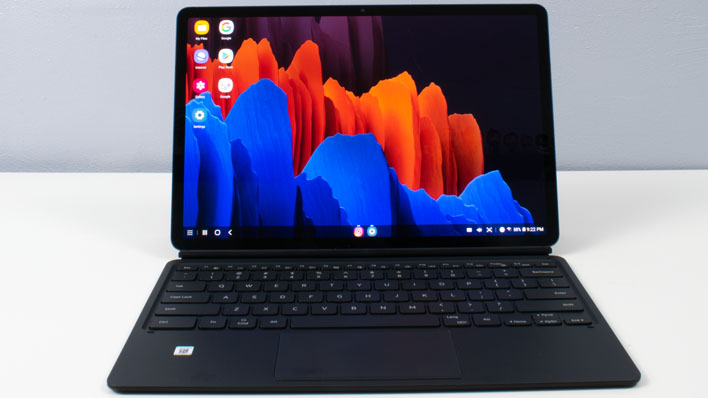 Samsung built more than just a high-end Android tablet with the Galaxy Tab S7+; it created a highly mobile client PC that can handle a large majority of many user's tasks. This starts with a solid hardware foundation, which the Galaxy Tab S7+ provides. The Snapdragon 865+ here provides snappy performance on productivity tasks from Microsoft 365 native apps to web applications in Chrome, even if it did sometimes fall behind other devices with the same SoC. Getting real work done is hard on a table without a physical keyboard, but Samsung delivers here in the form of a very solid detachable keyboard.
The only thing that's unfortunate is that the keyboard doesn't come in the box with the tablet. In fact, the keyboard attachment adds around $200 to the price tag of the base tablet, which does include the S-Pen. On the other hand, to make the Galaxy Tab S7+ a productivity machine, a keyboard is absolutely necessary. You could go for a different case that has its own kickstand and any old Bluetooth keyboard, but the solution from Samsung makes for a very compact setup that's easy to carry and set up anywhere. It's definitely a trade-off between saving some cash and having the most convenient solution. It's still cheaper than the
$300+ Magic Keyboard
for Apple's iPad Pros, though.
The Galaxy Tab S7 and S7+ are premium tablets with very similar internals where the biggest difference is the size of the display. The S7+ is the only model we had on hand, and we found the 12.3" display to be spacious enough to enable real multi-tasking on the Dex desktop. This 12-inch format is about as small as we'd want to go for this type of device, however. Subjectively speaking, we're not sure that the Galaxy Tab S7's 11" display would be big enough for everyone.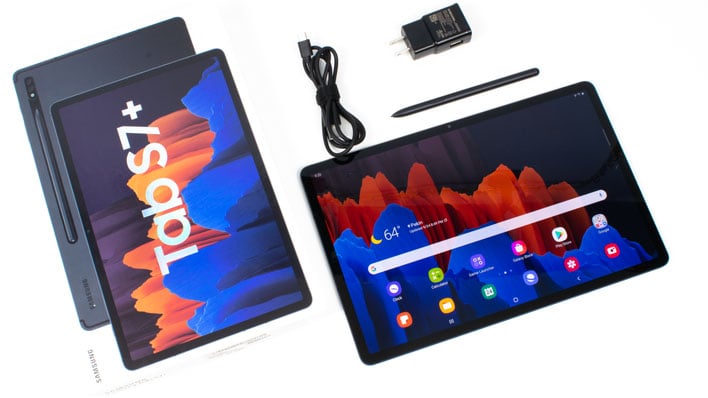 That leads us to pricing. The 11"
Samsung Galaxy Tab S7
starts with 128 GB of storage and 6 GB of RAM for $629. A version with 512 GB of storage and 8 GB of RAM bumps that price up to $829, and the 256 GB / 8 GB model sits in the middle at $729. That's putting the system into laptop territory, especially after adding the keyboard case, but at 2 pounds for the whole setup, it's a pretty darn lightweight and mobile solution.
To step up to a bigger screen, the 128 GB / 6 GB version of the
Galaxy Tab S7+
starts at $849 with a 256 GB / 8 GB version selling for $929 and a 512 GB / 8 GB model for $1,029. Considering how much extra storage and RAM the highest tiers add, the middle version seems to sit in the sweet spot for both the Galaxy Tab S7 and the S7+. All of these prices go up by
around $200 for a version
with 5G cellular connectivity. Only the 128 GB / 6 GB models area available with cellular modems though.
Overall, the Galaxy Tab S7 family represents an interesting mix of portability and compatibility. Being able to run any
Android
app means there's a lot of native apps to choose from. Full Google Play services and integration means there shouldn't be any surprises for a worker on the go. For road warriors who don't really need Windows, but still need good performance, great battery life and a lightweight system, the Galaxy Tab S7 and S7+ are arguably the best Android tablets yet. These new Galaxy Tabs offer excellent portability and great utility with Samsung Dex software features. For that reason, the Samsung Galaxy Tab S7+ is HotHardware Recommended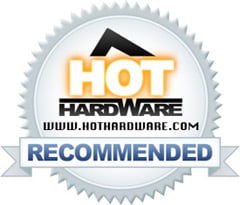 Lightweight, premium construction

Excellent OLED display panel

Optional keyboard and track pad make it a productivity machine
DeX mode offers side-by-side multitasking and a nice desktop
S-Pen is responsive and useful
Great battery life

Keyboard not included
Trails Snapdragon 865+ phones in some tests
Rear camera is only so-so
Related content
Comments