PowerColor Hellhound Radeon RX 7900 XTX Spectral White Review
PowerColor Hellhound RX 7900 XTX: RDNA 3's Most Powerful Radeon, Looking Sharp in Spectral White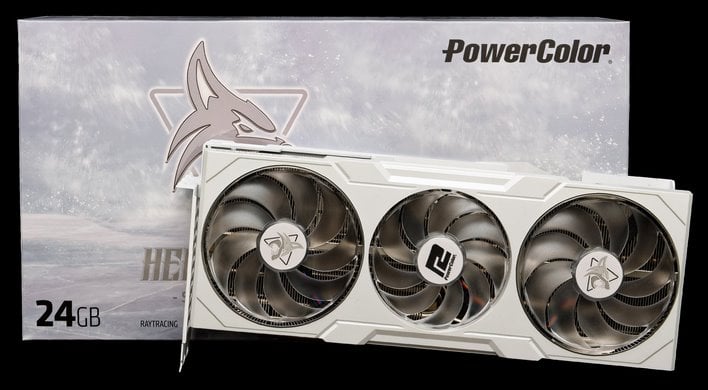 PowerColor Hellhound RX 7900 XTX Spectral White: Starting At $1,029


PowerColor has revamped its Hellhound Radeon RX 7900 XTX card with a spectral white finish, to complement the factory overclock and oversized cooler.







Strong Performance
Good Overclocking
Great Looking Card
Dual BIOS Switch
Dedication Lighting Switch
Cooler Than Reference Card
Quiet Operation

Tame Factory "Overclock"
No Faster Than Reference XTX
Price Premium



---
PowerColor is introducing a new addition to its line-up of Radeon RX 7900 series cards today, the Hellhound Spectral White AMD Radeon RX 7900 XTX. The Hellhound series isn't new and has existed in PowerColor's arsenal for a couple of generations now. This Spectral White edition of the
Hellhound RX 7900 XTX
, however, is a fresh face and it differs greatly from AMD's own reference designs – at least in terms of its design language and overall aesthetic.
Take a look a look at the Hellhound Spectral White Radeon RX 7900 XTX's main features and specifications below for a quick taste of what's in store, and then we'll take a tour of the card and see how it performs versus an array of competitors. There's some overclocking in our future a little later too...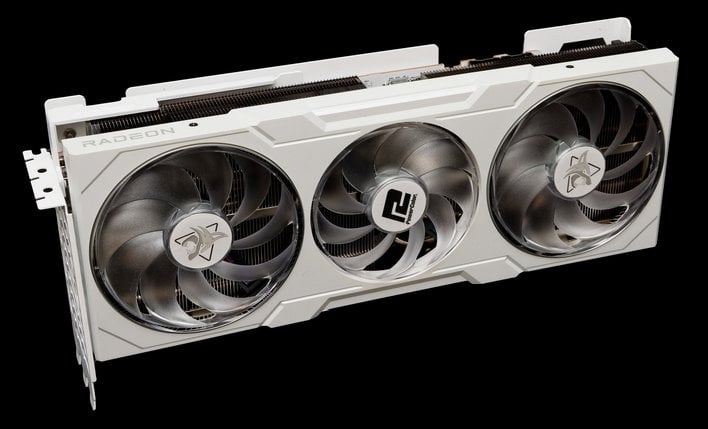 GeForce RTX 4070 Ti Features & Specifications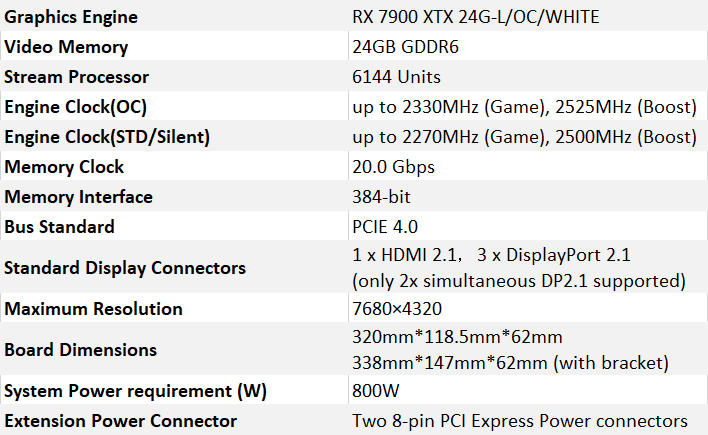 Find ASUS TUF GeForce RTX 4070 Ti Cards @ Amazon
---
Save for its triple fan setup, the PowerColor Hellhound Spectral White RX 7900 XTX looks nothing like AMD's own
Radeon RX 7900 XTX
. PowerColor's offering is longer, taller, and wider, though ultimately still consumes the same number of slots (3) when installed in a system.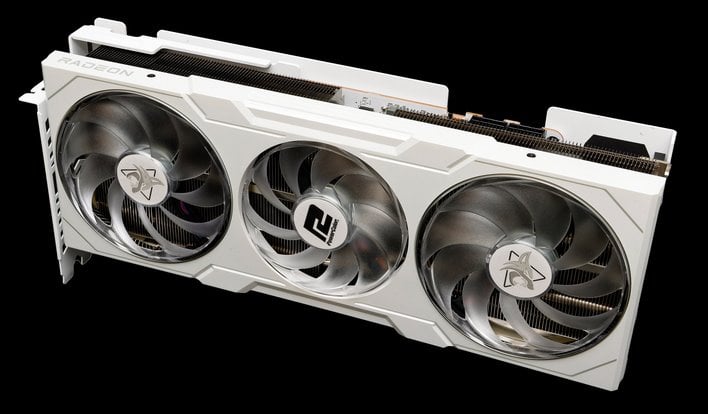 In addition to the larger overall dimensions, the other obvious standout feature is the stark white finish, with silver branding and silver design elements, which we think looks great. The lighting on the card also falls between a cool white and light blue, which accents the white finish well in our opinion. And if you're not feeling the lighting, it can be shut off with the flick of a switch that resides right along the top edge. There's a second switch on the card edge as well, that toggles between the default clocks and fan profile, and a silent mode that slightly reduces clocks and has a tamer fan curve. This card is quieter and cooler than
AMD's reference design
even when using the default BIOS, however, so there's no need to sacrifice any perf with Silent mode unless you're going for the absolute quietest, high-end system possible.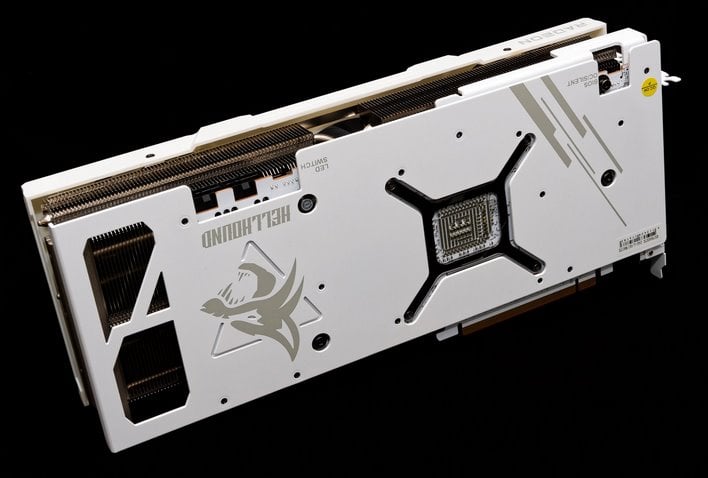 In terms of its specifications, PowerColor Hellhound Spectral White RX 7900 XTX doesn't differ greatly from other 7900 XTX cards. The CU count and features are identical, though its max boost clock in default / OC mode is 25MHz higher than reference cards (2,525MHz vs. 2,500MHz), but that 1% increase means little in the real world. The 24GB of GDDR6 memory on board also has the same 20Gbps effective data rate as reference cards.
Keeping a
Radeon
RX 7900 XTX GPU cool can result in not only lower temps, but higher performance in some instances. To that end, PowerColor has outfitted the Hellhound with 8, 6mm heat pipes that snake through a massive heatsink array that effectively covers the entire front side of the PCB. There's a copper plate that makes direct contact with the GPU, and the VRMs get their own heatsink segment as well. Three dual ball bearing fans sit atop the cooling assembly. Those fans will spin down completely when the GPU temperature is below 60°C and spin up as necessary when temps increase.

The
PowerColor
Hellhound Spectral White RX 7900 XTX features a 14-layer PCB with 2oz copper layers, with a 12+3+2+2+1 phase VRM design (2+1 for the memory). All told, between the cooler, beefy PCB, and robust power setup, temps and power should be well managed.
The card's output configuration is just like other current generation Radeon and consists of a trip of DisplayPorts (DP 2.1) and a single, full-sized HDMI port (v2.1).
And with that, let's get to some benchmarks...
Related content