NVIDIA Unveils GeForce RTX 4070 Ti And Here's An OEM Card Round-Up
The day we all knew was coming has finally arrived, that being when NVIDIA formally introduces the world to its latest
Ada Lovelace
entry, the Geforce RTX 4070 Ti. It's more of a re-introduction really. Today's reveal officially confirms the specs to be the same as the 'unlaunched' GeForce RTX 4080 12GB, which has not returned with a different model designation and adjusted pricing that gamers should find more appealing.
We don't want to beat a dead horse here, but for anyone who hasn't kept tabs on the situation, NVIDIA drew criticism for originally launching
two GeForce RTX 4080 models
, one with 16GB of memory and the other with 12GB.
Most people probably wouldn't have batted an eye if the only distinction between the two was just the amount of video memory, and perhaps the clocks as well. But the ire stemmed from the 12GB model also having fewer CUDA cores and a narrower memory bus width. So, NVIDIA
pressed the "unlaunch" button
on the 12GB model not long after it was announced, noting that while it was a "fantastic card," it also was "not named right" and that "having two GPUs with the 4080 designation is confusing."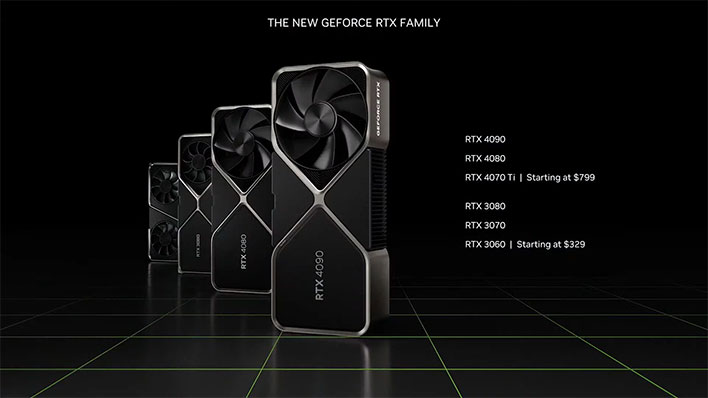 It should all be ray-traced water under the rasterized bridge now, because NVIDIA has essentially renamed the card and shaved $100 off the price to boot—the GeForce RTX 4070 Ti starts at $799 while retaining the same specs as the canceled 12GB RTX 4080.
That means it's built around NVIDIA's AD104 GPU with 60 streaming multiprocessors and 7,680 CUDA cores. It also features 30 texture processing clusters, 240 Tensor cores (4th gen), 60 RT cores (3rd gen), 240 texture units, 80 ROPs, and a 2,610MHz boost clock.
As for the memory arrangement, as with the unlaunched card, the GeForce RTX 4070 Ti is equipped with 12GB of GDDR6X memory (21Gbps) linked to a 192-bit bus, a config that yields 504GB/s of total memory bandwidth.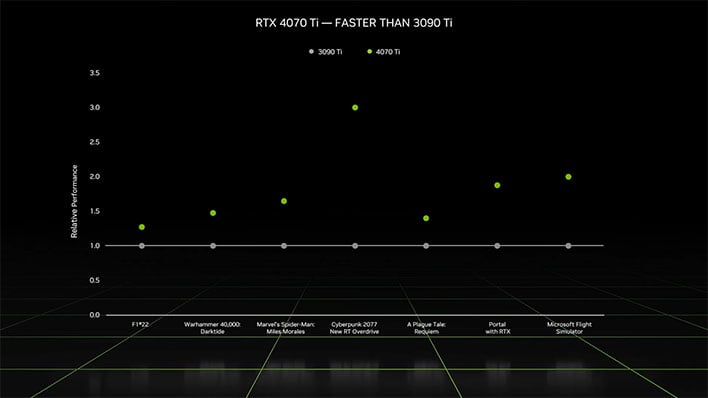 What that all translates to is 40 TFLOPS of shader performance, 93 RT TFLOPS, and 641 Tensor TFLOPS. According to NVIDIA, users can expect the GeForce RTX 4070 Ti to generally outpace the GeForce RTX 3090 Ti, which is pretty enticing for a $799 part. We'll have a review posted soon to see if the performance claims hold true, so stay tuned for that.

GeForce RTX 4070 Ti Is Exclusive To NVIDIA's Hardware Partners
So to recap, the GeForce RTX 4070 Ti is now official and it will start at $799. As for retail availability, it releases to retail in just a couple days, on January 5, 2023. NVIDIA will not be offering a Founders Edition model. Instead, you can expect NVIDIA's add-in board partners to come out swinging with custom models, some of which will stick with the reference specifications and others of which will feature factory overclocks.
Here's a roundup of the some of the custom models that are coming.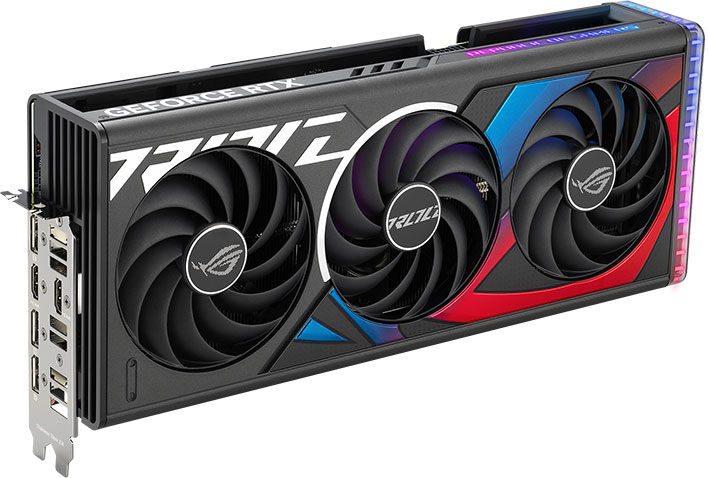 ASUS ROG Strix GeForce RTX 4070 Ti
ASUS is planning to launch several variants of the GeForce RTX 4070 Ti. Shown at the top of the article is the TUF Gaming GeForce RTX 4070 Ti. ASUS will offer that one in two trims, including a stock-clocked card (ROG-STRIX-RTX4070TI-12G-Gaming) priced at $949.99 and an overclocked model (ROG-STRIX-RTX4070TI-O12G-Gaming) priced at $1,049.99.
The card you see directly above is the ROG Strix GeForce RTX 4070 Ti. Pricing on this one starts at $799.99 for the stock-clocked version (TUF-RTX4070TI-12G-GAMING), while an overclocked model (TUF-RTX4070TI-O12G-GAMING carries an MSRP of $849.99.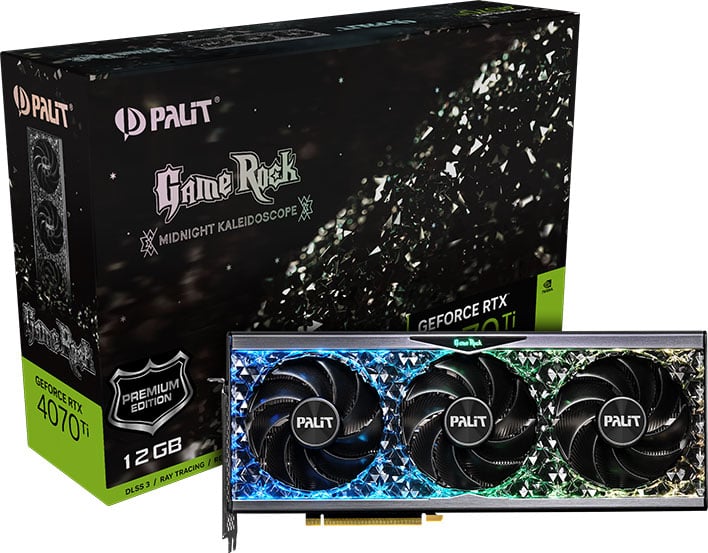 Palit GeForce RTX 4070 Ti Premium Edition
It's often said that beauty is in the eye of the beholder and if your preference leans heavily towards copious bling, Palit has you covered. Palit is readying a GeForce RTX 4070 Ti Premium Edition model in a "Midnight Kaleidoscope" design, which as you can see above flaunts a sort of crystalized theme.
This one is certainly a different design, though not unprecedented in the PC space. In fact, if you splurged on a kit of
G.Skill's Trident Z Royal RGB memory
and want to complete the aesthetic, Palit's card looks like a natural fit.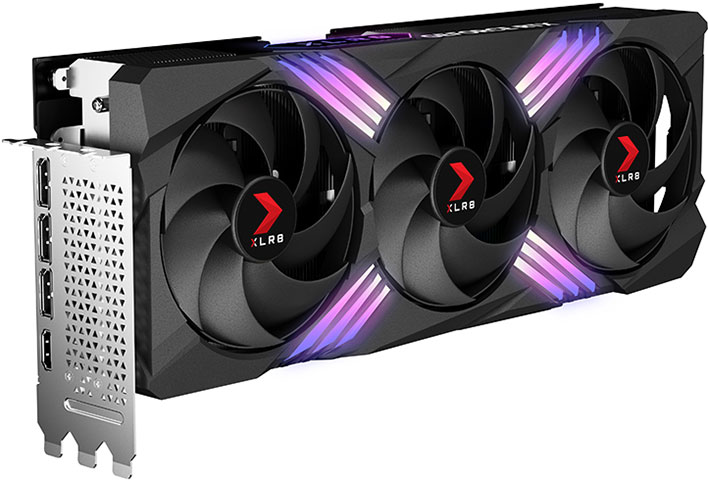 PNY GeForce RTX 4070 Ti XLR8 Verto Epic-X RGB
Palit plans on giving the GeForce RTX 4070 Ti the XLR8 treatment just as it has done with the GeForce RTX 4080 (16GB) and GeForce RTX 4090. As you can see above, the cooling shroud looks the same as the XLR8 Verto Epic-X RGB editions of those two other cards, with three cooling fans and a RGB lighting crossing through the middle, as if Wolverine took a couple of swipes at the card.
We'll have to stay tuned to see how many variants PNY launches, but for reference, the company offers stock-clocked and overclocked models of the GeForce RTX 4080 Vergo Epic-X RGB.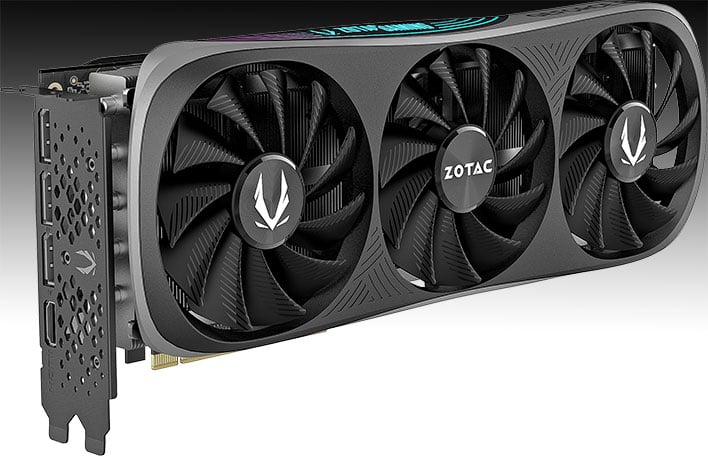 Zotac GeForce RTX 4070 Ti
Zotac is also ready to rumble with the GeForce RTX 4070 Ti. The three-fan cooling shroud is the same as found on its GeForce RTX 4090/4080 Trinity and Trinity OC models. While not yet confirmed, we expect Zotac will offer at least two configurations.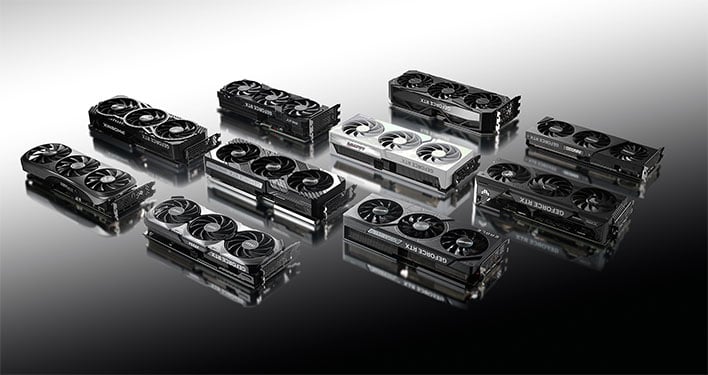 Not every add-in board partner has teased or otherwise fully unveiled their GeForce RTX 4070 Ti product stacks, but you can expect models from all the usual suspects. In the image above (shared by NVIDIA), we can make out custom models from Gigabyte, MSI, and others. These will all be appearing soon (starting today, we imagine), with the newest SKU bound for retail in just a couple days.