ASUS TUF GeForce RTX 4070 Ti OC Review: NVIDIA's Ada Lights Up CES
NVIDIA GeForce RTX 4070 Ti: Compute, Rendering And Encoding Tests
We tested all of the graphics cards represented in this article on a Gigabyte X570 Pro Wi-Fi motherboard, equipped with a Ryzen 7 5800X3D CPU and 16GB of G.SKILL DDR4 RAM clocked at 3,200MHz. The first thing we did when configuring the test system was enter the UEFI and set all values to their "high performance" defaults, then we disabled any integrated peripherals that wouldn't be put to use, and enabled Resizable BAR support. The memory clock was dialed-in to its optimal performance settings using its XMP profile and the solid state drive was then formatted and Windows 11 Professional installed and fully updated. When the Windows installation was complete, we installed all of the drivers, applications and benchmark tools necessary to complete our tests.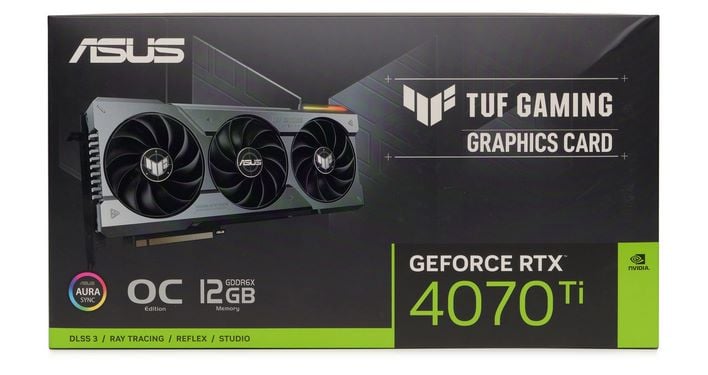 Our Test System Configuration:
---
Hardware Used:


AMD Ryzen 9 5800X3D


(3.4GHz - 4.5GHz, 8-Core)

Gigabyte Aorus X570 Pro Wi-Fi
16GB G.SKILL DDR4-3200


Samsung SSD 970 EVO




Integrated Audio / Network



ASUS TUF GeForce RTX 4070 Ti
NVIDIA GeForce RTX 4080
NVIDIA GeForce RTX 4090
NVIDIA GeForce RTX 3090 Ti
NVIDIA GeForce RTX 3090
NVIDIA GeForce RTX 3080 12GB


NVIDIA GeForce RTX 3080


AMD Radeon RX 6900 XT


AMD Radeon RX 6950 XT




Relevant Software:


Windows 11 Pro 22H2




AMD Radeon 22.11.1




NVIDIA Drivers v526.74/v527.62




Benchmarks Used:


LuxMark v4
Blender v3.3.0
Blackmagic RAW Speed Test v2.6
IndigoBench v4.4.15

UL 3DMark


UL VRMark


Unigine Superposition
CryTek Neon Noir
Final Fantasy XIV Endwalker
Assassin's Creed Valhalla
FarCry 6
Forza Horizon 5
F1 2022 / F1 2021
A Plague Tale: Requiem
Guardians Of The Galaxy
Fortnite

---
LuxMark v4.0 Benchmarks
LuxMark is a cross-platform, OpenCL-accelerated 3D rendering benchmark. It's a tool based on the open source LuxRender physically-based spectral rendering engine, which accurately models the transportation of light and supports high dynamic range. LuxRender features a number of material types to allow rendering of photo-realistic and artistic scenes. LuxRender is free software, licensed under the GPL, that offers plugins for packages like Blender, Maya, Cinema 4D and 3DS Max.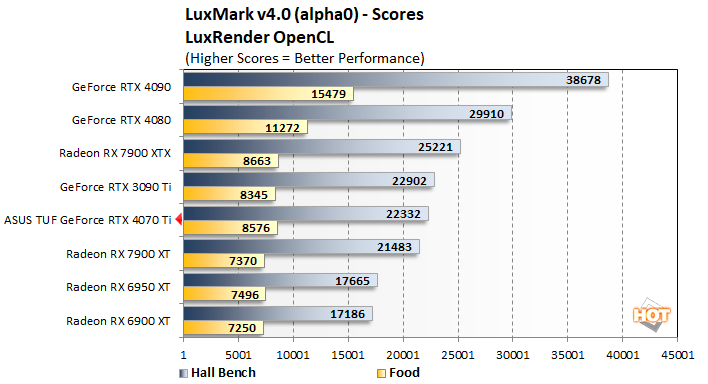 The GeForce RTX 4070 Ti traded blows with the previous-gen RTX 3090 Ti in Luxmark, besting the older card in the more taxing Food scene, but trailing slightly with the Hall Bench scene. Versus competition from AMD, the GeForce RTX 4070 Ti easily dispatches the RX 6000 series cards and the recently released Radeon RX 7900 XT, but the more powerful 7900 XTX finishes well ahead.
IndigoBench Rendering Benchmarks
IndigoBench is based on Indigo 4's advanced rendering engine and offers both CPU and GPU rendering modes for its two built-in models. The standalone benchmark is available for Windows, MacOS, and Linux and outputs results in M/Samples per second.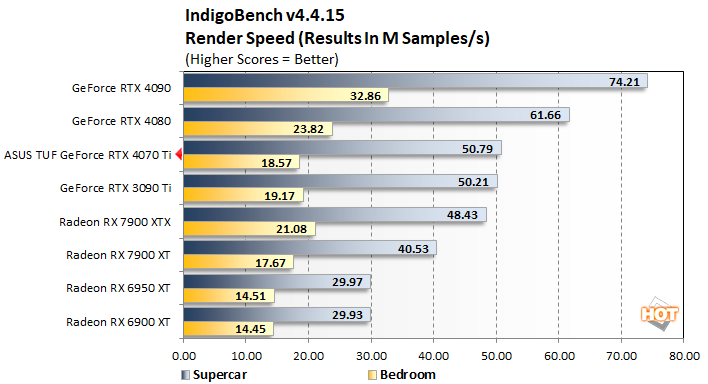 The GeForce RTX 4070 Ti also traded blows with the RTX 3090 Ti and Radeon RX 7900 XTX here, depending on the scene. The GeForce RTX 4070 Ti, however, clearly outperformed the Radeon RX 7900 XT and previous-gen Radeons.
Blender v3.3.0 GPU Rendering Benchmarks
Blender is a free and open source 3D creation suite that can handle everything from modeling, rigging, animation, simulation, rendering, compositing and motion tracking, even video editing and game creation. The developers offer a standalone benchmarking tool that will track performance while rendering a handful of models. We used all three of the default models for these tests...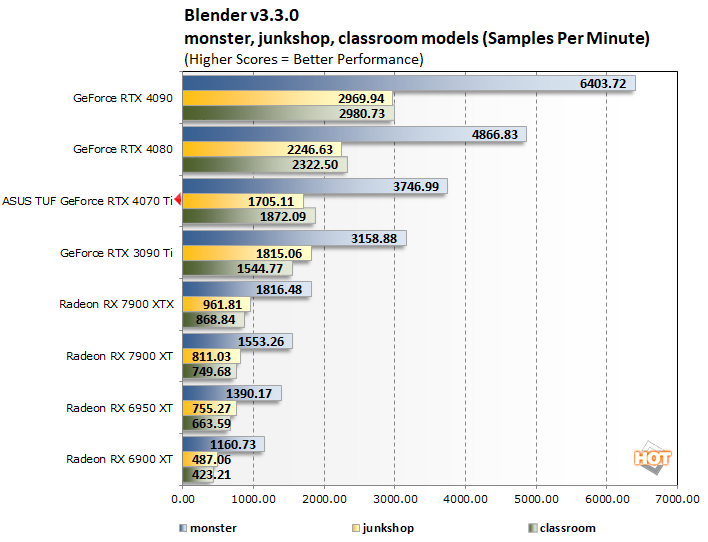 Blender is capable of exploiting NVIDIA's RT cores using the OptiX backend API, which results in a massive uplift in performance. As such, the RTX 40 series cards, including the new GeForce RTX 4070 Ti, absolutely crush the competition. The GeForce RTX 4090, RTX 4080, and RTX 4070 Ti finish in the top three spots here, while dominating the Radeons.
Blackmagic RAW Speed Test Results
The Blackmagic RAW Speed Test is a CPU and GPU benchmarking tool that tests the speed of decoding full-resolution
Blackmagic RAW
frames. The tool can be used to evaluate the performance at various resolutions and bitrates on the CPU or using OpenCL or CUDA on a GPU. We're reporting two results here, both at an 8K resolution, but at differing bitrates and compression levels.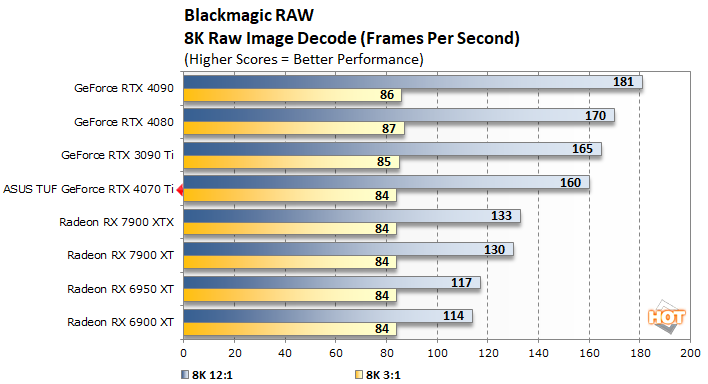 The GeForce RTX 4070 Ti land about in the middle of the pack in the Blackmagic RAW speed test. While all of the cards perform similarly in the 8K 3:1 test due to system level bottlenecks, with the 8K 12:1 workload clear deltas emerge. The 4070 Ti easily dispatches all of the Radeons, and slots in just behind the RTX 3090 Ti.
Related content