Lenovo Yoga C940 Review: A Great Ice Lake 2-In-1 Laptop
Lenovo Yoga C940: Battery Life, Teardown, Acoustics and Thermals
Lenovo Yoga C940 Battery Life Results
We've moved to PCMark 10's video playback endurance run for our battery benchmark. PCMark's test is not comparable to our own VLC-powered test, because it uses a different video and a different playback software:
Windows 10
's built-in TV and Movies app. That's a modern UWP app that will eventually put our older VLC build out to pasture. Still, we calibrated our displays to 115 lux as before, and did all of the other same sort of configuration tweaks. We disabled the screen dimming option when the battery is low, and turned on Windows 10's quiet hours so that alerts wouldn't bother us too much.

Overall, for a
4K
display, the Yoga C940 performed reasonably well. It's at the bottom of our chart here, but it's also the only system with a 4K display. We think that over time, as we get more notebooks onto this new test database, the Yoga C940 will prove out to offer respectable battery life. The other systems here only had 1920x1080 or 1920x1200 displays to light up, so the integrated GPUs and power sources didn't have to work nearly as hard. Regardless, 10 hours of battery life is solid, so we have no doubt road warriors will be satisfied with the battery life provided by the C940's 60 Wh battery config.
Lenovo Yoga C940 Teardown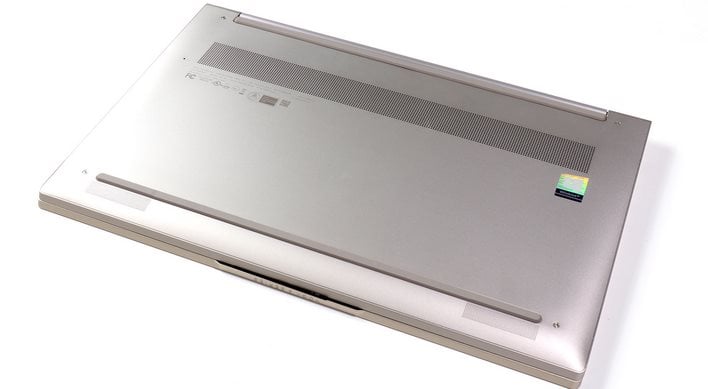 Getting into
Lenovo
's Yoga C940 14 is kind of a harrowing experience. Start by removing four Torx T5 screws, but don't start prying on the lid just yet—not all of the screws that need to be removed are immediately obvious. Next, peel the long plastic foot off the edge next to the hinge to see three small Phillips-head screws. That long bar-shaped foot is held on by clips and some glue, so take your time. Next, those Phillips screws have to come out, too. Then gently pry off the bottom. It's attached more tightly than some other systems we've dealt with lately, but with time, persistence and maybe a
plastic spudger kit for a little help
, it will spring free.
Finally. we're into the
Yoga
C940 and can get a gander of everything inside. Only the Intel SSD is user-serviceable as far as upgrades go, though it's readily accessible once the bottom is off the system. To the left of the motherboard we can see the active stylus sitting in its garage, ready to deploy for drawing and note taking. Below the motherboard is the larger-than-usual 60 Wh battery. Below the battery are the two downward-firing speakers we mentioned earlier. There are still more speakers in the hinge, but we can't get to those as easily.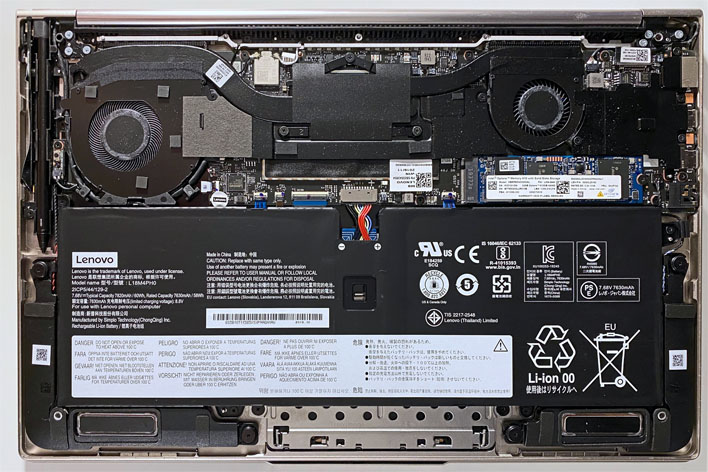 On the motherboard, we see a couple of heat pipes that go to a pair of fin arrays cooled by dual blower-style fans. Since the
Core i7
-1065G7 (
Ice Lake
) CPU is just a 15W processor, this
should
be plenty to keep the system cool under load. We'll test that in just a moment, because we already know that, in absolute terms, the Yoga C940 sometimes lags a little behind other 10th-gen Core-based thin and lights we've tested.
Yoga C940 Noise, Thermals, and Acoustics
The cooler inside the Yoga C940 seems like it should do a decent job of keeping its 15-watt Core i7-1065G7 cool under load. To test that out, we performed several consecutive runs of
Cinebench
R20 to keep the CPU under a heavy, multi-threaded load. The first run was very similar to the score we reported on the previous page, coming in at 1502. During the run, the CPU peaked at 3.1 GHz very early on, and then the speed descended down to 2.7, and eventually settled in at 2.4 GHz by the end of the run. We think this explains why the scores put up by the C940 trail Dell's
XPS 13
duo by a bit, because those CPUs spend more time at somewhat higher clock speeds, and finished their first runs at 2.6 GHz.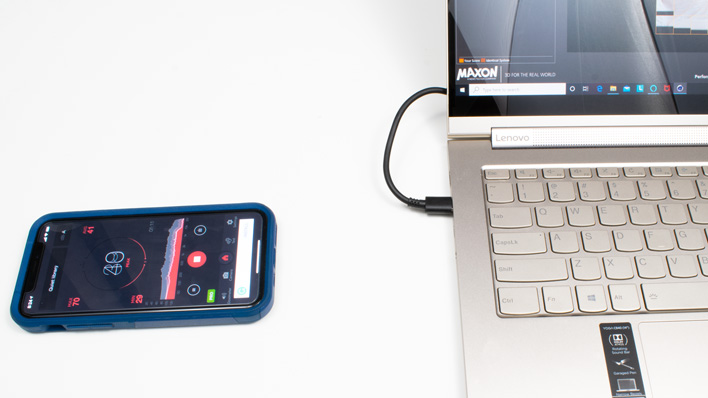 During that run, the
Yoga C940
's processor got up to a toasty (but not thermally-throttled) 95 degrees Celsius. During that time, the fans sped up a fair amount and were audible, but hardly what we'd describe as annoying. On our decibel reader, in our 30-dBA room, we measured the C940's fans as only putting out 39-40 decibels. Since those blower-style fans are rather small, it was kind of high pitched, but we didn't find it to be overly distracting. For reference, once you get north of 45 - 50dBA, things get pretty distracting for most folks. Unlike Dell's Power Manager, Lenovo Vantage's power settings didn't have any crazy tricks up their sleeves.
On the other hand, those fans hardly spun up at all over the course of writing this article on the system using
Google Chrome
and Microsoft Excel to generate our graphs. Overall, the system is very quiet, even under load. We think the CPU probably had a little more giddyup leftover, but Lenovo tuned the system to stay quiet at its default settings. Since the performance in very burst-centric loads, like Speedometer, is roughly on par with other similarly-configured systems, we think the C940 is a very fine productivity ultrabook.
In subsequent runs of Cinebench, the CPU would hover in the 2.4 to 2.5 GHz range throughout, and that dropped the score to around 1350. That's a dip of right at 10%, but that's actually closer to the under-load score of the
Dell XPS 13
—which averaged around 1430 in those runs—than it was in the first pass. Still, the fans never got annoyingly loud, and the temperatures started to drop, and settled in around 75 degrees Celsius.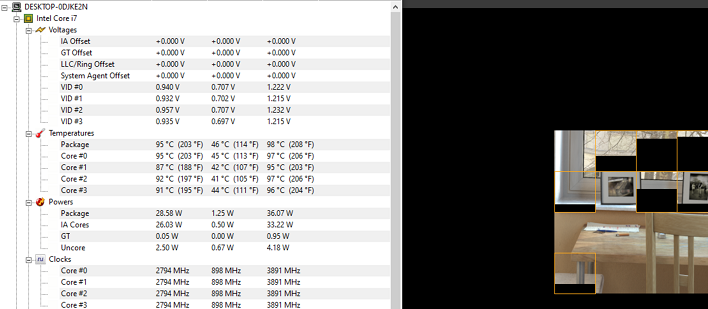 It took around 45 seconds of sitting idle for temperatures to return to the low 40s Celsius as the
Yoga
sat idle. Once we allowed the C940 to cool itself, one final pass of Cinebench again scored up over 1500, and the CPU's behavior was the same as the first run and once again boosted up over 3 GHz. The cooling system's default tuning isn't necessarily better or worse than other Ice Lake systems we've tested, it's just focused more on quiet operation. Lenovo focused on silence over outright performance, and that's fine. Cinebench or long rendering workloads similar to the benchmark are not the primary focus of a notebook in this weight class.
In tablet mode while off the battery, the system does get a little warm in the hands, but it's never uncomfortable. Under a heavy web load like Speedometer and JetStream, the temperatures got up to around 65 Celsius, but the body never got hot enough to burn our hands. We had more issues with the unwieldly nature of the machine in table mode than we did the temperatures. As a tablet, the Yoga C940 is decent enough to work with, once you get used to it, but a 14-inch tablet is large no matter how you slice it.
Lenovo Yoga C940 14": The Review Summary
Lenovo's Yoga C940 is a really nice-looking, premium 2-in-1 convertible laptop. Built into an aluminum chassis, the Mica finish is quite fetching, and its unusual reflective properties make it interesting to look at in different lighting environments. It shifts between champagne, gold, silver, and almost pink as it reflects the lighting in the room, but it's always subtle in color and doesn't scream "LOOK AT ME" like an
RGB
-infused gaming laptop. Overall it won't look out of place in the board room or coffee shop, and might even get some compliments in a business setting.
The C940 is a larger format convertible laptop, at least comparatively speaking. Its 14" 3840x2160 UHD display demands a slightly larger footprint, and Lenovo made the decision to endow the machine with enough bezel to make it easy to hold. We feel that was a good decision, because those bezels do make the machine a bit easier to work with in quick tablet mode grabs. Lenovo also offered something we haven't seen in too many convertible notebooks with its garaged active stylus, and better yet, it's not a costly add-on.
HP
and Dell styluses are always options, so they cost more, and they rely on magnets to hold them to the host system. Lenovo neatly sidestepped both issues and we appreciate that, and we think note-takers and artists alike will find it convenient that the stylus is always charged and ready to go.
Performance-wise, the Yoga C940 is a little bit of a mixed bag. In bursty workloads, like our web browsing tests or Geekbench, performance was roughly on par with other systems with a
Core i7-1065G7
. On the other hand, sustained loads like Cinebench took a notable performance hit. That's because this laptop's cooling system is tuned to keep the sound output down, not maximize sustained performance. We don't disagree with this choice, because the silence makes the system even more pleasing to use and we don't think most users will notice the occasional performance bleed-off. Those sustained strains are not what an ultralight laptop is built to endure. However, that does also affect gaming performance, so road warriors that like a little light duty gaming on the side might not get all the FPS that another Iris Plus-enhanced system might see.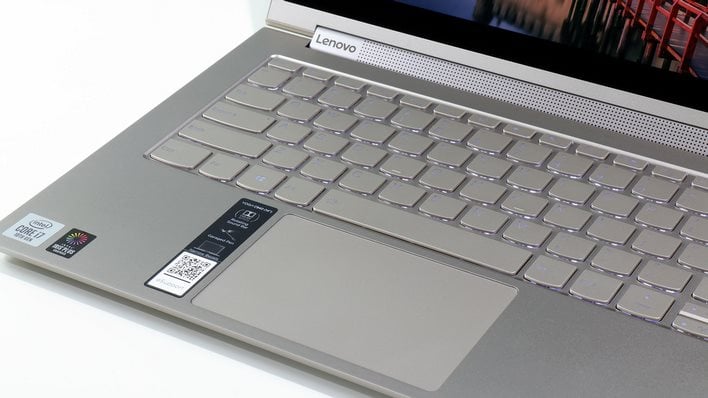 Using the system like we think most business users will, however, we were quite pleased. The 720p webcam is plenty for Skype or WebEx and
Zoom
meetings, and the speakers are both loud and clear in common vocal ranges. The built-in microphones did a good job of noise canceling, too. The bigger 14" display allowed for slightly lower scaling percentage of 225% in Windows, where most 13" 4K systems stick to 250% by default. That gets just a bit more data on the display when you need it, and we appreciated that while editing charts in Excel.
Price-wise, Lenovo is fairly
aggressive with the 14" Yoga C940
. Our test system had a Core i7-1065G7 quad-core processor, 16GB of fast LPDDR4x-3733 memory, and a 512GB SSD with 32GB of Optane cache. We also had the optional 4K 500-nit display,
Dolby Atmos
-certified speakers, and the garaged stylus. All of that will set you back $1,499, which was $250 less than our 4K XPS 13's retail price on Dell's website. If that's still a bit too much scratch for your budget, the base configuration has a 1080p touch display, a Core i5-1035G4, 8GB of LPDDR4x memory, and a 256GBSSD
for around $1,079
. The Dell XPS 13 2-in-1 starts a little bit below that, but it has to get by with half the RAM and a dual-core Core i3-1005G1. An equivalent XPS 13 2-in-1 will push closer to $1,300.
Overall, there's a whole lot to like in Lenovo's 14-inch
Yoga C940
. Svelte looks, good performance, and a clever stylus combine for a unique and interesting package that won't break the bank. Including the stylus in its own charging silo, and great starting and upgraded pricing, makes the system an very solid value for folks in the market for a 2-in-1 premium laptop. For that reason, we gladly bestow upon it HotHardware's Recommended Award.





10th Gen Core i7 performance

Premium materials and a classy look

Big, bright, and beautiful 14" UHD display

Included active stylus in its own storage silo

Very quiet default settings, even under a load

Good battery life for the 4K display model

RAM cannot be upgraded
AMD's Ryzen 4000U family is on the horizon
A little unwieldy as a tablet
Related content
Comments