Lenovo Yoga Book 9i Review: A Dual Display Laptop Done Right
Lenovo Yoga Book 9i: CPU, System Performance, And Graphics
Before we dig into the system-level benchmarks, we present the ATTO disk benchmark. This is a quick test to measure sequential read and write bandwidth on the system's SSD, across differing data sizes. While we don't use this test for directly comparing systems, it is useful to get a feel for how fast the drive is...
ATTO Disk Benchmark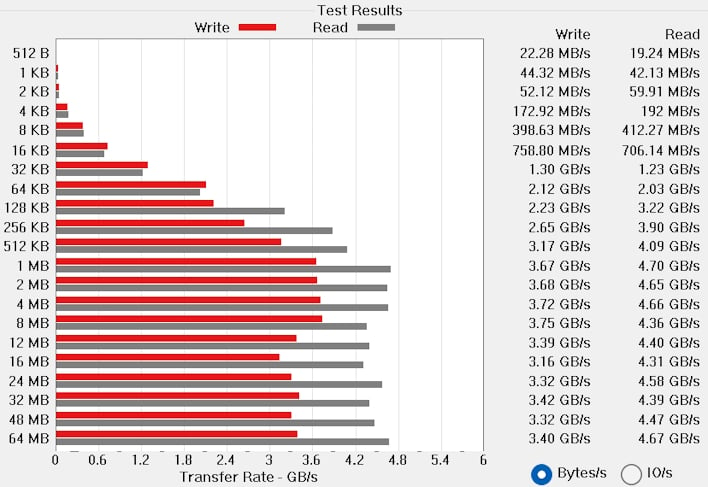 As it turns out, the 512GB NVMe M.2 SSD in the Yoga Book 9i is not the snappiest we have seen. It even trails the SSD of the
Lenovo Yoga 9i Gen 8
that we looked at earlier this year by a small margin. However, it is still plenty fast for everyday computing.
Speedometer 2.0 Browser Benchmark
We use BrowserBench.org's Speedometer test, which takes a holistic look at web application performance, to gauge a mixed internet usage experience. This test automatically loads and runs several sample web apps from ToDoMVC.com using the most popular web development frameworks around, including React, Angular, Ember.js, and vanilla JavaScript. This test is a better example of how systems cope with real web applications, as opposed to a pure JavaScript compute test like JetStream.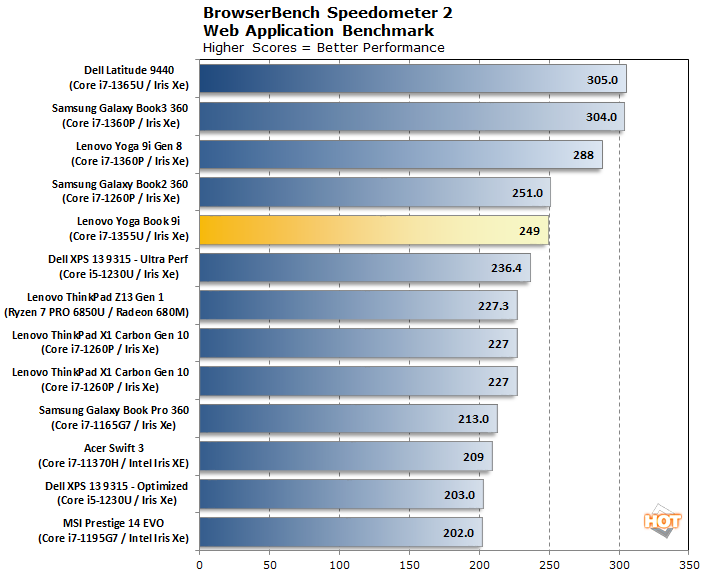 Though the Yoga Book 9i did well in this test, and lands right about where you would expect given the CPU in the system. The low power U-series processor isn't going to compete with its higher-powered Raptor Lake siblings, but it does finish ahead of older Intel and AMD parts.
Cinebench R23 Rendering Benchmark
Up until this week, this was the latest 3D rendering benchmark from Maxon, which is based on the Cinema 4D R23 rendering engine. We tested both single-threaded and multi-threaded performance on all of the notebooks represented here...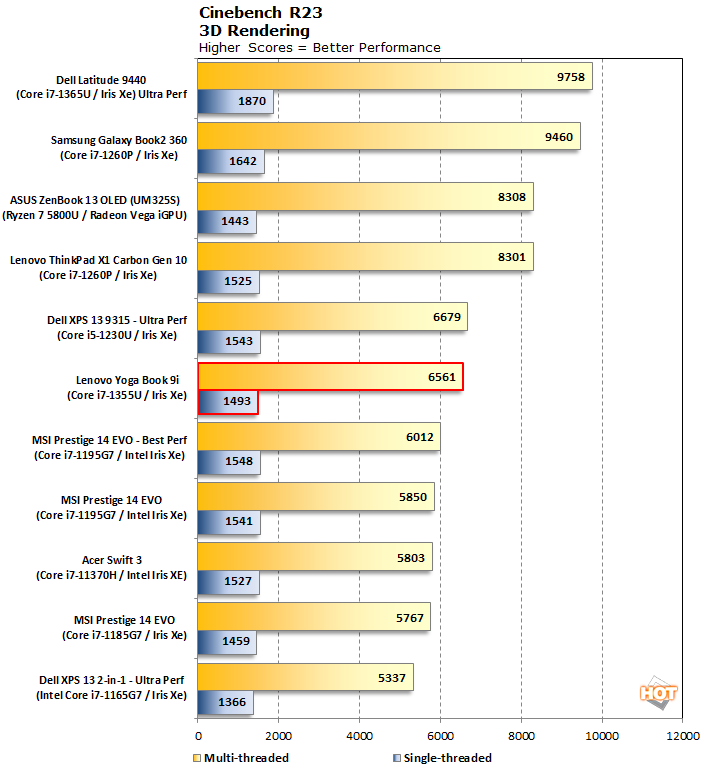 Similar to the Speedometer benchmark, the Yoga Book 9i falls in line just about where you'd expect it to once more. However, this time, it was outpaced by notebooks with previous generation Intel processors, one bin hihger in the stack. Perhaps this was due to a difference in thermals or a hiccup with Lenovo's power management, but either way, we would not expect users of a notebook like this to do being much 3D rendering.
Geekbench 5 Benchmarks
Geekbench is a cross-platform benchmark that simulates real world processing workloads in image processing and particle physics scenarios. We tested the notebooks featured here using Geekbench's single and multi-core workloads...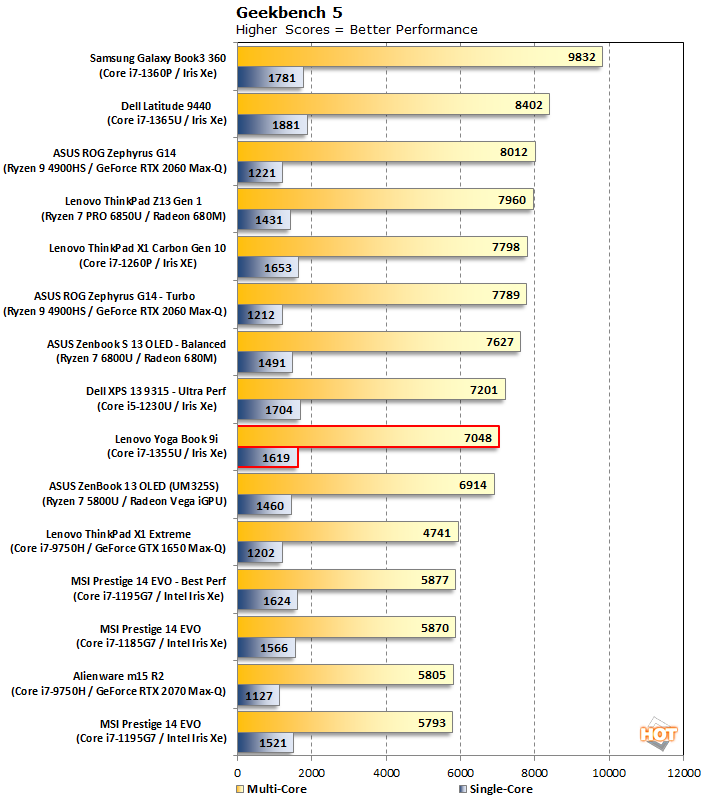 No surprises here once again, with the Yoga Book 9i beating out a number of other older laptops. However, it is curious is that the machine came in under the
Dell XPS 13 9315
with an i5-1230U. We suspect the Yoga Book 9i's 13th Gen chip is more prone to throttling or that it's power profile is more conservative to keep thermals in check.
PCMark 10 Productivity and Content Creation Benchmarks
PCMark 10 uses a mix of real-world applications and simulated workloads to establish how well a given system performs productivity tasks, including image and video editing, web browsing, and OpenOffice document editing. While these scores appear to be all over the place, the systems are sorted by their overall PCMark score, which is the third (gray) bar in each group.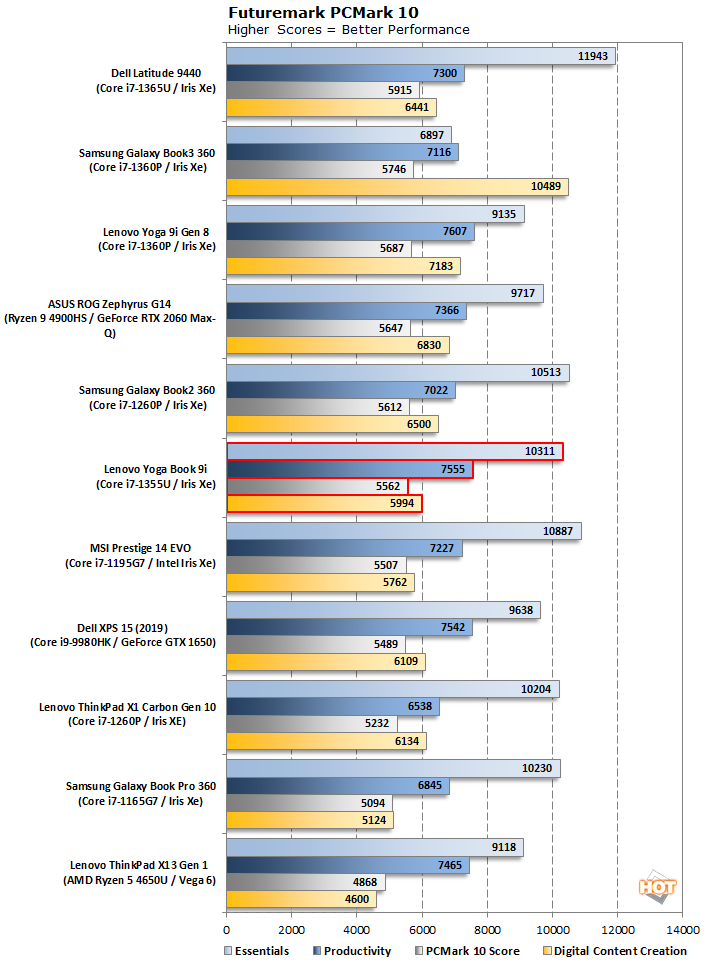 This group of tests is focused on performance in common productivity applications, and we are not surprised this laptop excels in this area. Setting aside the actual benchmark scores, the dual displays on the Lenovo Yoga Book 9i help improve productivity as well. Not only is performance good, but the machine is configured in such a way to help users get actual work done.
3DMark Graphics and GPU Tests
3DMark has several different graphics tests which focus on different types of systems. We tested here with Night Raid, which is 3DMark's targeted benchmark for laptops with integrated graphics. This test presents a solid challenge for the system's CPU and GPU engines using DirectX 12's API.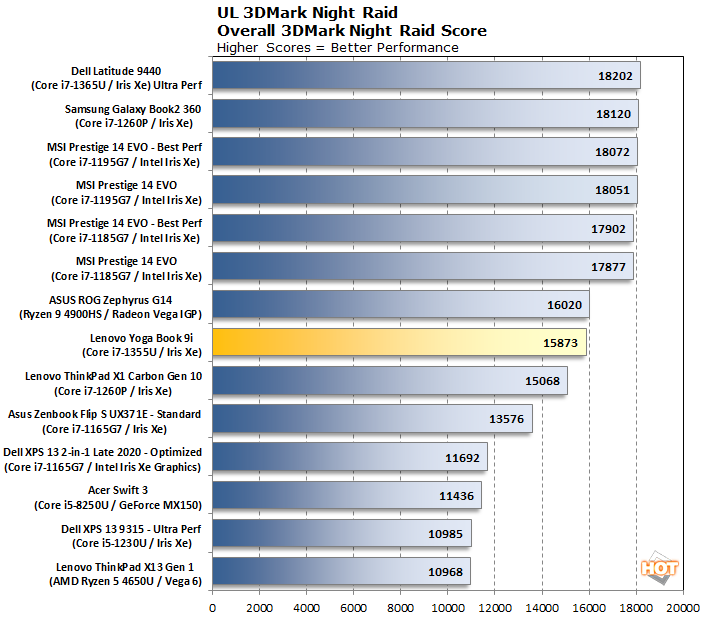 As you can see, performance lands just a notch ahead than previous-gen Intel systems with similar integrated graphics.
We also tested Fire Strike Extreme. This DirectX 11 test is more intensive, originally developed for gaming desktops, but it's old enough that thin and light notebooks can still churn through it...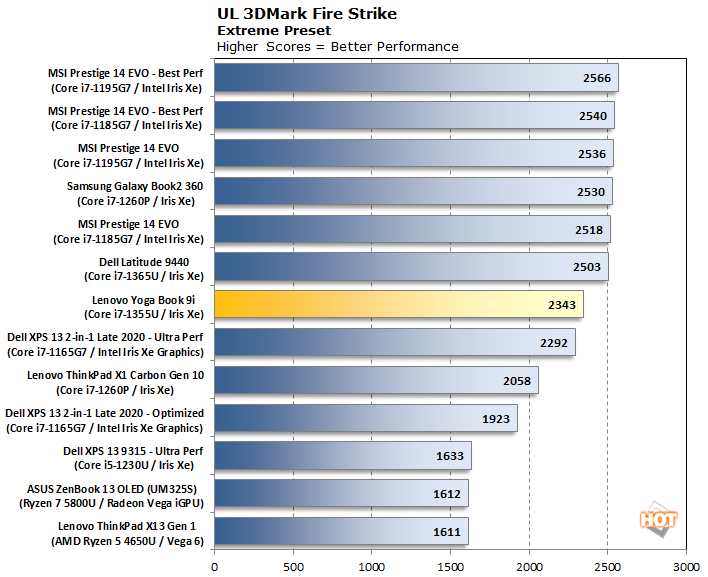 The Lenovo Yoga Book 9i is not really meant to be a gaming machine, but it does relatively well in both tests, beating out several other comparable laptops.
In-Game Graphics Tests
Middle Earth: Shadow of War is a fun and beautiful title set in Tolkien's Lord of the Rings universe. To test the game's performance relative to other systems, we set the resolution to 1920x1080 and turned the visuals up to the High preset. The frame rates here are the average reported by the built-in benchmark.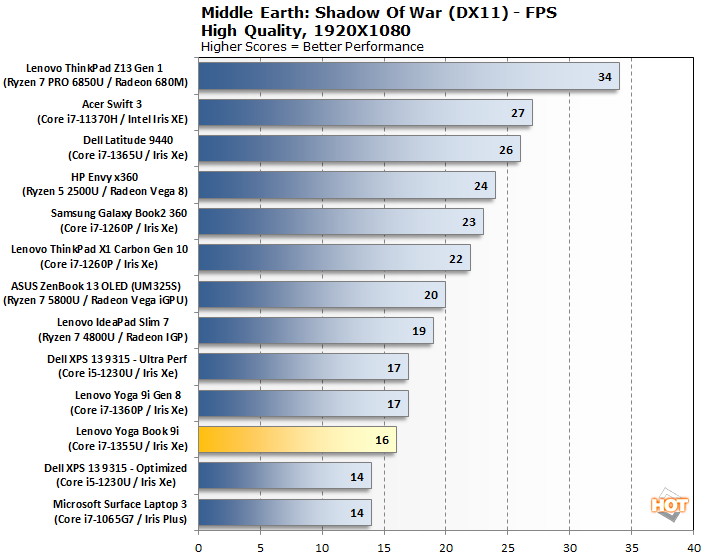 For Gears Tactics, we used a similar resolution, but tested the game with its Low, Medium, and High presets to see how it scales. The frame rates here are the averages reported by each game's built-in benchmark utility.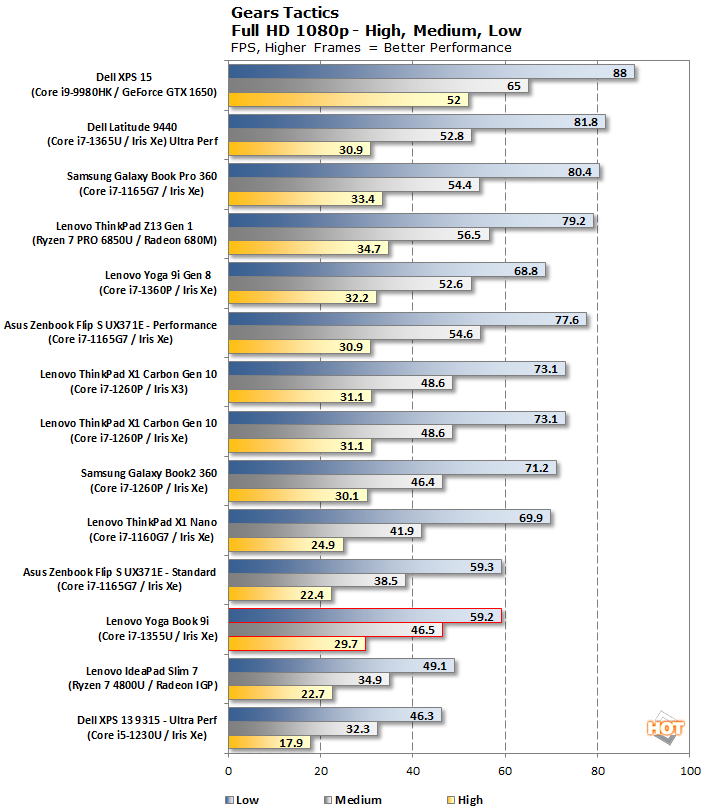 Ultimately, the Yoga Book 9i performed admirably given that it is not meant to be a gaming laptop. Do not expect to be playing triple-A titles with this device, but more lightweight games are not out of the question.
Related content