Lenovo Yoga 7i Review: Premium Intel Evo Laptop On A Budget
Lenovo Yoga 7i 2-In-1: Evaluating Performance
Before running our selection of benchmarks, we apply the latest Windows and driver updates to the system we are testing (in this case, the Yoga 7i). Other than that, we do not change any settings. Our goal is to test the system as it ships, but after auto-updating, to accurately reflect what buyers can expect from an out-of-box experience.
ATTO Disk Benchmark
Peak Sequential Storage Throughput
The
ATTO disk benchmark
is a fairly quick and simple test which measures read/write bandwidth and IOPS across a range of different data sizes. We get a pair of results at each data point: bandwidth measured on MB per second (or GB per second if the result is that high), and input/output operations per second (IOPS).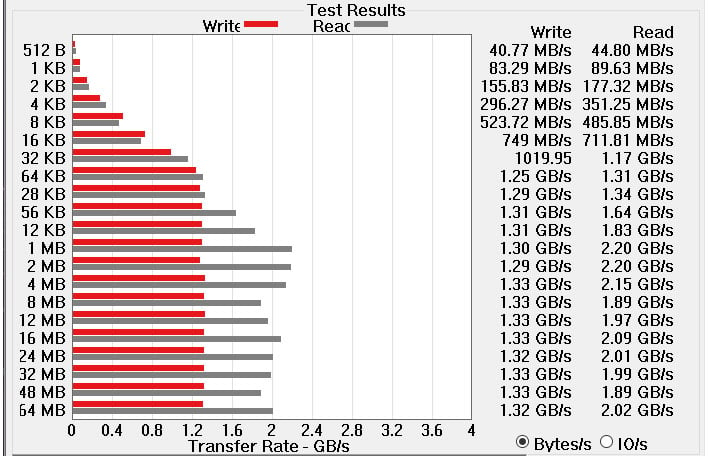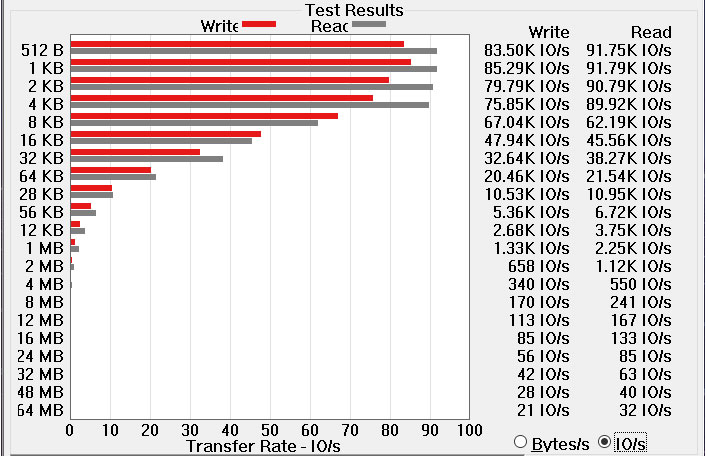 Our system arrived with a 512GB Samsung PM991 NVMe SSD, which is rated to deliver sequential reads of up to 2,200MB/s and sequential writes of up to 1,200MB/s. And it hit and even exceeded those rated metrics in ATTO. In our benchmark run, sequential reads peaked at 2,200MB/s, just as advertised, while sequential writes climbed to 1,330MB/s, which is higher than advertised. Good stuff.
Looking at the measured IOPS, reads peaked at 91.79K IOPS, while writes hit 85.29K IOPS. Neither is quite as advertised, but decent overall. The bottom line is, for the vast majority of workloads, the storage in this the Yoga 7i is not going to drag down performance.

Speedometer Web Application Benchmark
Browser Performance
We recently moved on to BrowserBench.org's
Speedometer
test, which takes a holistic look at web application performance. This test automatically loads and runs several sample webapps from ToDoMVC.com using the most popular web development frameworks around, including React, Angular, Ember.js, and even vanilla JavaScript. This test is a better example of how systems cope with real web applications, as opposed to a pure JavaScript compute test like JetStream. All tests were performed using the latest version of Chrome.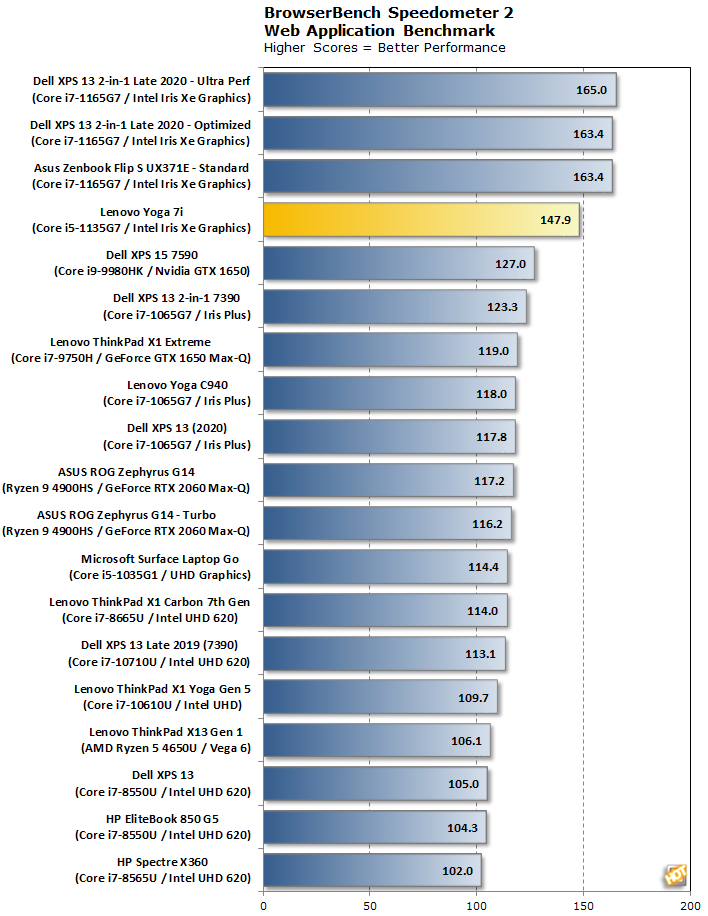 Our
early experiences with Tiger Lake
have shown it performing very well in this benchmark, and the Yoga 7i with its Core i5-1135G7 continues the trend, taking a No. 4 position behind three other benchmark runs with the faster Core i7-1165G7. This is what we alluded to earlier—there will inevitably be a performance hit when comparing the Core i5-1135G7 to faster Tiger Lake SKUs, but it is not a giant one. And compared to every non-Tiger Lake part, the Yoga 7i stands strong.
Cinebench R20

3D Rendering Performance
The current version of Maxon's rendering benchmark,
Cinebench R20
us a sustained multi-threaded workload, which makes it a good indicator of how well the cooling system performs. This version is a pure CPU benchmark, and we tested both single-threaded and multi-threaded performance here.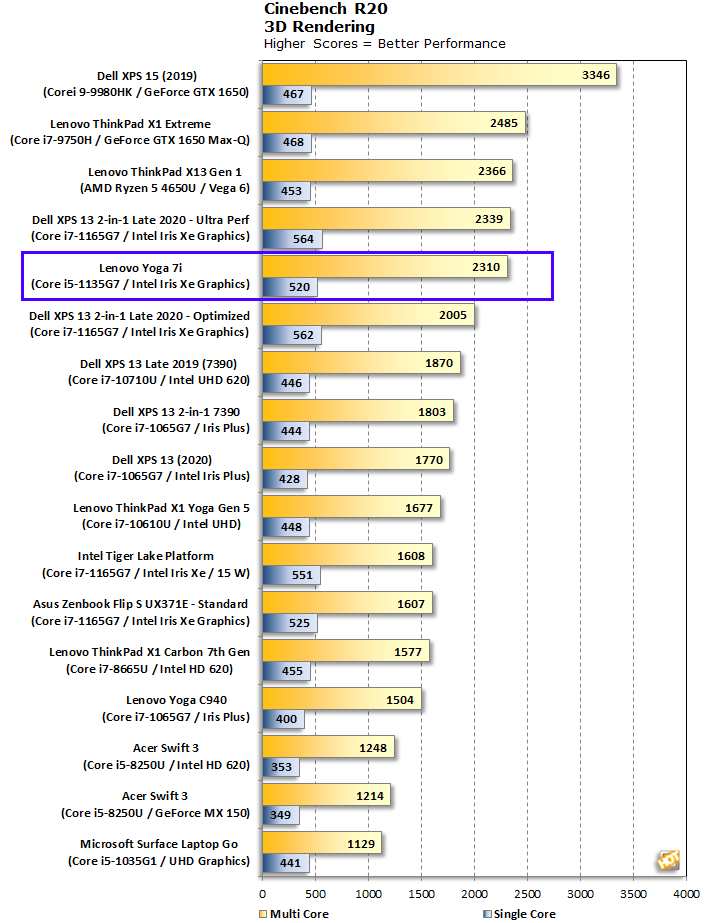 Here we see another strong showing from the Yoga 7i and the Core i5-1135G7. If sorting by multi-core performance, as we have done in our graph above, it performs nearly on par with
Dell's XPS 13 2-in-1
with a faster Tiger Lake chip inside. There is some spunk to this 4-core/8-thread chip.
Sorting by single-core performance would not change the Yoga 7i's position—it would still reside in fifth place among the laptops compared here, with a score of 520. Interestingly enough, all five scores breaching the 500 mark belong to Tiger Lake, including the lower end Core i5-1135G7.

Geekbench 5

Single and Multi-Core Performance
Geekbench
is a cross-platform benchmark that simulates real world processing workloads in image processing and particle physics scenarios. We tested the notebooks featured here in Geekbench's single and multi-core workloads.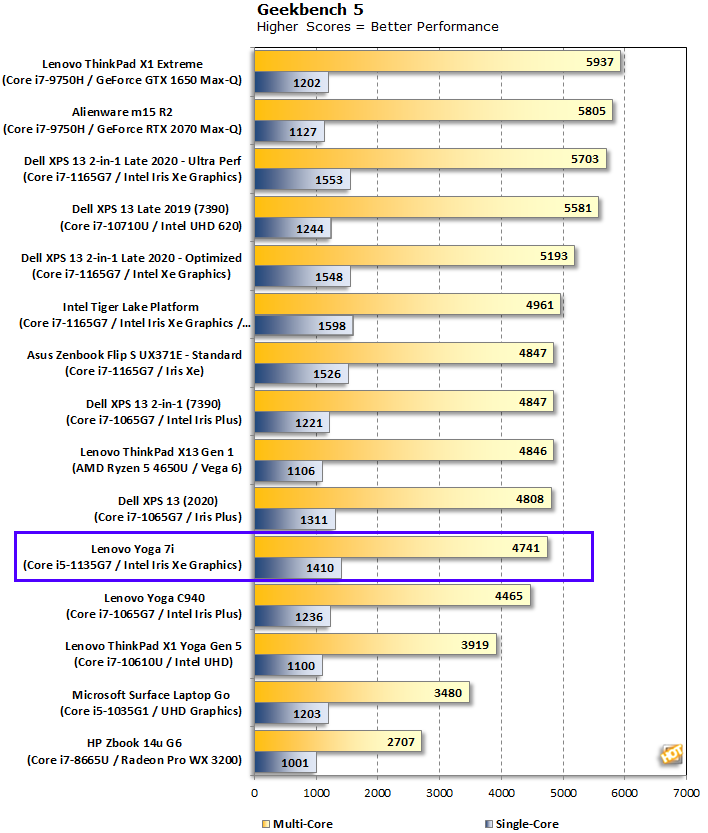 In our comparison of Geekbench 5 scores, the Yoga 7i falls several pegs. However, the multi-core scores of the entire middle of the pack are all very close to one another. And if we shift our focus to the single-threaded performance, the Yoga 7i's score of 1,410 catapults it towards the top of the pack into the No. 5 spot, which further underscores the performance capabilities of Intel's Tiger Lake architecture, even in a mid-range part.
PCMark 10

Productivity and System-level Benchmarking
PCMark 10
uses a mix of real-world applications and simulated workloads to establish how well a given system performs productivity tasks, including image and video editing, web browsing, and OpenOffice document editing. While these scores appear to be all over the place, the systems are sorted by their overall PCMark score, which is the third (gray) bar in each cluster.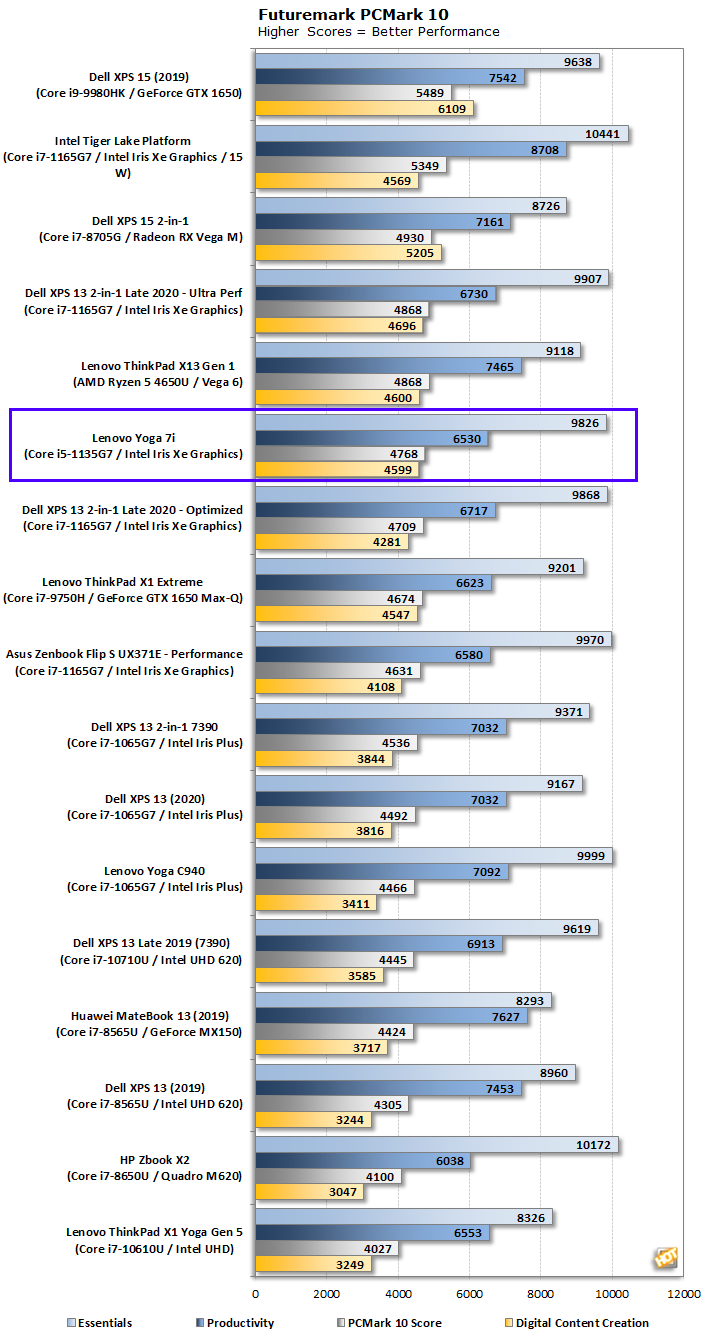 This particular benchmark gives us perhaps the best snapshot of the Yoga 7i's intended performance, as the focus is squarely on productivity. Sorting by the overall score, the 14-inch laptop slots into the No. 6 spot, coming in just behind
Lenovo's ThinkPad X13 Gen 1
with a Ryzen 5 4650U CPU inside. All of the individual scores here are fairly strong, too, not just the overall one. This is where we want to see a laptop like this flex.
3DMark Benchmarks
3D Performance
3DMark
has several different graphics tests which focus on different types of systems. UL seems to have discontinued support for Cloud Gate, but fortunately there are a couple of tests remaining that run well on integrated graphics. First up is Sky Diver, which uses the DirectX 11 graphics API.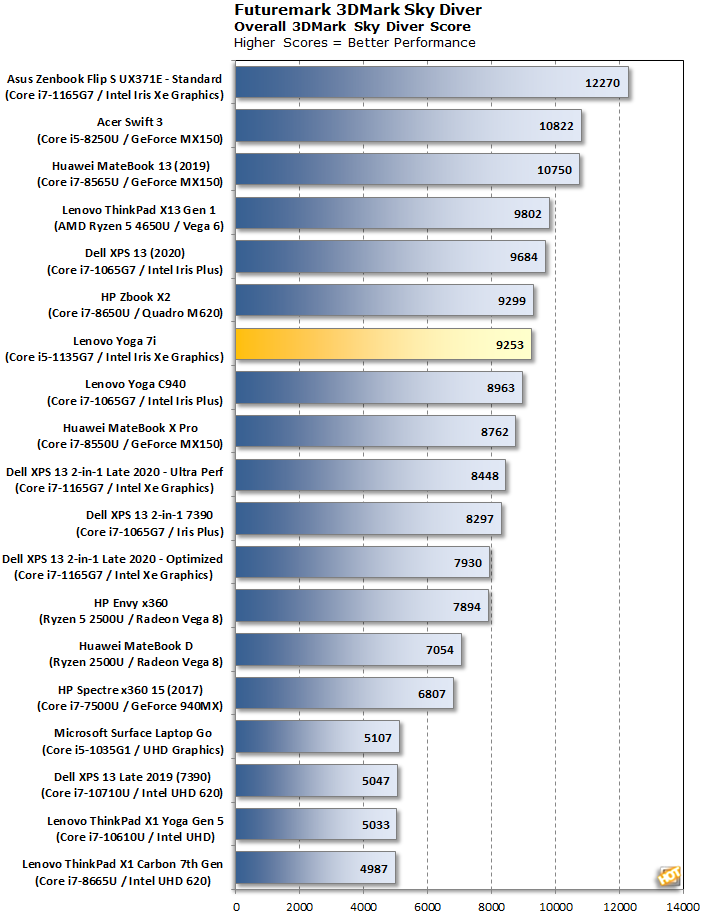 We have seen that the Yoga 7i can handle itself well in productivity chores, but what about gaming and graphics? Intel is mighty high on its Xe architecture, and in 3DMark's Sky Diver test, it came out ahead of laptops with various other GPU solutions, like the GeForce MX150, Radeon Vega 8, and previous gen UHD 620 solutions. So far, so good, but will it hold up?
Here is a look at 3DMark's Night Raid test...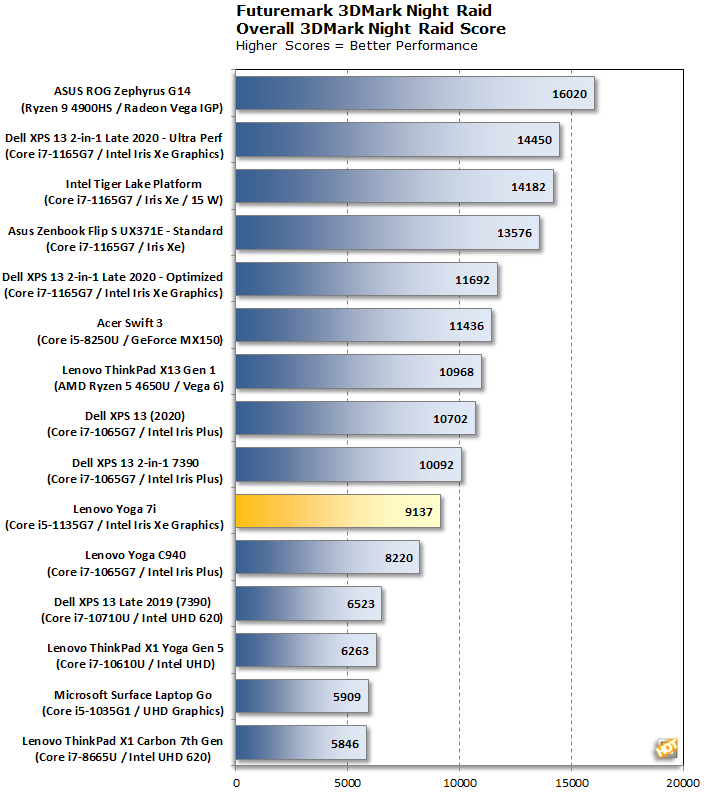 We have seen Intel's Iris Xe graphics perform rather well in this benchmark, and certainly the Core i5-1135G7 lifted the Yoga 7i above some previous generation laptops, but there is a sizable gap between it and the Core i7-1165G7. Why is this?
Well, it partially comes down to the number of execution units. Both the Core i7-1165G7 and Core i5-1135G7 are running Iris Xe graphics, but whereas the Core i7 part has the benefit of 96 EUs, the Core i5 SKU is working with 80 EUs. The max graphics clock is the same (1.3GHz), but with fewer EUs, the Core i5-1135G7 is just not going to put up the same level of graphics performance as the Core i7-1165G7.
However, that alone does not explain why the performance dips below last generation's Iris Plus graphics. We suspect the comparatively low memory speed is also to blame. This laptop is using DDR4-2666 memory, whereas the Dell XPS 13 with a higher end Tiger Lake CPU is using DDR4-4267 memory. Some Tiger Lake laptops go all the way up to DDR4-4733, and as we are seeing some graphics tests, memory speed matters here.

Next up is 3DMark's Fire Strike Extreme test...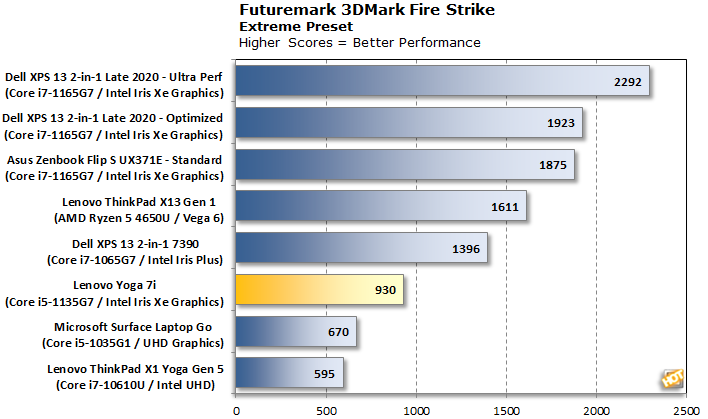 We see this play out more prominently in the more demanding Fire Strike Extreme test. At its best, the Core i7-1165G7 scored north of 2,000 in this benchmark, while the Core i5-1135G7 is not able to propel the Yoga 7i to quadruple digits, settling in at 930.
It is a lower end graphics solution, plain and simple. However, it is still faster than Intel's UHD graphics, with a core that is nearly double that of
Lenovo's ThinkPad X1 Yoga Gen 5
.
GRID Autosport
Gaming Performance
GRID Autosport
is a cross-platform racing simulation developed by Codemasters. The developer wanted to make up for GRID 2, which released to mediocre reviews from critics and gamerse alike. Codemasters set out to improve
GRID Autosport
's handling and environment rendering to make it a true racing simulator. The third GRID game is built on Codemasters' EGO engine that boasts more realistic physics and damage systems to add a bit of danger and some extra realism to the racing. Codemasters also tuned its graphics engine to perform well over a wide variety of mainstream systems, which makes it a great test for systems with integrated graphics. Codemasters also promotes that
GRID Autosport
is "optimized for integrated Intel HD Graphics", which is certainly something. We tested at 1080p with the High image quality preset.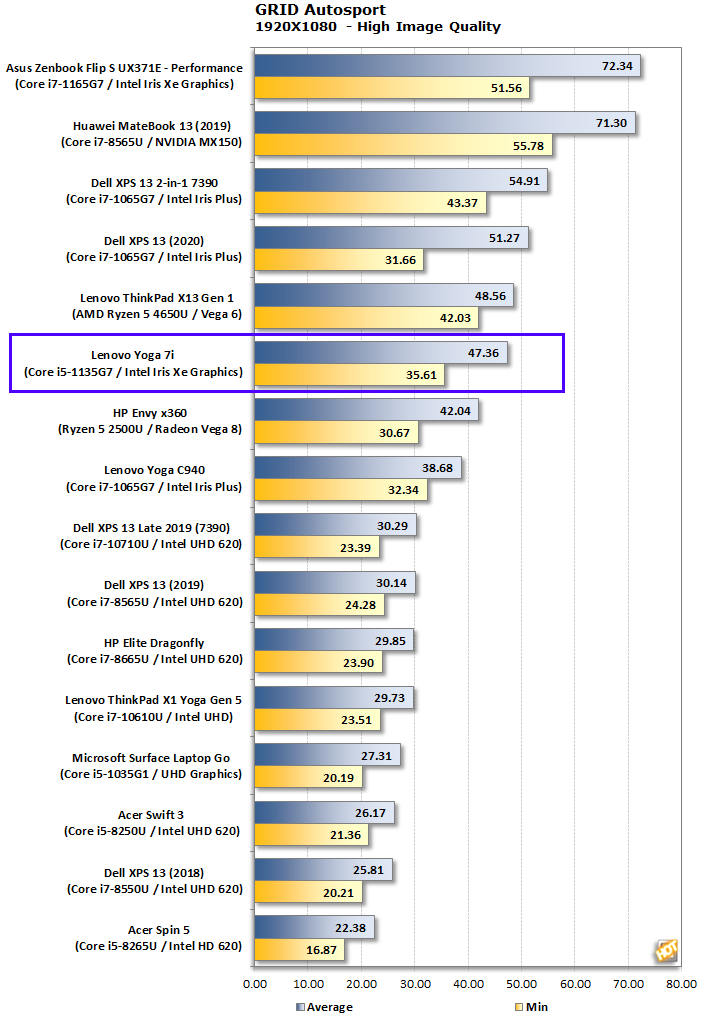 The Yoga 7i is not built for gaming, though even with a lower tier Tiger Lake chip on board, it is enough to obtain playable framerates in Grid Autosport at 1080p, with the high image quality preset, no less. You will not muster 60 frames per second, but 47 fps is not too shabby for a system like this.

That said, there are stronger integrated solutions for gaming, as we see with the Dell's XPS 13 coming out ahead, and the
ASUS Zenbook Flip S
coming way out ahead.
Gears Tactics
UE4 Gaming Performance
Gears Tactics is a much more recent title that runs on the Unreal 4 Engine. It's a pretty fun tactical real-time strategy game, and has a wide array of graphics options that can look pretty great if the system is up to the challenge. We turned off all the automatic frame rate adjustments, turned the resolution up to 1080p, and then tested at Low, Medium and High details settings.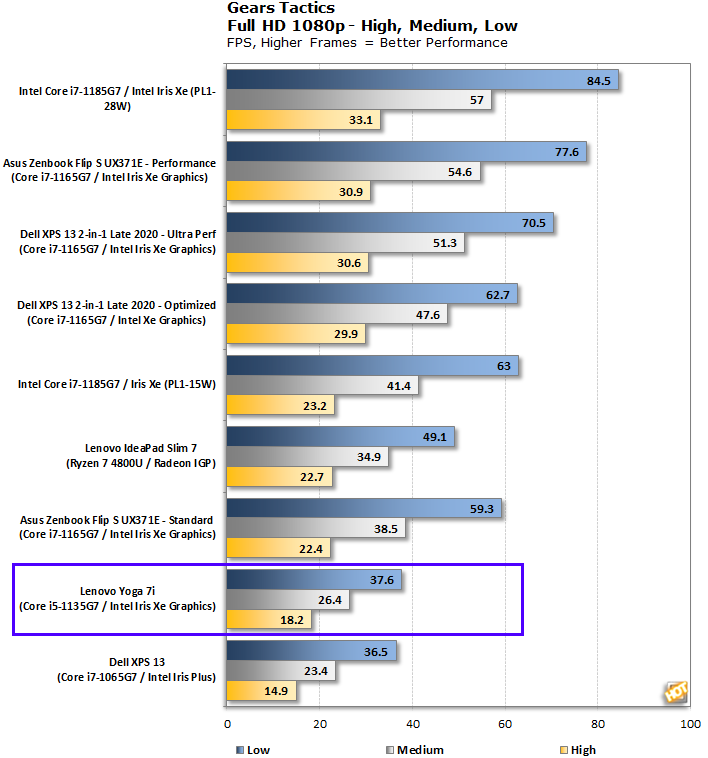 At a glance, it looks like the Yoga 7i fell off a cliff in this benchmark, and to an extent it did—Gears Tactics is only barely playable at 1080p at low settings, and not really playable at medium or high. That is in stark contrast to the systems with faster Tiger Lake chips, which show that a beefier implementation of Xe can top 60 fps in this game.
The flip side is that nearly all of the included comparison laptops are running faster Tiger Lake solutions, as we only recently started including this benchmark in our gamut of tests. Intel's previous generation UHD graphics would undoubtedly be even worse here. Still, the point remains that in games like this, the Yoga 7i is going to struggle.
Let's move on to battery life and our final thoughts...
Related content
Comments