Lenovo Yoga 7i Review: Premium Intel Evo Laptop On A Budget
Lenovo Yoga 7i 2-In-1: Acoustics, Battery Life And Our Verdict
The Lenovo Yoga 7i 2-in-1 is not an especially noisy laptop. There are vents on the back and bottom to exhaust hot air, which gets actively pushed out with a decently sized single 50mm fan. In our usage, it took quite a bit to get this machine's fans to ramp up.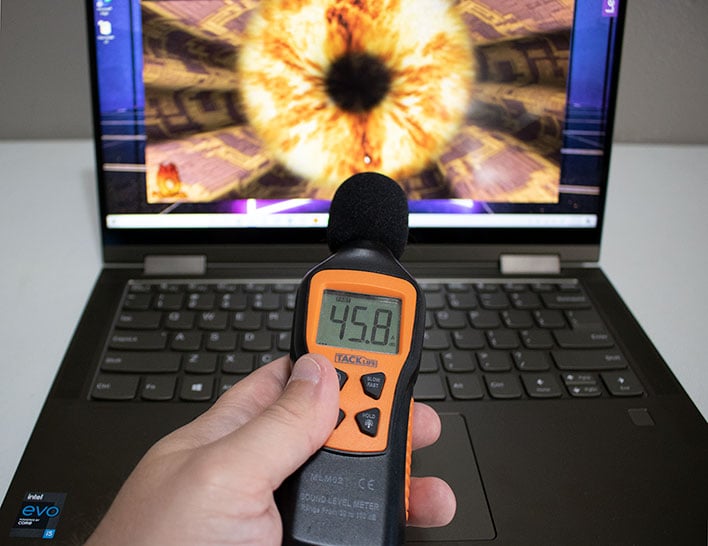 Even after a few minutes of running Prime95 and Furmark simultaneously to fully stress the CPU and GPU, the laptop did not get loud by any stretch. You can definitely hear the fan spinning and working to remove hot air, but it is more of a polite whir. At full blast, we recorded around 46-48 decibels with our noise meter. We'll take it.

HotHardware Custom Video Loop
Battery Life Performance
We run a custom 1080p HD video loop test developed in-house, to prove out battery life with our test group of machines. In all tests, Windows 10 Quiet Hours has been enabled and the displays are calibrated with lux meters on pure white screens to as close to 115 lux as possible. For the average laptop this is somewhere between a 40-60 percent brightness setting. In the case of the Yoga 7i, this required lowering the brightness to 78 percent on the slider in the Windows 10 sidebar.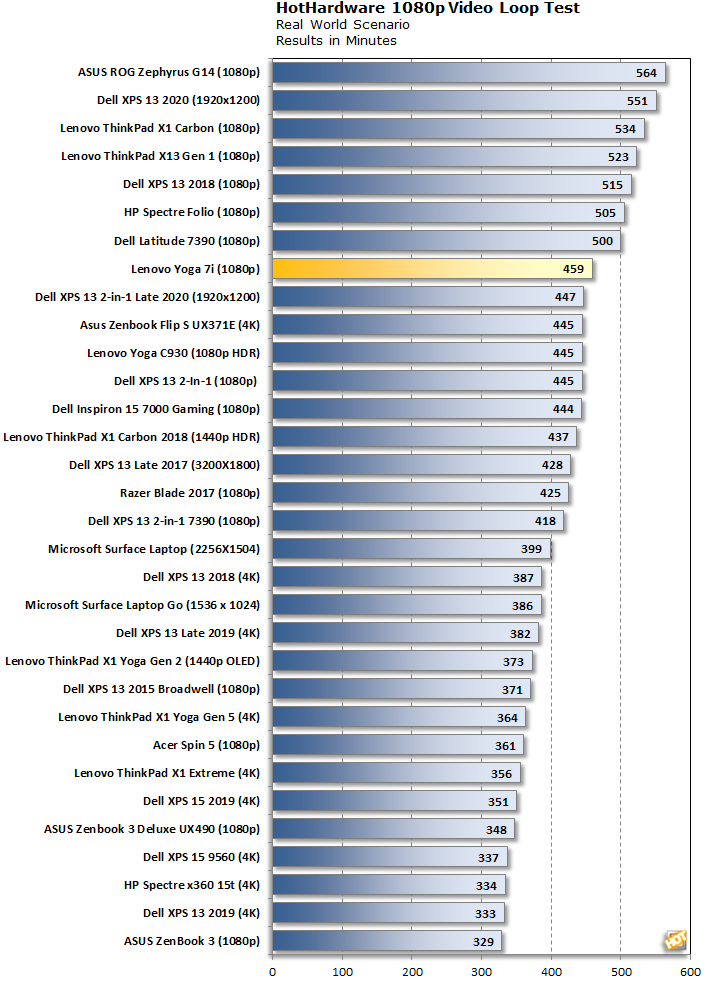 While gaming may not be a strong suit of the Yoga 7i, battery life is, as it is supposed to be for an Evo certified laptop. This machine ran for 7 hours and 39 minutes in our home-brewed battery life test, which is 12 minutes longer than
Dell's XPS 13 2-in-1
. That is solid uptime, and it means that you could conceivably get a full work day of use out of the Yoga 7i before needing to charge it up again. Though of course that will depend on
how
you are using it. Note, this test keeps the display lit 100% of the time and there is minimal idle time, so typical everyday computing could actually result in more or less uptime, depending on workload.
Lenovo Yoga 7i Review Wrap-Up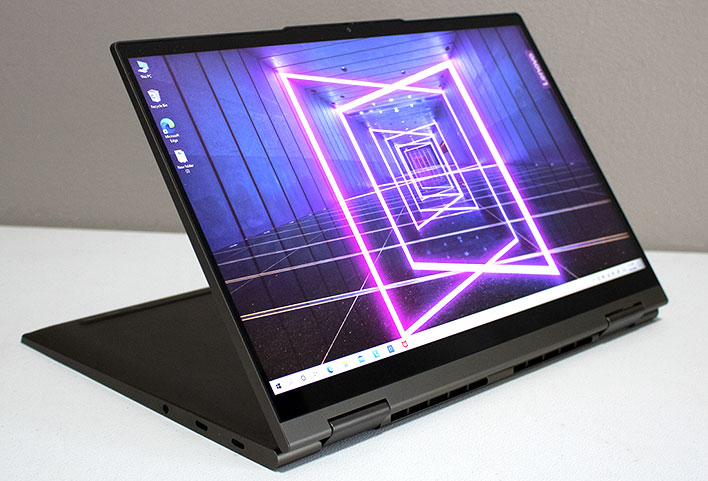 The 14-inch form factor is an opportunity to prove that big things can come in small sizes, and Lenovo achieves that in some areas with the Yoga 7i 2-in-1. Not all of it qualifies as new, of course. We are familiar with the flexibility afforded by Lenovo's Yoga lineup (like the
Yoga C940
), and if you are a fan of its flexible design, the Yoga 7i carries on the tradition, in a premium package that looks and feels like it cost more than what you paid for it.
The setup we tested is on sale right now for
$749.99 at Best Buy
, an attractive price for sure, especially considering it is running a Tiger Lake processor (and we've seen it on sale for as low as $649.99, an absolute steal). More often than not, laptops in this general price range feel cheaper or make too many compromises. The Yoga 7i, however, does not feel like an inexpensive machine, nor does it look like one. This system would fit right in with a professional setting, be it a board room (back before the pandemic, when we actually went somewhere for work) or anywhere else.
And let's talk
Tiger Lake
. The Core i5-1135G7 brings Intel's latest mobile architecture and Xe graphics to the fold, for a fair price. As we saw in benchmarks like PCMark 10 and throughout our hands-on use, it is a solid CPU capable of delivering respectable performance and a productive experience. The Yoga 7i never feels slow when using it to get work done, or just knocking around the web and Windows 10. So, even though it is clocked slower than the other Tiger Lake CPUs we have tested to date, this laptop is still a workhorse.
Graphics performance is a bit of a different story. The Core i5-1135G7 has a scaled-down version of Intel's Xe graphics, with 80 execution instead of 96 EUs as found in the Core i7-1165G7. This was the difference between playable and non-playable framerates in some instances, like Gears Tactics. Then again, the Yoga 7i is not really targeted at gamers.
Perhaps a bigger deciding point for the intended audience will boil down to the port selection. Lenovo is pushing USB-C / Thunderbolt 4 with this laptop, and it serves up two of those ports on the right side. But if you are mainly using USB-A peripherals, you will have to make do with a single USB 3.2 Gen 1 Type-A port on the left side, and that's it. There's no microSD card slot here either. These limitations may matter to some, and not to others.
Overall, though, we feel the Lenovo Yoga 7i 2-in-1 is
an excellent value
for the money. From its premium build quality and multi-purpose design in a 2-in-1 form factor, to the strength of Tiger Lake and thoughtful touches like a privacy shutter, this laptop delivers more than what you might expect for the money. The Lenovo Yoga 7i is not perfect, but it's a great value and worth considering if you are looking to spend less than a grand on a new laptop powered by Intel's latest
Tiger Lake and Evo platform
technologies.





Tiger Lake roars

Long battery life

Flexible form factor

Built-in privacy shutter webcam

Latest Wi-Fi 6, Bluetooth 5 and Thunderbolt 4 connectivity
Aggressively priced


RAM is soldered

Middling graphics performance

Relatively slow RAM speed
ThinkPad keyboards are better
Thin port selection

Related content
Comments