Dell XPS Desktop Special Edition 8940 Review: A Sleek Gaming Rig
Dell XPS Desktop Special Edition: Total System And Processor Benchmarks
We tested the XPS Desktop Special Edition as it shipped from the company to ensure we got the same out-of-box experience as your average buyer, with the latest Windows and driver updates installed. Many variables can affect performance, so our comparisons should serve as a reference point, but may not be exactly like yours, even with similar configurations. Our benchmarking kicks off with some SSD, system-level and CPU tests to get an idea as to how the system performs with a variety of workloads…
ATTO Disk Benchmark




Peak Sequential Storage Throughput



Running ATTO Disk Benchmark allows us to gauge the speed of the boot drive in the XPS Desktop Special Edition. In this case, the boot drive is a 512GB Western Digital SN530 NVMe SSD. Unlike SATA-based SSDs, NVMe drives shuttle data through the PCIe bus for potentially much faster throughput. This particular drive is rated to deliver up to 2.4GB/s of sequential reads and 1.75GB/s of sequential writes.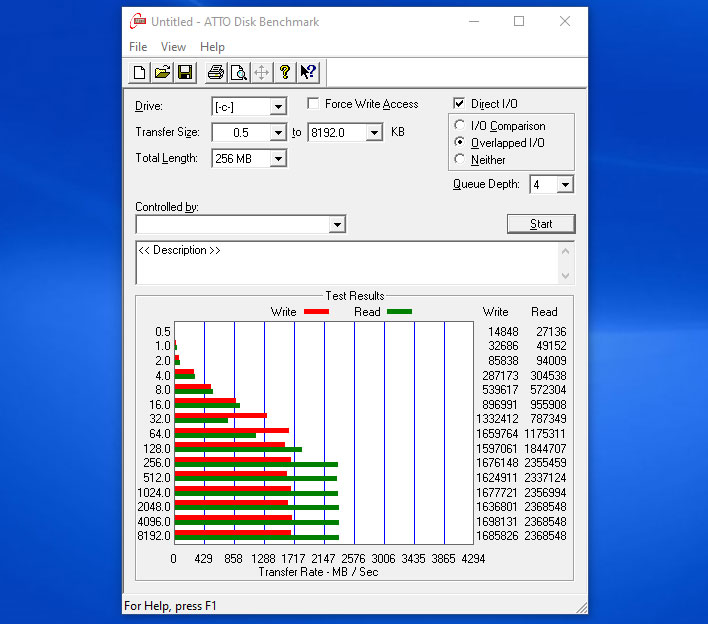 In our testing with ATTO, the primary storage drive in this system came very close to its rated specifications. Sequential read speeds nudged right up against 2.4GB/s for larger size file transfers, while sequential writes came within a hair of 1.7GB/s, also when testing for larger files. There are faster NVMe SSDs out there, but these speeds are not slow by any stretch. For reference, the top performing SATA SSDs typically top out at around 550MB/s.
Cinebench R20




3D Rendering Performance



With our disk speed sanity check out of the way, we can move on to assessing general system performance. The first stop is Cinebench R20. This test is based on Maxon's Cinema 4D modeling software that is used in movie production studios.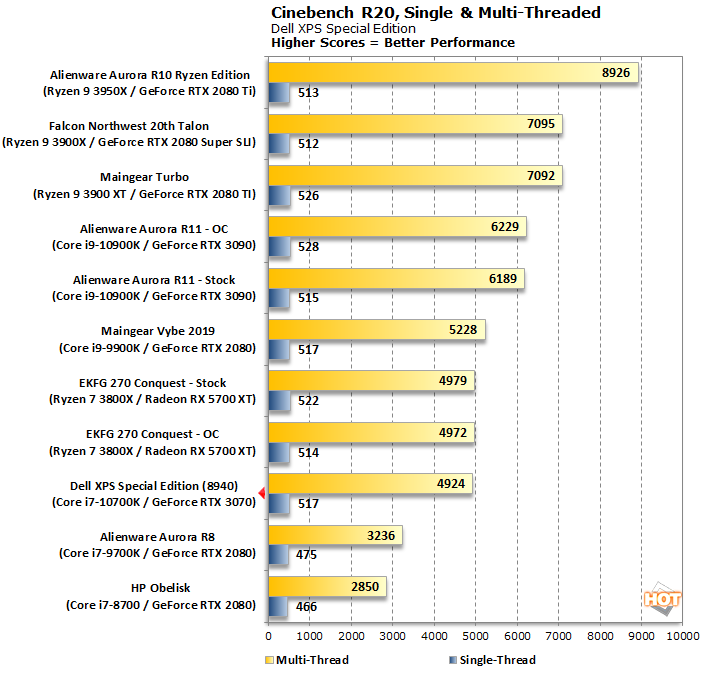 We have to caveat this graphing of our performance results by pointing out that context matters. At a glance, we see the XPS Desktop Special Edition positioning itself towards the bottom. However, most of the entries above it are sporting faster CPUs, several with more cores. Dell's system posted respectable single-threaded and multi-threaded scores that are right in line with what is expected from an 8-core/16-thread Core i7-10700K. Compared to the
Alienware Aurora R8
with a previous generation Core i7-9700K, this newer system scored 8.8 percent higher in the single-threaded test, and over 52 percent higher in the multi-threaded test. We'd call that a decent generational leap.
Nevertheless, it was not quite able to overtake
EK Fluid's Gaming 270 Conquest
, which is built around AMD's 8-core/16-thread Ryzen 7 3800X. If accounting for margin of error, however, it is basically a tie between the two.
BrowserBench Speedometer 2.0

Web Application Performance
We recently incorporated BrowserBench.org's Speedometer test, which takes a holistic look at web application performance. This test automatically loads and runs several sample webapps from ToDoMVC.com using the most popular web development frameworks around, including React, Angular, Ember.js, and even vanilla JavaScript. This test is a better example of how systems cope with real web applications, as opposed to a pure JavaScript compute test like JetStream. All tests were performed using the latest version of Chrome.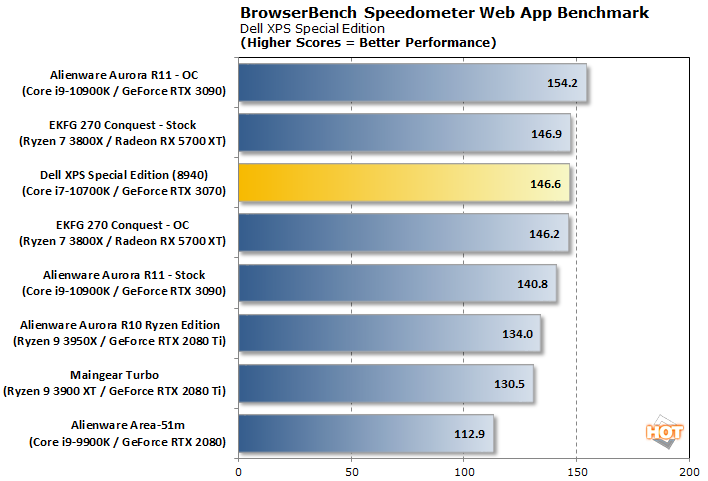 Here we see another virtual tie between the XPS Desktop Special Edition and EK Fluid Gaming 270 Conquest for what would be the top spot if removing overclocked results. When overclocked, the
Alienware Aurora R11
with its Core i9-10900K is able to take a slight lead. It's another strong showing for Dell's refreshed multi-purpose XPS desktop.
PCMark 10

Full System Productivity Performance
PCMark and 3DMark are something of a standard when it comes to testing full-system performance in machines with discrete
GPUs
and very fast CPUs. Both apps report plenty of data in both detail and summary form, and we ran all of the tests that work the Alienware Aurora R11's hardware pretty hard.
UL Benchmarks' suite of tests have been the go-to system benchmarks since the late '90s. We ran the Dell XPS Desktop Special Edition through PCMark 10, which is designed to gauge the system performance in everyday use case scenarios with GPU acceleration-enabled, while 3DMark tests its gaming chops.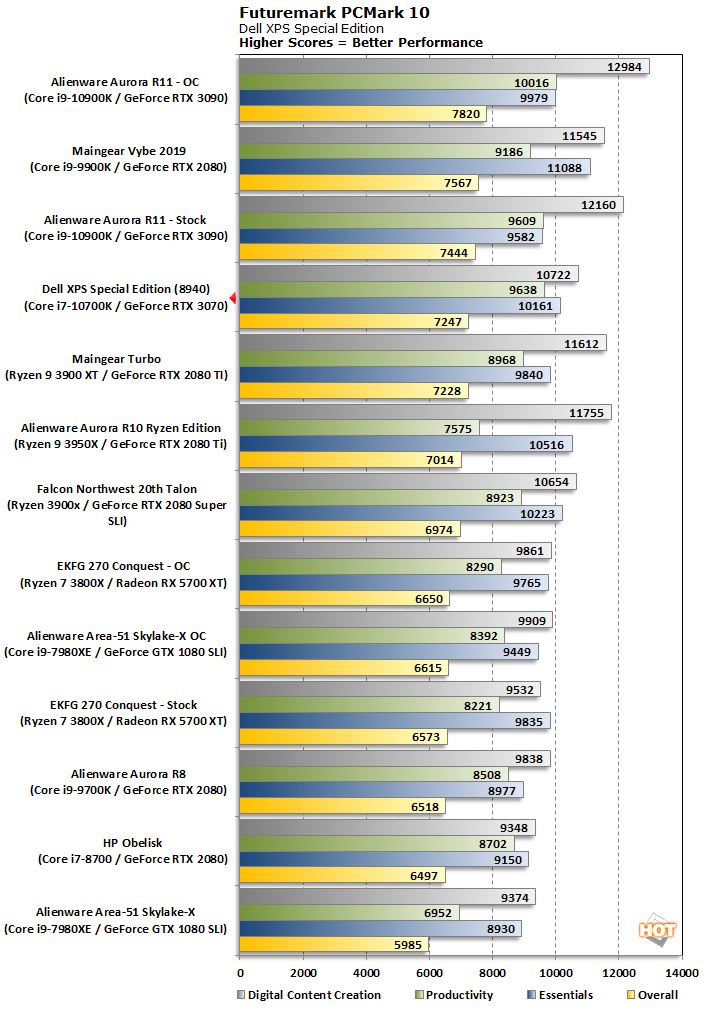 We sort these rankings by each system's overall score in PCMark 10, and in doing so, the XPS Desktop Special Edition registers as the third fastest desktop (note that two of the entries above it are from the same Alienware Aurora R11 system, with scores for stock settings and an overclocked configuration).
This is a strong showing across the board. Looking at the Productivity test (green bar), for example, the XPS Desktop Special Edition posted a higher score than every other non-overclocked PC. What this all highlights is that this setup is primed for a variety of different workloads, as we would expect when pairing a Core i7-10700K with a GeForce RTX 3070, along with 32GB of RAM and relatively fast storage.
Let's move on to graphics and gaming...

Related content
Comments