ASUS Zenbook S 13 OLED Laptop Review: Ryzen 6000U Rocks
ASUS Zenbook S 13 OLED Review: Battery Life, Thermals, Acoustics And Our Verdict
Next up we're going to put the ASUS Zenbook S 13 OLED though some battery life testing and then we'll look at its thermals, noise output and discuss the system's audio solution a bit as well.
ASUS Zenbook S 13 OLED Battery Life Testing
The ASUS Zenbook S 13 OLED is equipped with a good-sized 67Wh Li-ion battery considering the machine's diminutive form factor. We run a custom 1080p HD video loop test developed in-house with VLC video player, to prove out battery life with our test group of machines. In all tests, Windows Quiet Hours / Focus Assist has been enabled and the displays are calibrated with
lux meters
on pure white screens to as close to 115 lux as possible. Wi-Fi is left enabled, which we feel is a common use case. However, enabling airplane mode in a travel use case, for example, would provide additional battery life over the results we'll show you here.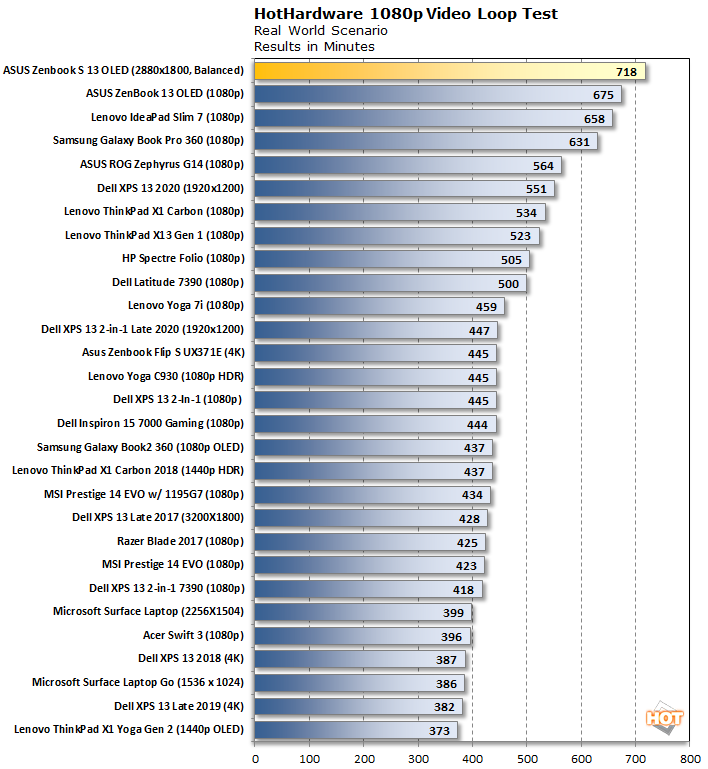 The ASUS Zenbook S 13 OLED offers phenomenal battery life. Despite its excellent overall performance across a variety of benchmarks, and gorgeous, high-resolution display, the ASUS Zenbook S 13 OLED put up the best battery life score we've seen from a system in this class to date. At just shy of 12 hours, with HD video playing, Wi-Fi enabled, and the screen lit throughout, the Zenbook S 13 OLED should please anyone that places a top priority on battery life with their notebooks.
ASUS Zenbook S 13 OLED Thermals And Acoustics
Our thermal and acoustic tests involved running 3DMark's built-in stress test on the Zenbook S 13 OLED until its fans fully spun up and its thermal solution was saturated. We also set the machine to its Performance mode in the MyASUS app, so what you see here is essentially a worst case scenario in terms of the system's peak noise output.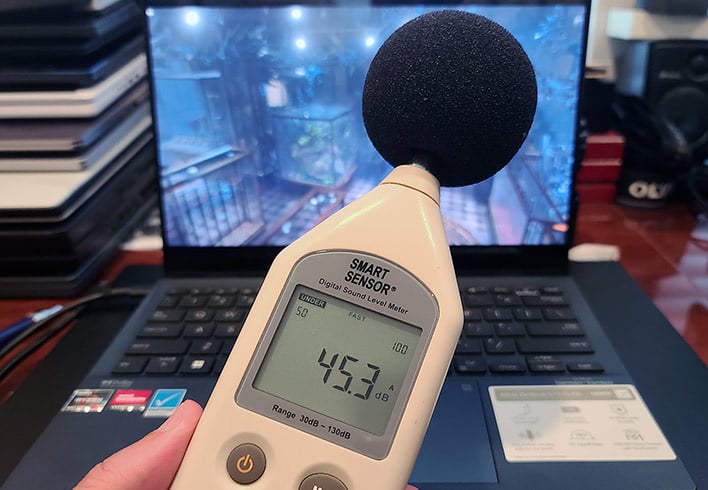 The ASUS Zenbook S 13 OLED remained relatively quiet here. We measured anywhere from 45 to 46dB at its peak thermal saturation point with its fans spinning at full throttle. This resulted in a whirring sound that wasn't particularly offensive, though it was clearly audible when nearby.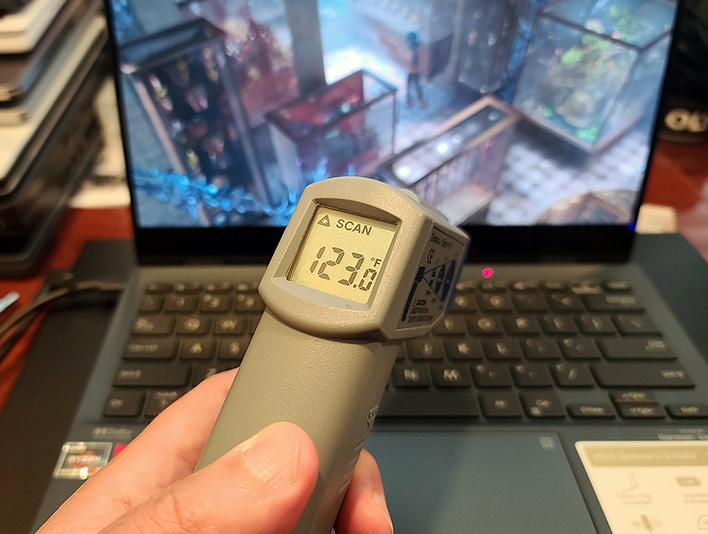 We also measured about 127ºF with our
infrared thermal gun
pointed at the warmest areas of the machine, which were just above the keyboard, skewed slightly to the right (directly above the processor). The keyboard deck and touchpad, however, remained in the low to mid 90°F range, which was perfectly comfortable to use and type on, even for extended periods.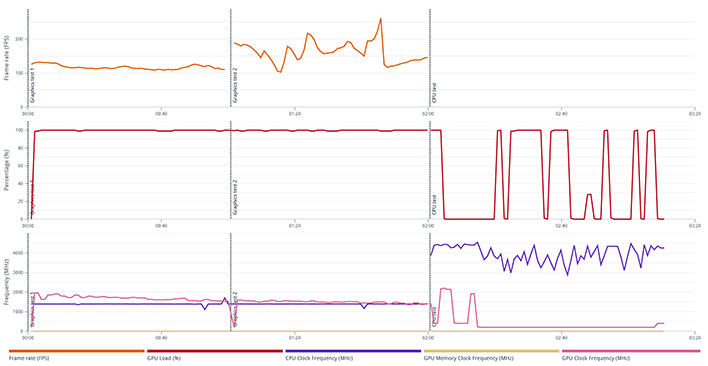 Hardware Details During 3DMark Benchmark Run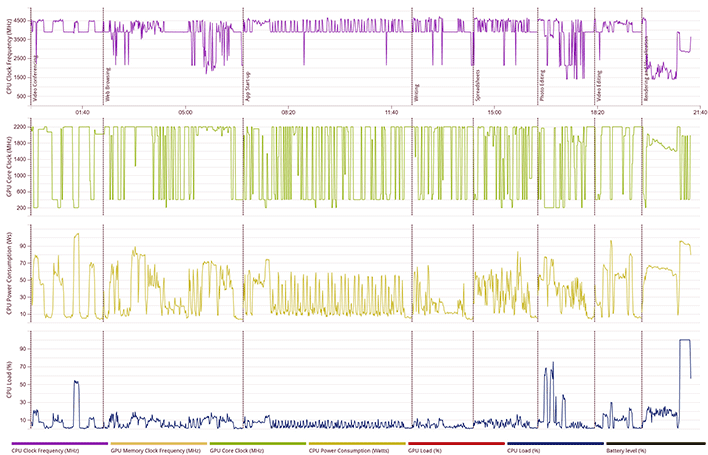 Hardware Details During PCMark 10 Benchmark Run
Internal temperatures weren't captured by UL's current tools, but during the 3DMark and PCMark 10 runs shown above, you can see how CPU and GPU clocks dynamically fluctuate based on the workload at the time, with both engines regularly achieving their rated peak boost clocks. Thankfully, the latest version of GPU-Z seemed to read the thermal sensors in the system properly. At idle, we saw SoC and CPU temperatures in the mid-30°C range. Under a sustained load, however, those same temps jump into the high-90°C range and stay there. That may seem high, but is common with today's high-performance thin-and-lights.
The ASUS Zenbook S 13 OLED has a couple of visible penta-lobe screws on its underside, but otherwise isn't really intended to be easily user serviceable, so choose your memory and storage options wisely at the time of purchase.
The angled speaker grills on the ASUS Zenbook S 13 OLED are also visible on the bottom. ASUS' Harmon Kardon-tuned audio solution offers fairly good volume and loudness, despite the thinness and relatively small size of the machine, though it still remains light on overall bass response, which is par for the course with this class of ultralight notebooks. Highs are crisp and mids are nice and clear, despite its bottom firing drivers, however.
The Ryzen 6000-Powered ASUS Zenbook S 13 OLED: Our Verdict
The ASUS Zenbook S 13 OLED is a fantastic thin and light notebook. The system is understated and attractive, it offers high performance across a variety of workloads, thanks to its
Zen 3+
processor cores, RDNA 2-based graphics engine, and fast RAM and storage, and its display and input devices are top-notch.
On top of the strong performance and highly portable form factor, the ASUS Zenbook S 13 OLED also features an excellent, stand-out 2.8K
OLED
display (with touch), the latest complement of IO and connectivity, including Wi-Fi 6E and USB 4, and battery life is phenomenal. If you're shopping for a highly-portable, thin and light notebook, in the 13" category, the Ryzen 6000U-powered ASUS Zenbook S 13 OLED has it all.
The only quibble we have with the ASUS Zenbook S 13 OLED is the lack of any additional ports beyond its trio of USB-C ports. That year's model had a similar form factor, but also packed in a microSD card reader, a USB-A port, and an HDMI port. In terms of the platform, getting an 8-core / 16-thread Ryzen 7 6800U CPU with fast integrated RDNA 2 graphics in this form factor is great, and multi-threaded performance is top-notch in this class, but Intel still has an edge with lightly threaded workloads with its 12th Gen processors.
That said, the
Ryzen 6000U-powered
ASUS Zenbook S 13 OLED is simply excellent. We don't have final pricing on the particular configuration we tested just yet, but if history is an indicator (last year's model with OLED display was competitively priced) the ASUS Zenbook S 13 OLED won't break the bank. Taking everything into consideration, we have absolutely no problem highly-recommending this notebook to anyone shopping for a premium system of this size, and we're giving the ASUS Zenbook S 13 OLED our Editor's Choice award. We'd have no reservations dropping this machine into our laptop bag
right now
.





Strong Overall Ryzen 6000U Performance
Excellent Radeon 680M iGPU Performance
Thin And Light Form Factor
Gorgeous Display
Class-Leading Battery Life
Quiet Overall
Related content
Comments