ASUS Zenbook S 13 OLED Laptop Review: Ryzen 6000U Rocks
ASUS Zenbook S 13 OLED Review: System, Graphics And Game Benchmarks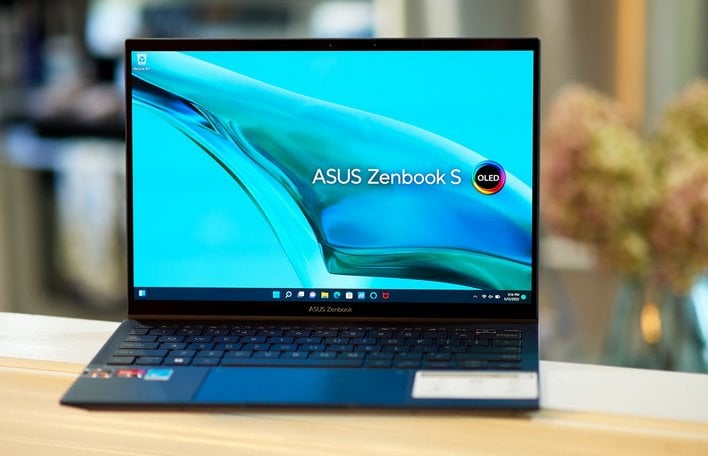 Before running any of our benchmarks, we apply all of the latest Windows and driver updates to the system we are testing. Our ASUS Zenbook S 13 OLED sample shipped with
Windows 11
Home and did have one firmware update that needed to be installed, along with an AMD Radeon Software update. Other than applying any available Windows updates (like most consumers would) though, we run all of our tests with out-of-the-box settings.
By default, the ASUS Zenbook S 13 OLED is configured to use its Balanced power profile, but its Performance profile, which boosts clocks and fan speeds and allows for slightly higher sustained power limit (15w vs. 17w) is only a couple of clicks away. As such, we decided to test both profiles throughout our benchmarks.
ATTO Disk Benchmarks
ATTO disk benchmark is a fairly quick and dirty test that measures sequential read/write bandwidth across a range of different data sizes. While we don't typically compare these results across multiple machines, it's useful to gauge whether a particular notebook's storage subsystem is up to snuff.

The 1TB Samsung NVMe PCIe Gen 4 SSD in the ASUS Zenbook S 13 OLED is nice and speedy. We say read speeds peak over 6.2GB/s with writes in the 4.6GB/s range. Not earth-shattering performance, but plenty fast for this class of notebook.
Since this machine is also USB 4-enabled, we also did some transfer tests with a USB 4 external SSD. For these tests, we installed a Samsung SSD 980 Pro NVMe SSD into this
USB 4 enclosure
.

As you can see, read performance using USB 4, which peaked at over 2.6GB/s, blew the USB 3 out of the water, but writes actually took a bit of a hit. Although AMD is still in the early stages of qualifying USB 4 and enabling the ecosystem on its platforms with the help of its partners, we can say with certainty this reduced write speed is inherent to the enclosure we used. Plugging the same drive into an Intel-based system shows nearly identical performance.
BrowserBench Speedometer Web App Benchmarks
We use BrowserBench.org's Speedometer test to gauge mixed internet usage experience, which takes a holistic look at web application performance. This test automatically loads and runs several sample web apps from ToDoMVC.com using the most popular web development frameworks around, including React, Angular, Ember.js, and vanilla JavaScript. This test is a better example of how systems cope with real web applications, as opposed to a pure JavaScript compute test like JetStream.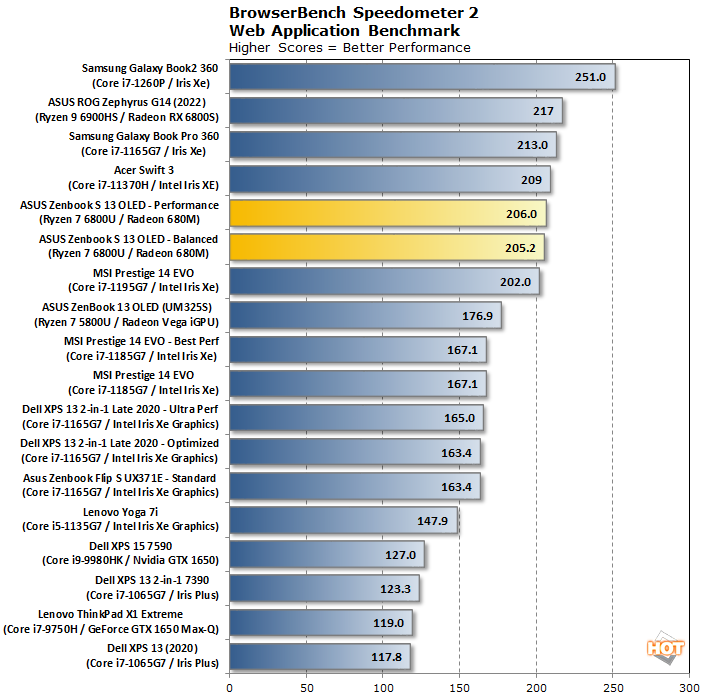 In our first set of benchmarks, the ASUS Zenbook S 13 OLED leaps ahead of all of the other AMD-based systems we tested, except for the higher clocked, Ryzen 9 6900HS-powered Zephyrus G14. Intel's 12th Gen Core Alder Lake platform has a clear advantage here though, thanks to the high IPC and frequencies afforded by its latest P-cores.
Cinebench R23 Rendering Tests
This is the latest 3D rendering benchmark from Maxon, based on the Cinema 4D R23 rendering engine. We tested both single-threaded and multi-threaded tests on
all of the notebooks
represented here...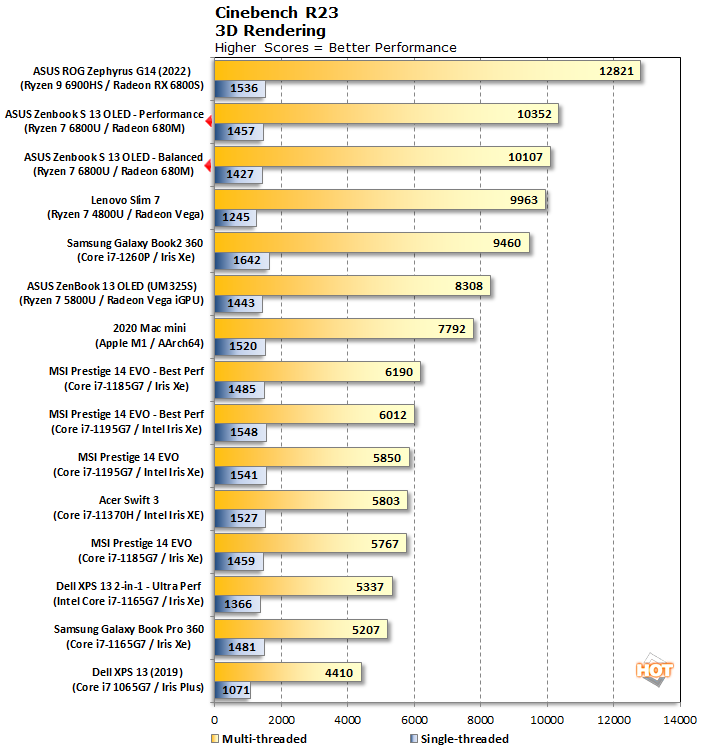 The ASUS Zenbook S 13 OLED outpaces all of the other thin-and-light notebooks in Cinebench R23, and ends up trailing only the bigger, higher-powered ASUS Zephyrus G14. Technically speaking, the Zephyrus G14 is a completely different class of system, but since it was also based on Ryzen 6000, we've included its results solely for an additional frame of reference.
UL PCMark 10 Testing
PCMark 10 uses a mix of real-world applications and simulated workloads to establish how well a given system performs productivity tasks, including image and video editing, web browsing, and OpenOffice document editing. While these scores appear to be all over the place, the systems are sorted by their overall PCMark score, which is the third (gray) bar in each cluster.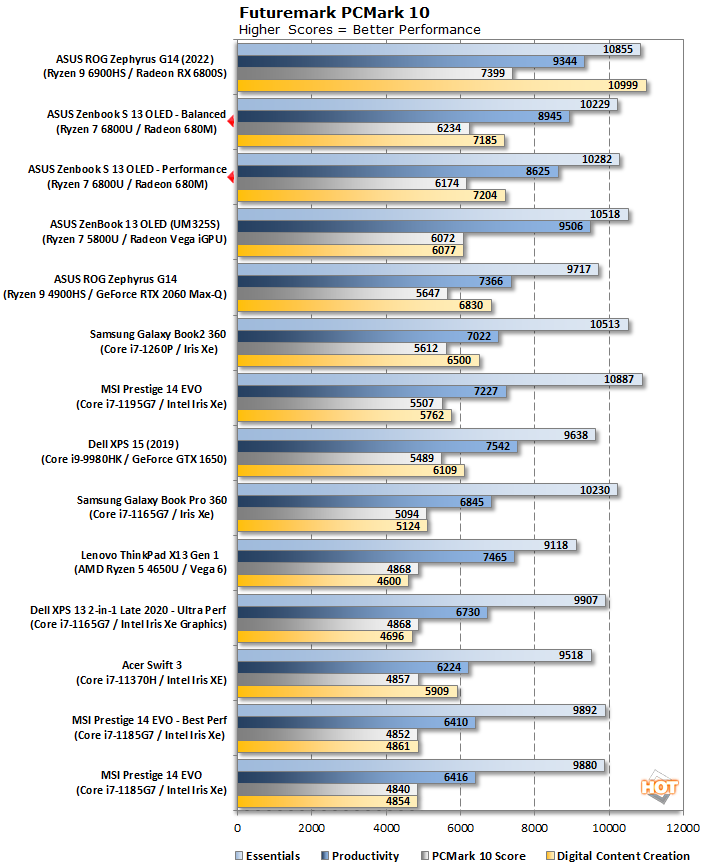 The ASUS Zenbook S 13 OLED finishes in the same position in PCMark, at the top of the chart behind only the Zephyrus G14. The combination of fast RAM, Gen 4 PCIe NVMe storage, speedy iGPU and 8-core processor make this system well suited to the type of workloads that comprise this benchmark.

3DMark Graphics & GPU Tests
3DMark has several different graphics tests which focus on different types of systems. We start with Night Raid, which is 3DMark's targeted benchmark for laptops with integrated graphics. This test presents a solid challenge for the system's CPU and GPU engines using DirectX 12's API. We'll then move on to the even more taxing 3DMark Fire Strike.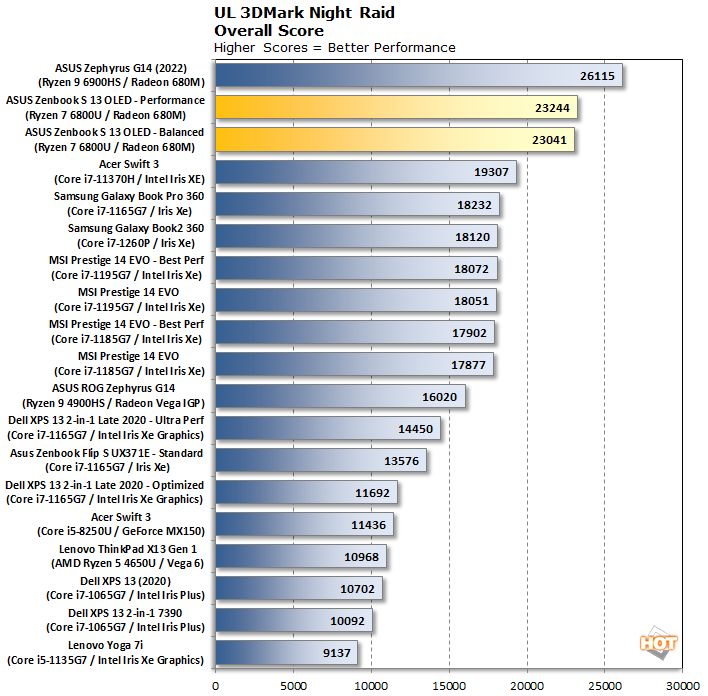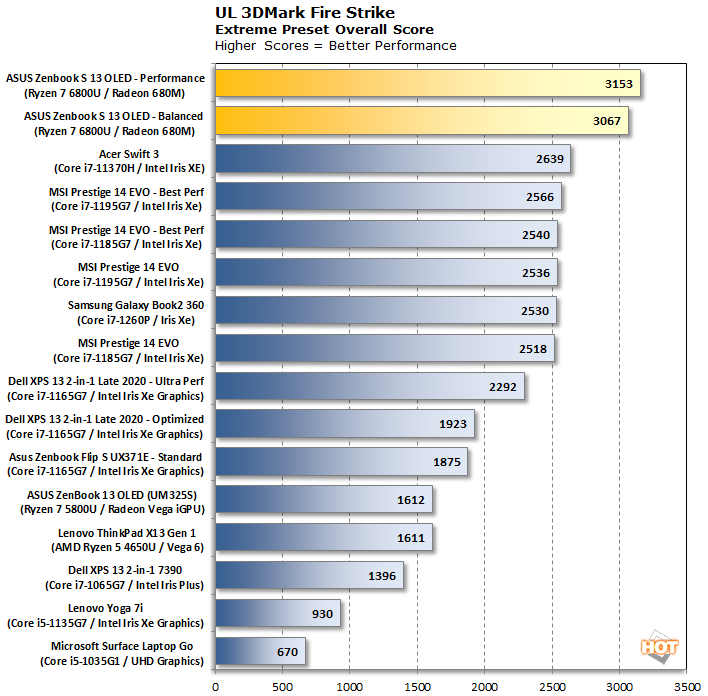 To put it simply, the Radeon 680M is the most powerful integrated GPU of the bunch according to both 3DMark tests we ran. Also note, that despite having a similar 12-CU configuration to the Ryzen 9 6900HS in the Zephyrus G14, the reduced power and thermal envelope in the thinner and lighter Zenbook S 13
OLED
shaves a few percentage points off the Radeon 680M's performance. Still, it has enough oomph to beat out anything in Intel's camp currently.
Middle Earth: Shadow Of War & Gear Tactics Game Tests
Middle Earth: Shadow of War is a fun and and beautiful title set in Tolkien's Lord of the Rings universe. To test the game's performance relative to other systems, we set the resolution to 1920x1080 and turned the visuals up to the High preset. For Gears Tactics, we used a similar resolution, but tested the game with its Low, Medium, and High presets to see how it scales. The frame rates here are the averages reported by each game's built-in benchmark utilities.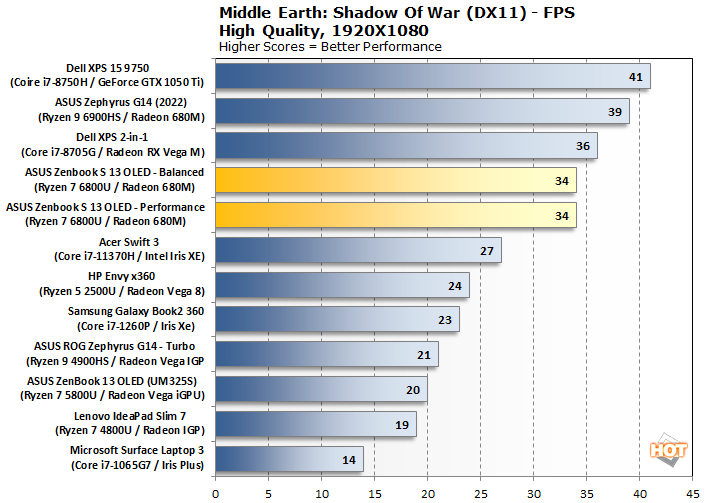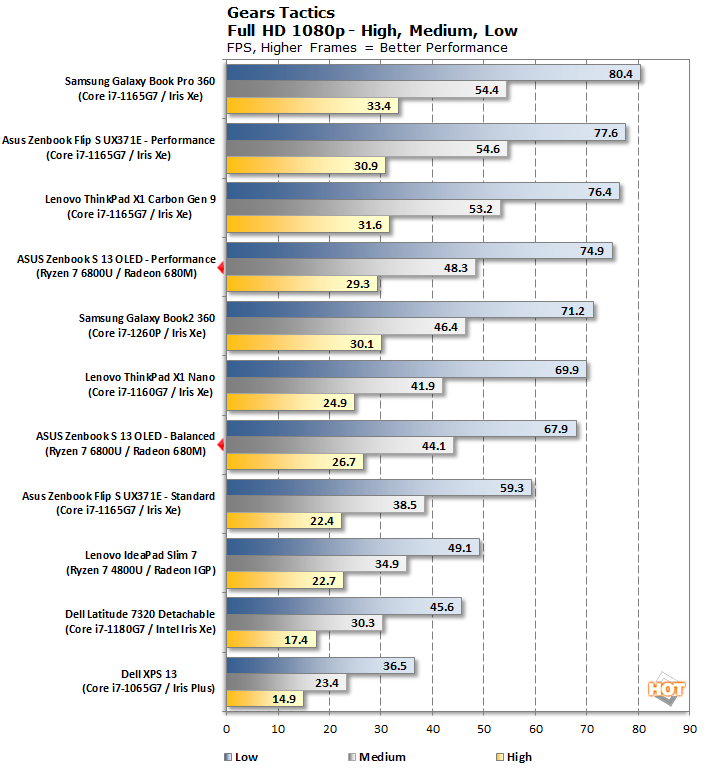 The Radeon 680M in the ASUS Zenbook S 13 OLED offers relatively strong performance in both of these games. In Shadow Of War, the Radeon 680M even hangs with some previous-gen discrete GPUs. And in Gears Tactics, which is also heavily influenced by CPU performance, the
Radeon
680M is right in the mix with Intel's latest.
Related content
Comments