Apple Launches New MacBook Pros and Mac Mini Powered By Potent M2 Pro And Max Silicon
Apple is rolling out the hits today. Fans of the company's compact desktops have a new Mac Mini over which to salivate, and the portable crowd can "ooh" and "ah" at the new 14- and 16-inch MacBook Pro units. Inside, you'll find a new generation of Apple's custom silicon in the form of the M2 Pro and M2 Max (above). Apple says these are the most powerful and efficient chips it has ever put in a computer, and it's got the numbers to prove it.
The
new chips
are an evolution of the M2 ARM silicon that Apple released last year in devices like the iPad Pro and
MacBook Air
. The M2 Pro is a 5nm chip with 40 billion transistors, which is 20% more than the last gen M1 Pro and double the number in the base model M2. Memory bandwidth is also doubled compared to the M2 at 200GB/s. It comes in 10- and 12-core CPU variants. Apple claims a 20% performance uplift compared to the M1 Pro. On the GPU front, the M2 Pro sports 19 cores, up from 16 in the M1 Pro. Combined with a larger L2 cache, graphics rendering is allegedly 30% faster than the M1 Pro.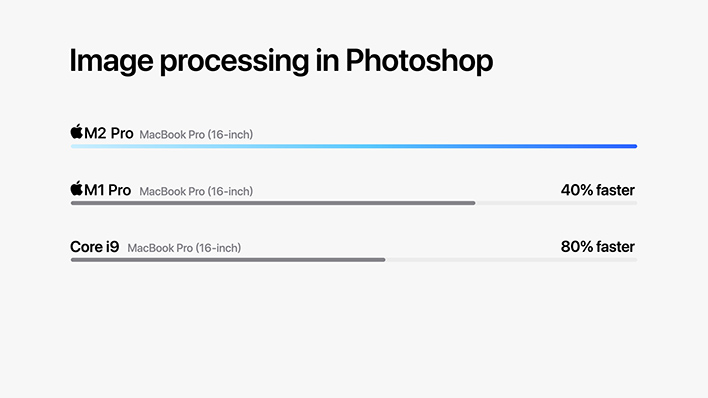 If the M2 Pro isn't enough power for you, there's the new M2 Max with more of everything as the
leaks predicted
. It has 67 billion transistors with the same 5nm node process. It doubles the memory bandwidth of the M2 Pro to an incredible 400GB/s, and it supports up to 96GB or unified memory. If you work with large files like 8K video, this setup will offer a noticeable speed boost. There's only one version of the Max chip, with 12 ARM CPU cores and a whopping 38 GPU cores. It also has the larger L2 cache of the Pro, but it can handle up to 96GB of unified memory.
If you want to get your hands on Apple's latest silicon, you've got two options: the
latest Mac Mini
and
MacBook Pros
. The Mac Mini is the cheapest way to get into Apple's desktop ecosystem with a starting price of $599. It has two Thunderbolt 4 ports, support for two displays (or one 8K display), and there's even an upgraded headphone jack that works with high-impedance cans. You don't have the option of the M2 Max in this machine, but you can get the 10-core M2 Pro chip. However, that's not the $599 version. That Mac Mini includes last year's base model M2, which is still a very powerful chip. If you want the fancy new M2 Pro, you're looking at a big price bump—that version of the machine starts at $1,299. You can order yours today.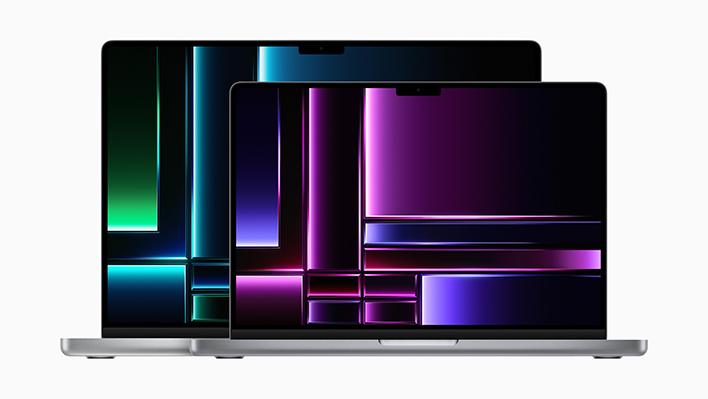 If you're looking to get away from your desk, the new MacBook Pro 14 and 16-inch are now available with the M2 Pro and Max. These computers have three Thunderbolt 4 ports, an SD card slot, and MagSafe 3 charging. And there's a display notch like the 2021 MacBook Pro models—still no Face ID, though.
Apple's newest laptops really show what the M2 Pro and Max can, but they start at $1,999. That's what you'll pay for the 14-inch with a 10-core M2 Pro. There's also the 12-core variant ($2,499), and finally the M2 Max for $3,099. If you step up to the 16-inch, pricing is $2.499, $2,699, and $3,499. You can even cram it full of 96GB of RAM for an additional $800. All these new laptop models are available for purchase today, and they'll arrive at your door in about a week.