AMD Threadripper Pro 5965WX Review: Many-Core Zen 3 Monster
Threadripper Pro 5965WX: AMD's Powerhouse Processor For Workstations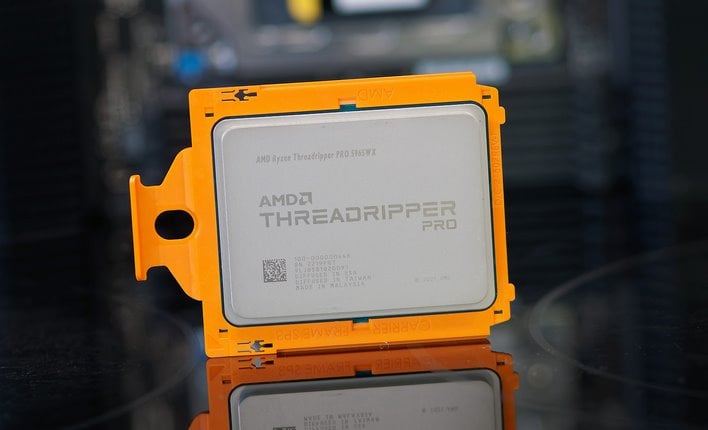 AMD has been tearing it up in the desktop market with its Ryzen 5000 series processors since their release, but news on the Threadripper front has been comparatively quiet. Threadripper and Threadripper Pro 3000 series processors launched all the way back in 2020, and up until a few months ago the company hadn't been talking much about its many-core powerhouses.
After the
Zen 3-based Ryzen 5000
series arrived, hardcore enthusiasts were eager to see what the architecture could do in an HEDT Threadripper, but alas those processors never materialized. In March of this year, however, AMD announced the Threadripper Pro 5000 series, which leverage Zen 3 and target the high-performance professional workstation market. The Threadripper Pro series sits a notch above the more consumer-focused HEDT standard Threadrippers, and as such command a premium. Nevertheless, we're sure hardcore enthusiasts with
deep pockets
are itching to see what a Threadripper Pro 5000 series processors can do as well.
To that end, we got our hands on an AMD Ryzen Threadripper Pro 5965WX processor and the requisite motherboard and memory to test it out. The Threadripper Pro 5965WX is the middle-child of the line-up, which features 24-cores (48-threads). There are Threadripper Pro 5000 series parts with higher and lower-core/thread counts as well, but there are a number of other features that set these powerful processors apart from their consumer-class cousins, which we should point out before we get too far ahead of ourselves. So, strap in and let's get to it...
AMD Ryzen Threadripper Pro 5000 Series Line-Up
Find AMD Ryzen Threadripper Pro Processors @ Amazon
As we just mentioned, the 24-core (48-thread) Threadripper Pro 5965WX sits in the middle of the
Threadripper Pro 5000 series
line-up. Below the 5965WX, sit the 12-core (24-thread) Threadripper Pro 5945WX and 16-core (32-thread) 5955WX. Above the Threadripper Pro 5965WX, is the 32-core (64-thread) Threadripper Pro 5975WX and top-end 64-core (128-thread) 5995WX. In addition to different core counts, the Threadripper Pro 5000 series processors also feature differing base and boost clocks, which top out at a maximum boost of 4.5GHz. With support for so many cores and threads and relatively high-clocks, these processors are ideally suited for heavily threaded workloads – but there's more to the story. Also note, there is still room in the line-up for a 48-core Threadripper Pro 5985WX, but no plans have been announced for that model just yet.
All of the Threadripper Pro 5000 series processors have TDPs of up to 280 watts. They also feature support for 8 memory channels – versus 4 channels on standard Threadrippers -- and have 128 integrated PCIe 4.0 lanes. L3 cache maxes out at 256MB on the top-end 5995WX, but drops down to the 128MB on the 5975WX and the Threadripper Pro 5965WX we'll be showing you here.
Now, if you're familiar with the
previous-gen Threadripper Pro 3000
series, many of those specifications may sound familiar, at least in terms of core counts and total cache. But the Zen 3 architecture used on the 5000 series brings with it a number of enhancements, including an update cache hierarchy and larger 8-core cluster configuration with access to 32MB of cache, versus the 4-core clusters with 16MB of cache of Zen 2. Zen 3 also offers additional IPC and frequency improvements. All told, the new architecture and all of its advancements, should result in a significant performance uplift for the Threadripper Pro 5000 series, relative to its predecessors.
The AMD Threadripper Pro 5965WX In The Flesh
Physically, Threadripper Pro processors look just like standard, non-Pro Threadrippers. They have the same number of pads on their underside, use the same integrated heat spreaders, and ride in the same plastic sleds that slot into their heavy-duty sockets. However, Threadripper Pro processors require different motherboards built around the WRX80 chipset with sWRX8 sockets. And to get the most out of the chips, all 8 memory channels should be utilized. Standard non-Pro Threadripper processors max out at 4 memory channels.
Because these are "Pro" series chips, they also support some additional security features, namely AMD Shadow Stack. AMD Shadow Stack, which enables Microsoft hardware enforced stack protection, provides hardware-level stack protection capabilities to protect a system from certain types of malware. AMD Shadow Stack addresses threat vectors such as return oriented programming attacks and works by storing a record of the return addresses so comparisons can be made to ensure integrity is not compromised.
Above are the idle and full-loaded states of AMD's Threadripper Pro 5965WX, according to the latest version of CPU-Z. It appears the program is not able to read core voltages properly, but core counts, the cache configuration and clocks are all correct. As you can see, the chip is rocking 24-cores (48-threads), with 128MB of L3 cache, 12MB of L2 cache, and 768KB of L1 and L2 Data and Instruction cache (each). With all cores loaded up, clocks typically peak in the 4.2GHz range, but higher clocks (up to 4.5GHz) are possible with lightly-threaded workloads.
Let's dive deeper into AMD's Threadripper Pro 5000 Series platform and motherboards, next...
Related content