AMD Threadripper Pro 5965WX Review: Many-Core Zen 3 Monster
AMD Threadripper Pro 5965WX: Motherboard And Memory Considerations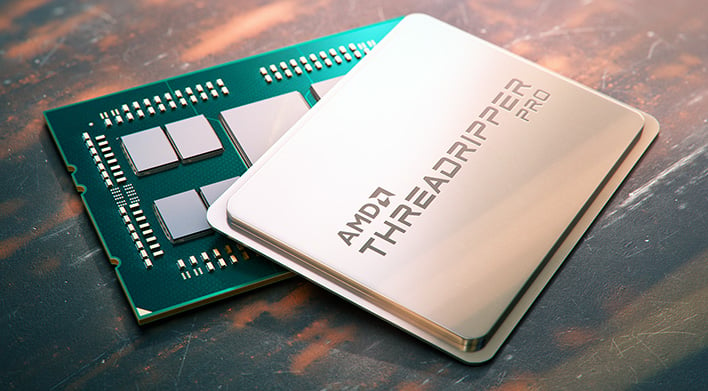 With the Threadripper Pro's high core counts and 280W TDP, and specific chipset and 8-channel memory requirement, building up a system requires some special considerations. First and foremost is the motherboard. There are only a handful of socket sWRX8 motherboards available from makers like ASUS, ASRock, MSI and Supermicro. And all of them command a premium – the ASUS motherboard we used is currently available for about $950. For best performance, you'll also need eight matching sticks of DDR4 memory. And because of the power requirements and high-end nature of the WRX80-based motherboards, a beefy power supply with multiple ATX12V CPU and 8-pin PCIe power feeds is needed. We used
an EVGA 1300W unit
for our setup.
ASUS' Killer Threadripper Pro Motherboard
ASUS Pro WS WRX80E-SAGE SE WIFI
. The ASUS Pro WS WRX80E-SAGE SE WIFI is a about as high-end a motherboard as you'll find. As its name suggests, the board is built around the AMD WRX80 chipset and it is designed with professional workstations in mind.
Threadripper Pro 5995WX's 64-cores
, the latest high-density memory kits, and multi-GPU configurations.
The ASUS Pro WS WRX80E-SAGE SE WIFI lacks any RGB lighting, which is probably a plus for some of you. And the board has metal reinforcements on its expansion slots, and heavy-duty heat-sinks and heat spreaders on the chipset and VRM and all 3 of its M.2 slots. Additional shielding covers the back panel I/O, and the area around the chipset as well. The heatsinks around the edge of the board are removable, and provide cooling for
solid-state drives installed
into the M.2 slots beneath.
The ASUS Pro WS WRX80E-SAGE SE WIFI features high-end capacitors and chokes throughout its design, to improve long-term reliability and overall efficiency. And it features a mouse-friendly BIOS / UEFI that's easy to navigate and offers an extensive array of performance-related options. The board also features built in ASMB9-iKVM remote management capabilities. There is a BMC chip on-board, which allows for out-of-band management of many aspects of the system. As long as the ASUS Pro WS WRX80E-SAGE SE WIFI powers up and has a connection to a network (and you know the system's IP address), you can log into ASMB9-iKVM interface via web browser and manage the system. We actually used the ASMB9-iKVM interface to update the firmware when configuring our test system.
We should also point out that the ASUS Pro WS WRX80E-SAGE SE WIFI offers 8-channel audio by way of a Realtek W4080 USB controller, with support for DTS:X Ultra. The audio circuit incorporates shielding, discrete power delivery, and high-end Japanese capacitors for cleaner sound (120dB SNR) than most motherboards. It offers automatic impedance sensing for the front and rear headphone outputs too.
Adobe Creative Cloud
as a bonus, however.
We found the layout of the ASUS Pro WS WRX80E-SAGE SE WIFI to be good, despite the relative complexity of the board, and also like the overall aesthetic. Your tastes may vary, of course, but we think this is a good looking motherboard. Its extended-ATX form factor and right-angle mounted headers will limit case compatibility, however. In the XPG Dominator case we used for our build, we were able to utilize the HD Audio header and connect the dual supplemental PCIe power feeds at the bottom, but the USB 2 and iKVM headers were blocked for the case's PSU shield.
G.Skill Memory For Threadripper Pro
We also want to show off the memory we used for testing. We installed two matching 32GB quad-channel
G-SKILL TridentZ Neo memory
kits in our test rig, models F4-3200C16Q-32GTZN.
This memory is capable of running at 3,200MHz with relatively tight 16-18-18-38 timings at 1.35v. In addition, the sticks feature stylized heat spreaders, and the top edges are outfitted with light-bars that house RGB lighting. Although the lighting isn't configurable, it looks great when cycling through colors in our opinion, and definitely adds some visual appeal. Throughout our testing this memory was rock-solid when operating at its rated speeds and timings.
Speaking of testing, let's get to it...
Related content