AMD Ryzen 9 5950X And 5900X CPU Review: Zen 3 Dominates
AMD Ryzen 9 5950X And 5900X Review: Performance Summary And Verdict
Performance Summary: Despite obvious strengths and competitiveness, there were always some gotchas or caveats when summarizing and comparing / contrasting the performance of previous-gen Ryzen processors, with Intel's competitive offerings. That is not the case with the Zen 3-based AMD Ryzen 5000 series. Although the Ryzen 9 5950X and Ryzen 9 5900X didn't sweep every single benchmark across the board, they did outpace competing offerings far more often than not, and performance was strong in every single category. Whether for gaming, content creation, productivity tasks, or just tooling around on-line, with both single and multi-threaded workloads, the Zen 3-based Ryzen 5000 series processors rock. If we were to nit-pick, idle power remains relatively high versus Intel's mainstream desktop platform and audio-encode performance wasn't class-leading, but these are minor niggles. For the majority of day-to-day computing workloads, the Ryzen 5000 series sets a new performance bar.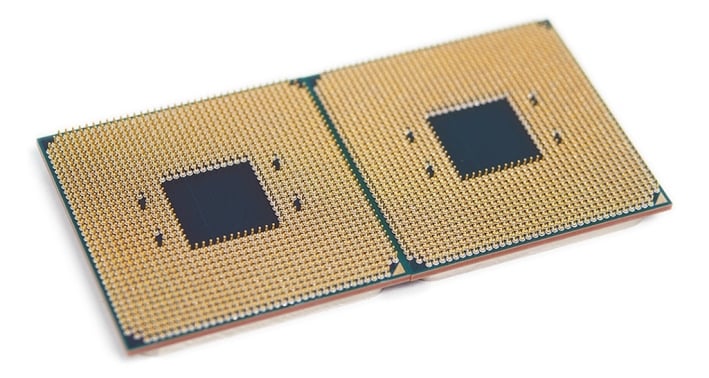 Since launching the original Ryzen desktop processors about 3.5 years ago, AMD has put the pedal to metal, executed exceptionally well, and not let up. With each successive series of Ryzen processors, AMD has made incremental, yet significant improvements in performance and efficiency, that have ultimately improved the overall user experience and value of their platform. With the Zen 3-based Ryzen 5000 series though,
AMD
has taken things to a whole new level, and they've done so without having to introduce a new socket or disrupt their existing platform. Yes, early socket AM4 adopters with 300 series chipsets are left out in the cold, but 400 and 500 series chipset owners are only a BIOS update away from support for the new
Ryzen 5000
series.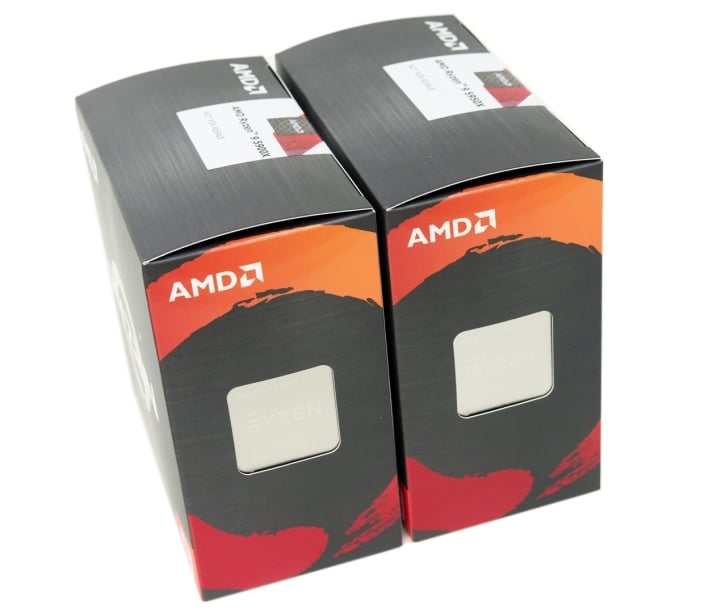 As mentioned, the initial stack consists of four Ryzen 5/7/9 5000 series processors, priced from $299 (6-core Ryzen 5 5600X) on up to $799 (16-core Ryzen 9 5950X). At those prices, this processor line-up arrives with higher pricing than their previous-gen counterparts, but looking back through the numbers, the premium is easily justified. And versus Intel's processors with similar core counts, AMD's pricing is a downright bargain. The Ryzen 9 5950X costs hundreds less than a Core i9-10980XE and the Ryzen 9 5900X is the same price as a Core i9-10900K, yet AMD's processor outperform them both.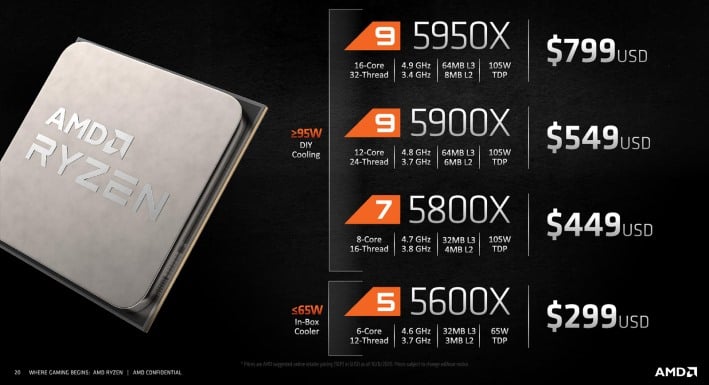 All told, there's a lot to like about the AMD Ryzen 5000 series. Whether you're a gamer or creator, or just like to have a high-performance system at your disposal, the Ryzen 5000 series delivers and we'd be hard pressed to find a modern use-case where we wouldn't recommend one. The Zen 3-based AMD Ryzen 5000 series is a big winner with us, and easily earns an Editor's Choice Award. Now bring on some of that Radeon RX 6000 series "Big Navi" action, AMD...

(Editor's Note: We will be live, November 5 @ 5:30PM EST chatting about the Ryzen 5000 series on our podcast if you'd like to participate in the discussion.)

Great Performance

Easily Overclocked

Big Gains Gen Over Gen

Power Efficient Under Load

Retains Socket Compatibility

Price Premium Versus Previous Gen Offerings

Relatively High Idle Power

I Don't Own 10 Of Them
Related content
Comments