XFX MERC 308 Radeon RX 6600 XT Review: 1080P Gaming Speedster
XFX Radeon RX 6600 XT MERC 308: Big Navi's Little Brother For 1080p PC Gaming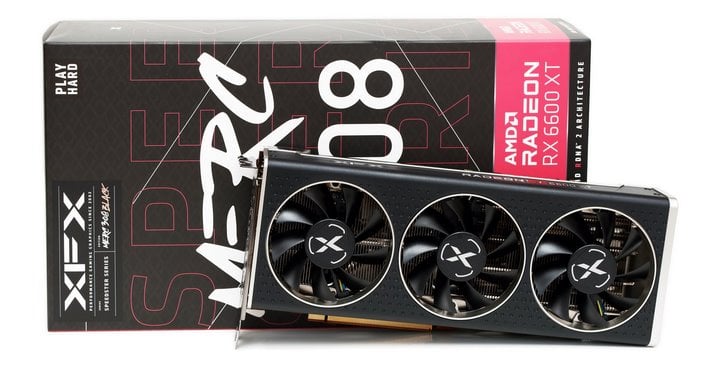 The Radeon RX 6600 XT officially launched earlier this week, bringing AMD's RDNA 2 graphics architecture down to more affordable price points (relatively speaking).
Radeon RX 6600 XT cards
target mainstream, 1080p gamers, and the two models we previously looked in our initial coverage proved to be decent performers and quite power efficient. This time around, we're going to take a look at a factory-overclocked Radeon RX 6600 XT from AMD board partner, XFX, the MERC 308 Black.
The MERC 308 RX 6600 XT Black is the top-of-the-line model in XFX's Radeon RX 6600 XT lineup. Like most of AMD's board partners, XFX has an array of cards coming down the pipeline, ranging from simplified models with less elaborate cooling and lighting that adhere more closely to
AMD's
reference specs, to higher-end jobs like the overclocked, MERC 3080 Black we'll be showing you here.
Main specs and features are up first, then we'll dig in further, check out the card, and see how it performs and overclocks...
AMD Radeon RX 6600 XT Specifications & Features
---
The XFX MERC 308 RX 6600 XT Black's main features and specifications are obviously similar to AMD's reference recommendations, since they feature the same Navi 23 GPU. Where the XFX card differs is in terms of its higher Game and Boost clocks. Whereas AMD's reference Radeon RX 6600 XT specs recommend a Game clock up to 2359MHz and a Boost clock of 25895MHz, the XFX MERC 308 RX 6600 XT Black comes in at 2428MHz (Game) and 2607MHz (Boost), just like
the PowerColor Red Devil
. Those higher GPU clocks result in higher compute performance and fill rate, etc., but the 8GB memory configuration and memory frequency are the same. So in memory bandwidth constrained situations, performance won't be very different than reference-clocked model.
GPU
and memory, and it's all linked together via four 6mm heat pipes. The entire assembly juts out past the PCB by a couple of inches and is 2.5 slots wide. The whole setup measures in around 10.8" long.
Related content