AMD Radeon Pro W7900 And W7800 Review: Potent Pro-Vis Graphics Punch
AMD Radeon Pro W7900 & W7800: RDNA3 And Massive Memory Configs For Creative Professionals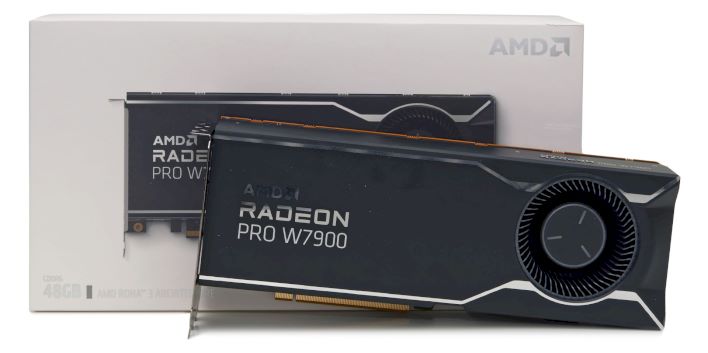 AMD Radeon Pro W7900 & W7800: $2,499 (W7800), $3,999 (W7900)


The RDNA 3-based AMD Radeon Pro W7900 And W7800 pack a ton of memory and are the company's most powerful and feature-rich professional GPUs yet.







Excellent Performance
Lots Of Memory
Competitive Pricing
Quiet Operation
Class-Leading Display Outputs

W7900 Is Triple-Slot
Ray Tracing Trails NVIDIA
YInMn Blue Will Be Missed



---
AMD recently launched a new line-up of high-end Radeon Pro GPUs based on the company's RDNA3 graphics architecture. The aptly named Radeon Pro W7900 and Radeon Pro W7800 take the current flagship Navi 31 GPU, which powers the
Radeon RX 7900 series
for gamers, and pairs it with larger frame buffers and Radeon Pro software to target big-iron workstation users and content creators. The Radeon Pro W7900 and Radeon Pro W7800 also feature completely new industrial designs and coolers that are very different than their consumer-class cousins.
We've got both the Radeon Pro W7900 and Radeon Pro W7800 on hand for testing, but before we dive in, take a look at their main features and specification, followed by a quick tour of the cards. Let's get started...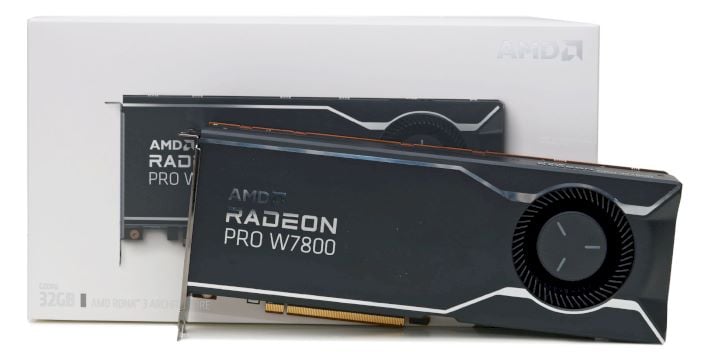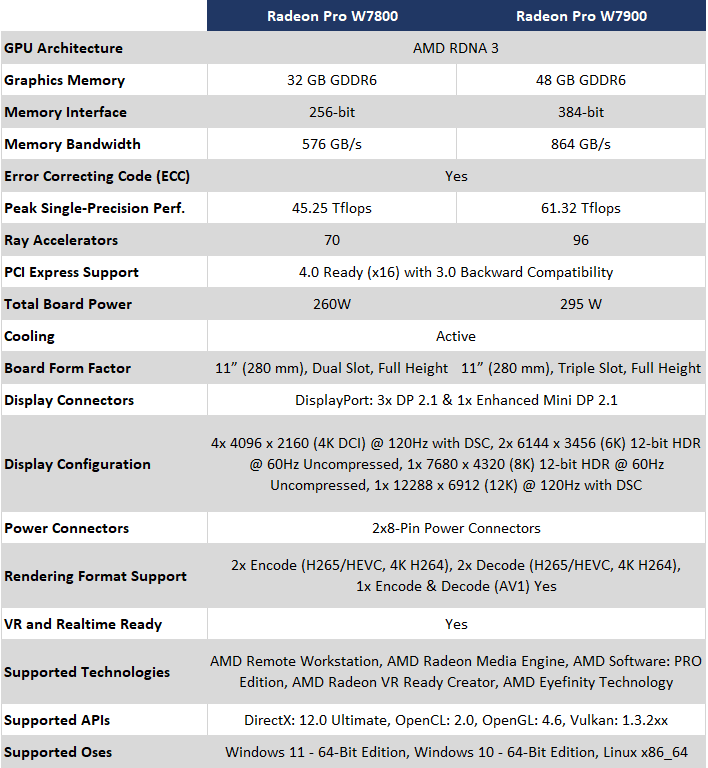 ---
Although they look similar at first glance, and they are built around the same GPU (with different configurations), the
Radeon Pro W7900 and Radeon Pro W7800
differ in a number of ways. First off, the W7900 is packing 48GB of GDDR6 RAM, connected to the GPU via wide 384-bit interface, for a maximum of 864GB/s of bandwidth. The W7800 features "only" 32GB of GDDR6, connected via a 256-bit interface, for up to 576GB/s of bandwidth. Cores / CUs are also scaled down on the W7800, which results in reduced compute performance, and ultimately lower power. Versus previous-gen Radeon Pro cards, however, both the Radeon Pro W7900 and Radeon Pro W7800 are in a completely different league, as you'll see in the benchmarks.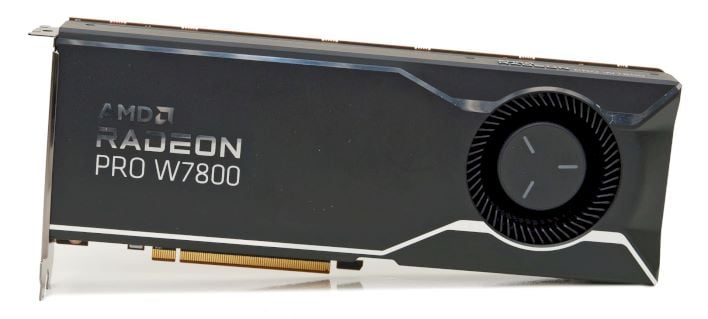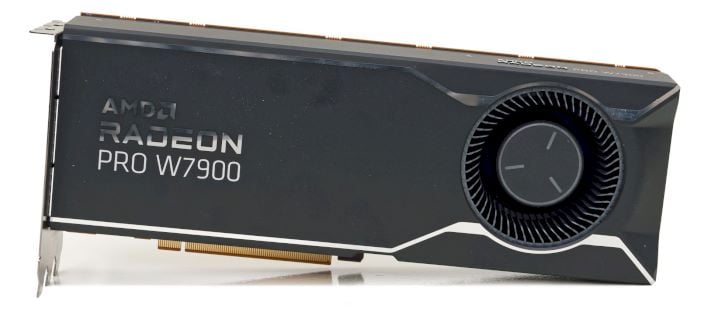 In terms of their design, as we mentioned in out
Radeon Pro W7600 / W7500 review
, AMD has moved away from the YInMn blue color scheme for its Pro products, and the new cards have an understated black-and-silver aesthetic. The workstation market doesn't have an affinity for wild designs, like gamers do, but we're going to miss that beautiful blue nonetheless.
The Radeon Pro W7900 has a similar GPU configuration to the Radeon RX 7900 XTX, with the same 96 unified compute units, for a total of 6144 shaders. Interestingly, despite claiming the same 61 TFLOP number as on the gaming-focused XTX card, the Radeon Pro W7900 has a lower total board power spec of 295W (versus 355W on the Radeon RX 7900 XTX). That should help to keep it cool, along with its thick three-slot blower design, which is a first for the Radeon Pro family.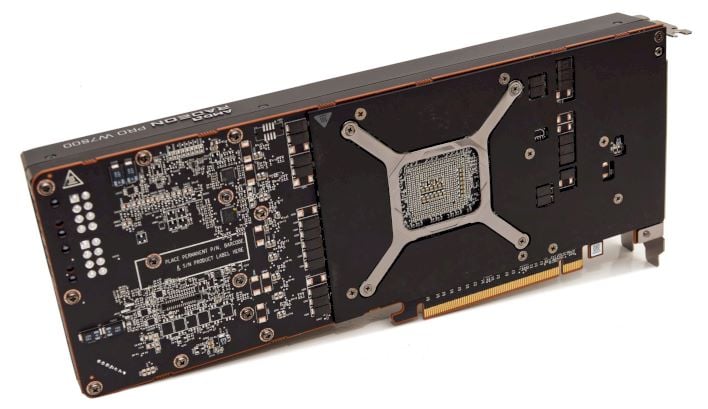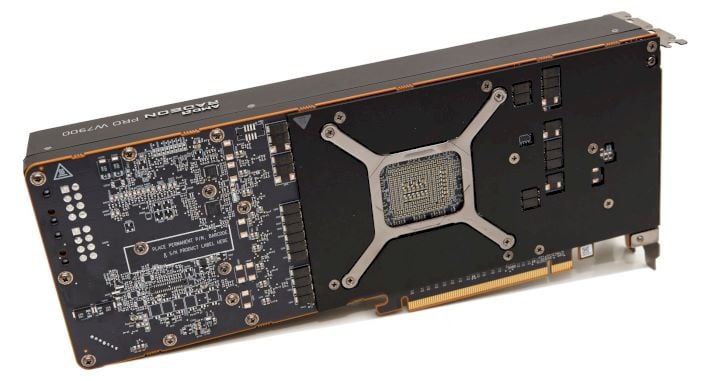 Along with using certified
Radeon
Pro drivers for professional applications, the biggest difference from the Radeon RX 7900 XTX is the W7900's double-sized 48GB frame buffer, but there are obvious differences in the PCB design as well.
In terms of its display outputs, DisplayPort 2.1 support gives it the capability of outputting high-resolution display streams up to 12K60, using compression, or 8K60 without it. It also can do 8K120, and a wide array of high-refresh, or multi-display 4K configurations. The actual outputs consist of a trio of full-sized DisplayPorts, along with a single mini-DP.


You may expect the Radeon Pro W7800 to be based on the Radeon RX 7900 XT, but that is not the case. Instead, the Radeon Pro W7800 is scaled-down a bit further with just 70 CUs and the aforementioned 256-bit memory bus. It still packs a healthy 32GB of GDDR6 memory and manages 45 TFLOPs of FP32 compute, and it also supports DisplayPort 2.1 and the same array of display outputs.


Although scaled down, the Radeon Pro W7800 is still rated for a 260W total board power. It likewise uses a single blower fan to keep cool, although it's a bit slimmer at two-slots wide. As you can see in the images above, the cards have similar design languages, but the W7900's cooler and shroud are thicker, as is its case bracket.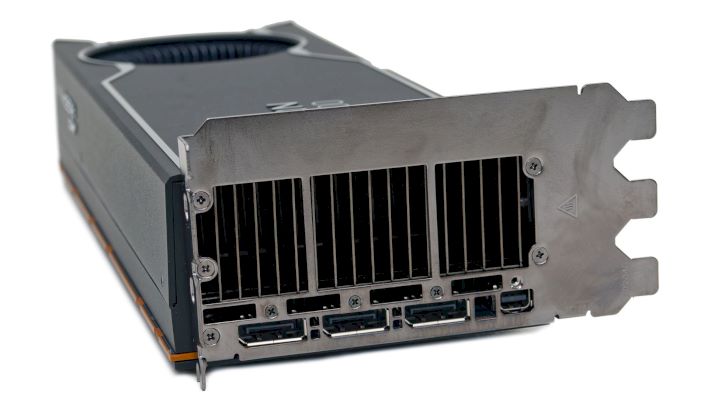 You might think that cooling these cards with a single blower-style fan makes them somewhat noisier than their
consumer-class counterparts
, which feature multiple axial fans, but that is not the case. Both of these cards are surprisingly quiet during normal operation, and even under prolonged, sustained load, when the fans spin up, they remain relatively quiet – but we're getting ahead of ourselves, more on that later.
Next up, some benchmarks...
Related content