UPDATE: AMD's First RDNA 3 Radeon Pro Graphics Cards Come With 48GB and 32GB of VRAM
Almost four months to the day after
the launch of its
Navi 31-based Radeon RX 7900 XTX and RX 7900 XT graphics cards, AMD is now releasing the first Radeon Pro boards based on the same architecture. The Radeon Pro W7900 and Radeon Pro W7800 are both high-end professional graphics cards with potent compute acceleration and video processing prowess.
AMD has abandoned the
YInMn blue color scheme
for its Pro products, and the new cards have a very understated black-and-silver aesthetic—not that anyone really probably cares overmuch what the cards look like, because these are of course intended for workstations and servers, not gaming rigs.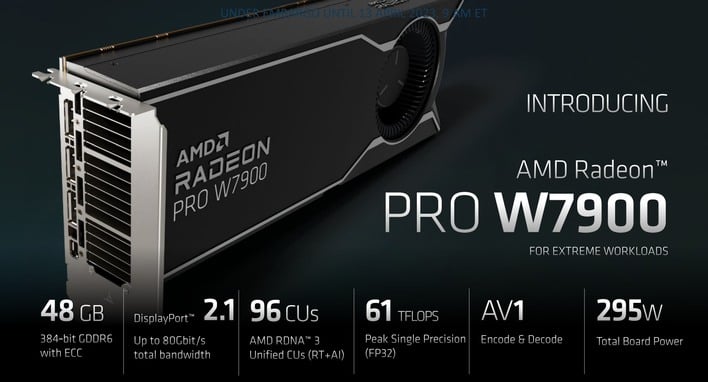 So, you'd probably expect the Radeon Pro W7900 to be based on the
Radeon RX 7900 XTX
, and you'd be right: the same 96 unified compute units, for a total of 6144 shaders. Interestingly, despite claiming the same 61 TFLOP number as on the gaming-focused XTX card, the Radeon Pro W7900 has its total board power spec slashed from 355W down to just 295W. That should help to keep it cool, along with a three-slot blower design—the first three-slot card in the Radeon Pro family.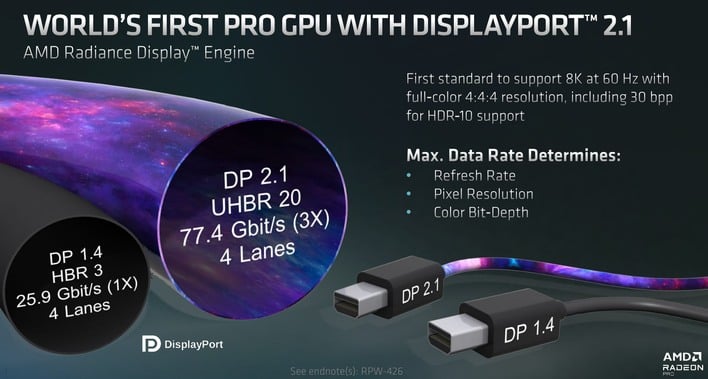 The biggest difference from the Radeon RX 7900 XTX, besides certified Pro drivers for professional applications, is that the W7900 has double the video RAM at 48GB.
DisplayPort 2.1
support gives it the capability of outputting insanely high-resolution display streams: up to 12K60, using compression, or 8K60 without it. It also can do 8K120, which is a little bit strange for a professional card, but still neat.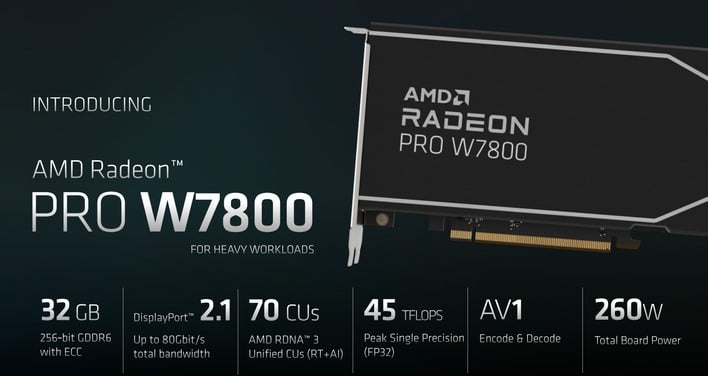 Meanwhile, you'd also reasonably expect the Radeon Pro W7800 to be based on the Radeon RX 7900 XT, but that's not the case—as, perhaps, should be obvious given the "8" in the model number. Instead, it's significantly more shaved-down from the top-end card: just 70 CUs and a 256-bit memory bus. It still packs in 32GB of GDDR6 memory and manages 45 TFLOPs of FP32 compute, and it also supports DisplayPort 2.1.
Despite these cutbacks, the Radeon Pro W7800 is still rated for 260W total board power. It likewise uses a single blower fan to keep cool, although it's a bit slimmer at only two slots. It might be tempting to assume that the Radeon Pro W7800 is the first appearance of the Navi 32 chip, but we suspect not, as Navi 32
was leaked
to top out at 64 compute units. Instead, we think this is probably just a cut-down Navi 31 with only four MCDs connected.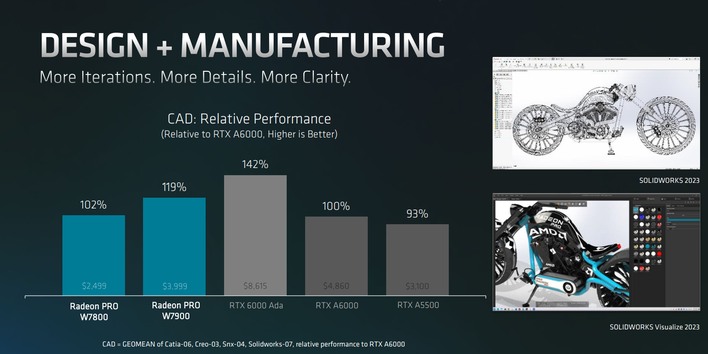 AMD's presentation promoting the new cards is primarily focused around performance-per-dollar. Indeed, the two new cards are remarkably cheap for high-end professional accelerators. As a result they roundly thwomp NVIDIA's pricey offerings in the performance-per-dollar metric across Autodesk, Adobe, Blackmagic, Maxon, Solidworks, and Lumion, according to AMD anyway.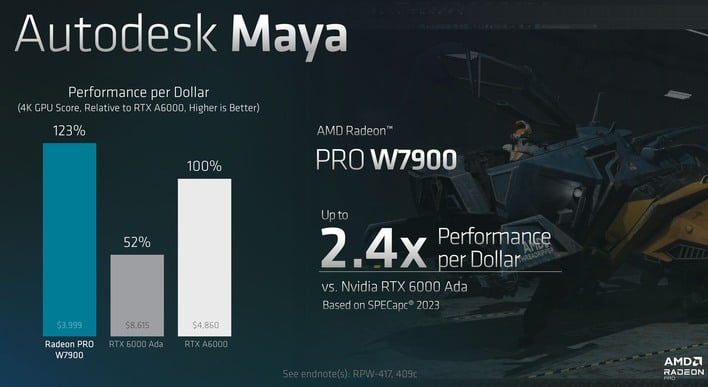 Such an emphasis on performance-per-dollar could give you the impression that the cards aren't competitive on raw performance, and AMD admits that competitor NVIDIA's RTX 6000 Ada card is faster than even the Radeon Pro W7900. However, the gap isn't that big—just 7% in SPECviewperf 2020—and the Radeon Pro W7900 costs less than half of what a 48GB Ada card will run you.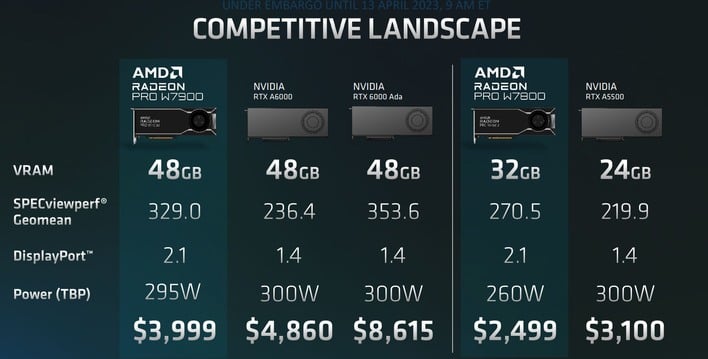 If you're eager to snag some high-powered Radeon Pro graphics to accelerate your work, you won't have long to wait. AMD didn't specify an exact date, but says that these cards should be available this quarter.
---
Update From AMD 5/26/2023:
The AMD Radeon PRO W7900 and Radeon PRO W7800 graphics cards are available today beginning at an SEP of $3,999 and $2,499 USD respectively, from the following distributors:


Americas – Exxact
EMEA – ASBIS
APAC – Ask, Daewon and Ingram Micro