AMD Radeon Pro W5500 Review: Navi Pro Graphics For Less
AMD Radeon Pro W5500: Image Processing And Compute Benchmarks
How We Configured Our Test Systems: We tested the professional graphics cards in this article on an Intel X299-based motherboard powered by an Intel Core i9-10980XE 18-core processor and 32B of Corsair DDR4 RAM. The first thing we did when configuring the test system was enter the UEFI and set all values to their "high performance" or "optimal" default settings and disabled any integrated peripherals that wouldn't be put to use. The memory's X.M.P. profile was enabled to ensure optimal memory performance (but CPU core enhancement was disabled), the solid state drive was formatted, and Windows 10 Professional x64 was installed. When the installation was complete, we fully updated the OS and installed all of the drivers, applications, and benchmark tools necessary to complete our tests.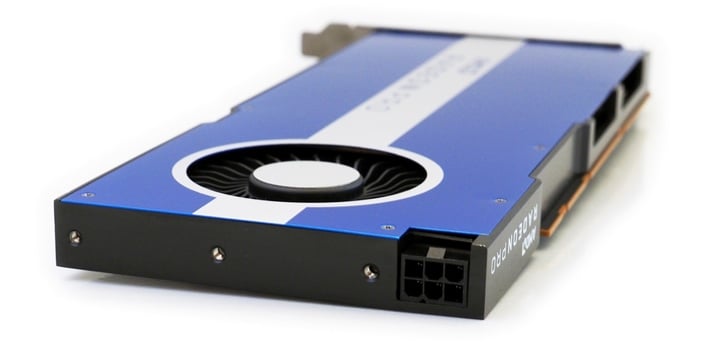 HotHardware's Test System

Intel Core i9 Powered
Hardware Used:
Intel Core i9-10980XE
(3GHz - 4.4GHz, 18-Core)
Gigabyte Aorus X299 Gaming 7 Pro
(Intel X299 Chipset)

NVIDIA Quadro RTX 4000
AMD Radeon Pro WX 8200
AMD Radeon Pro W5700
AMD Radeon Pro WX 7100


AMD Radeon Pro W5500



32GB Corsair DDR4-2933
Samsung SSD 960 Pro
Integrated Audio
Integrated Network
Relevant Software:
Windows 10 Pro x64
AMD Radeon Pro v20.Q1.1
NVIDIA Quadro Drivers v441.12



Benchmarks Used:


SPECviewperf 13
LuxMark v3.1
Blender v2.82
SiSoft SANDRA 2018 SP2
VRMark
Unigine Superposition
IndigoBench
SiSoft SANDRA 2020

Cryptography And Image Processing OpenCL Performance Tests
SANDRA's GPGPU Image Processing benchmark runs through an array of filters on its reference data and offers up an aggregate score, derived from a number of individual results. Its GPGPU Cryptography benchmark churns through an assortment of workloads, and presents individual results for overall bandwidth, AES256
encryption
and decryption, and SHA2-256 hashing bandwidth. CUDA and OpenCL code paths are available in these tests, but we used OpenCL on all cards. Previously, using the
CUDA
path with NVIDIA GPUs resulted in better performance, but OpenCL actually outperforms CUDA in these tests now.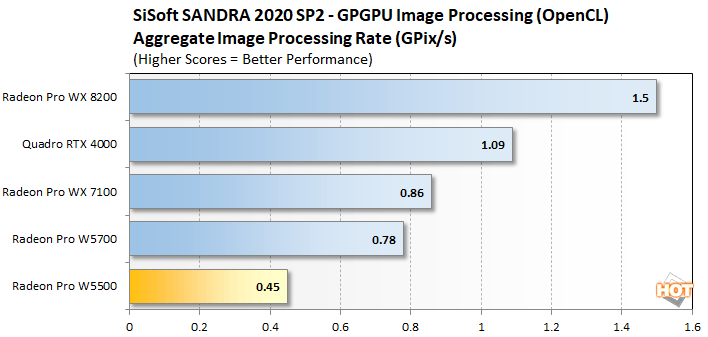 The new Radeon Pro W5500 trails all of the other cards in SANDRA's GPGPU Image Processing benchmark. The card's lower full precision floating point performance versus the
WX 7100
shows in this test.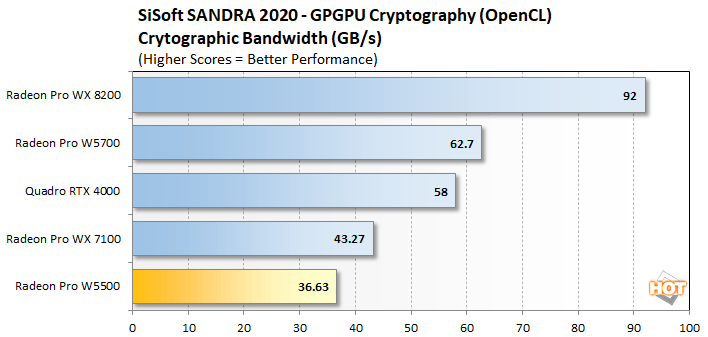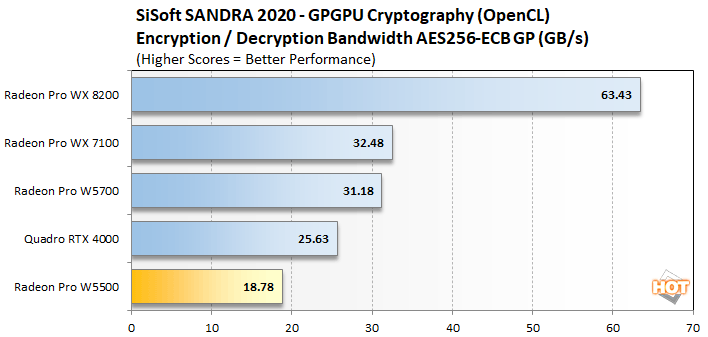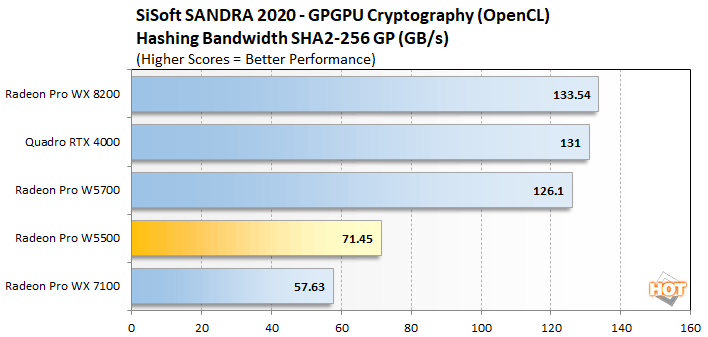 SANDRA's various Cryptography-related benchmarks have the Radeon Pro W5500 trailing the previous-gen WX 7100 in terms of Cryptographic and
Encryption
/ Decryption bandwidth as well, but it is able to pull ahead in the Hashing Bandwidth test.
LuxMark v3.1

OpenCL Benchmark

LuxMark is a cross-platform,
OpenCL
-accelerated 3D rendering benchmark. It's a tool based on the open source LuxRender physically-based spectral rendering engine, which accurately models the transportation of light and supports high dynamic range. LuxRender features a number of material types to allow rendering of photo-realistic and artistic scenes. LuxRender is free software, licensed under the GPL, that offers plugins for packages like Blender, Maya, Cinema 4D and 3DS Max.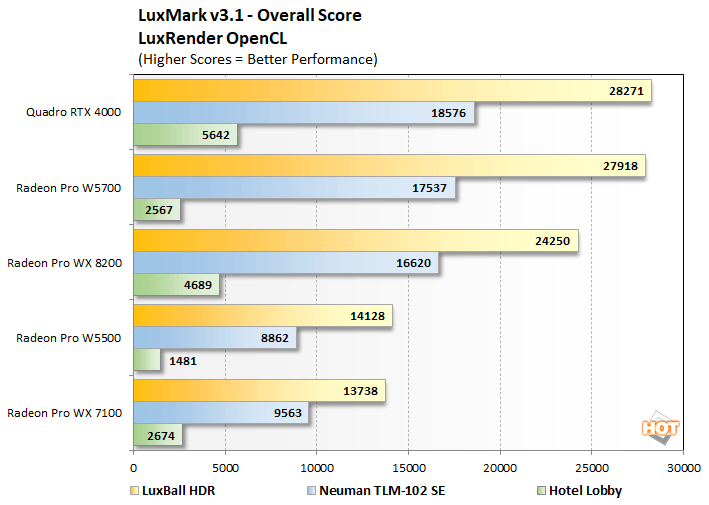 The Radeon Pro W5500's performance is a mixed bag in the various Luxmark tests. With the LuxBall HDR model, the Radeon Pro W5500 inches past the
Radeon WX 7100
, but with the more taxing Neuman TLM-102 SE and Hotel Lobby models, it falls behind.
IndigoBench

GPU Rendering Performance
IndigoBench is based on Indigo 4's advanced rendering engine and offers both CPU and GPU rendering modes for its two built-in models. The standalone benchmark is available for Windows, MacOS, and Linux and outputs results in M/Samples per second.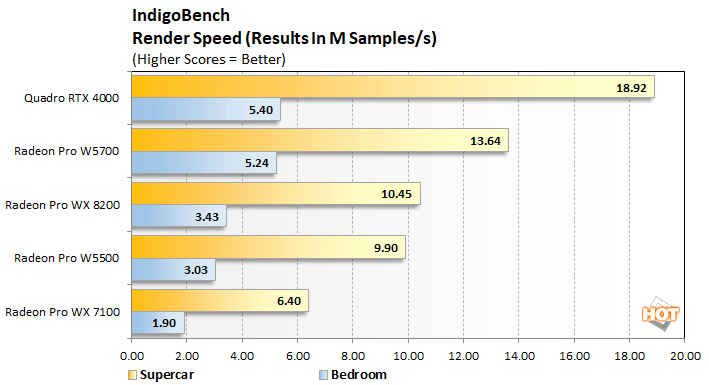 IndigoBench has the new
Navi
-based Radeon Pro W5500 outpacing the Polaris-based WX 7100, and nearly catching the WX 8200. The higher-end (and obviously pricier) Radeon Pro W5700 and Quadro RTX 4000 finish well out in front of the other cards.
Blender v2.82

GPU Rendering Benchmark
Blender is a free and open source 3D creation suite that can handle everything from modeling, rigging, animation, simulation, rendering, compositing and motion tracking, even video editing and game creation. It has a built-in
benchmarking
tool that will track the time it takes to complete rendering a particular model. We used a GPU-focused BMW model for these tests here...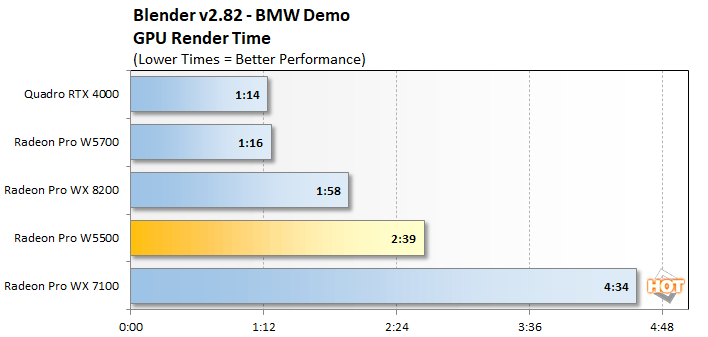 With the latest Blender benchmark (using the
BMW
model), the Radeon Pro W5500 once again outpaces the previous-gen Radeon Pro WX 7100, but by a much wider margin this time around.
Related content
Comments