Alienware m18 R1 Laptop Review: Brawny Beauty, Untapped Potential
Alienware m18 R1 Review: A Big, Brawny Beauty With Top-Shelf Specifiications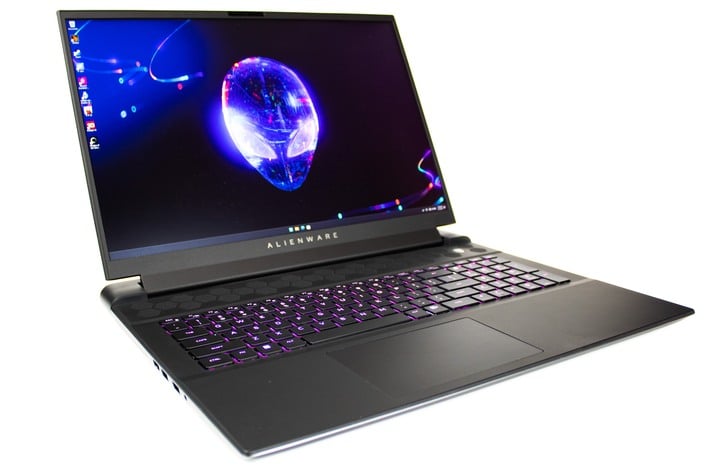 Alienware m18 R1: As Configured - $3,495 (Starting - $1,999)


Alienware's new 18-inch gaming laptop is powered by Intel's and NVIDIA's fastest mobile silicon and it's a beast with untapped potential.






Attractive Chassis
High Quality Keyboard
Nice Display
Minimal Bloatware

Price Premium
Minimal Battery Life
Performance Anomalies



---
The term "desktop replacement" has always been kind of a misnomer. After all, even the most powerful gaming laptops can't keep up with a beefy DIY gaming PC, right? That was indeed the case once upon a time, but modern systems can pack incredible power into an inch-thick chassis. The Alienware m18 R1 is exactly such a system.
Make no mistake -- the Alienware m18 R1 is a relatively large 18" gaming system that stretches the bounds of the term "laptop." It's battery life won't come close to less-powerful, more portable laptops, and it can pump out some serious heat and get loud if you want the best performance. It's also stuffed to the gills with the most
potent mobile PC hardware
available right now, all wrapped up in an attractive chassis with a quality keyboard, a gorgeous display, and relatively little in the way of bundled bloatware.
It's not an exaggeration to say that the gaming experience on this Alienware m18 R1 is more-or-less the equal of the experience on a tuned
RTX 4080 gaming desktop
. Likewise, most of our benchmark suite barely puts pressure on the m18 R1 because it's so fast that it just rolls over the tests, although that performance can be a little variable. We'll take a look at benchmarks later. First, let's ponder the parts:
That Core i9-13980HX processor is the very same silicon you would find under the IHS of a Core i9-13900K desktop CPU. Owing to its installation in a laptop, it runs a bit lower clocks to keep the power draw and heat output down, but you don't lose much for it. In our testing, it doesn't quite hit that 5.6 GHz max turbo rating during gaming, but it's usually not far off.
That's impressive considering that the cooling apparatus also has to deal with a full 175W from the GeForce RTX 4090. Now, that's a mobile RTX 4090, so it's not the big behemoth you'll
find in a desktop 4090
. Instead, it's based around an AD103 GPU, the same as you'd find in a desktop GeForce RTX 4080.
There are a few additional cuts even compared to that card; whereas the desktop GeForce RTX 4080 runs super-fast 22.4 Gbps memory, the mobile RTX 4090 runs 18 Gbps RAM. Likewise, as you'd expect, GPU clocks take a hit thanks to the lower 175W max power limit. Don't be mistaken by our comparisons to desktop GPUs, though—this chip is far and away the fastest mobile graphics processor available right now.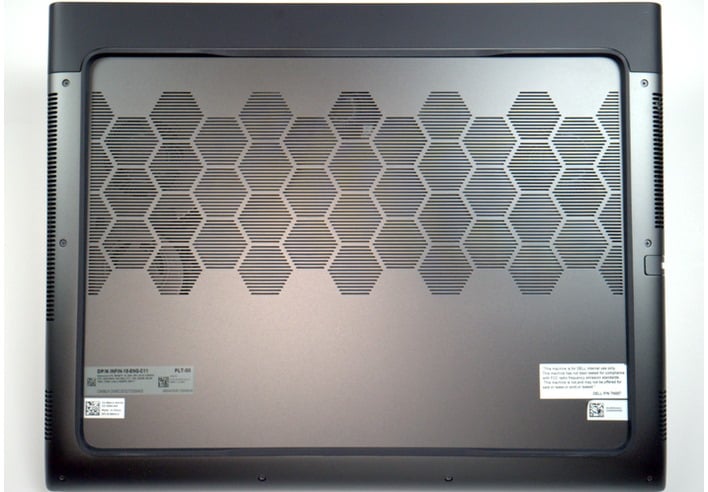 The bottom of the machine comes off rather easily after removing the visible screws.

Like with
many laptops
that
we've reviewed before
, the discrete GPU in this system is connected to the display using a hardware MUX chip. This means that the display is physically disconnected from the integrated graphics and connected directly to the discrete GPU when you start a game. This does have some weirdness involved; there's a delay of a couple of seconds where the screen stays static as the machine switches over. However, the swap ensures maximum performance while gaming, which is the goal with this machine.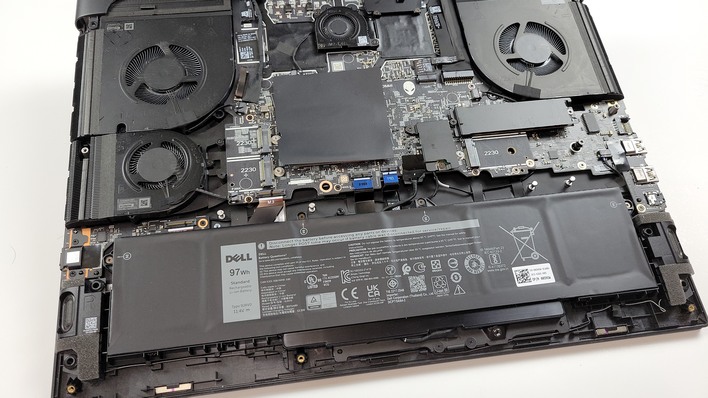 The black square in the middle covers the two SODIMM slots. Note the four M.2 sockets, too.

Our system came to us with a pair of 16GB DDR5-5800 modules from ADATA. As it turns out, Alienware isn't going to be offering that configuration to end-users, so we elected to swap them out for a pair of standard DDR5 SODIMMs running at 4800 MT/s to better represent the configuration customers will recieve. It definitely had an impact on performance, and I'm disappointed that Alienware won't be offering faster memory in this system, as it would definitely benefit. The replacement DDR5 we were supplied with wasn't particularly snappy either, with a 16ns first-word latency.
EDIT: As it happens, Alienware will in fact be offering this machine with DDR5-5600 memory, and even the DDR5-5800 that we used initially. Look out for those faster memory options, as in our testing, faster RAM can make a considerable difference in game performance.

DLSS
work so well that you don't have to play games in native 4K to get "4K-like" image quality.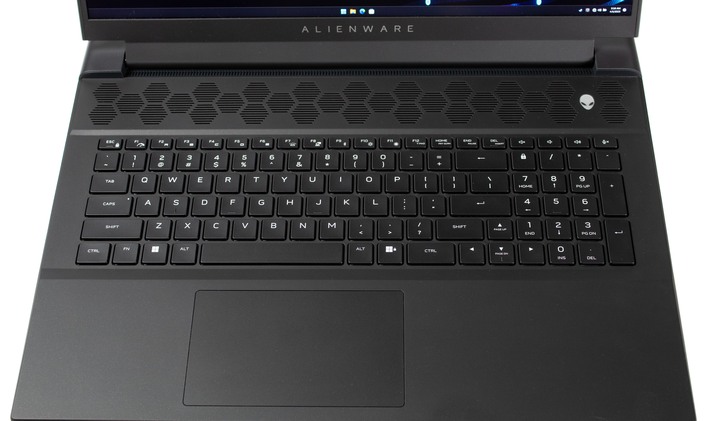 The keyboard lighting goes off very quickly when you stop typing, which can save power.

On the topic of that keyboard, we have some remarks. It has volume controls on the top layer; no Fn key shortcut required. That's excellent, and it also has a touchpad lockout function, which is also wonderful. Along the top row on the Fn layer, there are five user-definable macro keys, although the process for doing so is somewhat arcane. We probably would have rather seen these on the top layer as physical keys, but that's a minor beef.

A render of a sweet Cherry MX ULP keyswitch. Image: Cherry

Alienware describes the keyswitches employed on the m18 R1 as "ultra-low-profile Cherry MX." While that sounds nonsensical, Cherry did indeed decide to name its ultra-low-profile mechanical keyswitches "Cherry MX ULP". Whatever it's called, it feels fantastic to type on, with zero key wobble or gritty feeling. It's definitely the best laptop keyboard I've ever used. Still, it wouldn't be one of my reviews if I didn't find something to complain about.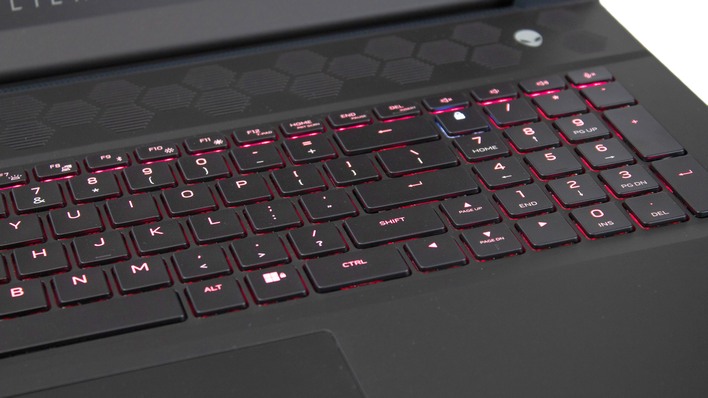 The keyboard is great, but the layout seems needlessly-compressed.

Actually, our biggest gripe is that the keypad's zero key is in the wrong place due to being shoved over against the arrow keys, and that makes it rather hard to use as a ten-key setup. At the very least, you're going to have to re-learn reflexes, if this was your flow previously. There's plenty of space on either side of the keyboard, so we feel like the layout could have been optimized a little better to allow for the full-width zero key. If you're familiar with a compact 1800 keyboard layout, however, you'll be right at home.
Also, the right-hand-side Windows logo key is replaced by a Windows-lock key that disables the logo key. When PC games primarily ran in exclusive full screen mode, this could prevent you from crashing your game by accidentally dropping out to Windows. That's really not a thing anymore, meaning this "logo lock" function mostly serves to make you wonder why your logo key shortcuts aren't working after you accidentally hit it. We would've liked to have a Menu key instead.
We'll get to benchmarks in a hot minute; first, let's have a gander at the
Alienware Command Center
software...
Related content