Razer Blade 14 Review: Zen 4 Ryzen-Powered Mobile Powerhouse
Razer Blade 14 (2023) Review: A Slim, Sleek, And Speedy AMD-Powered Laptop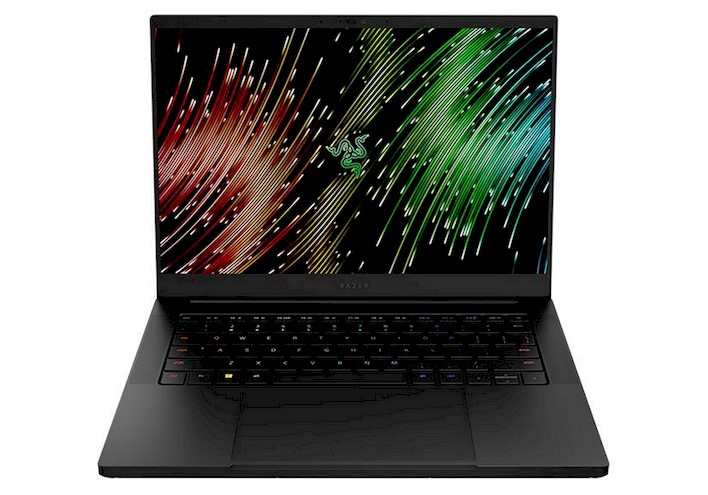 Razer Blade 14 (2023): As Configured - $2,699 (Starting $2,399)


The latest Razer Blade 14 packs AMD's top mobile Ryzen processors and NVIDIA GeForce RTX 4070 graphics into a slim, sleek, attractive laptop, with impressive results.






Attractive Design
Strong Performance
Latest AMD Platform with Ryzen AI
Beautiful, High-Refresh Display
Good Built-In Audio

Price Premium
Some Sharp Edges
Finnicky Trackpad Buttons



---
The next wave of AMD-powered laptops is due to hit store shelves soon, built around
Ryzen 7040 series processors
, codenamed "Phoenix". Unlike top-end "Dragon Range" Ryzen 7045 HX series processors, which target larger gaming laptops and desktop-replacement mobile workstations, the AMD Ryzen 7040 series is designed to accommodate many more smaller, lighter form factors, with more modest default TDPs in the 35w – 54w range. AMD Ryzen 7040 series processors are also based on a fresh slice of silicon, which features up to 8 Zen 4 cores, integrated RDNA3 graphics, and a dedicated Ryzen AI processor that enables some interesting new capabilities – for an x86 platform at least.
The first Ryzen 7040-based system we've gotten ahold of is the
slick Razer Blade 14
. As its name suggests, the Blade 14 features a 14" display, and despite being only .7" thick, the machine is packing a beefy Ryzen 9 7940HS processor and GeForce RTX 4070 series graphics. That's a lot of concentrated oomph for such a portable laptop, but Razer's redesigned vapor chamber cooling system is reportedly up for the task. We'll find out if that's that case soon enough...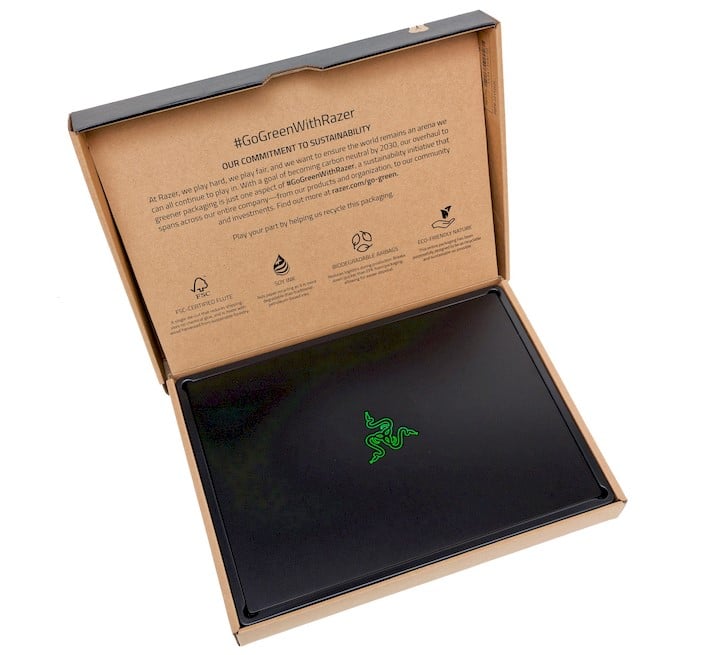 Razer Blade 14 (2023) Gaming Laptop Specifications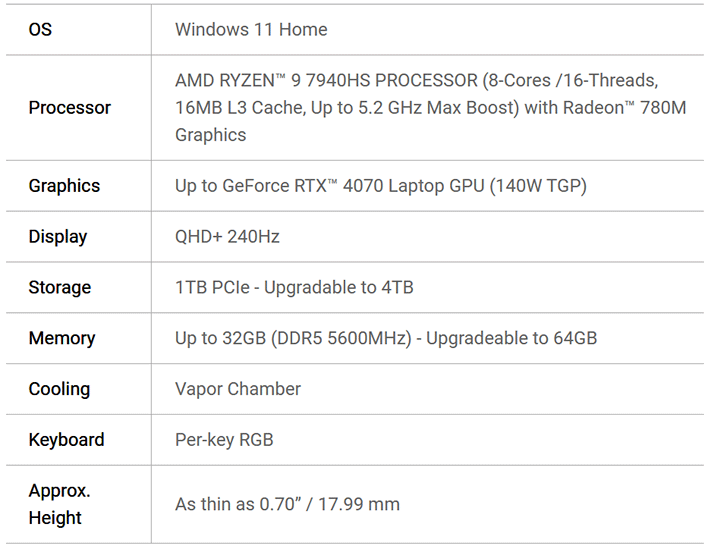 There will be three initial configurations of the Razer Blade 14, a base model with a
GeForce RTX 4060
and 16GB of RAM, a mid-tier model with a GeForce RTX 4070 and 16GB of RAM, and a top-end model with a 4070, 32GB of RAM, and a Mercury White finish. All of them are powered by the Ryzen 9 7940HS, however, and come equipped with a 1TB NVMe SSD, Qualcomm WCN6856 Wi-Fi6E with Bluetooth 5.2, and the same QHD+ 14"d display.
We tested the mid-tier model. More specifically, this machine is built around the 8 core / 16 thread Ryzen 9 7940HS (16MB L3 cache, 5.2GHz boost), which features integrated Radeon 780M graphics. The processor is paired to 16GB of DDR5-5600 RAM, in a dual-channel configuration. And more importantly, the memory is slotted and can be upgraded up to 64GB. There's also a 1TB Samsung NVMe PCIe Gen 4 SSD on-board, and of course, the GeForce RTX 4070. As configured in the Blade 14, the GeForce RTX 4070 has 4,608 CUDA cores, 8GB a GDDR6 VRAM, and a boost clock of 2,175MHz. The GPU has a TDP of 140W as well, which should give it some additional breathing room versus some other thin and light machines featuring the RTX 4070.
Razer Blade 14 Build Quality & Design
The Razer Blade 14 is not a totally new platform – Razer first released a 14" model back in 2021 – but quite a few updates and upgrades have been made that help separate this newest iteration from its predecessors.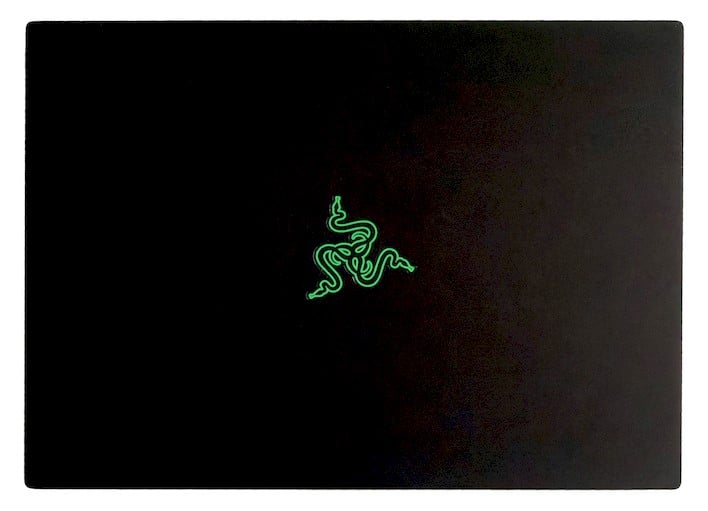 Whereas many other gaming laptop manufacturers style their products with bold, angular designs and garish extras, the Blade 14 has an understated aesthetic that would be equally acceptable in a boardroom or game room. The system features a green Razer logo in the lid and green USB-A ports, which are perhaps the only external cues on this machine that suggest it is not a typical, mainstream laptop.
The Razer Blade 14 has a matte-black anodized finish all over its milled aluminum body that does a decent job of resisting fingerprints, though some smudges and marks were visible after a few days of using the laptop. The machine is super-clean from almost every angle, with no visible venting anywhere except for the bottom. When resting on a desk or table, the Razer Blade 14 is an all-black affair, with sharp lines and subtle green accents.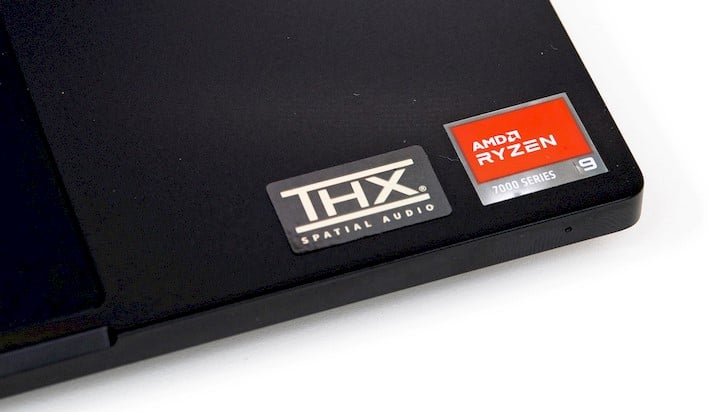 We think the Razer Blade 14 looks great, but the aluminum unibody construction on the system also feels great. The Razer Blade 14 is rigid and exudes a premium feel. The entire chassis measures 17.99 mm x 228 mm x 310.7mm (0.7" x 8.97" x 12.23") and weighs in at just over 4lbs. At that weight, the Razer Blade 14 isn't quite was we'd consider an ultraportable, but it's not particularly heavy for a powerful gaming laptop either. In fact, it's only about .75 inches wider and deeper than the 13" ultrabook I carry around when travelling.
Except for the per-key RBG backlighting, opening the lid doesn't reveal anything over the top like some other gaming laptops. The keyboard deck is home to a quality, decent-sized keyboard, which is flanked by large speaker grilles on both sides and an extra-large, precision glass touchpad beneath. We found the keyboard to be surprisingly nice to type on and the touch pad feels excellent. It does a great job with palm rejection and gesture input, but the virtual left and right mouse button locations need to be wider, in our opinion. We often tried to left-click on something, only to find the system uncooperative – we had to move our finger a bit more to the left to get it to click reliably. The tactile feedback with the touchpad is great, though.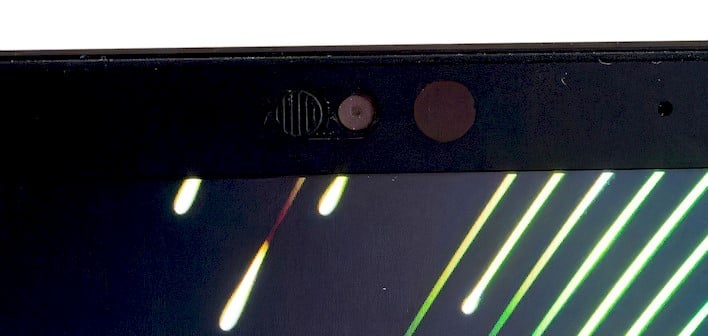 Underneath the speaker grilles on the keyboard deck is a stereo dual speaker setup that sounds fairly good for a laptop this size. This system also supports THX Spatial Audio, which also works when using headphones. The integrated speaker system isn't going to shake a room, but it outputs decent-volume, distortion free audio that sounds great for a 14" laptop. Continuing on the audio front, there's also a pair a microphones built-in, which complement the integrated 1080p webcam and Windows Hello compliant IR camera. For the security minded among you, there is a privacy shutter integrated into the webcam housing as well.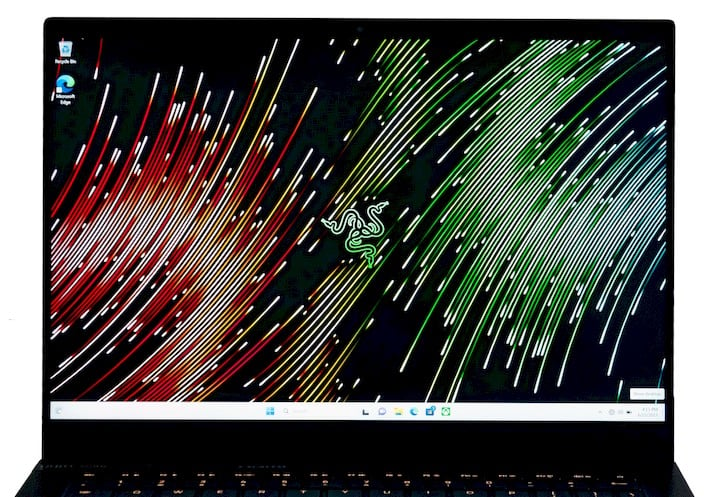 That webcam sits above an absolutely beautiful display. The Razer Blade 14 is packing a 16:10, anti-glare 14" IPS-class panel, with a native resolution of 2560x1600. The display supports up to a 240Hz refresh rate, with
AMD FreeSync Premium
, a 3ms response time, and up to 500 Nits of brightness. The display also supports 100% of the DCI-P3 color gamut.
Uniformity, saturation, contrast, and viewing angles are top-notch, and its super high refresh rate result in smooth animations both on the desktop and while gaming. This display easily stands out from other 14" laptops – it is not as bright as some of the mini-LED displays we've experienced lately, but it is excellent nonetheless.


Ports on the machine include a proprietary power port, a USB 3.2 Gen 2 Type A port, a USB 4 Type-C ports, and a 3.5mm Headphone / Microphone combo port on the left side, and a USB 3.2 Gen 2 Type A port, a USB 4 Type-C, an HDMI 2.1 Port, and Kensington Security Lock on the right. The front and rear edges of the machine is devoid of any major features, other than a cutout to help raise the lid and a small green power LED at the lower-right of the front-end that only illuminates briefly during boot.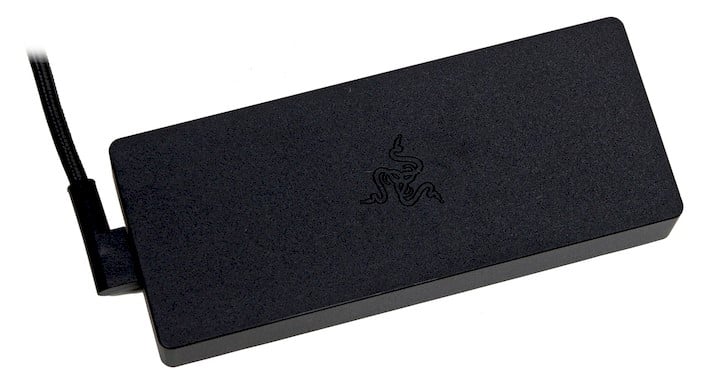 Powering the Blade 14 is a 68.1whr battery. It's not the largest we've seen in a gaming laptop, but it's offers a decent capacity, especially considering battery life usually isn't a top priority on high-powered gaming laptops. To charge that battery and power the Blade 14, Razer includes a 230 watt power brick. The company employs
GaN (Gallium Nitrate) technology
in the included adapter, so it is not excessively large or heavy and it's capable of charging the battery to 80% capacity in only an hour. The overall design language of the system carries over to the power adapter as well.
Razer Blade 14 Software Experience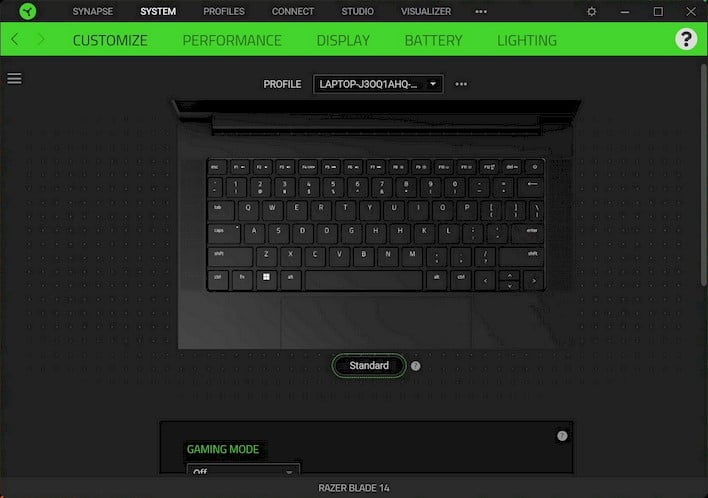 To configure all of the hardware and customizable options in the Blade 14, Razer includes its proprietary Razer Synapse software. Thankfully, the Windows 11 OS image wasn't loaded down with any noteworthy excess bloat or nagware. The only things we disable prior to testing were OneDrive and Teams, which are common to all Windows 11 installs.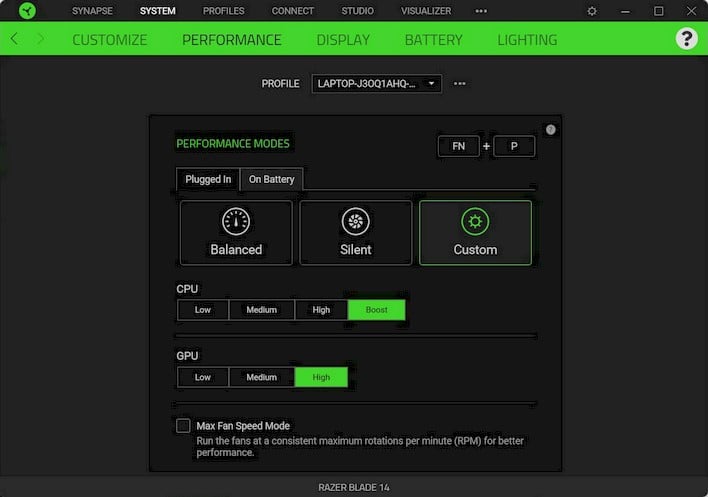 Razer Synapse is where users can configure the customizable lighting in the system, tweak performance profiles, link social media accounts, and access a number of studio features for streaming and capturing game footage, among a number of other things. Performance profiles while plugged in can be customized, but Balanced and Silent presets are available out of the box. While on battery, only the Balanced profile, which auto-switches between the iGPU and dGPU, is available.
Razer Synapse has an additional trick up its sleeve, too. The app is always running in the system tray, and when you launch a game, it will automatically pause or shut-down unnecessary background tasks to ensure the maximum amount of RAM and CPU resources are available for your games. Normally, we're not too big on apps like this messing with a system, but we didn't encounter any weirdness on the Blade, except for some longer-than-expected load times (for Synapse – not games).
AMD Ryzen AI Features Arrive In The Razer Blade 14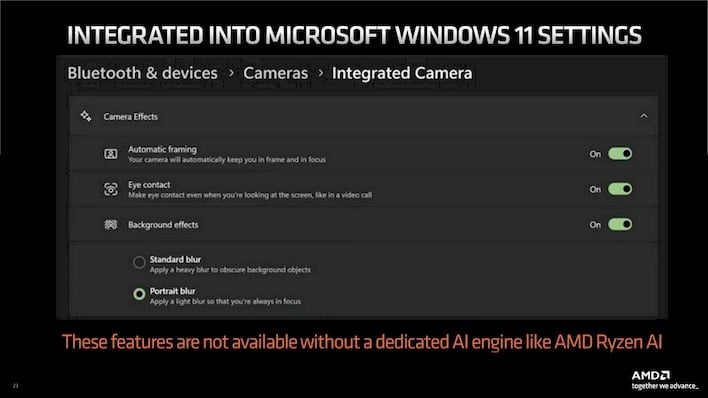 Thanks the AMD Ryzen 9 7940HS processor in the system, which includes the Ryzen AI engine, the Blade 14 supports a number of features in Windows 11 not available on most laptops. When a dedicated AI processor is detected, Windows 11 enables a trio of video conferencing capabilities to any webcam: Eye Contact, Automatic Framing, and Background Effects.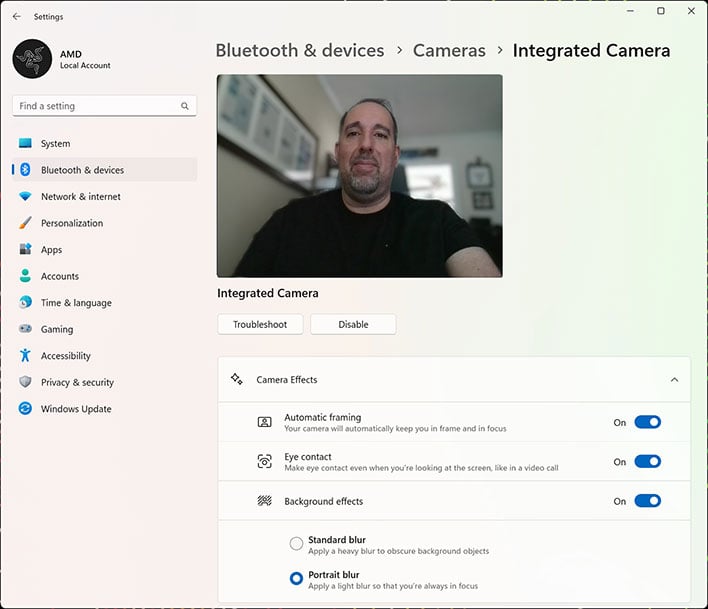 I'm Not Actually Looking At The Camera Here...
Eye Contact alters the user's gaze, so that it always looks as if they are looking directly into the camera and making eye contact. Automatic Framing will crop in a bit and automatically center and frame users as they move above the webcams field of view. And Background Effects will apply a high-quality blurred background, without placing any additional load on the CPU or GPU.
Related content