Zen 4 Goes Mobile At CES With Four New Ryzen 7000 Laptop CPU Families
At last year's Consumer Electronics Show, AMD announced its
Ryzen 6000
Mobile processors, a coherent family of processors based on a single design, Rembrandt. However, the company has introduced new
processor naming guidelines
since then. At this year's 2023 CES, AMD is announcing new Ryzen 7000 Mobile CPUs, but pay close attention, because there are actually five wildly-differing processors shipping under that banner.
AMD's Ryzen 7000 Series Mobile Decoder Ring
To AMD's credit, the company isn't trying to obfuscate anything, and has been completely clear with the press on what exactly is in each chip, right down to the core architectures for both CPU cores and their integrated GPUs. In fact, we have this handy-dandy little chart here which outlines everything: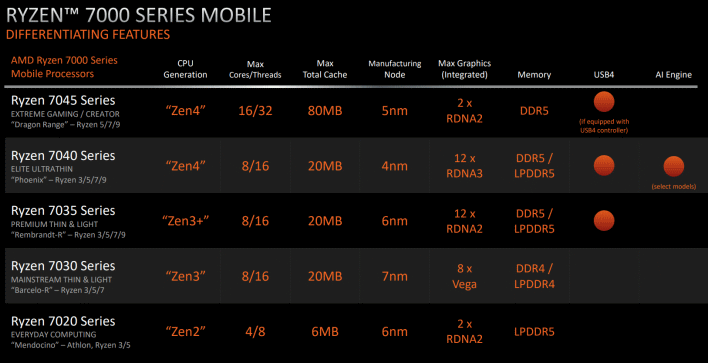 So, going down the chart, we have the Ryzen 7045 series, the Ryzen 7040 series, the Ryzen 7035 series, the Ryzen 7030 series, and the
Ryzen 7020
series. The "7", you see, just means "released in 2023." In other words, everything on this chart is coming at some point this year, so you'll want to familiarize yourself with the parts individually. To that end, let's take a tour through AMD's 2023 mobile Ryzen lineup.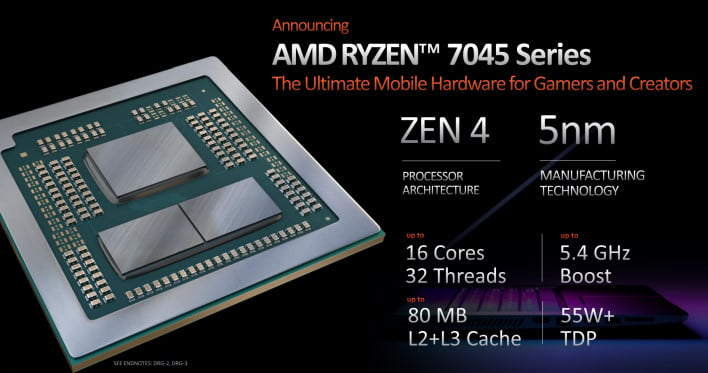 First off, we have the Ryzen 7045 series. These processors were code-named
Dragon Range
, and fundamentally, they are essentially the same chips as "
Raphael
" for desktop. That means you get between six and sixteen Zen 4 CPU cores in two or three chiplets, making these, yes, the world's first chiplet-based laptop CPUs.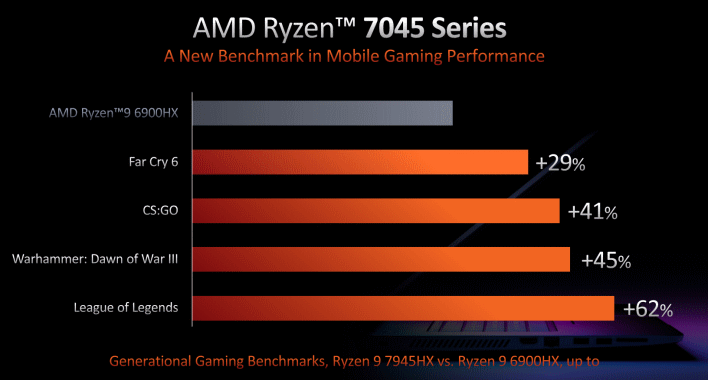 Curiously, AMD is only making performance comparisons against its own previous-generation hardware this time around. The company presents this list of gaming benchmarks in titles that look to be chosen for maximum single-thread sensitivity. These performance gains are impressive to be sure, but it's the kind of lift we've seen before, when comparing
AMD's desktop Zen 4 performance
versus Zen 3.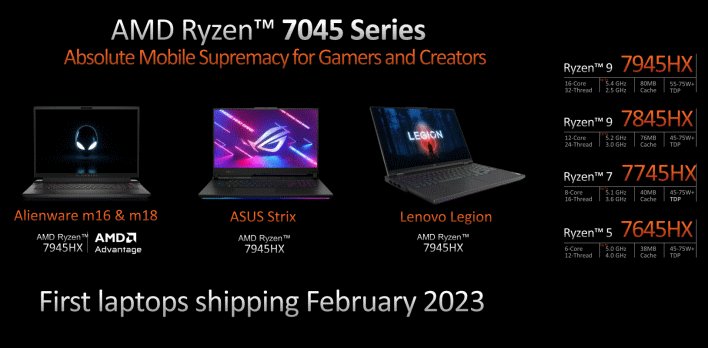 Besides the 16-core flagship, there are analogs to the rest of the desktop Raphael processors within the Ryzen 7045 lineup. AMD says it has laptops shipping with these processors as soon as February 2023. Indeed, the AMD Ryzen 6000 CPUs based on Rembrandt were impressive, but it was sometimes hard to find laptops SKUs based on them. Hopefully Dragon Range is more available with more OEM design wins.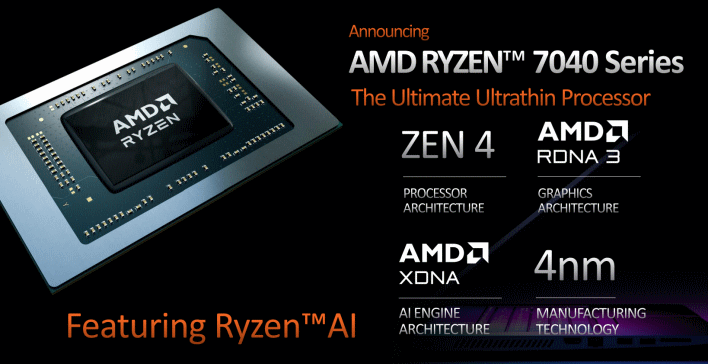 Next up is the real star of the show, the Ryzen 7040 series. Codenamed "Phoenix" (or perhaps "
Phoenix Point
"), these bleeding-edge CPUs combine Zen 4 CPU cores with the same RDNA 3 graphics technology as found in the Radeon RX 7900 XTX, as well as a new "Ryzen AI" processor, all on TSMC's N4 process.
Enter AMD Ryzen AI With XDNA (Xilinx DNA)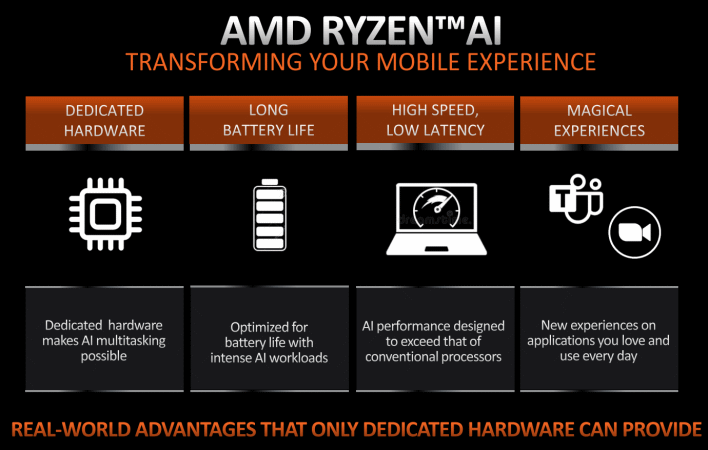 What is Ryzen AI? Well, it's a block of Xilinx FPGA technology, apparently. AMD didn't supply a ton of details on exactly what the capabilities of the programmable logic core may be, but did say that it's a reconfigurable circuit built right into the monolithic Phoenix die. The company says it can handle four concurrent "dedicated AI streams" and that it is "optimized for battery life with intense AI workloads."
Practical use cases could apparently include any sort of AI inferencing workload, like audio background noise reduction, image processing, computer vision, and so on. You can do these sorts of things on CPUs or GPUs, but AMD emphasizes that having dedicated hardware is much more efficient than using general-purpose compute for AI, and indeed these types of acceleration engines are a growing trend with Intel as well.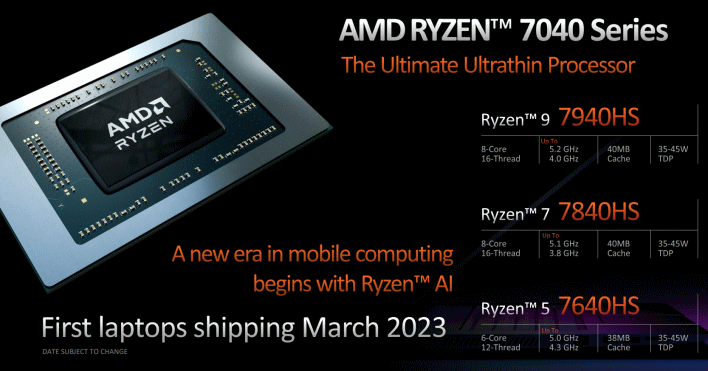 AMD announced just three processors in the Ryzen 7040 series, which you can see above. It feels a bit odd to see a pair of 8-core chips separated by Ryzen 7 and Ryzen 9 branding, but given that the Phoenix die only includes eight CPU cores, and that AMD probably didn't want to ship a quad-core Phoenix chip, it's clear there wasn't much option there. Laptops with these CPUs should appear in March.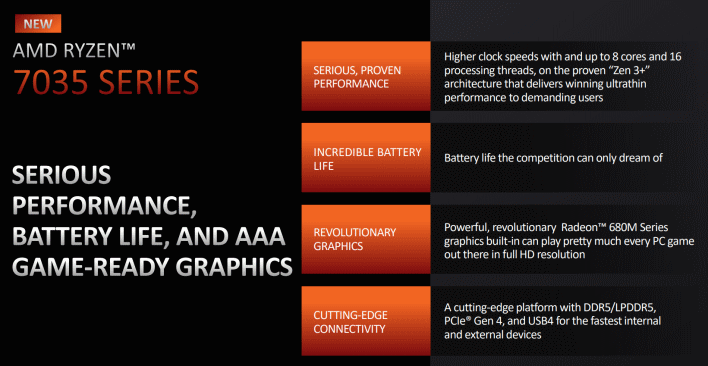 Next up we have the Ryzen 7035 series, about which AMD shared almost no details at all. That's probably fine, because the 7035 series is known as "Rembrandt-R," and you can guess what the R stands for. (Hint: it's "refresh"). These chips will be last year's Ryzen 6000 Mobile processors revamped and refreshed for 2023, apparently with higher clock rates.
They might not be as exciting as the new silicon, but these processors still offer excellent efficiency and high performance from both their Zen 3+ CPU cores and their RDNA 2 graphics. In our testing,
we were surprised
at the performance of the integrated Radeon 680M graphics.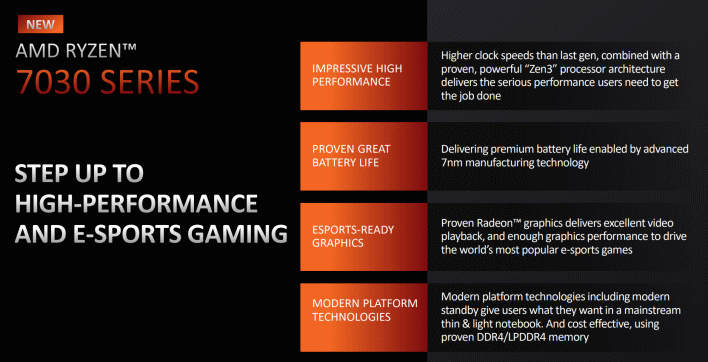 Finally, we have the Ryzen 7030 series. "Finally" because AMD didn't have anything new to say about the Ryzen 7020 "
Mendocino
" processors. Well, not much was said about the Ryzen 7030 series, either. These are refreshed "Barcelo" chips, and if that name isn't familiar, don't feel left out; it hasn't gotten much press.
Barcelo is a revised form of Cezanne, the processor used in the Ryzen 7 5000G series as well as a number of low-cost models in the Ryzen 6000 Mobile family. While it has Zen 3 CPU cores, the integrated graphics are based on the aged
Vega
architecture and it's fabbed on the older N7 process. AMD notes it will use these for entry-level thin & light notebooks where performance is less of a concern than price.