Intel Says There's More Performance To Be Had With Its Latest Game On Arc Driver
Graphics drivers are critically-important to the experience of using a GPU. When
Intel's Arc launched with
mediocre-to-poor drivers, that was a real complaint. The nice thing about drivers is that they're software, though, and that means it's easy to fix and replace. Intel's
been hard at work
on doing just that, with very
frequent driver releases
supporting upcoming titles and improving performance in already-released games.
Boundary
,
Minecraft Legends
,
Dead Island 2
, and
Total War: Warhammer III
's
Mirror of Madness
expansion. If you're looking forward to playing any of those games, you can rest assured of a smooth experience on your
Arc Alchemist discrete GPU
.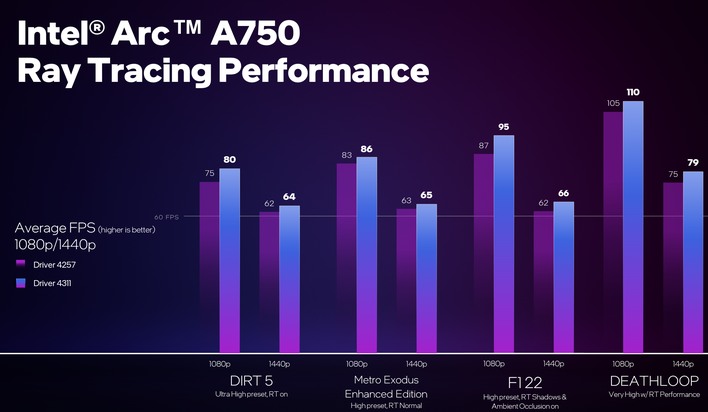 Slide: Intel

This driver also includes performance optimizations for a number of extant titles, including several intensive ray-traced games.
Dead Space Remake
gets the biggest gains: as much as 63% performance uplift in 1440p with high settings, which apparently puts the Arc A750 slightly ahead of a GeForce RTX 3060 in that title.
F1 22
also gets a double-digit gain of up to 17% in 1080p with "Ultra high" ray-tracing, with smaller gains in 1440p.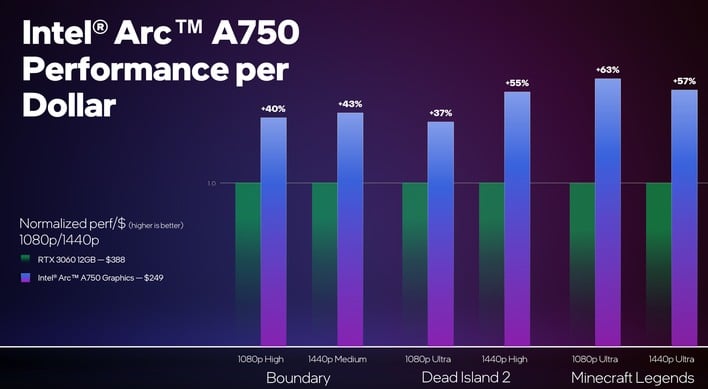 Slide: Intel

Notoriously intensive title
Dying Light 2: Stay Human
sees 7% gains in ray-tracing mode, while
Dirt 5
,
Deathloop
, and
Metro Exodus: Enhanced Edition
all see small bumps in performance over the previous driver. Intel highlights the Arc A750 because those parts are extremely affordable, taking a page
from AMD's book
and focusing on the impressive performance-per-dollar offered by the entry-level Arc GPU.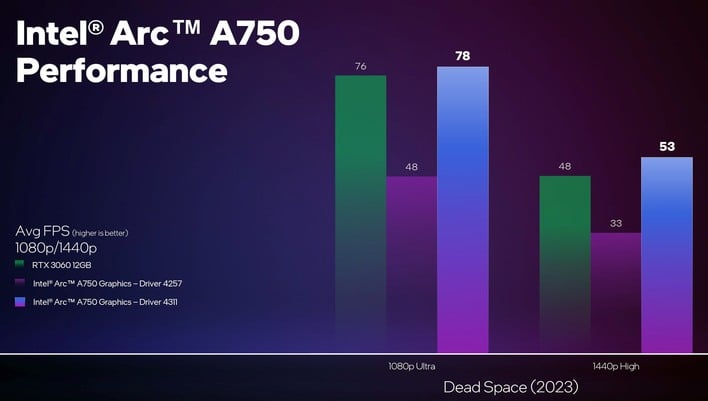 Besides the performance gains in this driver, there are also various fixed issues. For Arc Graphics parts specifically, crashes in MS Flight Simulator should be sewn up, and water-edge corruption in Sea of Thieves should be solved. Bright Memory Infinite's Ray Tracing Benchmark mode should perform at full speed on this driver, and Blackmagic DaVinci Resolve's Optical Flow feature should work correctly, without color corruption.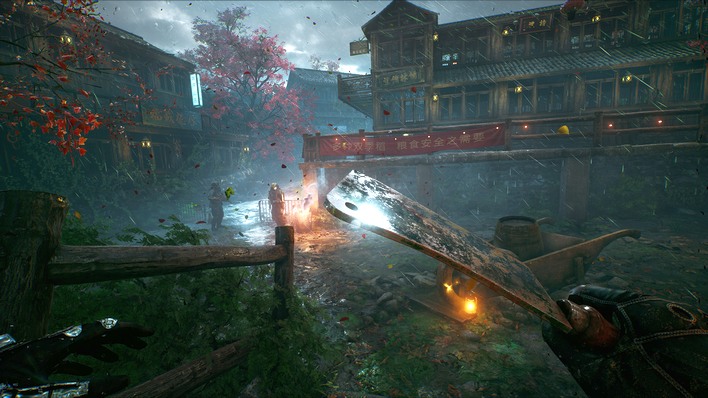 Naturally, there are still some known issues. In particular, GPU hardware acceleration may not work correctly in Adobe Premiere Pro, and Topaz Video AI may throw errors when using "some models" for video enhancement. For Iris Xe laptop parts, you may need to reboot the machine and try to install the driver a second time to get it to stick. Also, there are a number of games that will struggle with artifacts on Core processors' integrated graphics.
If you'd like to see the full driver release notes, you can find the PDF
over here
. Otherwise, as usual, you can head to
Intel's download site
to grab the new driver, which is recommended for all Windows 10 and 11 users with Arc graphics cards despite being a "beta" driver.