Samsung Galaxy XCover Pro Review: Rugged With Push To Talk
Samsung Galaxy XCover Pro: Audio And Performance
Samsung Galaxy XCover Pro Audio And Call Reception
In our testing, the call quality on the Galaxy XCover Pro was good. We had no issues hearing the person on the other end of the line, over
Verizon's
LTE network (there's no 5G radio here), and likewise we sounded clear to the recipient. Note that Samsung offers two versions of this phone—one for Verizon and one that is unlocked, both priced at $499.99.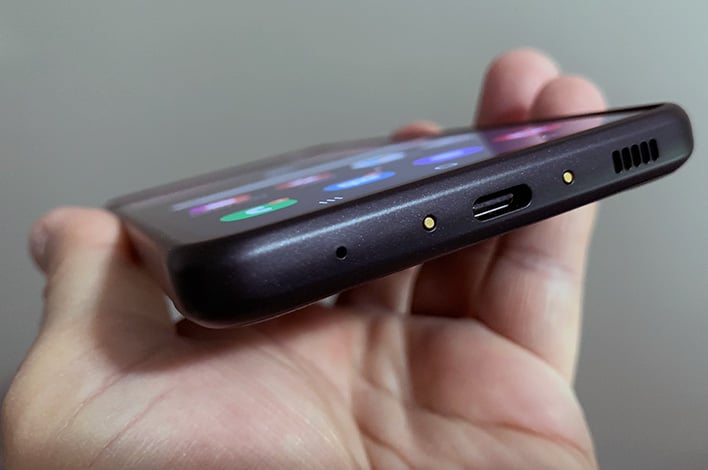 For listening to music and watching videos, the audio quality is adequate, but certainly not outstanding. It trends on the tinny side, lacking deep lows and rich mids, like other midrange devices. At least it gets fairly loud, though, and there is a 3.5mm audio jack to plug in a set of headphones (and of course you can sync a pair of wireless earbuds, if you prefer).
Samsung Galaxy XCover Pro Performance
We have not spent much hands-on time with Samsung's Exynos silicon, because most of the devices it sends our way are equipped with Qualcomm Snapdragon processors, which are staples of Galaxy handsets in the US. So, we were eager to see how the Exynos 9611 in the Galaxy XCover Pro would perform.
If you skipped straight to this page, we'll recap the vitals—the Eyxnos 9611 is an octa-core processor built on a 10-nanometer manufacturing process, with four Cortex-A73 cores clocked at up to 2.3GHz and four Cortex-A53 cores clocked at up to 1.7GHz. It also features a Mali-G72 MP3 GPU.
The Galaxy XCover Pro comes with a modest 4GB of RAM and 64GB of built-in storage, placing it decidedly in mid-range territory. So, how did it fare? Let's get to it...
Futuremark PCMark For Android

General Purpose Pocket Computing Performance Metrics
Futuremark's PCMark for Android is an excellent suite of tests if you want to benchmark a wide range of tasks on any handset -- things like image and video editing, as well as lighter-duty, everyday workloads such as email and web browsing. When you see the test running live, it's clear the scripted application tests are carefully selected and tuned to make use of the each mobile platform in a very controlled way...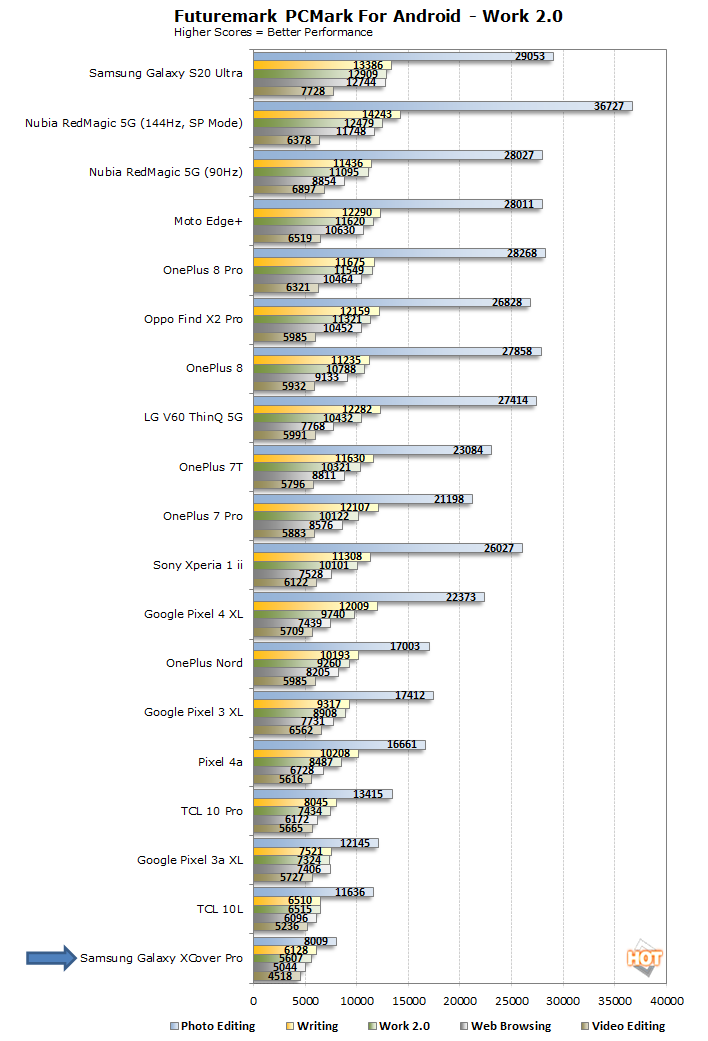 Most of the phones we test are flagship models (now or in the the past), and next to those, the Galaxy XCover Pro is clearly a step or two behind, depending on the model. In PCMark 10, it settled into the rear of the pack in every test. That does not mean it
feels
slow—it doesn't—but comparatively, the Exynos 9611 is outmatched.
AnTuTu 8 And AITuTu

Platform Benchmarks
AnTuTu's latest benchmark returns a number of metrics ranked with somewhat nebulous scores, rather than frame rates or time to complete. Here we're running the latest version of AnTuTu across an multiple Android devices. AnTuTu returns four top level performance results which are all included here: CPU, RAM, 3D, UX (or User Experience), along with a total score...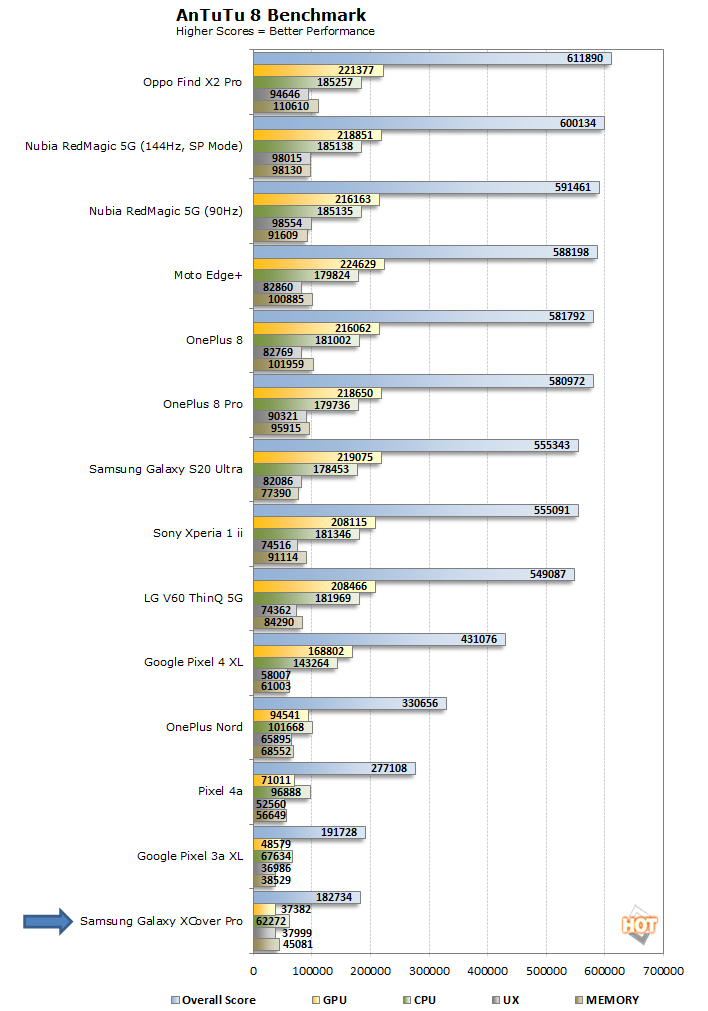 Things did not change much in AnTuTu, though this time it performed a little closer to
Google's Pixel 3a XL
, powered by a Snapdragon 670 processor.
AITuTu evaluates the AI performance of a device by leveraging two mainstream neural network models for machine learning and
AI
--
Inception v3
for Image Classification and
MobileNet-SSD
for Object Detection. The benchmark determines the device's accuracy and speed when inferring data from each workload...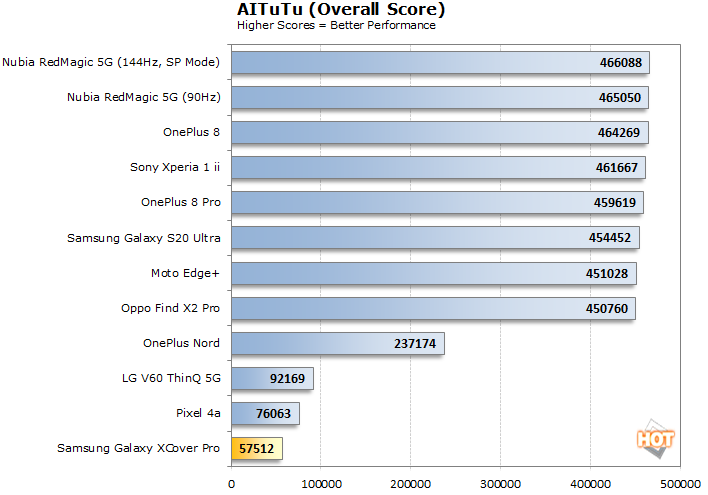 We see more of the same in AITuTu. AI workloads are not this phone's strong suit, at least not compared to much faster phones like the
OnePlus 8 Pro
, which wields a Snapdragon 865 SoC.
3D Graphics Benchmarks: 3DMark And GFX Bench

Pushing The Pixels
Next we're checking how the Google Pixel 4a compares in GFXBench, which has been one of the standard mobile graphics/gaming performance benchmarks for years. To ensure that display refresh (v-sync) and resolution aren't limiting factors, we're comparing off-screen test results here. GFXBench tests OpenGL ES graphics workloads and we're specifically testing OpenGL ES 2...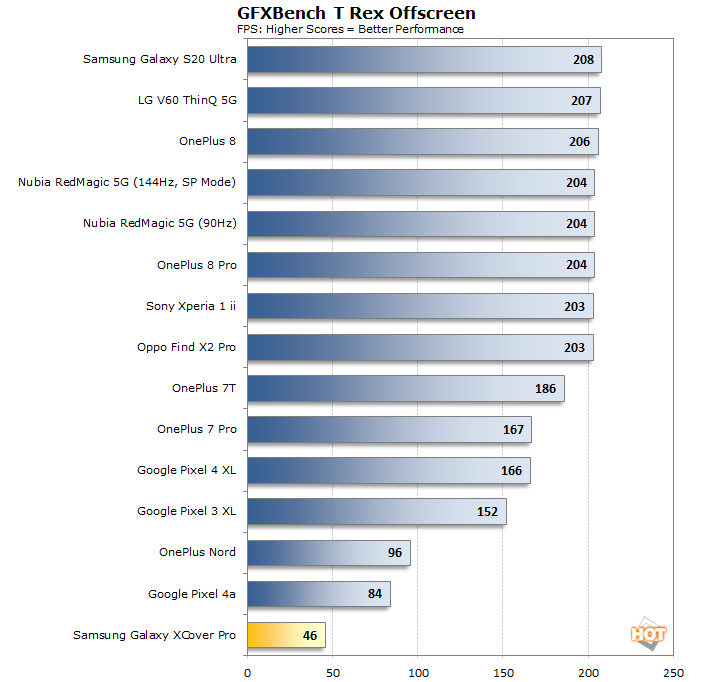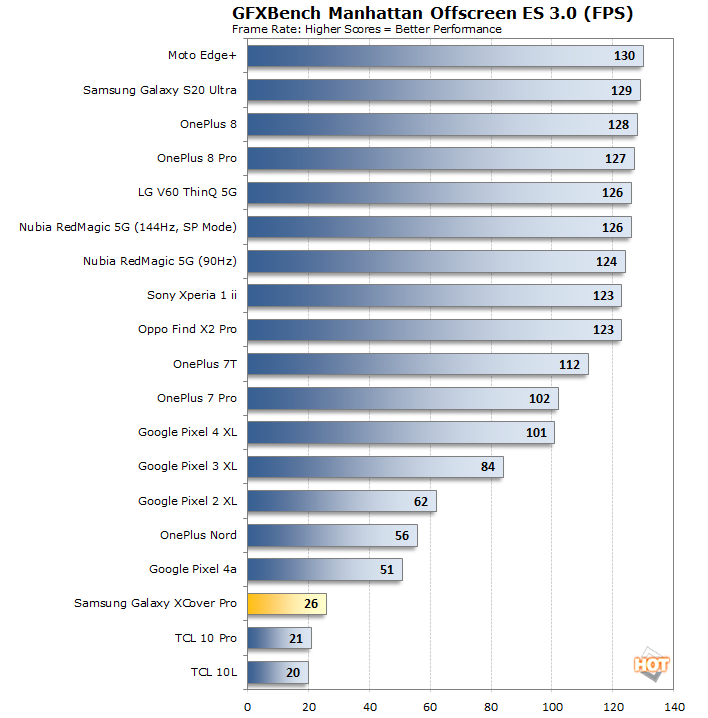 Graphics performance does not turn the tide in the Galaxy XCover Pro's favor. The Eynos 9611 just does not have the same GPU horsepower as higher-end smartphones, though it did come out ahead of the
TCL 10 Pro and TCL 10L
(powered by a Snapdragon 675 and 665 SoC, respectively) in the Manhattan test. That probably would have been the case in the T-Rex test too, we just don't have performance numbers in that benchmark for those phones.
Futuremark's 3DMark Sling Shot is a newer benchmark module that's been added to the
3DMark
mobile suite. Unlike previous gen 3DMark mobile tests, Sling Shot is a much more advanced OpenGL ES 3.1 and Metal API-based benchmark that employs more advanced rendering techniques, like volumetric lighting, particle illumination, multiple render targets, instanced rendering, uniform buffers and transform feedback.
Futuremark 3DMark Sling Shot Extreme Benchmark

We're running this test in off-screen mode once again to remove display resolution differences from the equation. This lets us compare cross-platform results more reliably...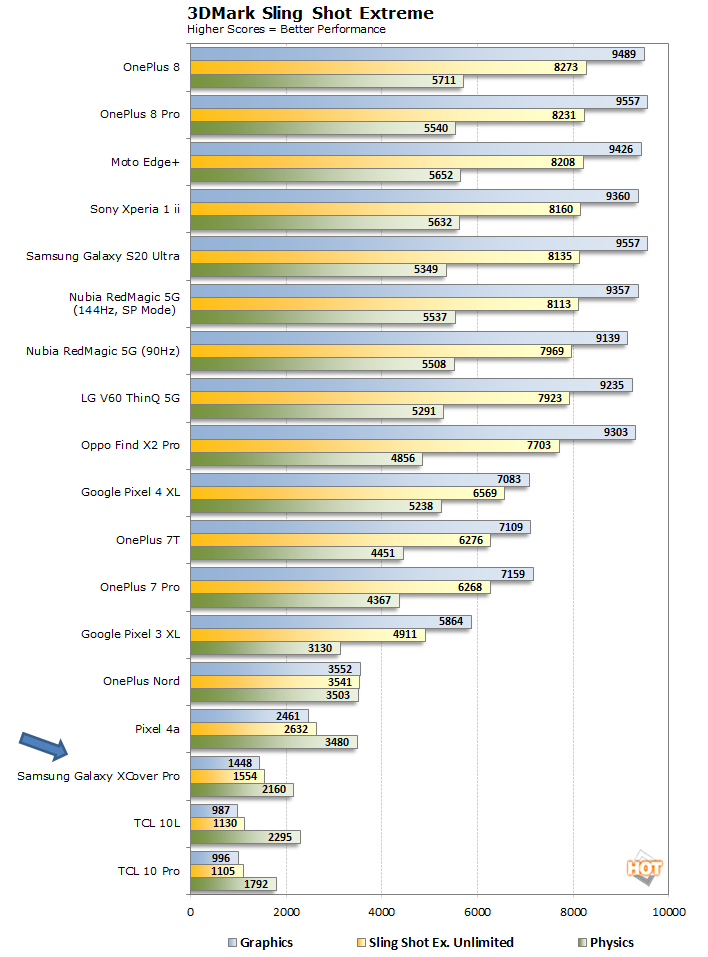 The Galaxy XCover Pro again fell to the back of the pack in 3DMark's Sling Shot Extreme benchmark, though as with the GFXBench tests, it managed to squeeze ahead of both TCL devices.

Related content
Comments