Samsung Galaxy XCover Pro Review: Rugged With Push To Talk
Samsung Galaxy XCover Pro: Battery Life And Review Verdict
Samsung Galaxy XCover Pro Battery Life
Futuremark's
PCMark
for Android Work 2.0 Battery test takes workloads from the benchmark itself (image and video editing, email and web browsing) and scripts them in a loop that runs until battery levels drop below 20 percent. This test is more real-world in terms of its setup, because we calibrate display brightness on all devices to 200 Lux
with meters
, and the test then locks that display brightness in for the duration. In these tests, Bluetooth connectivity and Location services are disabled, though Wi-Fi and mobile data is left enabled as part of a traditional use case workload.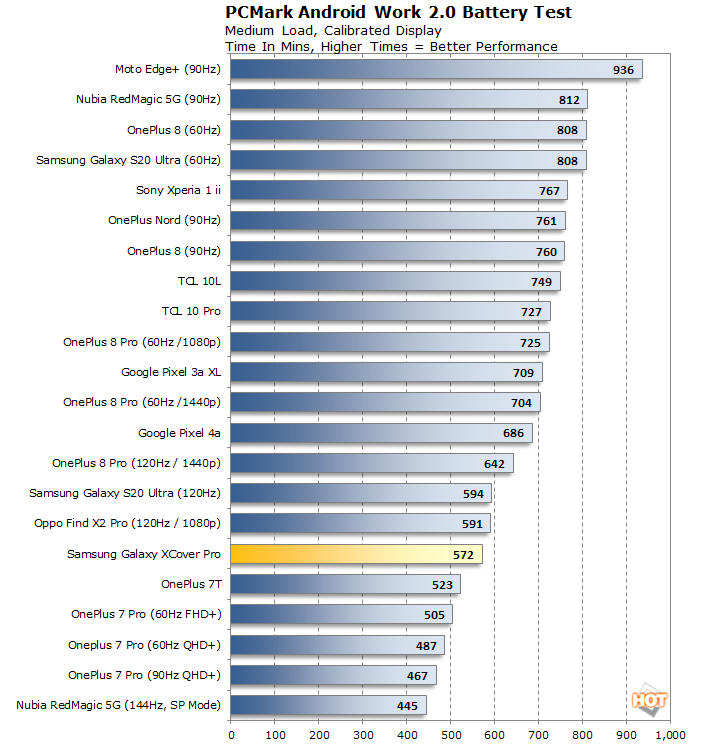 The Galaxy XCover Pro is equipped with a 4,050mAh battery pack and supports 15W fast charging. That yielded 9 hours and 32 minutes in PCMark's Android Work 2.0 Battery benchmark, positioning it between the OnePlus 7T and Oppo Find X2 Pro.
Technically, that's a full work day, assuming a typical 8-hour shift. Of course, your mileage will vary, depending on what you are doing. The big advantage here, however, is that the battery is easily removable and replaceable. That means you bring a spare (or two) to swap out as needed, and charge the depleted battery in an external dock or cradle.
From a consumer standpoint, Samsung's greatest achievement with the Galaxy XCover Pro is having designed a rugged smartphone in a relatively sleek package, rather than something that is bulky and cumbersome. It's slightly thicker than most modern smartphones, but only if comparing against another handset that does not have a case. Slap a protective cover on that Galaxy S20 or iPhone 11, and suddenly the width and weight are comparable. The Galaxy XCover Pro is essentially a smartphone in an embedded shell for added ruggedness.
Granted, the Galaxy XCover Pro is not intended as a consumer handset, but in the absence of an updated Galaxy Active device, we imagine there will be some interest outside of enterprise and business environments for a modern, rugged phone. The Galaxy XCover Pro could potentially serve that purpose, so long as you are not expecting bleeding edge performance.
To that end, we were eager to see what kind of experiences the Exynos 9611 SoC paired with 4GB of RAM could deliver. If going by the benchmarks alone, the story is not great, though it is not exactly a level playing field from top to bottom. There is a big price disparity between the Galaxy XCover Pro and something like the Galaxy S20 Ultra. However, we have tested some more affordable phones, such as the Pixel 4a, which is both cheaper and faster. Slap a rugged case on it and you would be half way there, though you would give up the MIL-SPEC rating and custom buttons if you went that route.
Where the Galaxy XCover Pro finds its groove is in its intended market segment. It offers a bevy of features for workers in the field, like programmable buttons and push-to-talk (Verizon) / Walkie Talkie (Microsoft Teams) functionality. The ability to crank up the touchscreen sensitivity so that it register taps when wet and while wearing gloves is a boon as well.
Overall, the Galaxy XCover Pro is a serviceable addition to the Galaxy lineup. It doesn't deliver benchmark bragging rights by any stretch, but it does offer a compelling value proposition for a rugged phone, particularly in the market where Samsung has positioned it.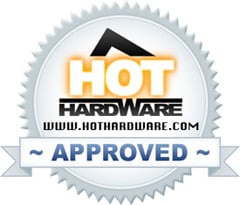 Rugged design without the usual bulk


Removable battery


Screen works when wet and/or wearing gloves


Customizable buttons


Push-to-talk functionality
Has a 3.5mm headphone jack


Benchmark performance is not thrilling


Tinny sound from the speakers

Middling battery life
Related content
Comments