Samsung Galaxy S20 Ultra 5G Review: Big, Bold, Tricked-Out
Samsung Galaxy S20 Ultra 5G Performance Benchmarks
For our firsts set of tests, we're using
Basemark's Web Test 3.0 for comprehensive, mixed-media web performance analysis that includes
HTML5
rendering. Here we'll primarily determine how the Samsung Galaxy S20 Ultra, with its 12GB of RAM config in our device and Snapdragon 865
SoC, handles this specific workload with the Android Chrome web browser. All tests were performed at the phone's default resolution display resolution of 2400X1080.
Basemark Web 3.0

JavaScript and Browser Testing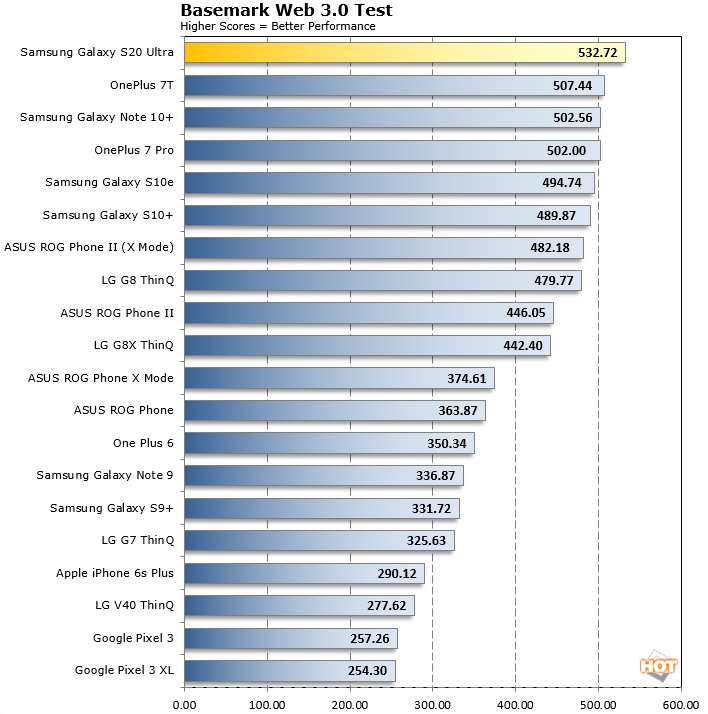 Samsung's Galaxy S20 Ultra jumps out of the gate quickly here with a tangible lead over the rest of the field of previous generation top Android phones powered by Qualcomm's Snapdragon 855 Mobile Platform. The gain in this light-duty web workload is about 5%.


GeekBench

Synthetic CPU Benchmark

In this GeekBench CPU test, we're stressing only the Snapdragon 865's main processor cores in this handset (not its graphics engine), with both single and multi-threaded workloads. The test is comprised of encryption processing, image compression, HTML5 parsing, physics calculations, and other general purpose compute processing. Here we're also able to get an iPhone 11 Pro with its A13 Bionic processor into the mix as well, for comparison.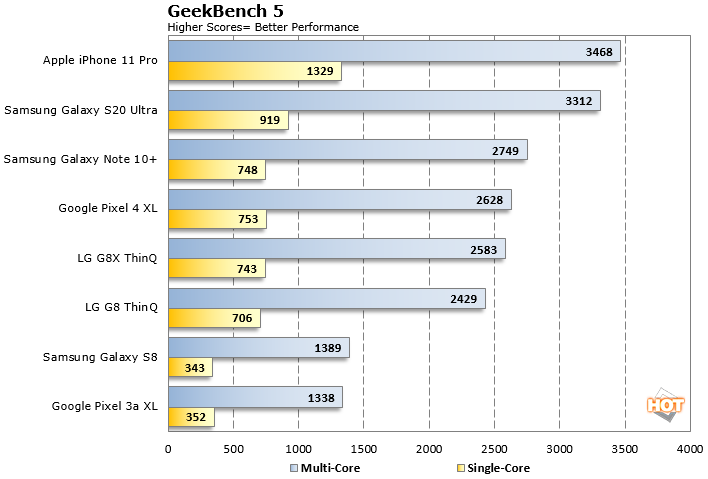 This is an interesting test because it demonstrates that Qualcomm is clearly beginning to close the gap between its raw mobile platform performance and open software/hardware ecosystem, versus Apple's tightly-coupled hardware and closed software ecosystem. More notable perhaps is the
Galaxy S20 Ultra
's 23 percent gain in single threaded performance and 20 percent gain in multi-threaded throughput versus legacy Snapdragon 855 devices, thanks to Qualcomm's clearly more powerful
Snapdragon 865
.
Futuremark PCMark For Android

General Purpose Pocket Computing Performance Metrics
Futuremark's PCMark for Android is an excellent suite of tests that we recommend for benchmarking performance of a handset in a wide range of tasks, for things like image and video editing, as well as lighter-duty, everyday workloads such as email and web browsing. When you see the test running live, it's clear the scripted application tests are carefully selected and tuned to make use of the mobile platforms involved in a very controlled way.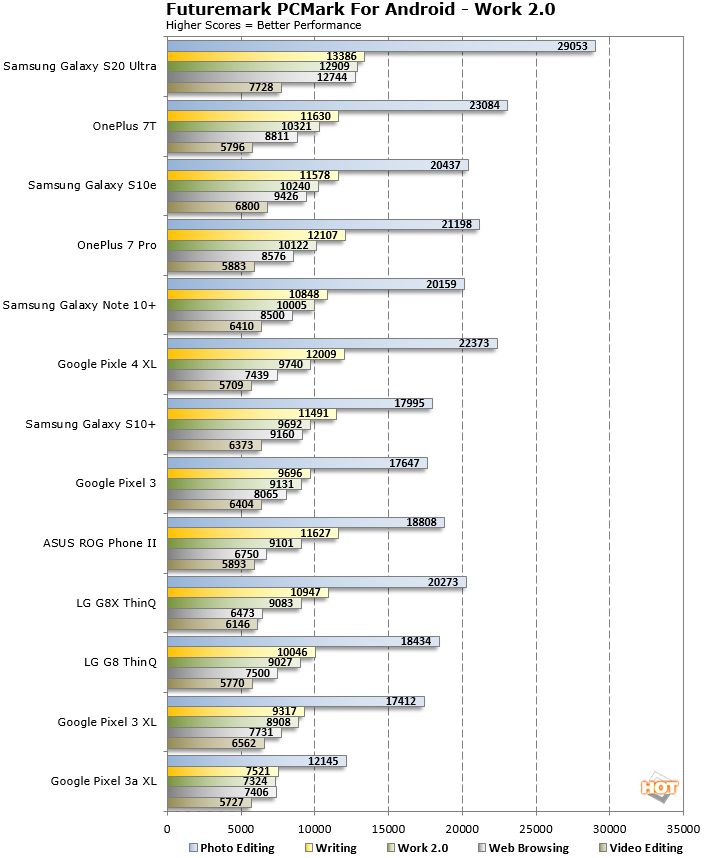 PCMark is more of a general performance benchmark that taps on lots of system resources from storage IO to memory and CPU throughput. Here the Samsung Galaxy S20 Ultra is a solid 25 percent ahead of the pack in the overall score, with some clear break-outs in Photo Editing and Web Browsing.


AnTuTu 8 And AITuTu

Platform Benchmarks
AnTuTu's latest benchmark returns a number of metrics ranked with somewhat nebulous scores, rather than frame rates or time to complete. We tested with the latest version of AnTuTu across an all Android platform group. AnTuTu returns four top level performance metric results that we are including here: CPU, RAM, 3D, UX (or User Experience), along with a total score.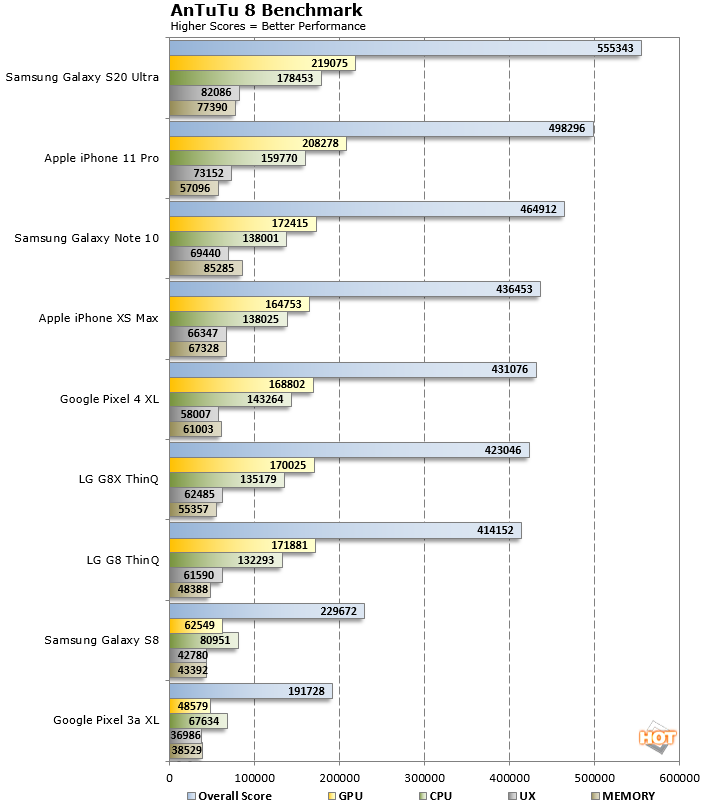 AnTuTu reports similar results with the Samsung Galaxy S20 Ultra sporting an 11 percent lead over even the iPhone 11 Pro and a 20 percent lead over the top Android phone score.
AITuTu evaluates the AI performance of a device by leveraging two mainstream neural network models for machine learning and
AI
-
Inception v3
for Image Classification and
MobileNet-SSD
for Object Detection. The benchmark determines the device's accuracy and speed when inferring data from each workload.

AITuTu shows a massive lead for Qualcomm's Snapdragon 865 and its 5th generation
AI
engine. On board is Qualcomm's Hexagon Tensor accelerator that the company claims offers 2X the performance of its previous generation Snapdragon 855 Mobile Platform. Here that claim proves out and then some. When it comes to forward-looking performance in next generation
machine learning
applications on edge devices like smartphones, Samsung's Galaxy S20 Ultra and other next-generation Android powered by the same Snapdragon 865 platform will deliver dramatically better performance and experiences.
3D Graphics Benchmarks: 3DMark And GFX Bench

Pushing The Pixels
Next we'll see how Samsung's Galaxy S20 Ultra compares in GFXBench, which has been one of our standard mobile graphics/gaming performance benchmarks for years. In order to ensure display refresh (v-sync) and resolution are not limiting factors, we are comparing off-screen test results here. GFXBench tests OpenGL ES graphics workloads and we're specifically testing GLES 2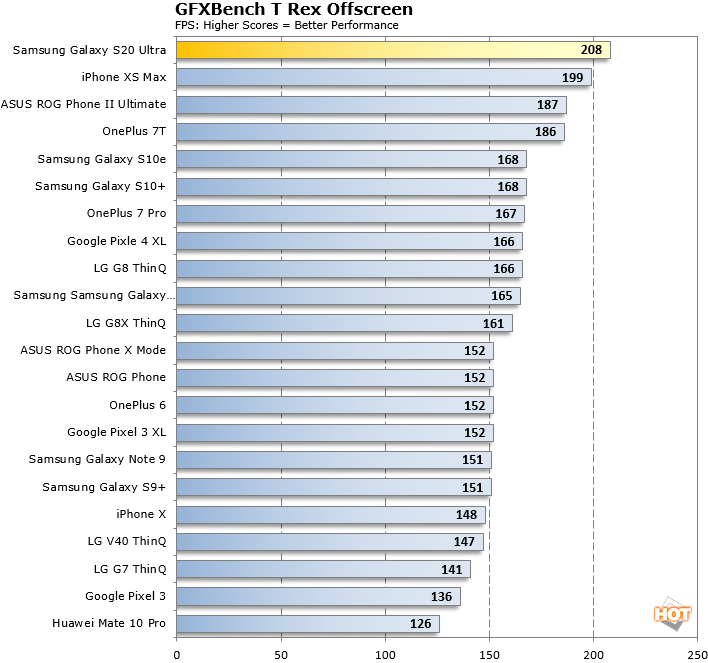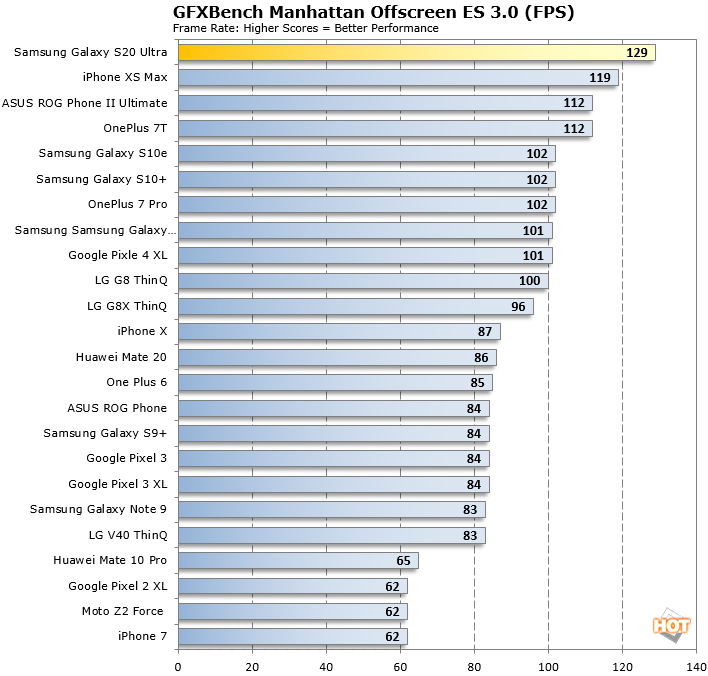 Here the Samsung Galaxy S20 Ultra shows an 11 to 15 percent lead over the next fastest Android phone based on previous generation Snapdragon platforms, and it even bests an iPhone XS Max, though unfortunately our iPhone 11 Pro wouldn't cooperate with this test.


Futuremark's 3DMark Sling Shot is a newer benchmark module that's been added to the
3DMark
mobile suite. Versus previous gen 3DMark Mobile tests, Sling Shot is a much more advanced OpenGL ES 3.1 and Metal API-based benchmark that employs more advanced rendering techniques, like volumetric lighting, particle illumination, multiple render targets, instanced rendering, uniform buffers and transform feedback.
Futuremark 3DMark Sling Shot Extreme Benchmark

In this test we again run it in off-screen mode, so as to remove display resolution differences from the equation and thus can compare cross-platform results more reliably.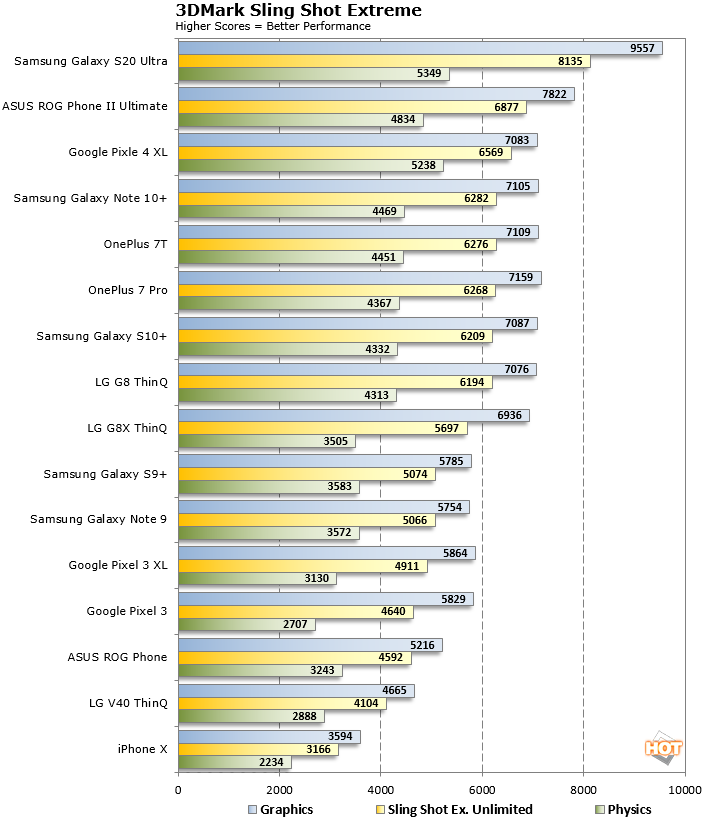 3DMark Sling Shot shows an 18 percent lead overall and a 20 percent lead in graphics throughput, versus our fastest Android phone score to date for the Galaxy S20 Ultra. The
ASUS ROG Phone II Ultimate
is a hard core gaming phone based on Qualcomm's Snapdragon 855 previous generation chip but its also goosed up and overclocked a bit with a robust cooling solution. Regardless, it was no match for the Galaxy S20 Ultra and Qualcomm's latest
Snapdragon 865
mobile silicon platform.
Related content
Comments