Samsung Galaxy S20 Ultra 5G Review: Big, Bold, Tricked-Out
Samsung Galaxy S20 Ultra 5G Battery Life, 5G Performance & Review Summary
Futuremark's
PCMark
for Android Work 2.0 Battery test takes workloads from the benchmark itself (image and video editing, email and web browsing) and scripts them in a loop that runs until battery levels drop below 20 percent. This test is more real-world in terms of its setup, because we calibrate display brightness on all devices to 200 Lux
with meters
, and the test then locks that display brightness in for the duration. In these tests, Bluetooth connectivity and Location services are disabled, though Wi-Fi and mobile data is left enabled as part of a traditional use case workload.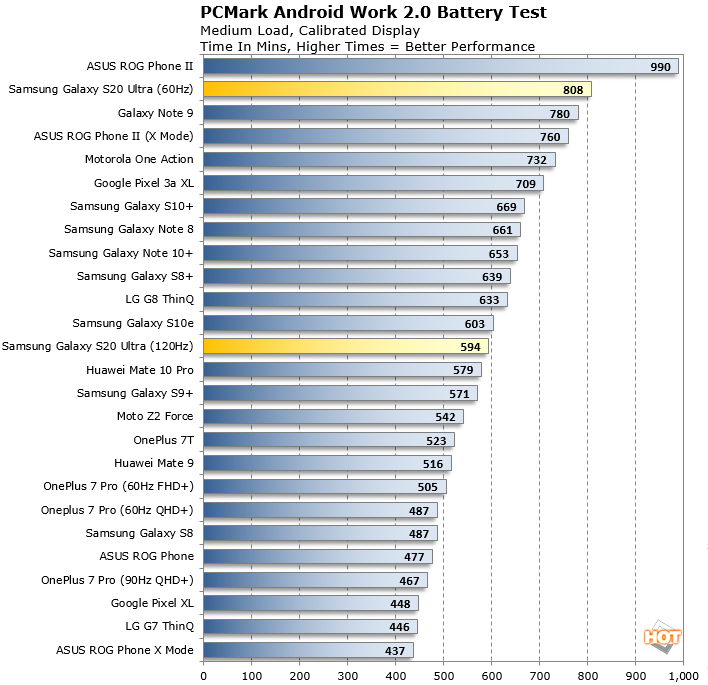 We tested the Samsung Galaxy S20 Ultra in both its 60Hz and 120Hz settings for its display, when looking at battery life. As you can see, 120Hz refresh does take a toll of a little over 3 hours of up-time in our test. However, the Galaxy S20 Ultra, with its 5000 mAh battery only drops to the middle of the pack and still maintains almost 10 hours of constant, always-on mixed workload use. At 60 Hz, the Galaxy S20 Ultra lasts about 13 and a half hours, again with always-on active use. That's impressive, and it lands the device 2nd in our all time rank, behind only the large ASUS ROG Phone II with its crazy big 6800 mAh battery.

But What About 5G Performance?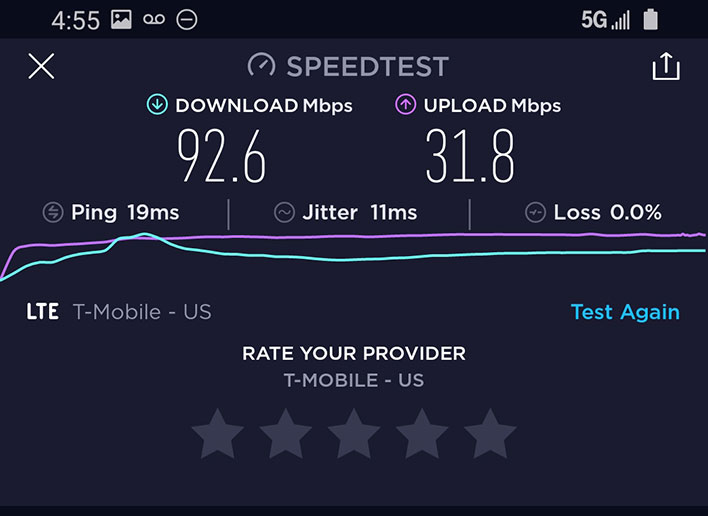 By now you're probably wondering, since Galaxy S20 Ultra 5G is in fact a 5G capable phone, what the benefits are currently. In that regard, things are still evolving along with the technology and network infrastructure. Our device was provisioned with a T-Mobile SIM because we specifically wanted to test Sub-6 5G performance in the suburbs where we're located. Sub-6 has much longer reach, but lower bandwidth throughput versus mmWave technology that will be more prevalent among carriers in urban areas especially. Above, you see our results with 5 bars of Sub-6 5G on T-Mobile, and while overall bandwidth isn't that impressive (we were able to realize a little over 60Mbps on 4G LTE with the GS20 Ultra), its ping time of 19 milliseconds is. Typically we saw pings of somewhere around 40 - 70ms on a 4G LTE connection, so this was a dramatic reduction in latency that will be absolutely noticeable in terms of application response times. As Sub-6 and mmWave 5G networks on the major carriers continue to expand and mature, we expect overall bandwidth and latency to improve significantly.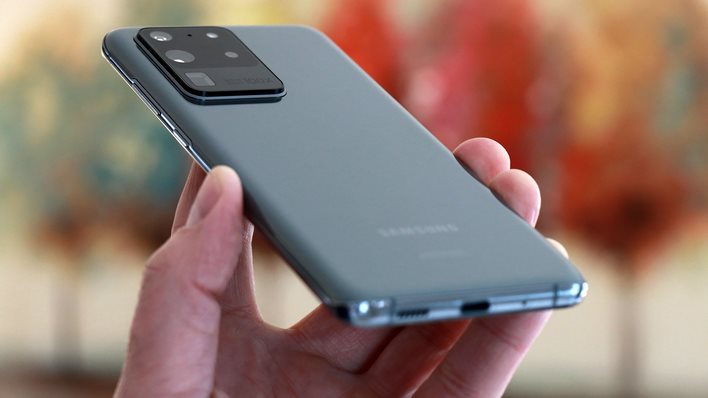 Find Samsung's Galaxy S20, Galaxy 20+ And Galaxy S20 Ultra @ Amazon

The Samsung Galaxy S20 Ultra 5G is an impressive phone from every angle, whether you consider its big, beautiful Dynamic AMOLED Infinity O display, wildly flexible and powerful camera system, 5000 mAh battery or potent Qualcomm Snapdragon 865 Mobile Platform backed up by 12 to 16GB of LPDDR5 RAM. Save for some notable color balance issues we observed in its camera results (which Samsung should be able to rectify in future firmware updates), this Android flagship device leads the pack currently with what's easily the widest range of features and capabilities, along with exceptional performance and undeniably beautiful, premium build quality.

The biggest caveat for most folks with the Samsung Galaxy S20 Ultra 5G will be cost. At a
starting price of $1399
(unlocked, off contract) for the 128GB storage / 12GB RAM model and $1599 for a fully-loaded 512GB storage / 16GB RAM setup, we're talking iPhone 11 Pro Max pricing folks. Perhaps we're spoiled that Android phones always tend to offer lower cost alternatives to iPhones, but there's also no denying this is Samsung's priciest Galaxy S flagship yet. Stepping down to a
Galaxy S20+ 5G gets you into
$1199 starting price territory, with an equally beautiful, slightly smaller 6.7-inch AMOLED display, while another step down to the 6.4-inch
Galaxy S20 5G
model gets you back down to earth a at $999 starting price. The Galaxy S20+ and standard S20 will only afford up to 64MP camera sensors and 30X Space Zoom features, but we think those are totally worthy trade-offs for the cost savings afforded. Whether or not you can justify spending $1K or more on a handset these days, is a question only you can answer, however.
For us, the Galaxy S20+ seems like a much better buy that maintains a big 4500 mAh battery, large 6.7-inch display and all the flexibility and future performance of both Sub-6 and mmWave 5G connectivity (Galaxy S20 standard only supports Sub-6). Regardless, the Galaxy S20 Ultra 5G will appeal to power users that want it all, with no compromises. It's a gorgeous, ultra-premium, cutting-edge device with great performance and lots of future potential as well, if you can personally justify its price point.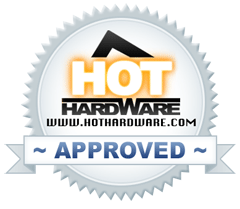 Gorgeous Build Quality And Ergonomics

Beautiful, Fast Display

Exceptional Battery Life

Top-Notch Performance

Great Camera Features

Wireless Charging And IP68

Pricey

Spotty Camera Issues Currently
No Headphone Jack
Related content
Comments