Samsung Galaxy Book2 Pro 360 Laptop Review: Svelte Stunner
Samsung Galaxy Book2 Pro Battery Life, Thermals, Acoustics And Our Review Summary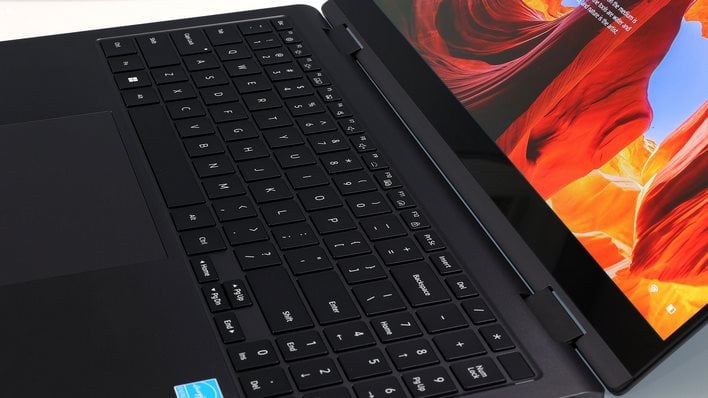 This last series of tests we're putting the Galaxy Book2 Pro 360 through will focus on its battery life uptime in our traditional cross-platform tests. Then we'll look at its noise output and discuss the system's audio solution a bit as well.
Samsung Galaxy Book2 Pro 360 Battery Life Testing
The Galaxy Book2 Pro 360 is equipped with a surprisingly stout 68Wh Li-ion battery that should provide solid battery life. We run a custom 1080p HD video loop test developed in-house with VLC video player, to prove out battery life with our test group of machines. In all tests, Windows Quiet Hours / Focus Assist has been enabled and the displays are calibrated with
lux meters
on pure white screens to as close to 115 lux as possible. Wi-Fi is left enabled, which we feel is a common use case. However, enabling airplane more in a travel use case, for example, would provide additional battery life over the results we'll look at next.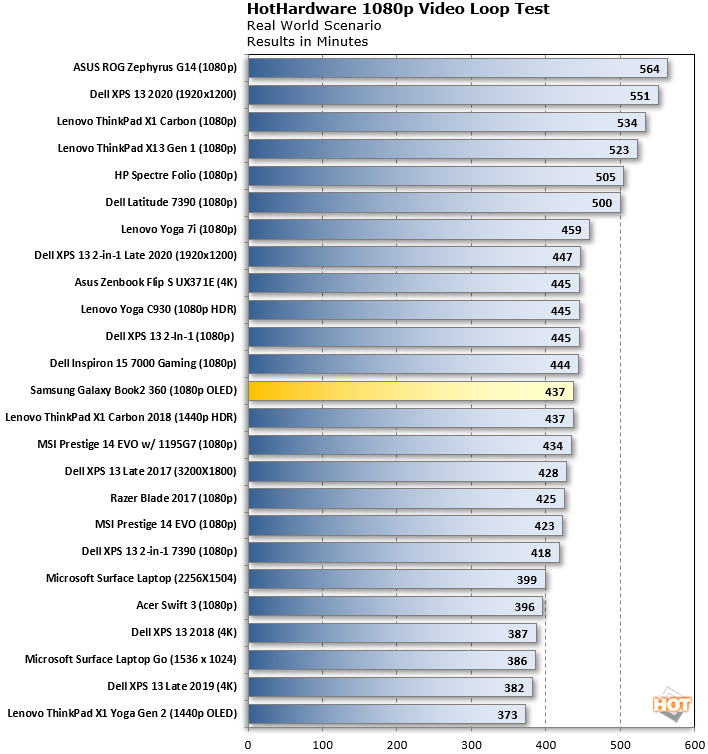 With our custom battery life test, Samsung's Galaxy Book2 Pro puts up respectable performance in the middle of our test pack which, considering its extra punchy Super
AMOLED
display, is perhaps a bit more impressive. The machine lasted a little over 7 hours before its battery gave out. Samsung claims this machine can offer up to 21 hours of battery life with HD video playback, however, when in airplane mode at 150 nits brightness for its display, which is different than how we setup our testing. We're going to re-run this test as close to Samsung's setup as possible and we'll see what we get. We'll report back here, but regardless, your actually mileage will, as always, vary.
Samsung Galaxy Book2 Pro 360 Thermals And Acoustics
Our thermals and acoustics test involved setting the new Samsung Galaxy Book2 up with 3DMark Night Raid on a continuous loop, until its thermal solution was saturated. We also set the machine to High Performance mode in the Samsung Settings app, so the following is similar to a worst case scenario in terms of the system's peak noise output.
The new Galaxy Book2 Pro 360 remained cool and quiet here. We measured anywhere from 43 to 44dB at its peak thermal saturation point with its fans essentially on full throttle. This resulted in a whirring sound that wasn't offensive at all to the ear, with relatively low fan pitch and no whine. We were actually impressed at how tame the machine was acoustically, given the significant CPU performance gains that were exhibited in our benchmark runs. This laptop maintains both a svelte physical profile as well as keeping a low acoustic profile.
We also measured only about 107ºF with our
infrared thermal gun
pointed at the warmest areas of the machine, which were just above the keyboard and in a similar location on the bottom side of the laptop. In short, its typing deck remained cool and comfortable. The bottom of the machine should remain relatively comfortable as well, unless perhaps you're continuously stressing this laptop in a warm climate area.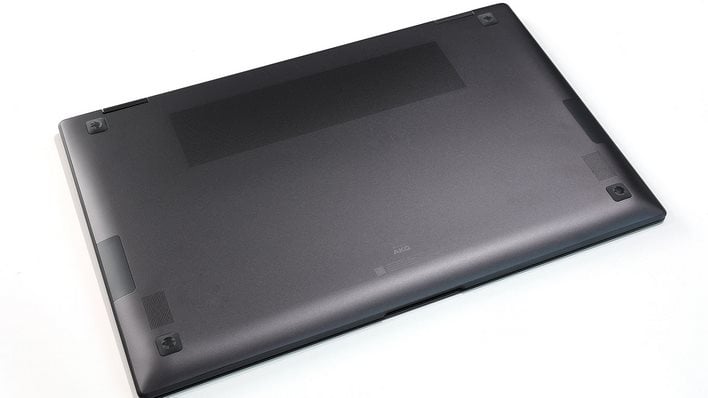 As you can see above, like its predecessor, the Galaxy Book2 Pro isn't really intended to be user serviceable, so choose your memory and storage options wisely. Samsung's audio solution offers slightly more output versus last year's model at 5 Watts peak, though it still remains thin on bass response, as is often the case with this class of ultralight notebooks. Highs are crisp and mids are open enough with decent volume output, despite its bottom firing drivers. Regardless, for better quality sound you'll want to connect a pair of
Bluetooth buds
or cans.
Review Conclusion: Samsung Galaxy Book2 Pro 360
All told, the new Samsung Galaxy Book2 Pro 360 is a gorgeous, well-mannered and performant thin and light laptop with just a few caveats you'll want to consider on your personal feature check list. First, with no easy access to bottom side screws beyond what's likely underneath its rubber skid pads, you'll want to opt for as much memory and storage as you can afford at the time of purchase. In this case, our system, with 16GB of LPDDR5 memory and a 1TB NVMe SSD, costs $1549.99. For a 15.6-inch OLED display-equipped machine premium laptop like this, that's a reasonably competitive price point. Samsung also offers an 8GB RAM/512GB SSD config of the Galaxy Book2 Pro 360 for an entry level price of $1349.99. However, again, choose wisely and if you opt for this machine, we'd suggest buying-up if you can.
The other relatively small shortcoming with this new Galaxy Book2 is that we wish Samsung dropped in a snappier SSD, especially given the company's powerhouse memory division with its years of excellent track record for producing great solid state storage products. That said, the average mainstream consumer may not have the use case that would take advantage of a snappier SSD, and this machine indeed remains very responsive and boots very fast the way Samsung has it configured currently. Finally, this laptop also offers the added bonus of a microSD card for storage expansion and access, which is becoming all too rare these days.
Beyond these relatively small reservations, you can color us impressed with the new
Samsung Galaxy Book2 Pro 360
. From its absolutely beautiful Super AMOLED display to its super-thin and light profile, this machine is a premium product at a competitive price point. Samsung did more than just refresh the Galaxy Book2 Pro 360 with Intel's new 12th Gen Core processor platform here. The consumer electronics powerhouse also refined key areas of the device for a better overall user experience, from a brighter HDR OLED display, to an FHD 1080p webcam for better video conferencing, to a tighter coupling of its companion mobile device ecosystem with Windows 11. And of course, there's all the added responsiveness and multithreaded throughput that Intel's
Alder Lake
Mobile platform brings.
The Samsung Galaxy Book2 Pro is an impressive new Intel Evo ultralight. If you're in the market for this kind of premium, wafer-thin machine, the Galaxy Books2 Pro 2 360 is a head-turning stunner that backs-up its looks with solid performance to boot.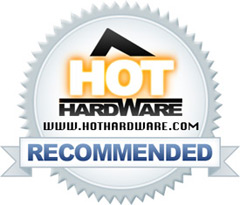 Excellent Performance
Cool And Quiet
Absolutely Gorgeous OLED Display
Premium, Attractive Design
Great Integration With Samsung Galaxy Mobile Devices

SSD Storage Could Be Faster
Limited Access For Serviceability
Middling Battery Life
Related content
Comments