Samsung Galaxy Book Pro 360 Review: Sleek, Premium, Great Battery Life
Samsung Galaxy Book Pro 360: Benchmark Performance
Before running our selection of benchmarks, we apply the latest Windows and driver updates to the system we are testing (in this case, the Galaxy Book Pro 360). Other than that, we run all our tests with out-of-the-box settings. Our goal is to test the system as it ships, but after auto-updating, to accurately reflect what buyers can expect from a retail experience.
ATTO Disk Benchmark
Peak Sequential Storage Throughput
The
ATTO disk benchmark
is a fairly quick and simple test which measures read/write bandwidth and IOPS across a range of different data sizes. While we don't typically compare these results across multiple machines, it's useful to gauge whether a particular notebook's storage subsystem can handle being put under pressure.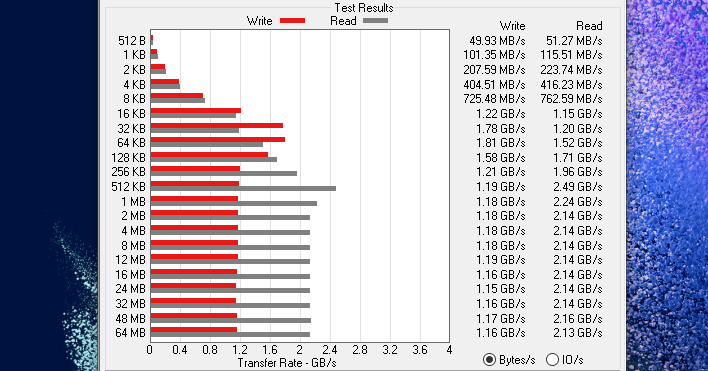 Samsung's choice of SSD is reasonably fast, peaking at around 2.49GB/s for sequential read operations and 1.81GB/s for sequential writes. Those metrics fall squarely into PCI Express 3.0 territory. We've certainly seen zippier solutions from PCIe 4.0 models and platforms, but these speeds are plenty fast for most users, and around 3-4 times better than what even the best SATA-based SSD can deliver (SATA SSDs typically top out at around 550MB/s to 580MB/s).
Speedometer Web Application Benchmark
Browser Performance
We recently moved on to BrowserBench.org's
Speedometer
test, which takes a holistic look at web application performance. This test automatically loads and runs several sample web apps from ToDoMVC.com using the most popular web development frameworks around, including React, Angular, Ember.js, and even vanilla JavaScript. This test is a better example of how systems cope with real web applications, as opposed to a pure JavaScript compute test like JetStream. All tests were performed using the latest version of Chrome.
The Galaxy Book Pro 360 came out strong, earning the top spot in our first system benchmark run. Its score of 213 is over 16 percent faster than
Lenovo's ThinkPad X1 Carbon Gen 9
, which gets bumped into second place. And while not included here, the score is even better than the most recent gaming laptops we've tested, like
MSI's GE76 Raider
, which scored 208 when we reviewed it.
Cinebench R20 and R23

3D Rendering Performance
The previous version of Maxon's rendering benchmark,
Cinebench R20
, takes a while to complete, which makes it a decent test of a notebook's cooling system. This release also drops the OpenGL test, making Cinebench a pure CPU benchmark. We tested both single-threaded and multi-threaded performance here.
Here again we see the Galaxy Book Pro 360 put up solid results, especially as it pertains to single-threaded performance. If we sorted the results by single-thread performance, Samsung's laptop would be at the top, sitting a hair above the ThinkPad X1 Carbon Gen 9.
We have them sorted by multi-threaded performance results, though, which puts the Galaxy Book Pro 360 in a respectable third-place position. It features the same Core i7-1165G7 processor as the ThinkPad, but couldn't quite catch up for a photo-finish. However, it did put some distance between it and the
ASUS Zenbook Flip S UX371E
with the same processor inside.
The newest benchmark from Maxon, Cinebench R23, renders the same scene as R20 but with the company's latest rendering engine with support for all current gen hardware.
Switching our attention to Cinebench R23, we have less results to compare against, but there are some relevant data points. Just as before, the single-threaded performance is especially strong, this time coming within just a few points of the top performers. In the multi-threaded test, however, there's a bit of a fall from grace. It's not a bad score, but the gap between it and the ThinkPad is bigger than what we'd like to see.
Geekbench 5

Single and Multi-Core Performance
Geekbench
is a cross-platform benchmark that simulates real world processing workloads in image processing and particle physics scenarios. We tested the notebooks featured here in Geekbench's single and multi-core workloads. We've retired Geekbench 4 because version 5 performs many of the same tests, which have been updated with the latest CPU architectures and features in mind.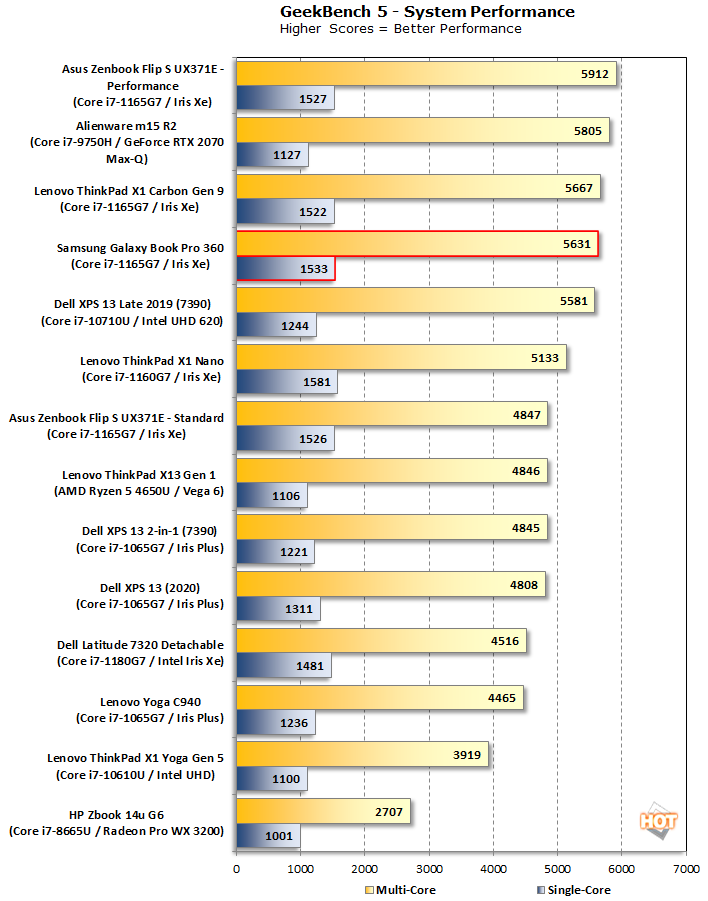 Samsung's Galaxy Book Pro 360 rights the ship in Geekbench 5. It once again posted one of the fastest single-threaded scores, which has now become a theme, and scored high in multi-threaded performance too. Good stuff.
PCMark 10

Productivity and System-level Benchmarking
PCMark 10
uses a mix of real-world applications and simulated workloads to establish how well a given system performs productivity tasks, including image and video editing, web browsing, and OpenOffice document editing. While these scores appear to be all over the place, the systems are sorted by their overall PCMark score, which is the third (gray) bar in each cluster.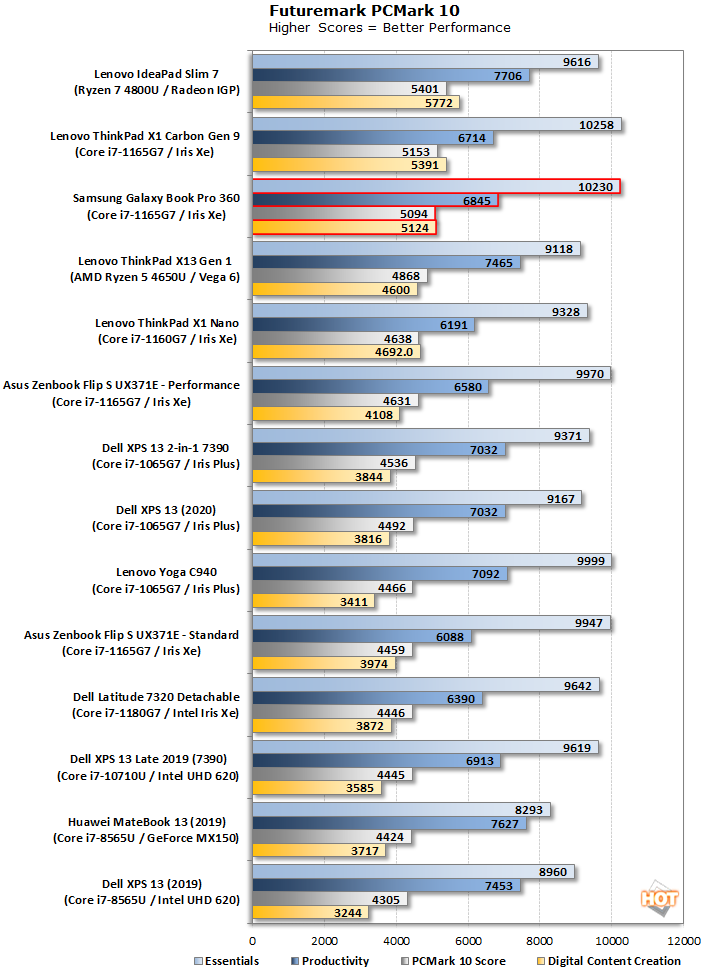 This is yet another good showing for the Galaxy Book Pro 360. The overall score is a virtual tie for second place (within the margin of error), and we see strong performance across the entire suite. It does not lead the pack in any individual testing category, which we can likely chalk up to the SSD (PCMark 10 is notorious for favoring storage performance), but this machine is clearly a workhorse.
With all of the productivity and day-to-day tasks accounted for, we can turn our attention to the Galaxy Book Pro 360's gaming and graphics capabilities. Being a thin and light machine without the benefit of a discrete GPU and not much of a focus on gaming, we ran 3DMark's Night Raid benchmark just to make sure everything is working as expected.
3DMark Benchmarks
3D Performance
3DMark has several different graphics tests which focus on different types of systems. Night Raid is recommended for systems with integrated graphics, including laptops, tablets, and other mobile computing devices. This is a DirectX 12 benchmark...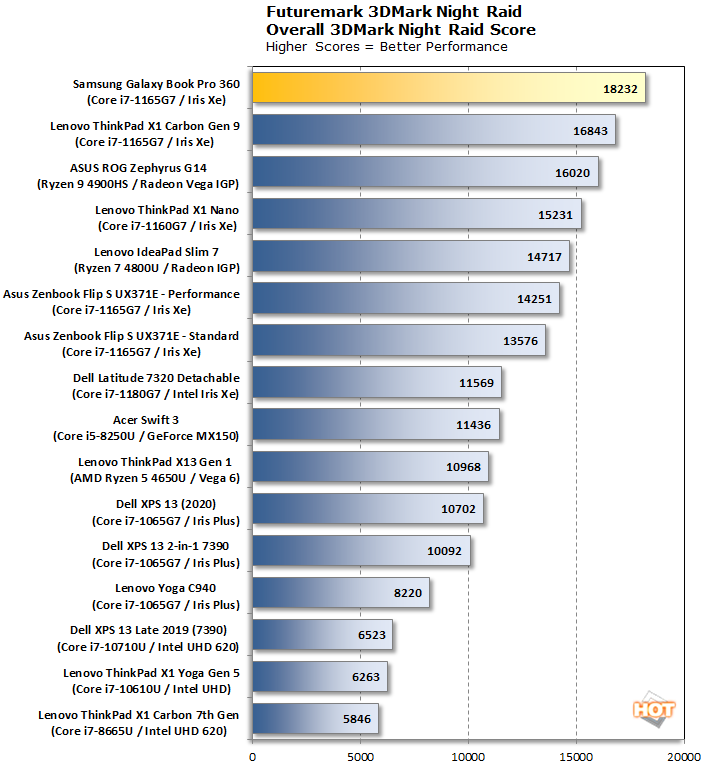 While not a gaming laptop, the Galaxy Book Pro 360 is capable of venturing beyond productivity chores when it comes time to blow off a bit of steam. It posted the highest score we've ever recorded in Night Raid from a system that uses integrated graphics. Yes, we've seen better scores than this, but only in systems that lean on discrete GPUs. What's equally impressive here is the performance gap the Galaxy Book Pro 360 was able to achieve between it and the ThinkPad X1 Carbon Gen 9, both of which feature the same CPU/GPU silicon.
Gears Tactics
Gaming Performance
Gears Tactics is a much more recent title that runs on the Unreal 4 Engine. It's a pretty fun tactical real-time strategy game, and has a wide array of graphics options that can look pretty great if the system is up to the challenge. We turned off all the automatic frame rate adjustments, turned the resolution up to 1080p, and then tested at Low, Medium and High details settings.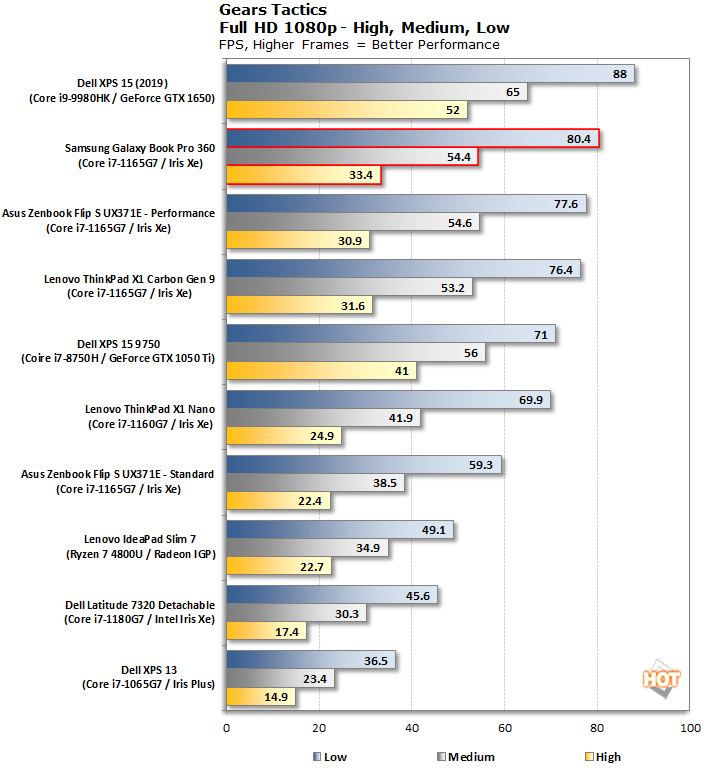 Normally when looking at this class of laptop, we wouldn't include any benchmark scores from systems with discrete GPUs, because those typically target a different demographic and use-case scenarios. We made an exception here, though, to highlight how well the Galaxy Book Pro 360 fared.
At the Low quality preset, it raced to the front of the integrated pack by averaging 80.4 frames per second. Just as impressive, the Xe graphics nearly caught up with
Dell's XPS 15
with an NVIDIA GeForce GTX 1650 inside.
The distance widens a bit at the Medium quality present, and while the Galaxy Book Pro 360 doesn't quite manage 60 frames per second, it comes awfully close at 54.4 frames per second. It was only when we cranked the visual quality dial to High that the discrete GPU flexed its muscle over the Xe graphics in Samsung's laptop. Nevertheless, it's still a playable average (33.4 frames per second).
Now let's shift gears to cooling, acoustics, and battery life...

Related content