Sabrent Rocket NVMe 4.0 SSD Review: Premium, Fast Storage
Sabrent Rocket NVMe 4.0 More Trace-Based Tests And The Verdict
We like PCMark's Storage 2.0 benchmark module for its real-world application measurement approach to testing.
PCMark
offers a trace-based measurement of system response times under various scripted workloads of traditional client / desktop system operation. From simple application start-up performance, to data streaming from a drive in a game engine, and video and photo editing with Adobe applications, we are comfortable that these tests reasonably illustrate the performance profile of SSDs in an end-user / consumer PC usage model, more so than a purely synthetic transfer test.
Futuremark's PC Mark Storage 2.0

http://www.futuremark.com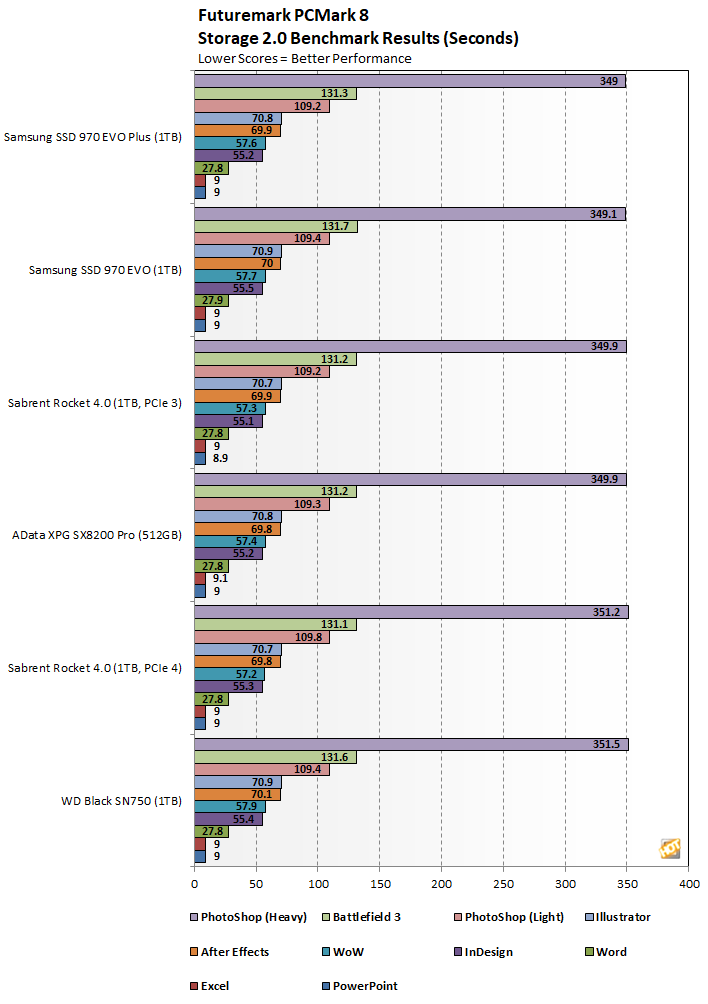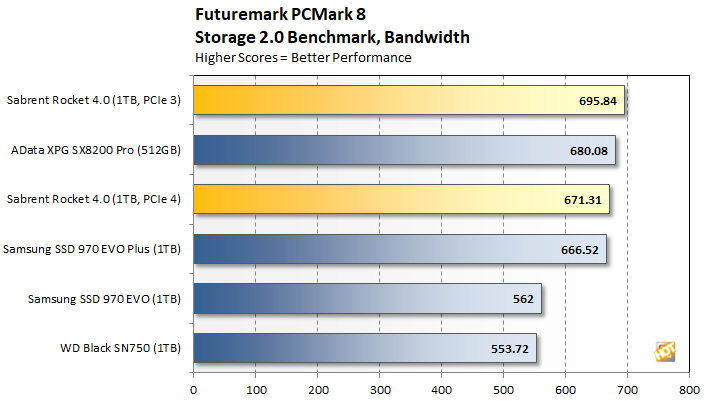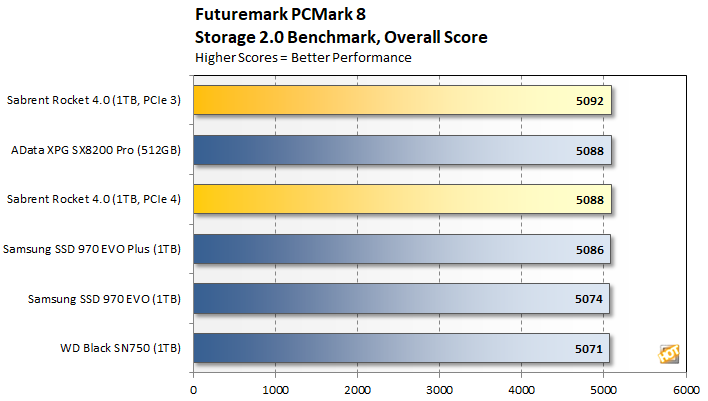 PCMark's suite of tests uses a big pile of traces on real-world applications and use cases which focus pretty heavily on consumer-oriented workloads. The drive consistently ran neck-and-neck with all the other participants. The only conclusion we can draw from that is that using a PC with just about any
NVMe
SSD feels and loads applications about the same. Overall, the Rocket claims another victory, but the boost gained from PCIe 4 is within the margin of error. That makes it hard to declare a winner.
Sabrent Rocket NVMe 4.0 Conclusion
Sabrent's Rocket NVMe 4.0 performed pretty well across a huge suite of tests. With very few exceptions, this
M.2
SSD finished at or very near the top. In particular, tests that rely on sequential reads make the very most of PCI Express 4's increased bandwidth. In some cases, particularly ATTO and SANDRA, where sequential performance is king, Sabrent's drive left all others in the dust, as long as it was riding the PCIe 4 bus. However, back in PCIe 3 land where most of us live, the differences are pretty minimal.
On the other hand, there were a few tests where even the extra bandwidth afforded by the latest generation of PCI Express was not helpful. Tests that use a quick succession of small transfers, which rely heavily on low latency to achieve high IOPS, did not benefit. Those situations are best expressed by IOMeter's IOPS and Latency tests, and the earlier part of ATTO's graph. On the whole, the drive was only about average among other high-end drives like
Samsung
's 970 EVO Plus and WD's Black SN750.
Find The Sabrent Rocket NVMe 4.0 SSD @ Amazon
Overall, we recommend the Rocket NVMe 4.0 for systems based on AMD's Zen 2 based Ryzen 3000 or
Threadripper
3000 processors and the accompanying X570 or TR40 chipsets. On those setups, the sequential performance can shine. Workstation and consumer workloads don't necessarily benefit from the crazy-high queue depths that some of these tests run though, so that's another thing to keep in mind. Folks who need all the sequential bandwidth they can get would be well served by Sabrent's PCIe 4 SSD.
The final thing we need to address is the price. Performance does not live in a vacuum, after all, and the Rocket NVMe 4.0 is a premium-priced drive. Our 1 TB review unit carries a $200 price tag, where other speedy drives like
WD
's Black SN750, Sabrent's own Rocket, and
ADATA
's SX8200 Pro go for about $50 less. While the Rocket's $200 price tag is actually a bit less than the Samsung 970 EVO Plus, it's still on the higher end of the price spectrum. Aside from sequential transfers, it doesn't really set itself apart, but maybe that's enough for some folks. Obviously, the drive is ideally suited to PCIe 4, and it performed very well on a system that could let it stretch its legs. For that reason, we're giving it a qualified, but still pretty clear HH Recommended award.





Incredible peak bandwidth on PCIe 4.0

Most Affordable PCIe 4.0 drive around

DRAM cache helps keep burst rates high

Five year warranty

Performs well in PCIe 3.0 systems

Still pretty expensive among NVMe SSDs
Relatively weak IOPS in some tests
Related content
Comments