Razer's Hammerhead Pro HyperSpeed THX Earbuds Come With A Low Latency Dongle For Gaming
Razer just released a set of wireless earbuds that could make
Apple AirPod Pro
owners envious, at least the ones who are gamers. That's because Razer's Hammerhead Pro HyperSpeed not only boast THX certification and hybrid active noise cancellation, they also come with an optional 2.4GHz wireless dongle to reduce latency when playing games, compared to Bluetooth.
You don't need to plug in the dongle to use the earbuds, you can also use them like any other set of Bluetooth earbuds. However, the option is there for gamers who want less audio lag than what Bluetooth connections can deliver. Additionally, the 2.4GHz USB-C dongle (which comes with a USB-A adapter) is compatible with a wide range of platforms, including PC and devices like the Steam Deck and presumably the
ASUS ROG Ally
, PlayStation, and Nintendo Switch.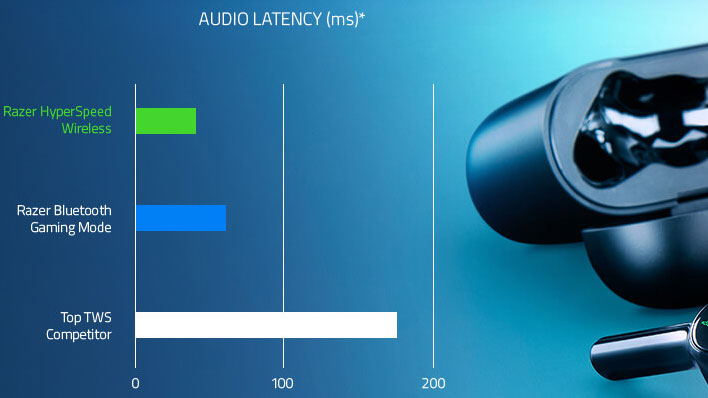 Razer shared a graph comparing the audio latency of its latest earbuds with a "top TWS competitor," which we presume is Apple's AirPods lineup. According to Razer, using the dongle with the Hammerhead HyperSpeed Pro achieves an "industry-leading, low-latency audio performance" below 40 milliseconds. Even without the dongle in play, Razer claims its earbuds are superior to the competition for playing games.
"Gaming Mode, for example, doesn't hold back on Bluetooth, ensuring robust performance with a latency of just around 60ms. With Bluetooth 5.3 compatibility, the Hammerhead Pro HyperSpeed ensures fluid connectivity across a multitude of devices," Razer states.
Hopefully we'll get a chance to test these earbuds out and see how they perform in the real world. In the meantime, the overall spec sheet is certainly promising.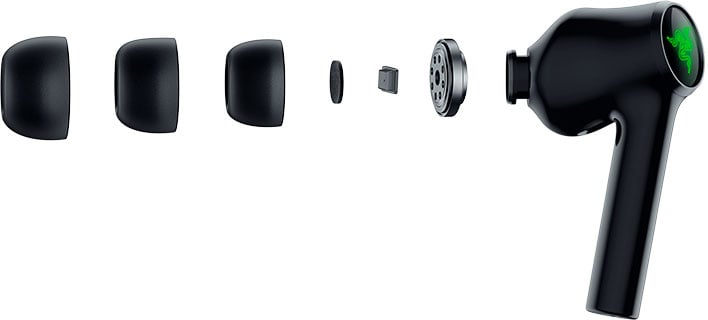 The Hammerhead HyperSpeed Pro employ 10mm drivers with a 20Hz to 20kHz frequency response. They also feature an adjustable hybrid active noise cancellation scheme.
"Advanced feedback and feedforward microphones monitor the surrounding sound environment, enabling users to cancel out noise during focused gaming sessions or adjust the in-app slider to control how much ambient sound they want to let in," Razer explains.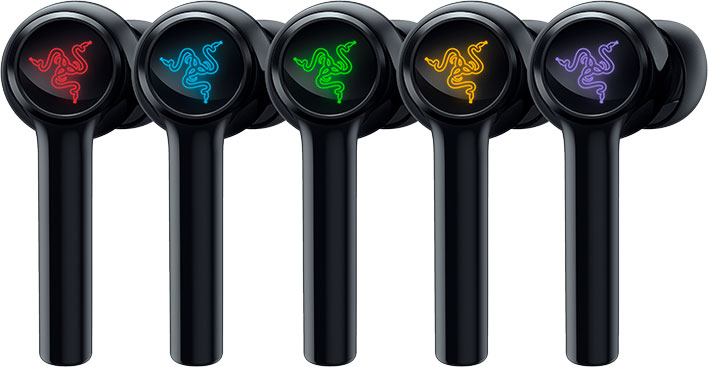 RGB lighting is part of the package, because of course. As for battery life, Razer claims these earbuds can deliver up to 6.4 hours of music playback with RGB and ANC disabled, plus another 24 hours from the fast charging case. With both the lighting and ANC turned on, you're looking at up to 3.5 hours of playback and 14.5 hours from the charging case.
Battery life varies depending on those features and whether you're connected via Bluetooth or using the 2.4GHz dongle. As a point of comparison, Apple's AirPods Pro (2nd Gen) are rated to deliver up to 6 hours of playback (5.5 hours with Spatial Audio and Head Tracking), or up to 30 hours with the charging case factored in.